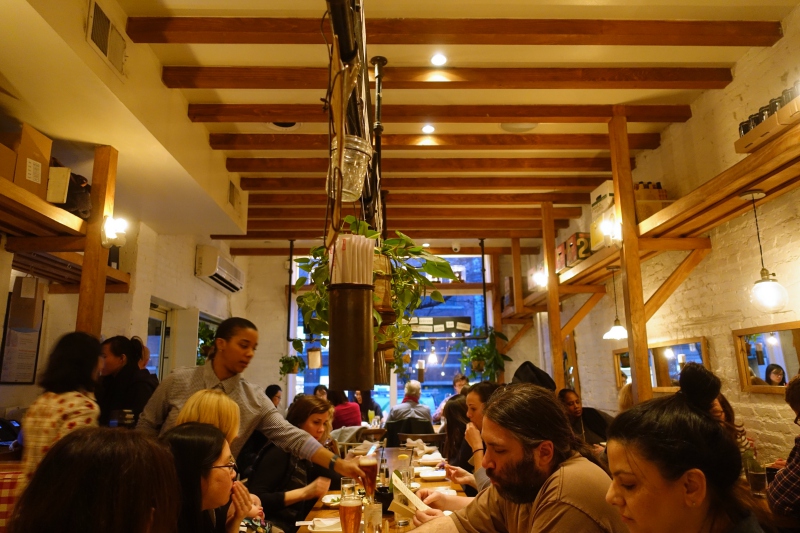 This RedFarm NYC Review is one of our many Restaurant Reviews. One of my clients mentioned that RedFarm is one of his new favorite NYC restaurants, and not only encouraged me to try it, but very kindly arranged with one of the owners (Ed Schoenfeld and Chef Joe Ng) to enable me to visit it for an early dinner, even though normally no reservations are taken. Naturally I'm very grateful to my client and to the RedFarm owners, since otherwise there can be quite a wait for a table.
Visiting New York? See all of our posts tagged NYC.
RedFarm NYC Location and Hours
RedFarm has two NYC locations; there's one at 2170 Broadway between 76th and 77th Streets on the Upper West Side, but we went to the West Village location at 529 Hudson Street, between West 10th and Charles. The closest subway stations are Christopher Street-Sheridan Square (lines 1, 2) and West 4th Street (A, C, E, B, D, F, M trains).
The Hudson Street location is open 5pm-11:45pm Monday to Saturday and 5pm-11pm on Sunday, and is also open for weekend brunch 11am-2:30pm Saturday and Sunday.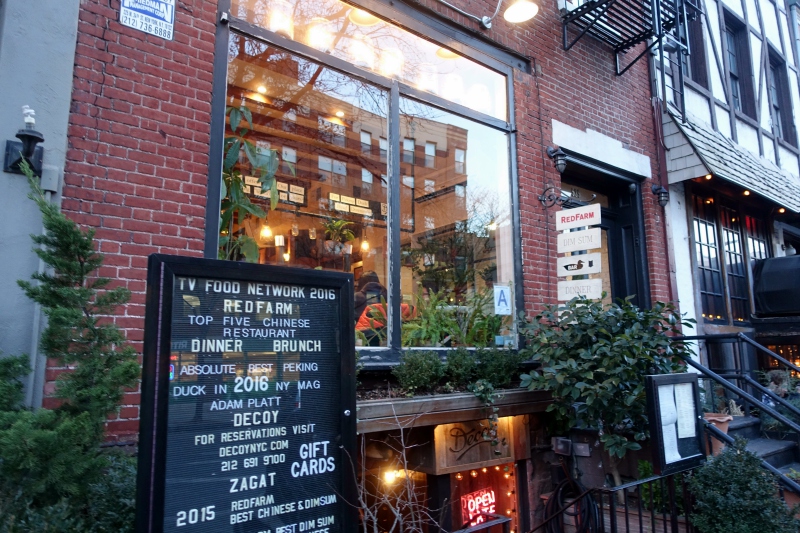 The Scene
The scene is chaotic, given the small space and 42 seats, most of them at two communal tables. There are a handful of two top tables and just two 4-top tables. The crowd is mostly young couples and friends, although we did see a couple other families and even a mother with a baby.
We were seated at the end of one of the communal tables, closest to the kitchen, and there were actually two place settings there, in a place that really didn't even seat one comfortably, since my chair was always being bumped by other guests or servers squeezing through the small space.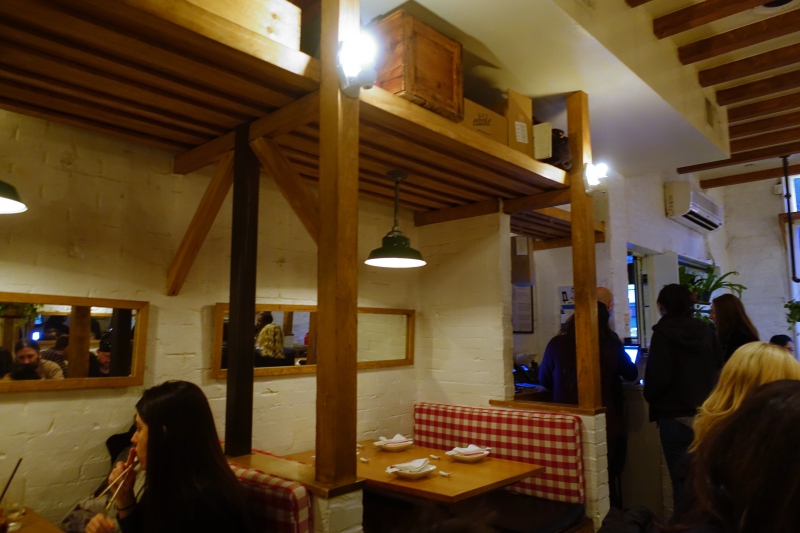 RedFarm NYC Menu and Food
RedFarm's menu is full of tempting choices; think traditional dim sum and Chinese dishes with a twist, and made with high quality, carefully sourced ingredients. We asked our server for recommendations, and she also volunteered that there was an off-menu Peking Duck available for $78, so we made that the cornerstone of our feast.
While we didn't manage to order any of the night's specials, our server mentioned the Black Truffle Chicken Soup Dumplings are popular.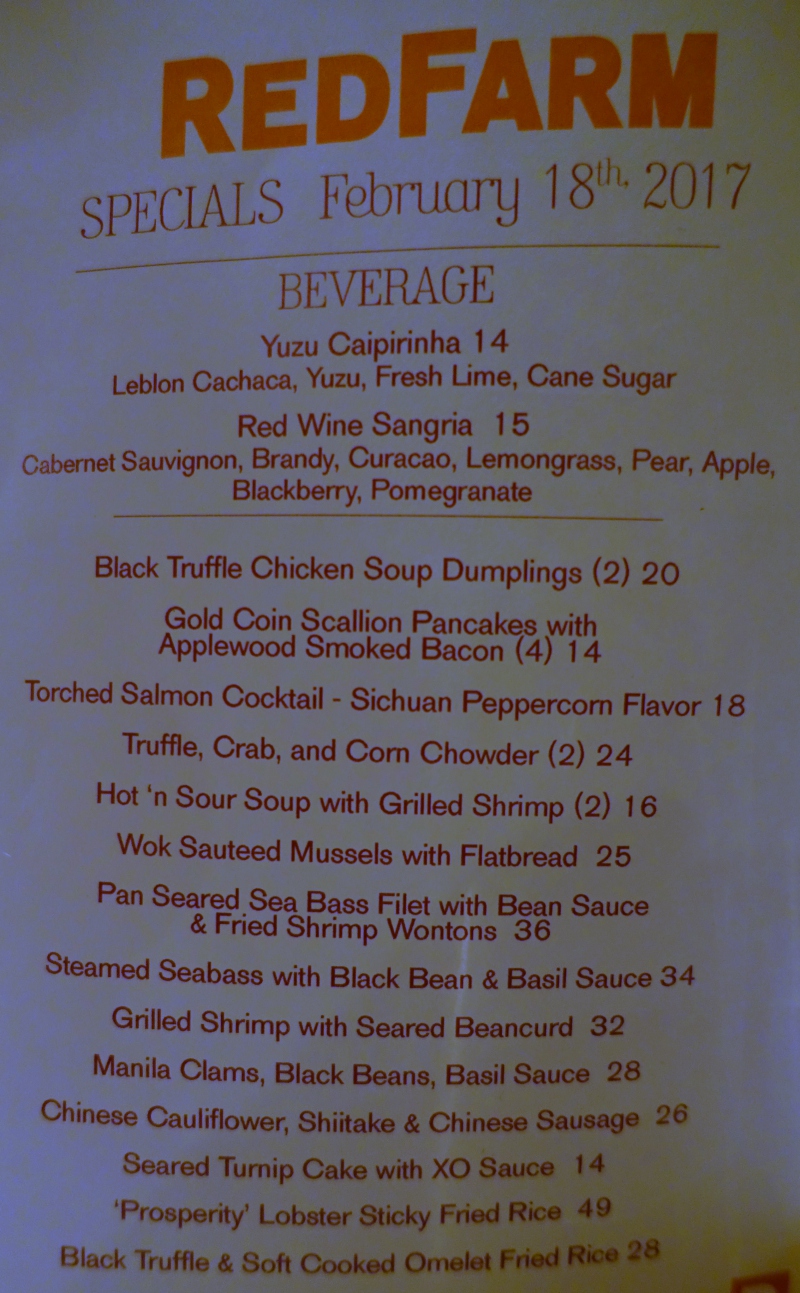 First to arrive, and for me, the highlight of the night, together with the Peking Duck, were the Crispy Oxtail Dumplings with Black Garlic Aioli. Based on our server's recommendation, my son, to my surprise, had insisted on ordering these, and I'm so glad he did. I've never cared for oxtail soup or oxtail in any format, but these were fantastic, with a light, crispy exterior and rich, meaty filling. The black garlic aioli was too spicy for our son but my husband and I adored it, and I even took the leftovers home.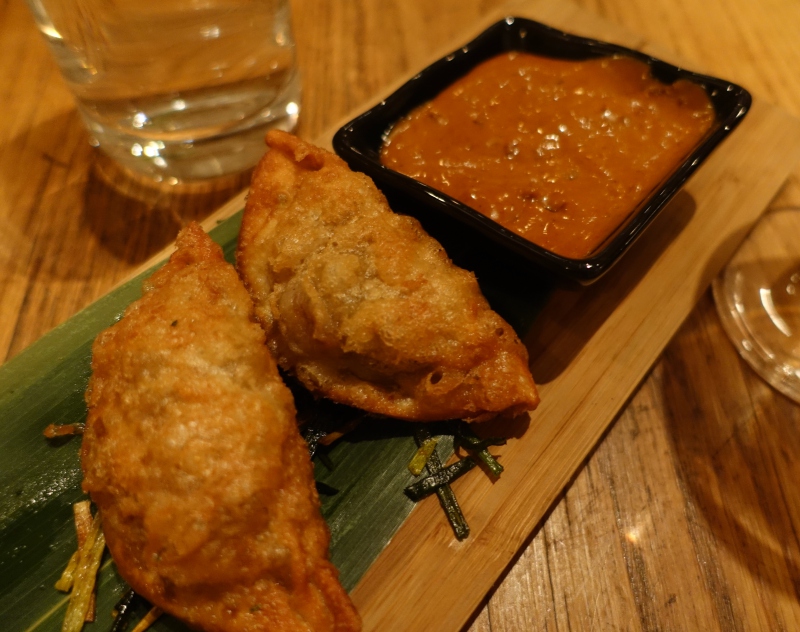 Next and compliments of the restaurant came an order of Pac Man Dumplings, with shrimp and crab filling and a tempura sweet potato Pac Man poised to gobble up Blinky, Pinky, Inky and Clyde; fortunately we got to gobble all of them. Cute and delicious, but the oxtail dumplings, while less showy, were more impressive to me.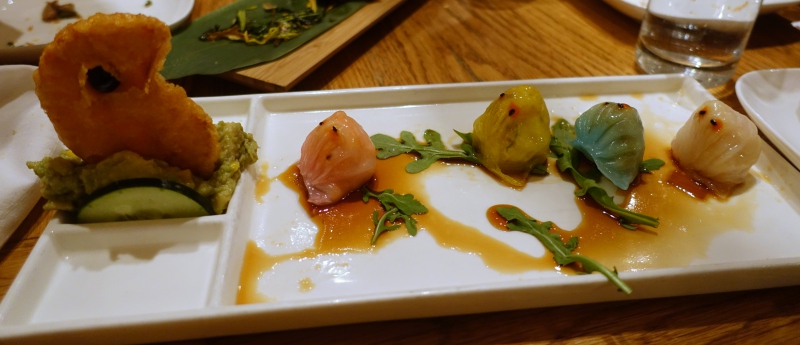 We also ordered Pan Fried Lamb dumplings, again very tasty, but these are something I feel I could make at home, unlike the other dumplings we ordered.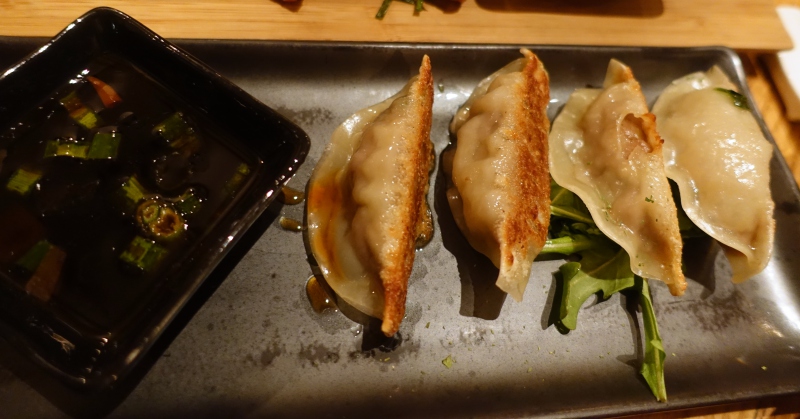 RedFarm is perhaps most known for its Pork & Crab Soup Dumplings, so we duly tried these as well. Since they're larger than the provided soup spoons, I wished the spoons were of commensurate size, as it was awkward to eat them without the soup spilling out, due to the admirably thin skins. I know I'm in the minority here, but I'd rather just have these ingredients in an easier to eat format, and tasty as they were, I wouldn't order them again.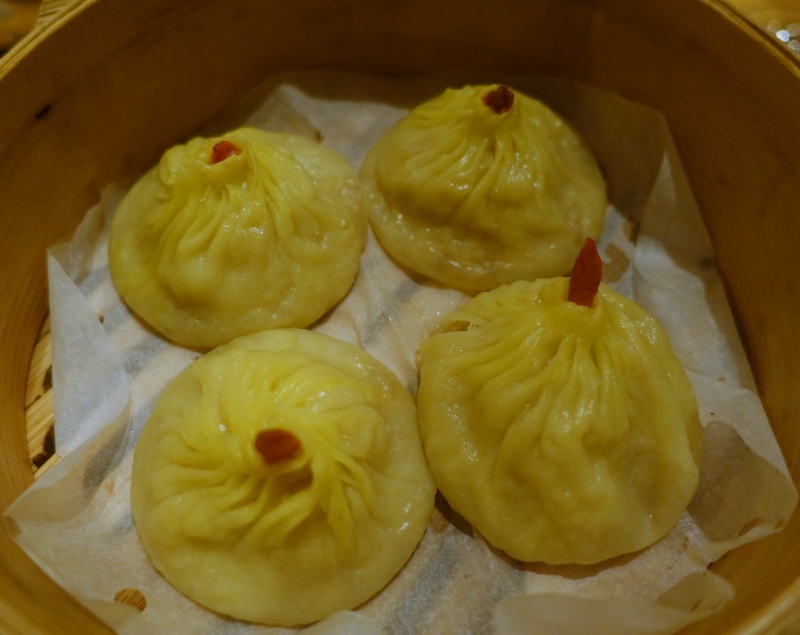 The off-menu Peking Duck, which I'm told often sells out by 7pm, was fantastic, with perfectly cooked meat and the characteristically laquered, crispy skin. I liked that the pancakes were thinner than is typical, and that the sauces included cherry and peanut as well as the usual hoisin sauce. There were also crispy scallions at one end of the dish, a very nice complement when making your pancakes. The only issue was that the pancakes are so small that you can't fit very much in them, and so there weren't enough pancakes for the amount of duck. We opted to take the rest of our duck home for that reason.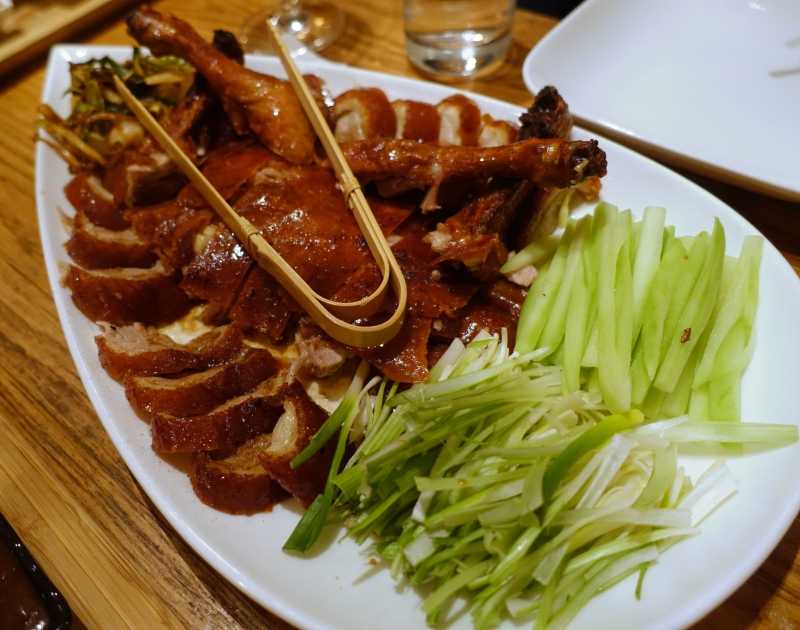 For a vegetable our server recommended the Sauteed Snow Pea Leaves with Garlic, and this was an excellent choice. The greens were a great complement to an otherwise very protein-rich meal.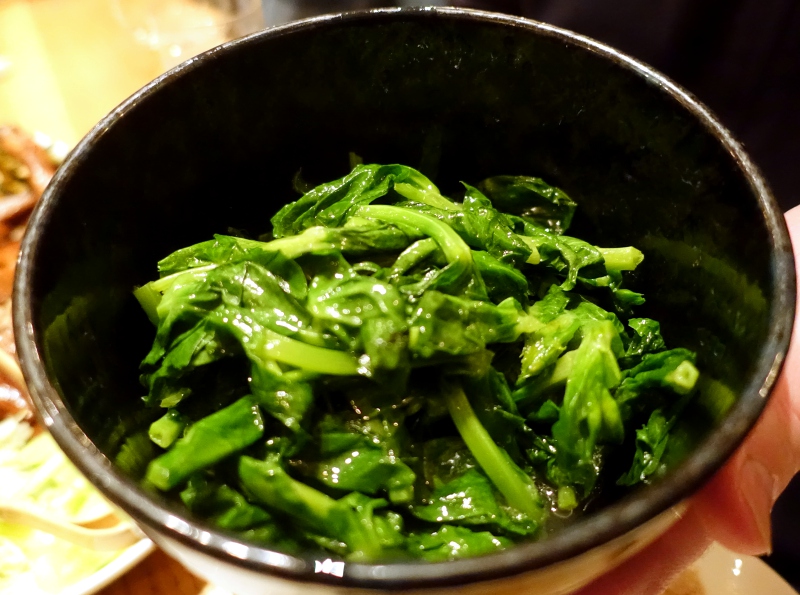 The Verdict
We enjoyed our food; my husband in particular thought it was the best Chinese food he's ever had in NYC. We loved the Peking Duck, which had perfectly cooked meat (not overcooked, as Peking duck meat often is) in addition to the wonderfully crispy skin. I also liked the more delicate pancakes it was served with, and the novelty of the cherry sauce, in addition to hoisin and peanut sauce options. All the dumplings were delicious and clearly made with high quality ingredients, although for me, the standouts were the oxtail dumplings with black garlic aioli–I'd come back for that dish alone.
The issue for me is that at these prices–$15 or more for 4 dumplings and $78 for Peking Duck–I want a nicer and less chaotic environment, where my chair isn't being bumped every couple minutes. I have no problem paying for high end Chinese, including dim sum, but in that case I want a dining room more akin to the Michelin star Tin Lung Heen or Lung King Heen in Hong Kong (both with similar dim sum prices), with a whole table to myself, plenty of space, and a tranquil ambience.
That's not RedFarm, which is why I'd probably only go back at an odd hour when it's possible to get one of the booth tables and not sit at the communal one, and to be honest, probably won't go back anytime soon due to how noisy and chaotic it is. That wouldn't deter me if the food was half the price, but at the current prices there are other places I'd rather go. But obviously, given the popularity of RedFarm, the diners frequenting RedFarm don't share my qualms about the dining environment or the value for money. So if you love great Chinese food in a casual, busy space and are happy to pay premium prices, definitely give RedFarm a try.
If you've been to RedFarm in the West Village, what was your experience?
Recommended Posts
Oriental Garden Dim Sum: NYC Restaurant Review
Perry St NYC Restaurant Review
Tin Lung Heen Hong Kong Dim Sum Review
Review: Lung King Heen at Four Seasons Hong Kong
Disclosure: The restaurant provided a complimentary order of Pac Man Dumplings; we paid for the rest of our meal, which totaled just under $200 including tax and tip. The views expressed in this post are mine.
Need Award Booking Help? Our fee is as low as $75 per ticket if you book your hotel through us.
If you enjoyed this, join 200,000+ readers: please follow TravelSort on Twitter or like us on Facebook to be alerted to new posts.
Become a TravelSort Client and Book Your Hotel with Virtuoso or Four Seasons Preferred Partner Benefits!