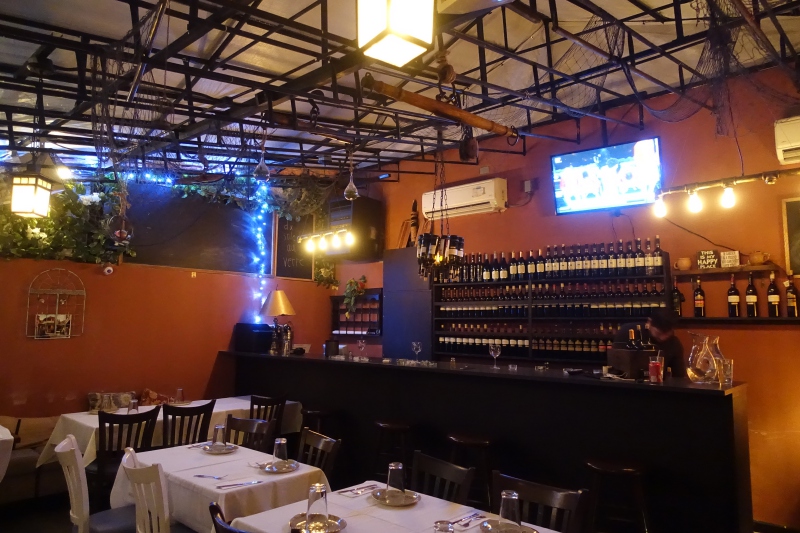 This Red Compass NYC Review is one of our many Restaurant Reviews. Visiting New York? See all of our posts tagged NYC.
Regular readers know that I love Georgian food–from Georgia the country, not Georgia the state. I first had Georgian food back in 1992 when studying Russian in St. Petersburg, and wasn't surprised when Russian friends told me that it was always one of the most popular cuisines of the former Soviet Union, with its abundant use of fresh vegetables and herbs, addictive cheese breads known as khachapuri, and of course Georgian wine to wash it all down. Fortunately several Georgian restaurants are now open in Manhattan, so I don't even have to go out to Brighton Beach for my Georgian food fix.
Red Compass NYC Location and Hours
Red Compass is located at 154 Orchard Street in the Lower East Side, between Stanton and Rivington Streets. The closest subway stations are Delancy Street (F train) and Essex Street (J, M, Z trains), and another public transit alternative is the M15 bus that runs downtown on 2nd Avenue and uptown on 1st Avenue.
The restaurant is open for lunch and dinner, from 12noon to 11pm daily.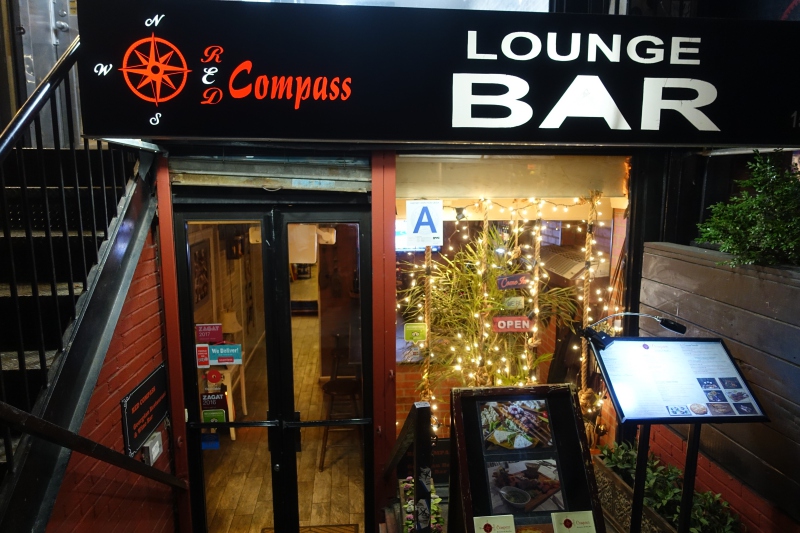 The Scene
We made reservations via Open Table for an early 6:30pm dinner, and were only the second table to be seated. As we were dining, however, several other diners arrived, mostly couples in their 20s and 30s, although the first table that was already there when we arrived was another family.
Red Compass Menu and Food
Red Compass has an extensive menu of Georgian food for such a small restaurant, although as at all Georgian restaurants I'd focus on the appetizers and khachapuri (cheese breads) rather than the entrees, as Georgian food is meant to be shared, family style.
Here's the menu of soups, cold and hot appetizers, and khachapuri: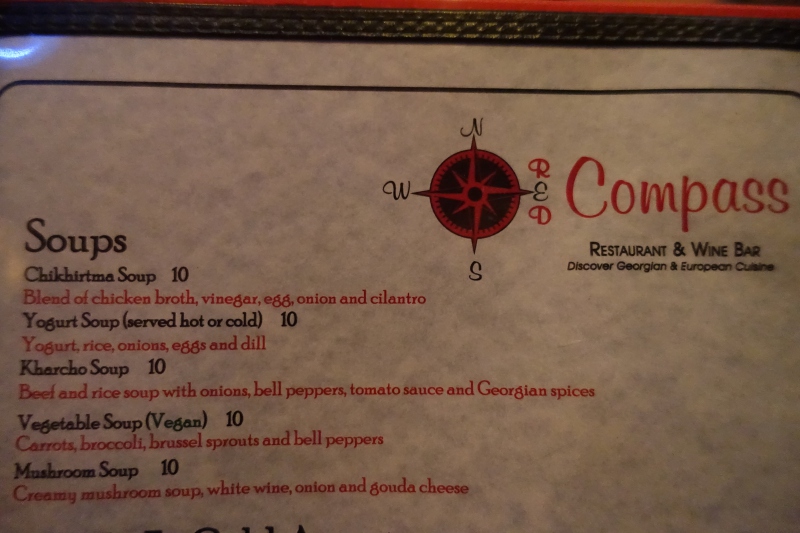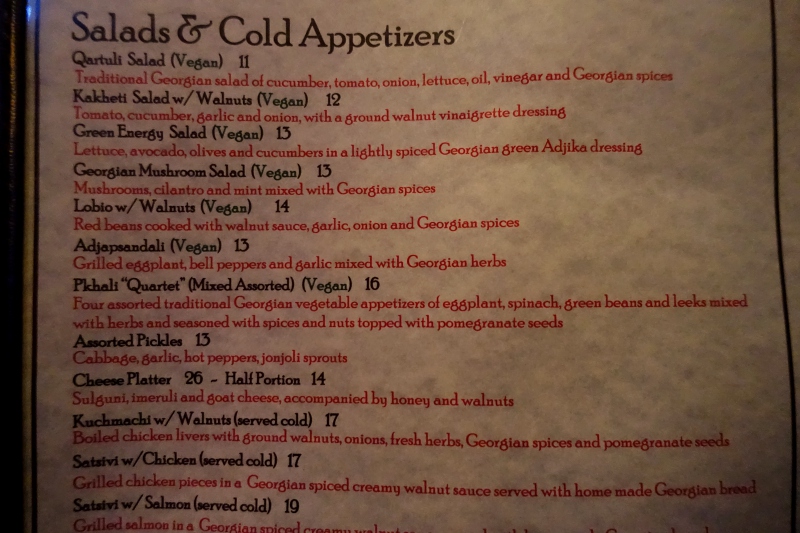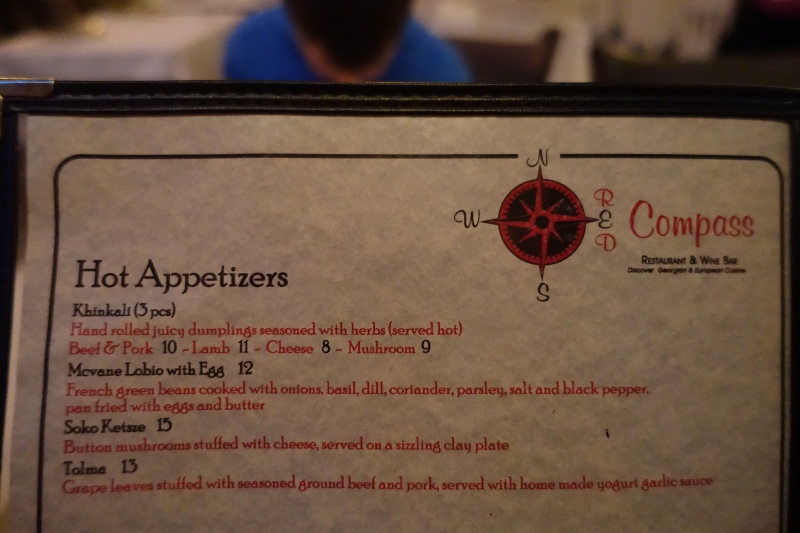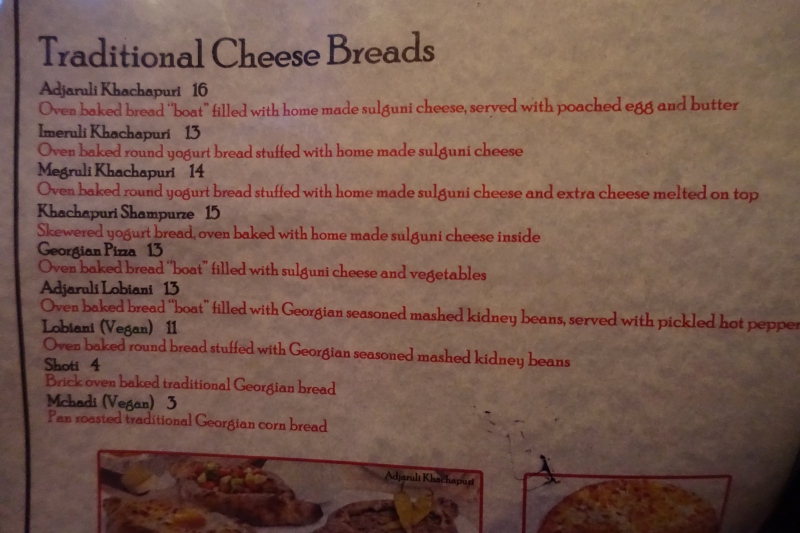 First to arrive was the Pkhali Quartet. Pkhali are Georgian vegetable pates, thickened with walnuts and adorned with fresh pomegranate. My favorite is usually the spinach, but all of them were very good, even if not as ornately presented, as say, Cat Cafe in St. Petersburg, Russia.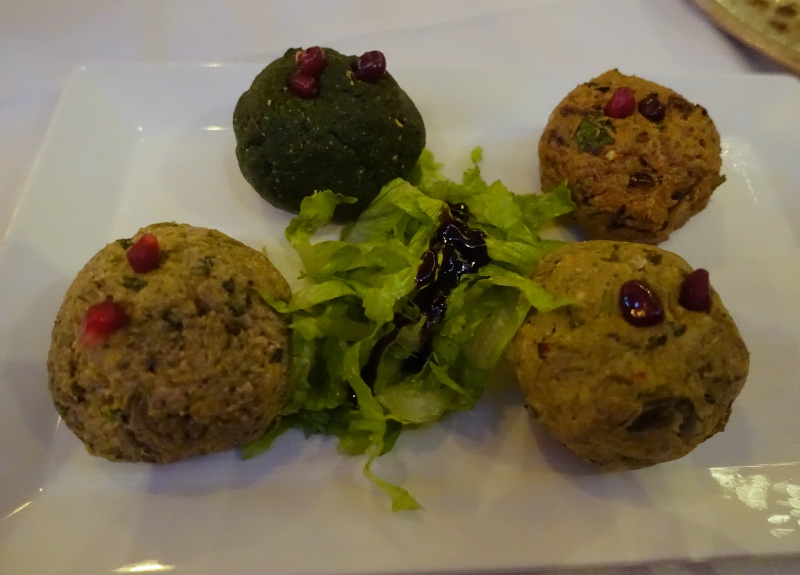 I'd heard the mushroom soup at Red Compass is excellent, and we weren't disappointed. It's enriched with white wine and cheese, and had great mushroom flavor–it tasted as though there might have been some morels or other wild mushrooms in it. Highly recommended, although you may want to share it as we did, to leave room to try other dishes.
Next to arrive were the Khinkali, Georgian meat dumplings. These were juicy and very good, although I feel that for the price ($10) there could be another Khinkali. We'd wanted to try the Tolma (stuffed grape leaves) but they were out of them that evening.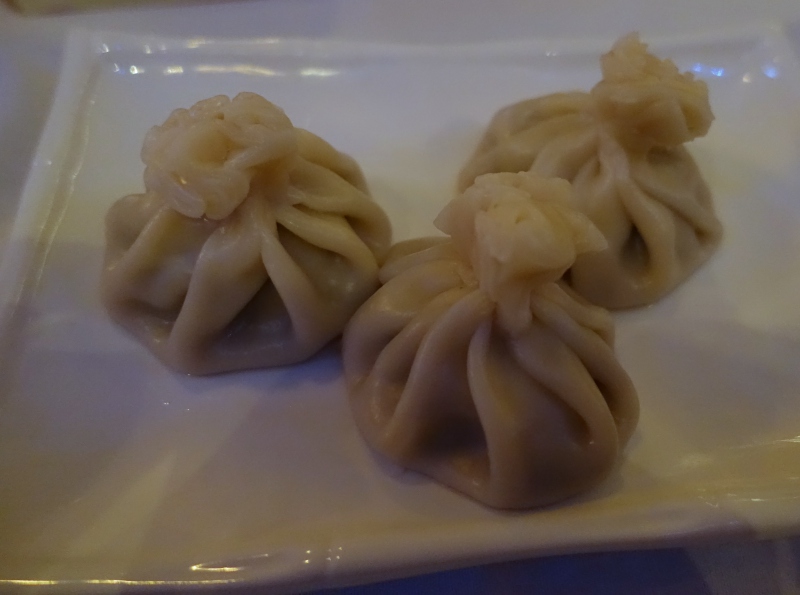 The highlight was the Adjaruli Khachapuri, homemade Georgian bread with sulguni cheese, butter (which I usually remove–it's rich enough without it) and an egg cracked into it right before serving. You mix the egg with the hot cheese, which cooks it, then tear off hunks of bread to dip in the cheese-egg mixture. Heavenly!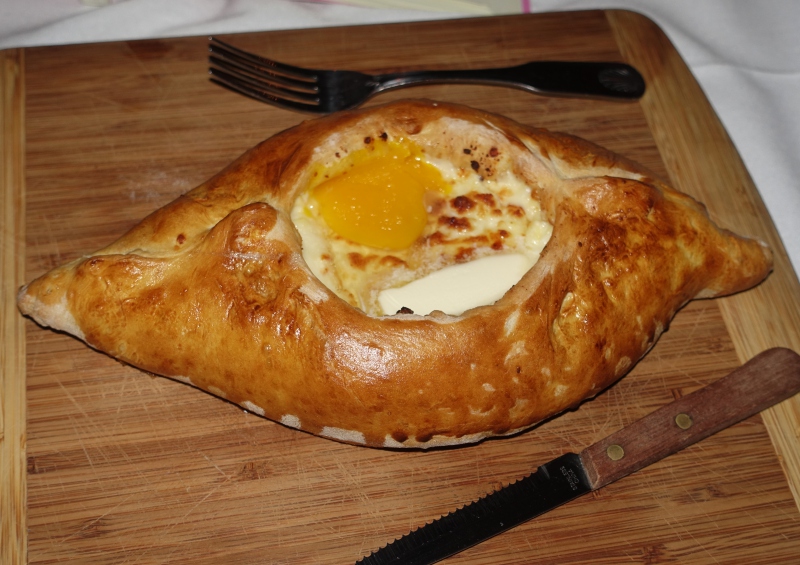 The Verdict
We've enjoyed Georgian food at a few other places in Manhattan, but Red Orchard is our favorite so far. While it's a bit of a trek from where we live, we'll definitely be going back to try other dishes from the menu, although khachapuri is always a must for us. Since the restaurant is small, I recommend going early or making a reservation if wanting to dine at 7pm or later, especially on the weekend. Service was friendly and prompt, and it was a pleasant evening. Tip for wine drinkers: since the pours are modest and a full bottle of wine is about 3X the price of a glass, order a bottle if you plan to have more than a couple glasses of wine among all of you.
Recommended Posts
Gabriel Kreuther NYC Review, 1 Michelin Star
Top 5 Best Value NYC Michelin Star Restaurants
Need Award Booking Help? Our fee is as low as $75 per ticket if you book your hotel through us.
If you enjoyed this, join 200,000+ readers: please follow TravelSort on Twitter or like us on Facebook to be alerted to new posts.
Become a TravelSort Client and Book your NYC Luxury Hotel with Virtuoso or Preferred Partner Benefits