This Red Arrow (Krasnaya Strela) night train review is part of a trip report including First Class and Business Class to Moscow on Lufthansa, with reviews of luxury hotels and dining in Moscow and St. Petersburg, Russia.
For the prior posts, see:
Lufthansa First Class Award Booked 15 days in Advance
Lufthansa New First Class Review
Review: Lufthansa First Class Lounge in Munich
3-Year Russian Visa Application Requirements and Tips
Radisson Royal Moscow Hotel Review
8 Things to Eat in Moscow, Russia
Les Menus par Pierre Gagnaire at Lotte Moscow, Restaurant Review
Getting Around Moscow by Metro: Top 10 Tips
Sapsan Train Moscow to St. Petersburg Review and Booking Tips
miX in W Hotel St. Petersburg Restaurant Review
Preview: Four Seasons St. Petersburg Opening 2013
Boarding the Krasnaya Strela (Red Arrow) night train for Moscow, I was quite sad to leave St. Petersburg after only a very brief stay, especially having spent two glorious summers there during my college years, when I was studying Russian. During that time I took Russian trains a fair amount, including a long trip down to Evpatoria on the Black Sea, so it was a bit of nostalgia to again be on one of the more traditional Russian sleeper trains. It's a longer trip of course than the high speed Sapsan, but that suited my schedule fine, since it meant I didn't have to find a hotel that night, and I'd be able to sleep on the flight back to the U.S. I got the ticket in Moscow, at the same time I bought my ticket for the Sapsan. You could also book your ticket online; see our tips in the Sapsan post.
I retraced my route from Admiralteyskaya, the closest St. Petersburg Metro stop to the W St. Petersburg, to Ploschad Vosstaniya, where the Moskovsky train station is. There's one transfer, so you probably don't want to do this with a lot of luggage or at rush hour, but I was traveling light. It was easy to find the platform, given the unmistakable red train with yellow lettering: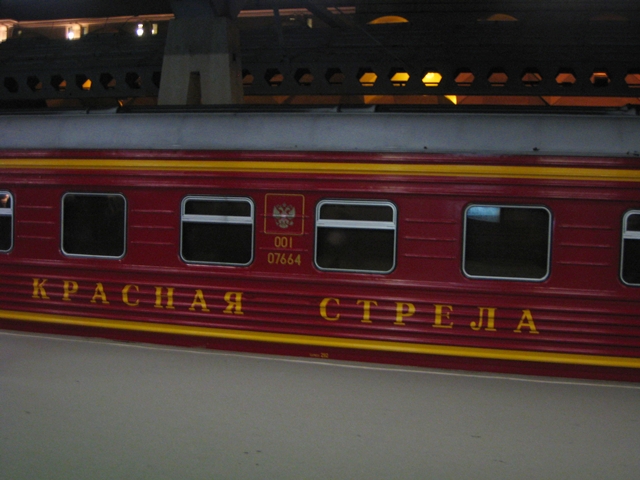 After I found my train carriage and presented my passport and ticket to the carriage's conductor, I walked down the narrow corridor to find my 4-berth kupe compartment. While there are more expensive 2-berth compartments at about double the cost, I thought it would be awkward with only one other person. The nice thing is that for the 4-berth kupe compartments, you can specify a single gender compartment, so in my case, all the other three guests were women. There's an internal lock, so you don't have to worry about someone inadvertently or intentionally entering your compartment when you're asleep.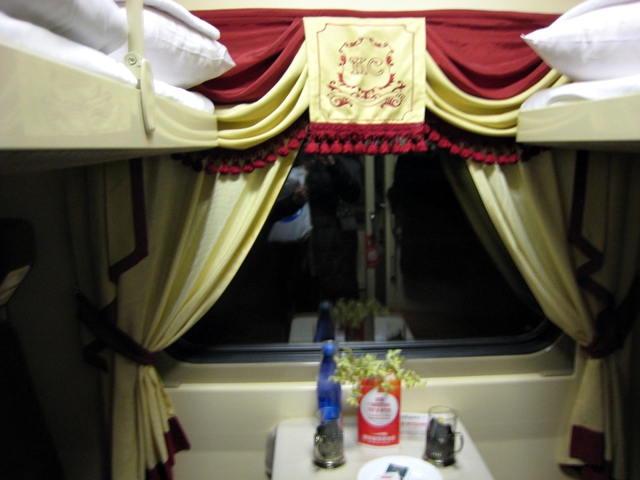 There are two bunk beds, with a small table between the lower berths, which also serve as sofas for sitting until converted into beds.
I opted for a top berth, so I wouldn't have to worry about fellow passengers wanting to stay up talking while sitting on my bed. Each berth already is fitted with clean sheets and a duvet, and there's a small towel supplied for washing up in the small bathroom at the end of the carriage.
Here we are leaving the station:
As expected, there was a bit of a line for the bathroom after the train left the station, as everyone rushed to wash their face and brush teeth, but it went quickly and I was soon in bed. Unfortunately, I didn't get a whole lot of sleep due to the snoring from one of my fellow passengers, but c'est la vie. It meant that I slept *really* soundly on the flight home–a review I'm looking forward to sharing soon!
The Verdict: The Krasnaya Strela is a good choice if you're looking for a sleeper train between Moscow and St. Petersburg. It's not overly luxurious (there's the "Grand" train for greater luxury) but is a good bet if you want to be able to lie down en route. Do note that you may not get a great night's sleep, especially if you're sensitive to motion (all the sleeper trains will stop and start again periodically to let other trains go by) or a light sleeper generally. And of course there's always the risk that you might get kept up by a snoring passenger in your compartment, unless you're traveling with a partner in a 2-berth compartment and neither of you snore. But of course this can also happen on a first class flight, so not unique to the train!
Have you taken the Krasnaya Strela or other Russian train?
Related Posts
Sapsan Train Moscow to St. Petersburg Review and Booking Tips
Moscow Metro Tour with Happy Moscow Tours
A Romantic Trip to St. Petersburg, Venice of the North
St. Petersburg, Russia with Kids
Need Award Booking Help? Our fee is as low as $75 per ticket if you book your hotel through us.
If you enjoyed this, join 200,000+ readers: please follow TravelSort on Twitter or like us on Facebook to be alerted to new posts.
Become a TravelSort Client and Book 5-Star Hotels with Virtuoso or Four Seasons Preferred Partner Amenities!