This Radisson Royal Moscow Hotel Review is part of a trip report including First Class and Business Class to Moscow on Lufthansa, with reviews of luxury hotels and dining in Moscow and St. Petersburg, Russia.
For the prior posts, see:
Lufthansa First Class Award Booked 15 days in Advance
Lufthansa New First Class Review
Review: Lufthansa First Class Lounge in Munich
3-Year Russian Visa Application Requirements and Tips
The Radisson Royal Moscow is in a truly iconic building, the Hotel Ukraina, the 7th of the Stalin skyscrapers or "Seven Sisters" built to commemorate Russia's victory over Nazi Germany in World War II, which Russians refer to as the Great Patriotic War. Since Radisson's opening of the Radisson Royal Moscow occurred after I left Moscow, I was very curious to see and stay at this newly renovated and rebranded hotel.
The hotel is across the river from central Moscow, so the closest Metro station is Kievskaya, on the Circle line. I was traveling relatively lightly, so it was easy after arriving at Paveletskaya on the Aeroexpress train to ignore the taxi drivers and head to the Metro, where I purchased a subway ticket good for 5 rides (you could probably just hold up 5 fingers, or if you want to try it in Russian, just say "na pyat', pozhalusta") and caught the Circle line for a few stops until Kievskaya. Unlike in St. Petersburg, the stations are only listed in Cyrillic, so if you don't speak Russian, at least learn the alphabet before you go so you can read the signs.
I exited the Kievskaya station, but this is where it got tricky—I initially went the wrong way, thinking I saw the Radisson Royal when in fact it must have been another building. I stopped to ask a bus driver who was parked, and he pointed the right way to the hotel. Surprisingly, there was a traffic light and crosswalk across busy Bolshaya Dorogomilovskaya (normally you need to look for underpasses) and from there I entered the park-like Ukrainskiy Bulvar that led up to the busy Kutuzovsky Prospekt the hotel is on. It was still early morning, 6am, and at this time of year it's completely dark and the hotel's lights glowed brightly against the pitch black sky: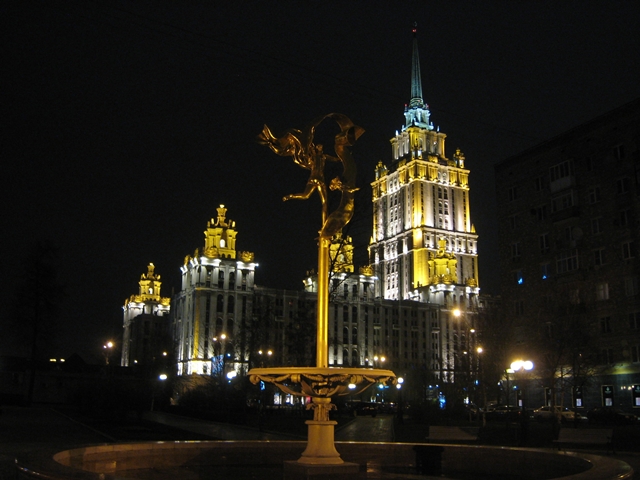 Here there was an underpass, and definitely use it—never attempt to cross busy Moscow streets without a traffic light, if you value your life. I entered the lobby, which is quite grand, with a marble floor, chandelier, and a soaring ceiling: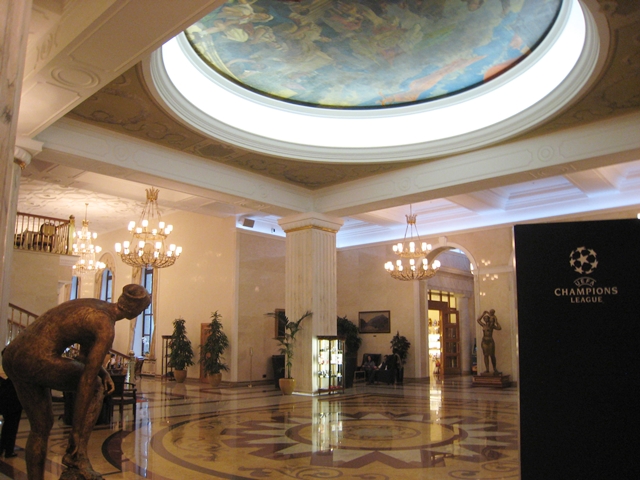 The true centerpiece of the hotel, however, is this unique diorama, "Moscow, Capital of the USSR," created by over one hundred skilled artisans and exhibited in 1977 at the National Exhibit in the U.S., and subsequently exhibited in Paris, Leipzig (where it won an award) and several other cities before returning to Russia. Neil Armstrong was so taken with it that he tried to buy it, but was refused. It's quite mesmerizing to watch the city go from dawn to a sunny, clear day, to twilight and evening. You can listen to an audio program to learn more about the creation and history of the diorama, and hear the Kremlin, cathedrals, "Seven Sisters" and other landmarks pointed out. I'd recommend stopping by to see it, even if you're not staying at the Radisson Royal.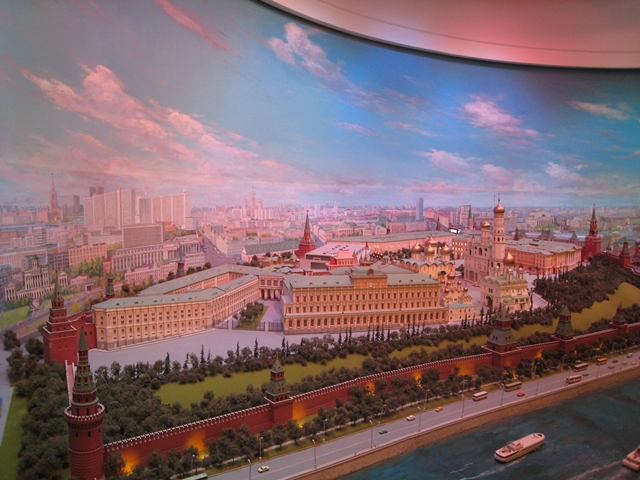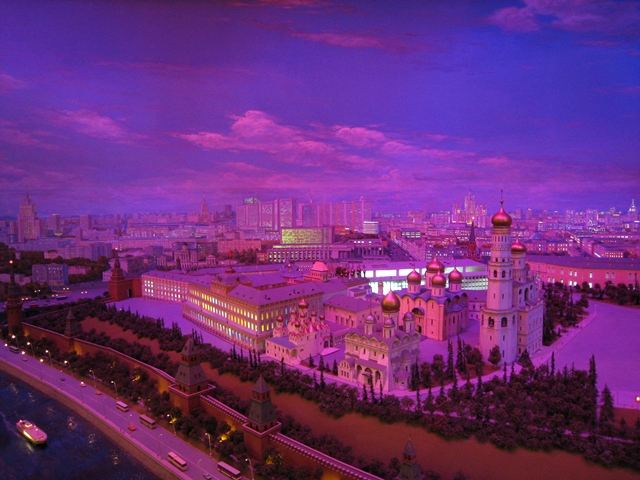 Fortunately, notwithstanding my earlier arrival, the front desk associate was able to check me in, and even gave me a room with a view of the river, although he did warn me about some construction going on that might be a bit of an eyesore. I'd booked an entry level Superior Room, and was a little concerned that it would be tiny, but it was more than enough space and came with a King size bed. The bed was firmer than I prefer, but it didn't stop me from falling asleep within minutes and having a much needed nap, since I hadn't actually slept on the Lufthansa Business Class flight from Munich. As you can see, the décor, in keeping with the historical nature of the building, tends toward classical elegance.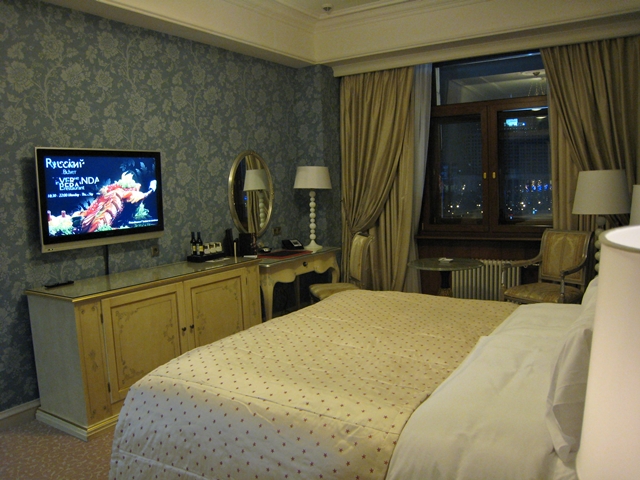 The bathroom looked a little busy for my taste, and I found the wooden toilet seat cover a bit kitschy, but that's just personal preference. What I really enjoyed was the heated bathroom floor and heated towel rack.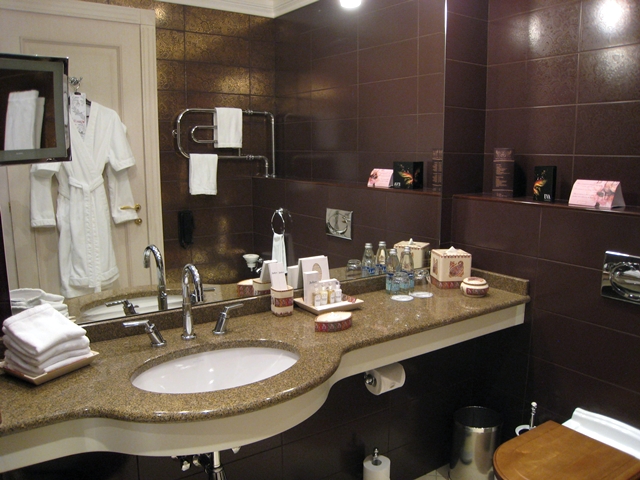 While I'm not sure they completely went with the rest of the décor, I did like the design used on the porcelain tissue cover and this matching bowl: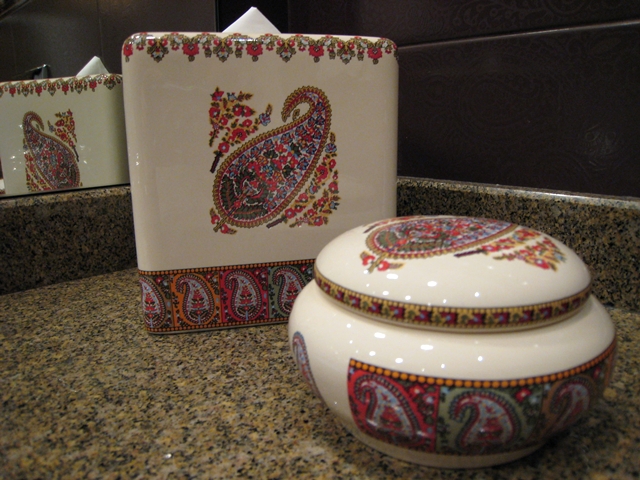 There was a shower-tub combo. Fixtures were great, but the problem was that even with the drain open, the water was slow to drain. I'm not sure if this was only my tub, or whether it's a flawed design such that other tubs also have this issue.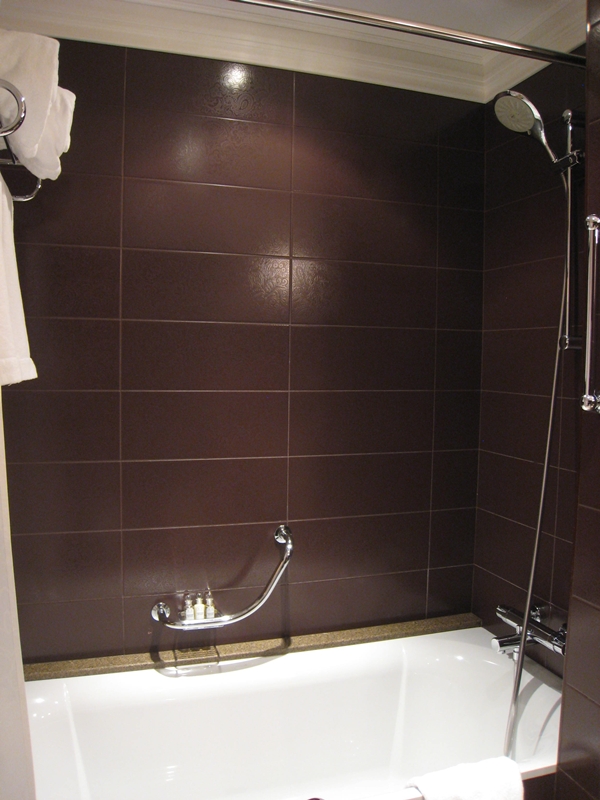 Bath amenities were Penhaligon "Blenheim Bouquet", which aren't one of my favorites, and I wasn't tempted to take them with me.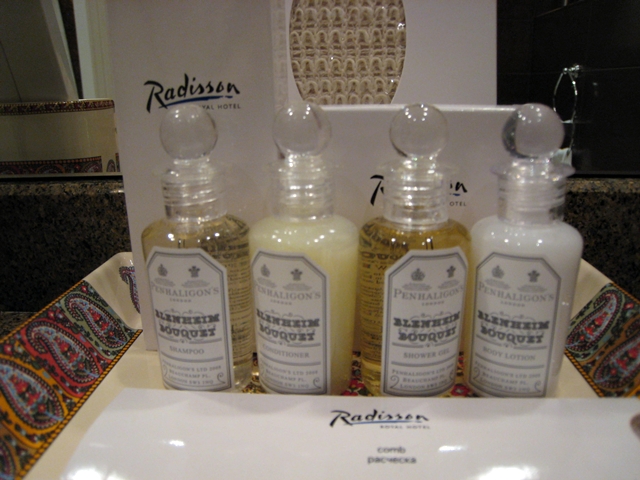 The weather while I was there was quite grey during the day, so I preferred the view at night: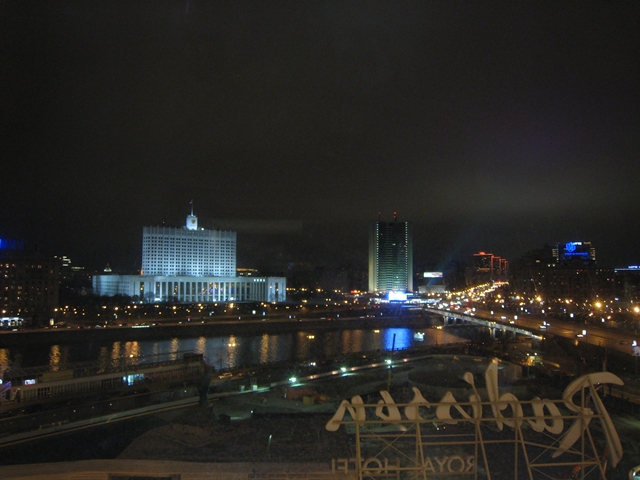 One thing I thought was a nice feature for such a big hotel was the library. Now, personally, I would have preferred something cozier, with more sofas instead of the more traditional library research desks, but the computers would certainly be useful for folks that didn't bring their own laptop (WiFi is free throughout the hotel). In the foreground, you can see a bust of Pushkin, the father of Russian literature. Prior to him, there really was no notable literature written in Russian; nobility and wealthy Russians of the time spoke Russian only to their servants, and among themselves, spoke French.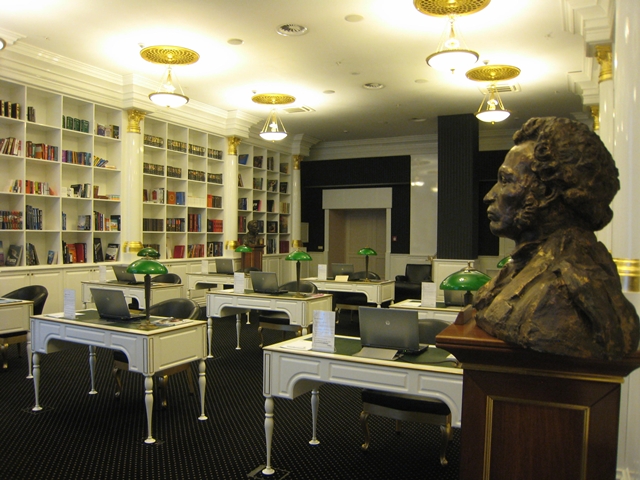 The wellness area and spa is used not only by hotel guests, but also by local Russians who have purchased a gym membership. The women's changing room was quite utilitarian, about the same or even not quite as nice as my local gym in NYC: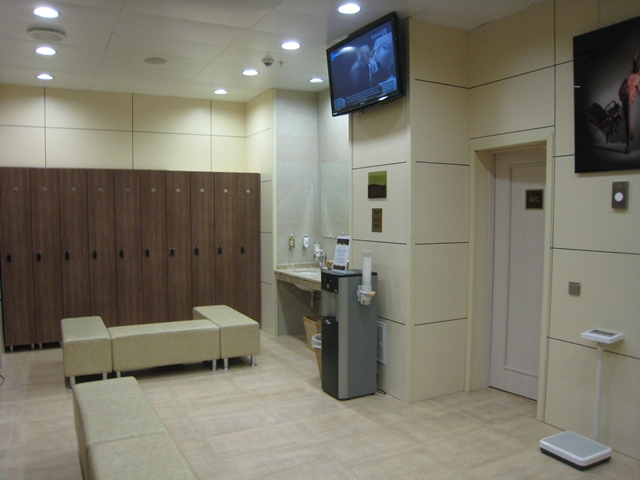 It mainly stood out for having these tacky "high fashion" photos on the wall: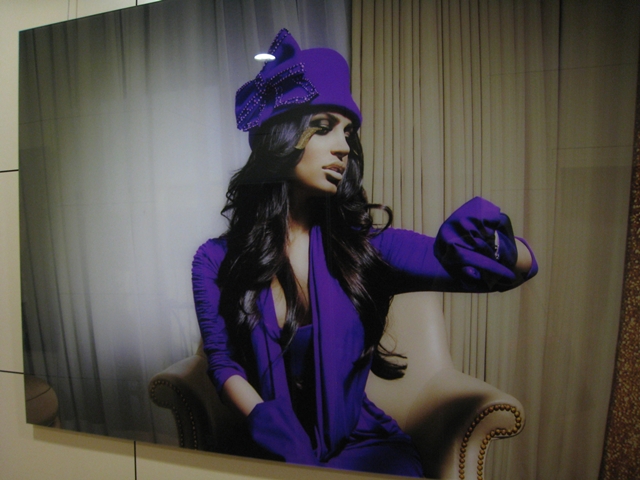 The pool though was serious—I've never seen such a large hotel pool. If you're an Olympic swimmer or just want to practice your butterfly stroke, this is the place. The jacuzzis, however, were disappointingly lukewarm, so I didn't even use them.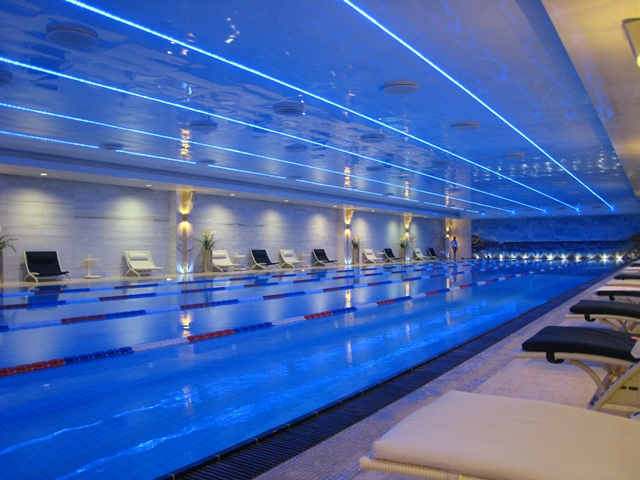 The Verdict: The Radisson Royal Moscow isn't in the most convenient location for first time visitors to Moscow, but if you don't mind taking a taxi or the Moscow Metro or walking a fair amount, it's normally a great deal for Moscow, especially if you either use Radisson points or, as I did, book with TravelSort hotels. It's a huge hotel with classically elegant decor, so if you're looking for intimate, boutique and modern, this isn't it. Service ranged from very friendly and helpful (the associate who let me check in early and gave me a river view) to a little reserved but still polite (a concierge who was most helpful when I spoke Russian, but became more aloof and more reserved when I switched to English to see how he'd fare with visitors who only spoke English).
I didn't eat at any of the hotel restaurants, but I'd recommend you eat out of the hotel if possible, since they seemed overpriced to me. There is an Executive Floor with a Club Lounge if you anticipate busy days of meetings and just needing to grab something quick.
Book the Radisson Royal Moscow and hundreds of other luxury hotels at wholesale rates with TravelSort Hotels
Related Posts
Top Luxury Hotels in Moscow, Russia
Top 5-Star Luxury Hotels in St. Petersburg
A Romantic Trip to St. Petersburg, Venice of the North
The Most Beautiful Subway Stations in the World
Need Award Booking Help? Our fee is as low as $75 per ticket if you book your hotel through us.
If you enjoyed this, join 100,000+ readers: please follow TravelSort on Twitter or like us on Facebook to be alerted to new posts.
Become a TravelSort Client and Book 5-Star Hotels with Virtuoso or Four Seasons Preferred Partner Amenities!