This review of Qatar Business Class and Economy Class from Doha to Male, Maldives is part of a trip report including Qatar Business Class and the Maldives. For prior posts please see:
Review: American Airlines Flagship Lounge in NYC, JFK
Reveiw: Qatar Business Class NYC JFK to Doha
Review: Qatar Business Class Lounge, Doha
After spending 7 hours in the Qatar Business Class Lounge in Doha, we were ready for our Qatar Business Class flight to Male in the Maldives. When I booked our award tickets, there was availability for all three of us in business class on the outbound NYC to Doha flight, but only for two of us on the Doha to Maldives flight, with our third award ticket in Economy. Since my husband is 6'5, I put myself in Economy, since the slightly under 5 hour flight is bearable for me, but rather painful for him.
We boarded a bus just outside the Qatar Premium Terminal which would take us to the nearly fully boarded flight. There was a Russian family already aboard, so the munchkin and I made small talk with them in Russian while waiting for other passengers to board. Only one other couple did so, albeit in a fairly dramatic fashion, of a man screaming and cursing loudly about something, while his fully veiled wife sat in stony silence as his tirade went on. The Russian family's 2-year old daughter, who had been practically falling asleep, she was so tired, immediately became more alert and stared intently at the spectacle, while the rest of us did our best to avoid looking at the out of control guy and tried to continue our conversation.
After a quite short bus ride that seemed like an eon, we arrived at our Qatar aircraft, an Airbus 321, and boarded. There are only 12 Business Class seats, so it was little wonder we weren't able to get all 3 of us in there on award tickets; and the 165 Economy Class seats were all taken, as far as I could tell–a completely full flight, notwithstanding the 1:05am departure time.
I was in Row 9, in a quite narrow seat of 18″ in width, and pitch of 31″. Here's a view of Business Class from my seat: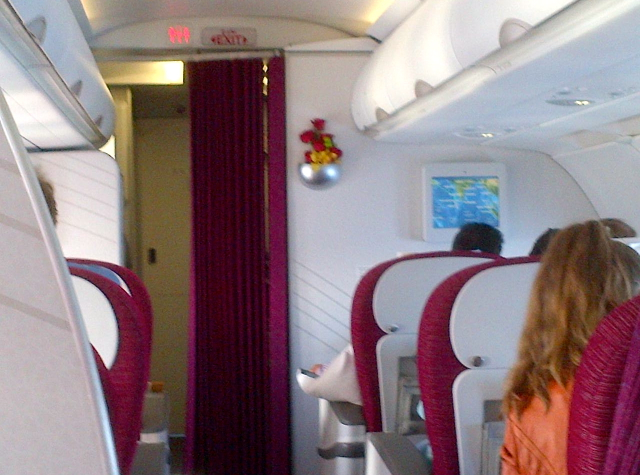 And recliner Business Class seats, with their 21″ in width, and 45″ of pitch: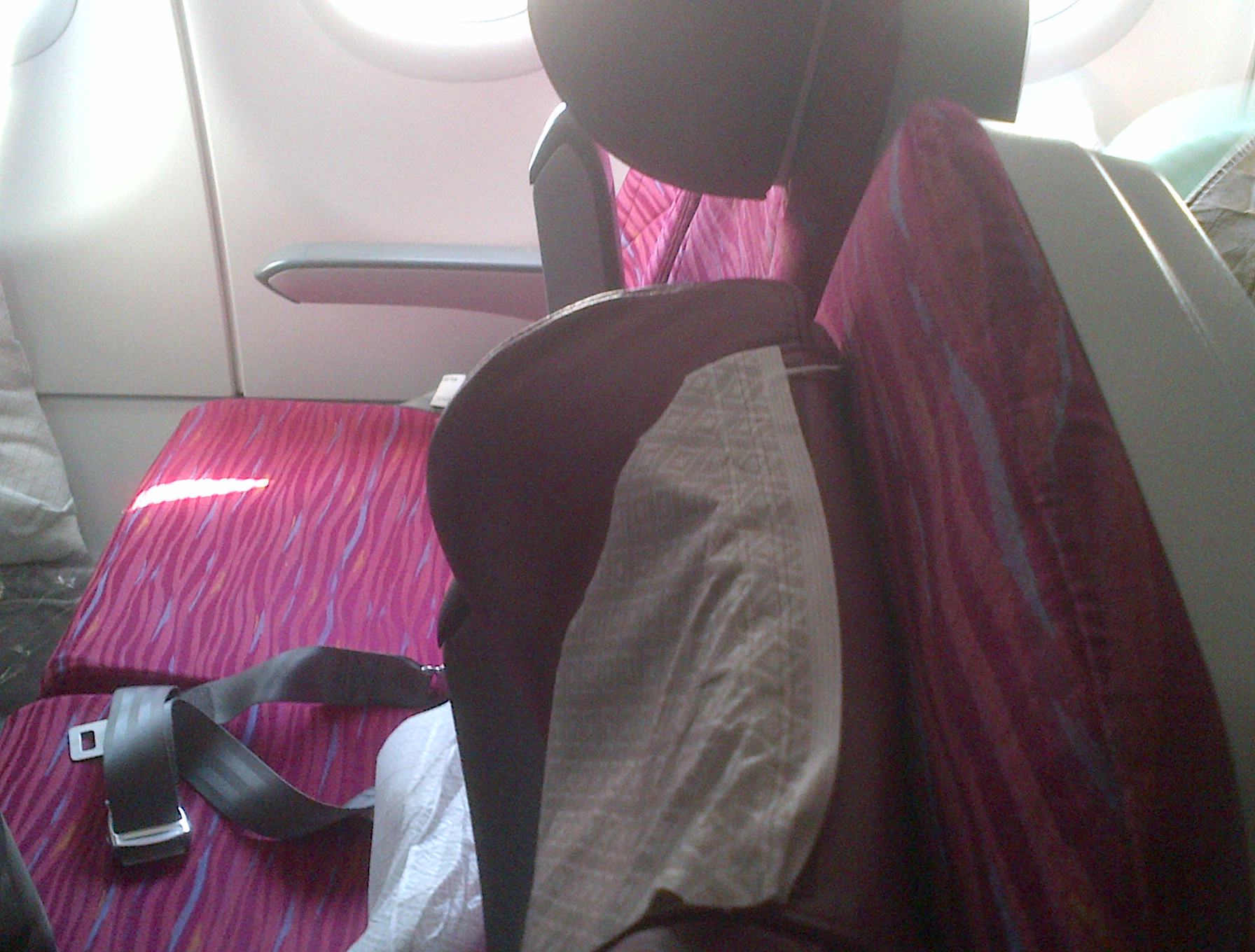 My husband says that in Business Class they were offered pre-departure drinks and cool towels, and that the flight attendants (who again appeared to be of Indian and Asian origin, but not native to Qatar) were especially kind, remarking how wonderful it was that he was taking care of his son. Perhaps it's not that common for them to see a father flying with a young child, without the mother in the same cabin.
While the lighting made it difficult to get a good photo of the Business Class dinner menu, here it is: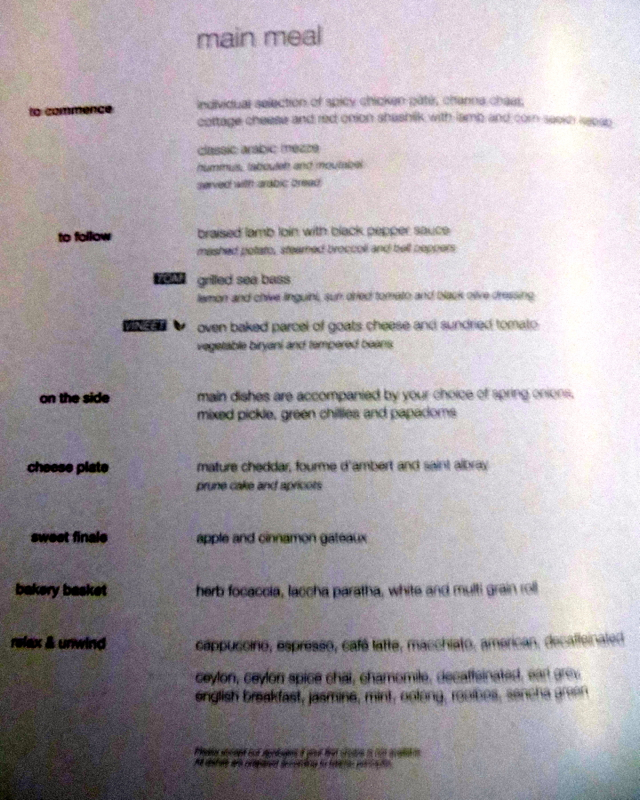 My husband opted for the Arabic Mezze, which looked similar if slightly less elaborate compared to the version we had on the Qatar Business Class NYC-Doha flight.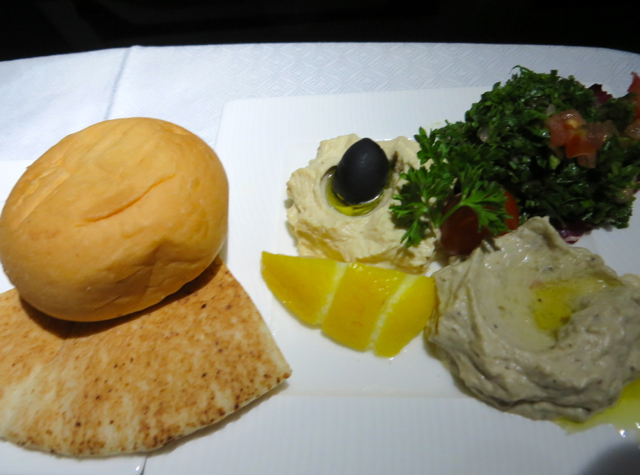 For his main, he chose the Braised Lamb with Black Pepper Sauce. He said it was excellent–very tender and flavorful.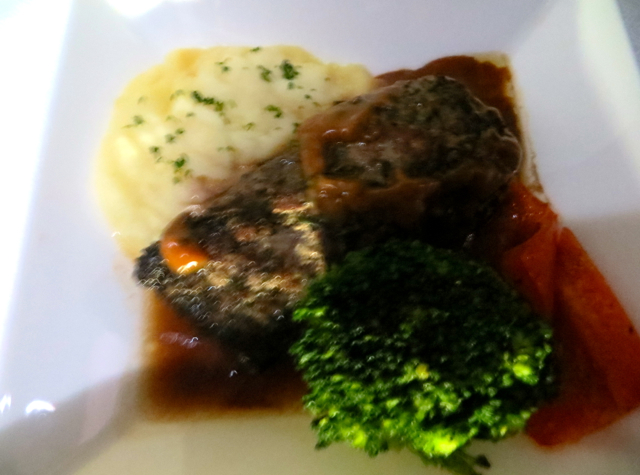 The Cheese Plate was well chosen and delicious as well. He passed on dessert.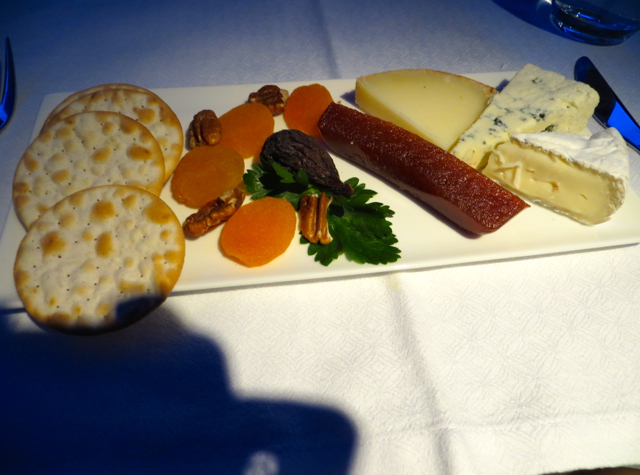 One thing that did bother my husband was that, unlike on other late night/early morning flights he's been on where flight attendants do have everyone close their window shades to better enable passengers to sleep, on this flight it was left entirely up to the passengers. And the passengers in the first row, for whatever reason, weren't inclined to close their windowshades, which meant that early morning light came into th cabin and made it difficult to sleep. Now, of course adults can at least use eyemasks, but it's just not as easy to keep an eyemask on a kid who doesn't want to wear one.
Meanwhile, in Economy Class, there was a simple dinner choice between Fish and Potato vs. Chicken and Potato. I chose Chicken and Potato. The tray came with a garbanzo bean salad and roll with butter, which I skipped, and also a rather dry cake piece in a goopy custard sauce that I took one bite of and left the rest. There was also a piece of Godiva chocolate, but Godiva is actually pretty low quality chocolate, so I passed on that as well.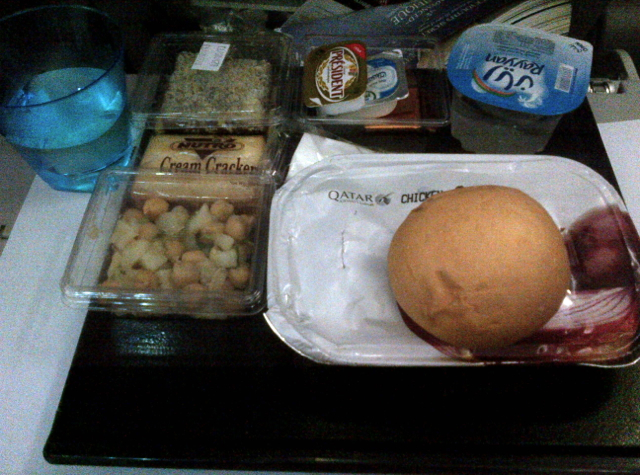 The chicken was in a mustard sauce, and was edible, although not much more than that: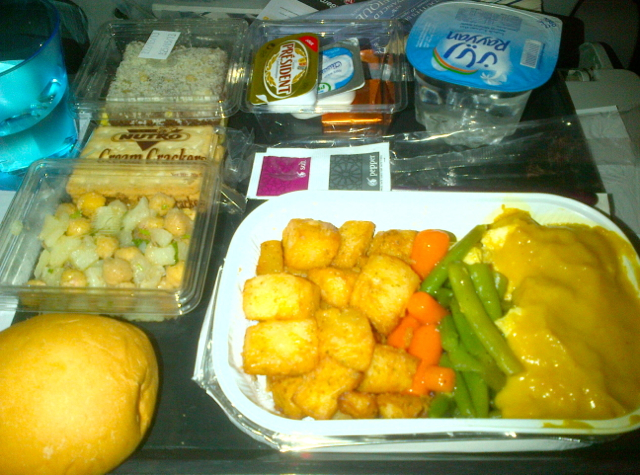 Most folks tried to get some rest or sleep after the meal, although a fair number used the built in IFE, which is quite extensive in its choices. A good thing, since it's pretty hard to get comfortable in the seats given their narrow width and pitch.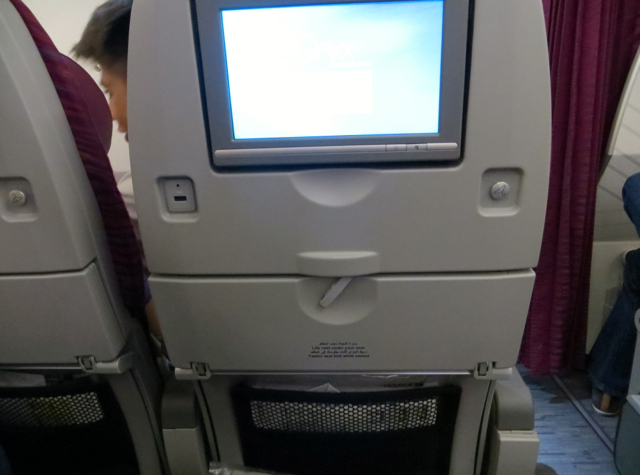 Economy Class service was perfectly adequate, although not terribly efficient. One think I dislike about the A-321 with its single aisle, 3 seats on either side and the many rows of Economy seats is that service carts tend to always be blocking the aisle, and there's scarcely any room to stand in the back where the lavatories are, so as to not be in the way of the carts or other passengers in line for the bathroom.
The Economy Class bathroom was tiny, although at least clean when I entered it early on in the flight: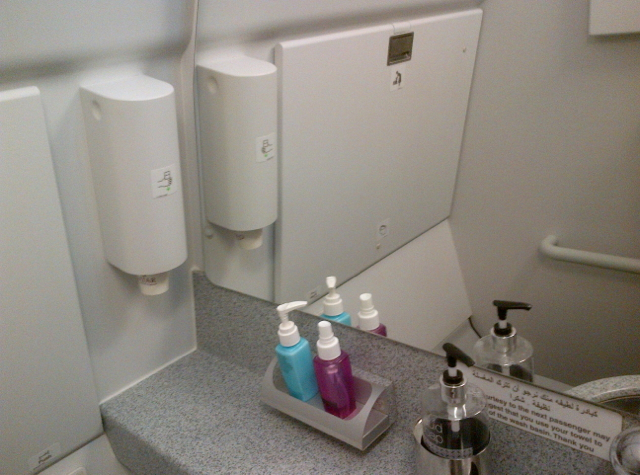 This is not a flight you're likely to get any sleep on in Economy Class, so count on getting caught up on sleep once you get to your resort in the Maldives.
The Verdict: It's well worth seeking business class award space on Qatar's Doha-Male flight (once Qatar award space becomes available to American and other oneworld partners), although book as early as possible given that there are only 12 business class seats on the flight. The recliner seats aren't very comfortable for sleeping, of course, but at least food and service are a great deal better.
If you're stuck in Economy, hopefully you connected off a Qatar Business Class flight and were able to take advantage of the Business Class Lounge in the Premium Terminal, where food is far better than what you'll get on board. Save your amenity kit or bring your own Eyemask and Bose noise cancelling headphones or earplugs so you can at least rest, otherwise it waill be a long nearly 5 hour flight.
Related Posts
Need Award Booking Help? Our fee is as low as $75 per ticket if you book your hotel through us.
If you enjoyed this, join 90,000+ readers: please follow TravelSort on Twitter or like us on Facebook to be alerted to new posts.
Become a TravelSort Client and Book Your Hotel with Virtuoso or Four Seasons Preferred VIP Amenities!