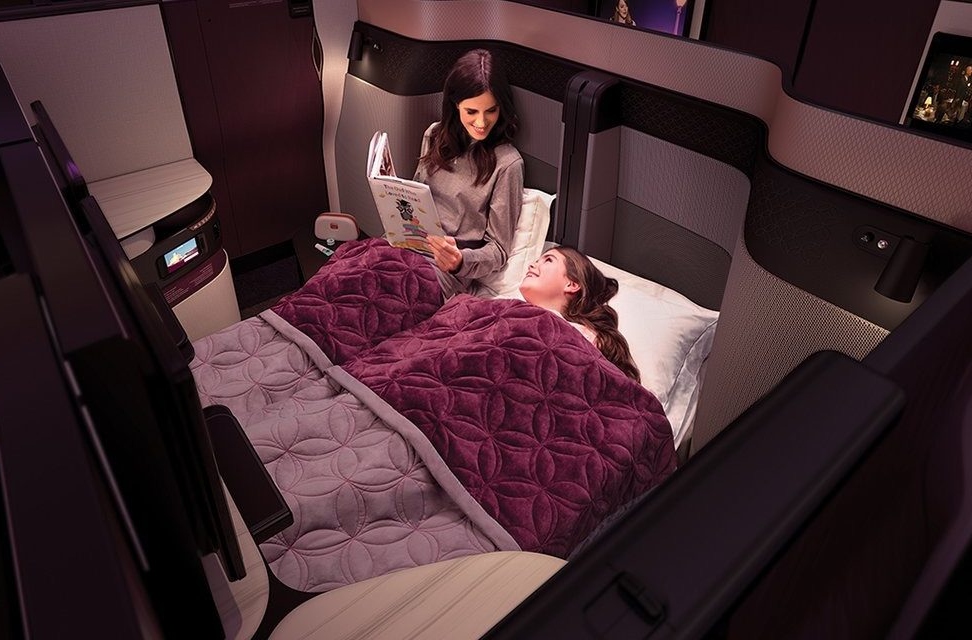 Qatar Airways' New Business Class QSuite is to launch in June 2017, with London to Doha the first route. The new QSuite features closing suite doors, the first double bed in business class, and the ability to create a quad communal space to use for business meetings or for families or friends to be able to socialize. Here's what we know so far about the product:
Qatar Airways' New Business Class Cabin and Seat
Qatar's new business class cabin will be in a 1-2-1 configuration, with a total of 42 seats (the same number as the current 777-300ERs). There are alternating rows of forward and rear facing suites, and I suspect that as in Etihad First Apartment on the A380, the rear facing seats will not be as popular as the forward facing seats, although from the video it appears that at least the rear facing window seats are closer to the window so could be better for privacy and sleeping than the forward facing aisle seats.
The seats will be hand stitched Italian leather, with nicer finishings than you'll find on Delta's new Delta One Suite, the second business class product with sliding doors (after the JetBlue Mint Suite).
Here's the new cabin:
How Big is Qatar's New Business Class QSuite?
Qatar's New Business Class QSuite convert into a fully flat bed that is 6 feet 7 inches (79 inches) long (200 cm). Unfortunately the seat width hasn't been released, but in photos the seat part doesn't look much wider than the 22 inches of Qatar's current business class. While current business class is in a 2-2-2 configuration, keep in mind the additional space on the side of each seat in the suites.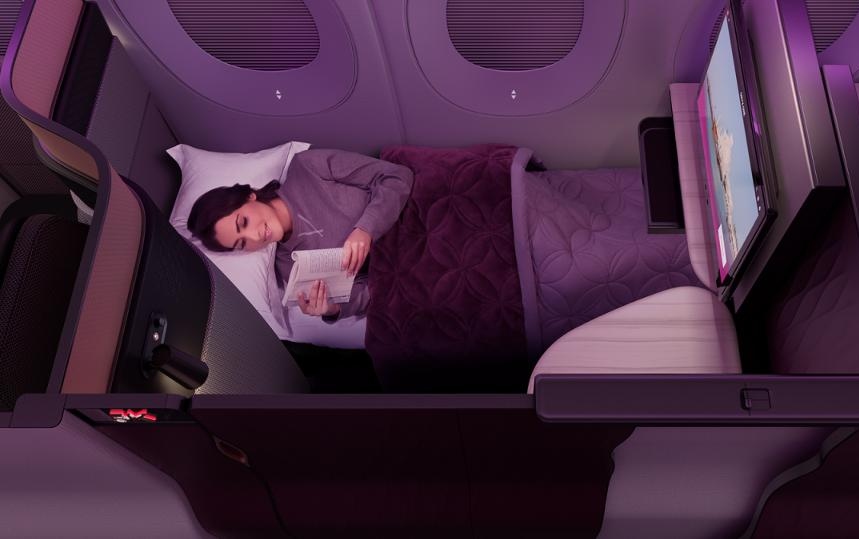 Which Seats Offer the Double Bed and Ability to Combine 4 Seats as a Quad?
The middle paired suites alternate in terms of forward and rear facing. From the photos and video, the forward facing seats are closer to the aisle, with the seats' side storage space separating the passengers seated in these seats, and these seats are not combinable into double beds.
The rear facing "honeymoon" seats are the ones that are closest together and can be combined into a double bed by removing the privacy partition.
Quad seats can form a "cabin within a cabin" by adjusting the panels and TV monitors to link 4 QSuites. Business colleagues can hold a meeting, or a family or group of friends could play cards or dine together.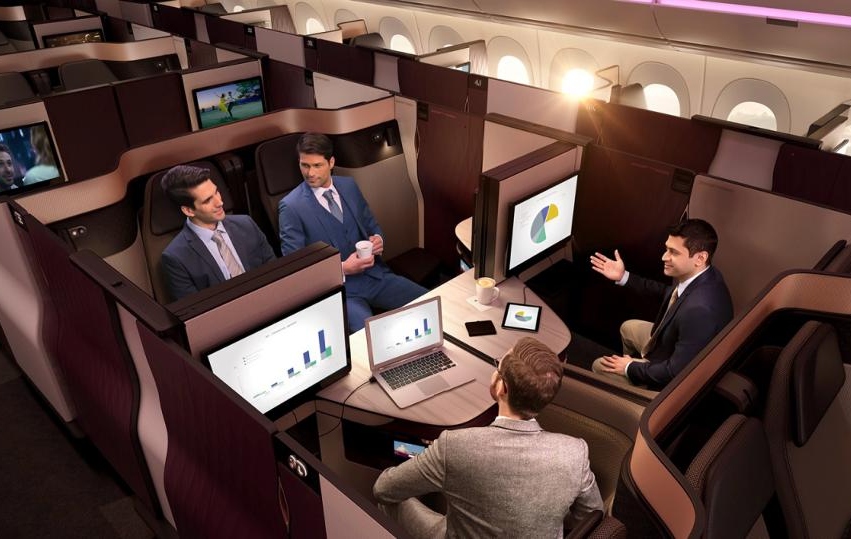 Here's Qatar's video of the new QSuite Business Class:
Which Planes and Routes Will Have the New Qatar Business Class QSuite?
Qatar hasn't set a date for the inaugural Doha to London LHR flight, but it is slated to be sometime in June 2017. The first plane will be a new 777-300ER, and thereafter, Qatar plans to roll out about 1 retrofitted plane per month–so it could take awhile until it's on the plane you fly, even if you're flying on one of the first routes to be served by. Qatar announced plans to reconfigure all its Boeing 777 and A350-900 aircraft, and the new A350-1000 planes will have QSuites new business class on board when delivered to Qatar.
After London, the next routes to see the new QSuite will be Paris CDG and New York JFK.
Qatar also announced plans to retrofit its 787s and A380s with a modified version of the QSuite, since the Business Class cabins on those planes aren't as wide.
That leaves the question of Qatar's remaining 2 aisle business class planes such as its A330s and A340s, which nothing has been said about–most likely these will not receive the new QSuite Business Class.
Qatar New Business Class QSuite Soft Product
While it's been some years since I flew Qatar Business Class, I can't say I was very impressed with the service, and the bed was the worst flat bed my husband and I had ever tried to sleep on, with a section that painfully protruded into our lower back. I see that there's some kind of mattress pad for the QSuite, although it looks fairly thin, and nothing like the industry leading Airweave mattress pad in JAL SkySuite Business Class. That combined with concern about noise issues from the quad means that for now I'm viewing Qatar's new business class as more style over function, when it comes to peaceful sleep.
But if you can sleep anywhere as long as it's a flat bed, there are other soft product improvements: pajamas by The White Company (Qatar Business Class is rare in providing pajamas, since that is usually only a perk of First Class); Bric amenity kits with Italian skincare products by Castello Monte Vibiano Vecchio; and 3000 entertainment content options from the revamped Oryx One IFE. There is already dining on demand, and there will be new sharing dishes offered as well.
What are your thoughts on the Qatar's new business class QSuite? Are you excited to try it, or concerned that the groups in the quad cabins will create too much noise when you're trying to sleep?
Recommended Posts
Qatar AAdvantage Award Routing Exceptions
Review: Qatar Business Class NYC-Doha
Review: Qatar Premium Terminal Business Class Lounge, Doha
Qatar Business Class and Qatar Economy Class Review, Doha to Male
Need Award Booking Help? Our fee is as low as $75 per ticket if you book your hotel through us.
If you enjoyed this, join 200,000+ readers: please follow TravelSort on Twitter or like us on Facebook to be alerted to new posts.
Become a TravelSort Client and Book Your Hotel with Virtuoso or Four Seasons Preferred Partner Benefits!