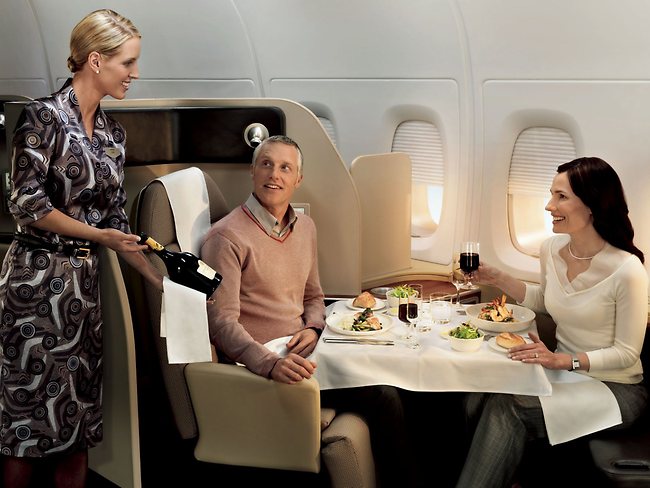 Qantas First Class on the A380 is one of the most coveted first class awards, thanks to its great hard product: one of the most comfortable first class flat bed seats. The soft product of cuisine and service gets somewhat more mixed reviews, especially when compared to the top Asian carriers such as Cathay Pacific First Class and Singapore Suites, but there's no question that overall it's a great way to travel the long distances to Australia. Plus, the Qantas First Class Lounge in Sydney and Melbourne also generally get rave reviews.
The problem is the lack of Qantas first class award space.
Qantas First Class Routes
It's helpful to first look at the key Qantas first class routes, given that some routes no longer offer first class.
SYD-LAX (QF11/QF12)
MEL-LAX
SYD-HKG (QF127/QF128)
SYD-LHR
MEL-LHR
SYD-DXB
MEL-DXB
Easier to Find Qantas First Class Awards from London
In my experience it's easier finding Qantas first class award availability from London to Sydney, rather than LA. It's still very difficult to find 2 first class seats on the same flight, but there are more flights with 1 first class award seat.
Here are a few examples with Qantas first class award space: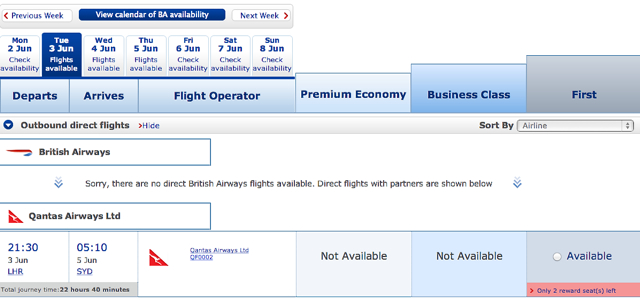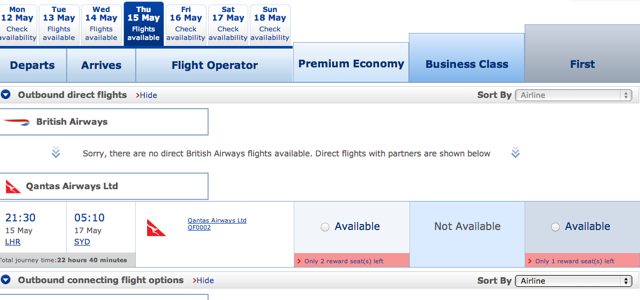 Dilemma: Better Award Availability with British Airways Avios vs. Cheaper Awards with AAdvantage Miles
The dilemma facing many U.S. frequent flyers who have both British Airways Avios and AAdvantage miles is whether to book with British Airways Avios, when there is greater award availability due to the award calendar opening earlier, or to wait until 331 days out to book with AAdvantage miles for fewer miles, but risk award availability having disappeared. There may be a "have your cake and eat it too" solution, below, although as always, it's your mileage may vary.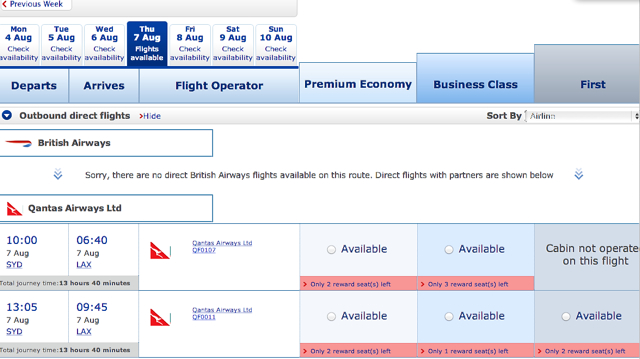 Qantas Doesn't Consistently Release First Class Awards for Flights When the Award Calendar Opens
Unlike, say, Cathay Pacific, Qantas doesn't consistently release 2 or even 1 first class award seat when the award calendar opens. So don't assume that someone else has managed to snag award space before you–Qantas may not have released any.
Qantas Does Not Release First Class Award Seats Close to the Day of Departure Based on Full the Cabin Is
On some flights the first cabin may go out virtually empty–so don't assume, if you're using Expert Flyer to monitor the first class cabin load, that just because there are plenty of empty first class seats that any of them will be released as first class award seats–chances are, they won't.
Qantas Award Seats Tend to Go Back to Inventory, per Ben
While I haven't been able to verify this myself, per Ben, Qantas award seats tend to go back to inventory if someone is able to initially book an award seat and then cancels. If true, this would mean that one strategy would be to try to book 2 seats with British Airways Avios since the award calendar opens earlier for British Airways and Qantas frequent flyer members, then cancel at 330 days out and rebook using AAdvantage miles. But please do this at your own risk, I don't want to be responsible for anyone failing to get their coveted Qantas first class award seats due to the seats not, for whatever reason, going back to inventory!
If you've flown Qantas First Class as an award ticket, what was your experience?
Related Posts
Review: Qantas First Class Lounge Sydney
Review: Qantas International Business Class Lounge, Melbourne MEL
10 Best Premium Cabin Award Redemption Values
Use Qantas.com to Find Cathay and Oneworld Award Space
Best Airlines for Kids and Families
Need Award Booking Help? Our fee is as low as $75 per ticket if you book your hotel or cruise with us.
If you enjoyed this, join 200,000+ readers: please follow TravelSort on Twitter or like us on Facebook to be alerted to new posts.
Become a TravelSort Client and Book Luxury Hotels with Virtuoso or Preferred Partner Amenities!