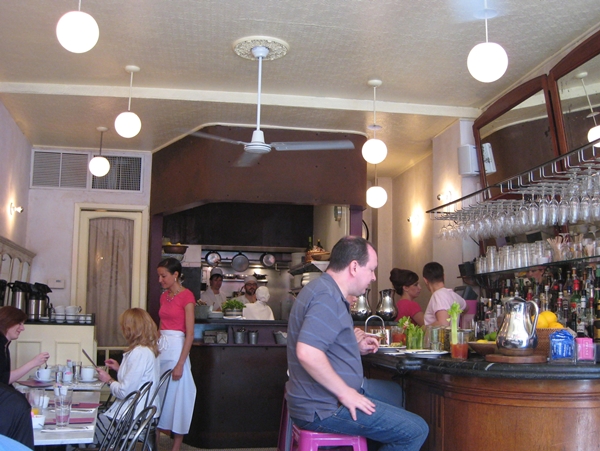 We mentioned Prune in Where to Go for the Best Brunches in New York, and we recently went again, for Mother's Day brunch. Since we tried a couple new things, we thought we'd review their brunch, so you can order the best things off the menu if you go and know what to expect.
Arriving just a few minutes after our reservation time, we were greeted warmly and led to our table. I'd read in some recent dinner reviews about apathetic or even rude service, but this was not at all the case for our brunch. Our server promptly came over, welcomed us, and provided food and drink menus.
Some people might get bored with a brunch menu that hasn't changed in years, but since I have my favorites on Prune's menu, I was happy to still see them there. We started off with "Prune juice" which, unlike the name, has no actual prune juice at all in it, but rather is a citrusy blend of fresh-squeezed Meyer lemon, orange, lime, and grapefruit juices. My son puckered his lips, given how tart it is, and even my husband didn't care for it so much, but I loved it. If you enjoy fresh squeezed grapefruit juice, you'll like it too.
For food, we ordered our favorite, the Dutch Style Pancake, which is oven baked; merveilles (similar to beignets); and Egg en Cocotte.
Since as usual, for brunch, the restaurant was completely full, plus the baked pancake takes some time to prepare, it did take some time for our food to arrive–probably about 20-25 minutes. And even though we'd had a small breakfast earlier that morning, we were famished by the time our food came. The baked pancake was first on the table, and came with sour cream, blueberries, and our requested maple syrup ($2 extra, but so worth it):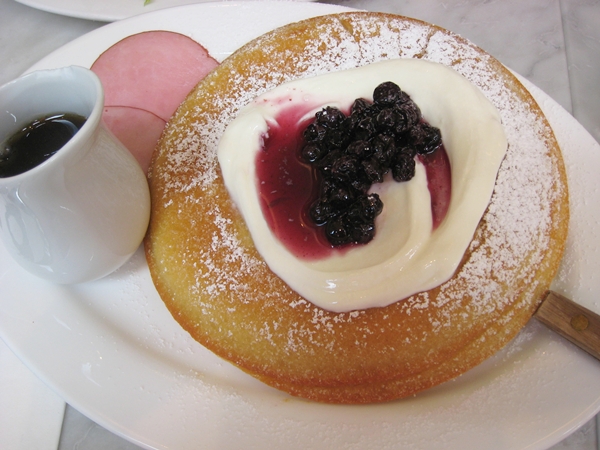 The Egg en Cocotte, I have to say, was a bit disappointing, not in terms of taste, but in size. I guess I hadn't thought it would literally be just 1 coddled egg with the chicken. The salad was nice, and the toast was fresh (one piece was slightly burnt) and everything was quickly devoured, but for $12, I wouldn't order it again.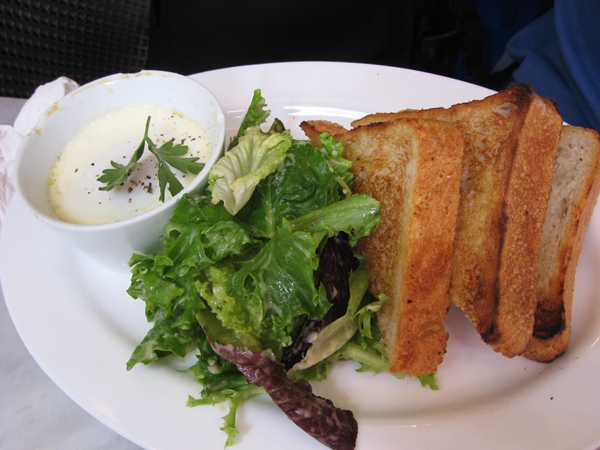 The Merveilles were yummy as always: freshly made and piping hot, then drenched in powdered sugar. I don't care for quite that much sugar, so I tapped most of the sugar off mine before enjoying it with coffee. Espresso drinkers may be disappointed that there are no espresso drinks, only brewed coffee, but the brewed coffee was strong and went very well with the merveilles and pancake.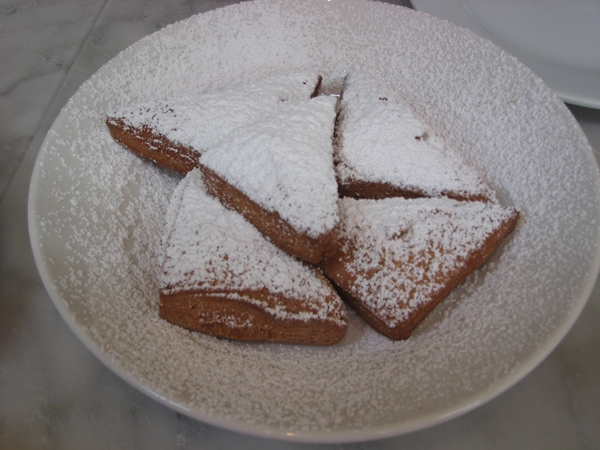 Since we had clearly underordered (I seem to always forget that even though my son is 4, I need to order an adult-sized portion for him) we ordered a side of lamb sausage. Its coiled shape reminded me of the traditional Chiang Mai sausages (see Must-Try Foods From Around the World) and was tasty, but small.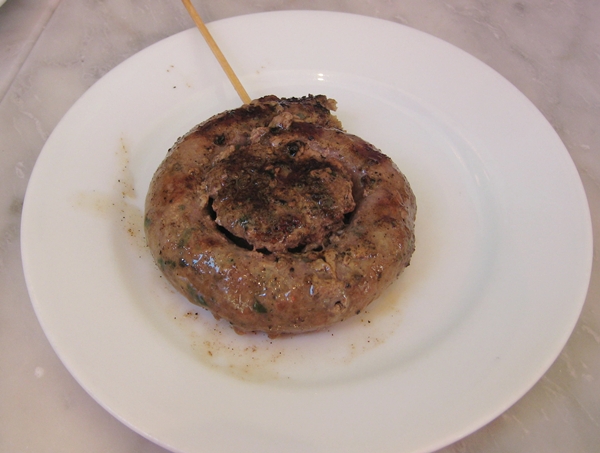 What we should have ordered was Spaghetti a la Carbonara, which we enjoyed on a previous visit. It's a simple but hearty mess of freshly cooked pasta, egg, bacon, and plenty of black pepper. Highly recommended!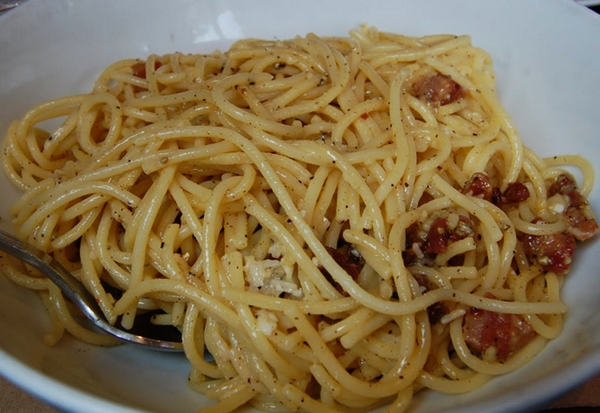 While we didn't order it, the quintessential New York brunch of smoked salmon, along with sturgeon, sable and chubs with assorted breads looked fantastic as well, if rather pricey at $23. But if you're a pancake lover, it would be hard to go wrong with ordering the Dutch Style Pancake–it's plenty for one person.
Oh, and one final secret: While normally no reservations are taken for brunch, Prune does take reservations for Mother's Day, usually starting about 6 weeks ahead. Perhaps see you there, next Mother's Day!
Related posts
Review: Clinton Street Baking Company, NYC
Where to Go for the Best Brunches in New York
Wall & Water at Andaz Wall Street Breakfast Menu and Review
Maialino NYC Restaurant Review
Need Award Booking Help? Our fee is as low as $75 per ticket if you book your hotel through us.
If you enjoyed this, join 200,000+ readers: please follow TravelSort on Twitter or like us on Facebook to be alerted to new posts.
Become a TravelSort Client and Book 5-Star Hotels with Virtuoso or Four Seasons Preferred VIP Amenities!