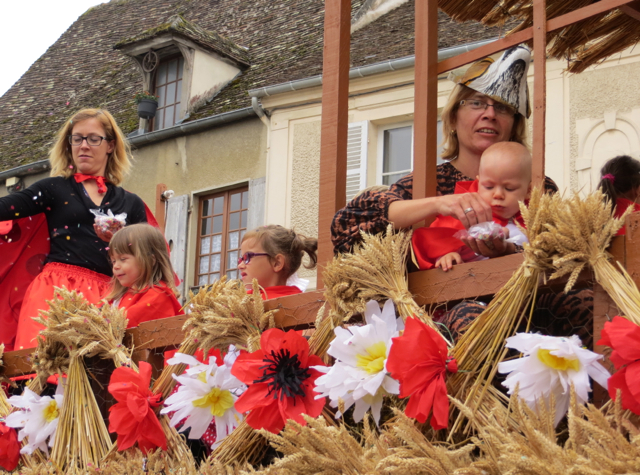 This Provins, France Fete de la Moisson (Harvest Festival) post is part of a UK and France trip report including flights in British Airways in New First Class, Singapore Business Class and Singapore Suites, stays in a Scottish castle and 5-star hotels in London and Paris, and Michelin Star Dining in Paris. For the prior posts, please see:
British Airways Galleries Lounge in Newark and First Class Dining Review
British Airways New First Class 777 Review
British Airways Galleries Arrivals Lounge London and Concorde Room
Singapore Business Class Review NYC (JFK) to Frankfurt
Petrus London Restaurant Review
Dalhousie Castle Hotel Review, Scotland
Dalhousie Castle Falconry Review, Scotland
Epicure at Le Bristol Paris Restaurant Review
Four Seasons Paris Hotel Review
Paris Plages (Paris Beaches) Review
Le Cinq at Four Seasons Paris Restaurant Review
Park Hyatt Paris-Vendome Review
Park Hyatt Paris Breakfast Buffet Review
Prince de Galles Paris Hotel Review
La Grande Eperviere Barcelonnette Hotel Review
Things to Do in Barcelonnette, France with Kids
InterContinental Marseille Hotel Review
Vinoneo Bistro Marseille Restaurant Review
Westin Grand Frankfurt Hotel Review
La Maison Stella Cadente Review (Provins, France)
Provins, France is a bit off the beaten path–you won't necessarily find it even in the day trip section of most guide books to Paris, although for anyone interested in history, a well preserved medieval town, or traveling with kids who enjoy exploring underground tunnels, it should be.
The town of Provins has existed since the early Middle Ages, with envoys of Charlemagne visiting Provins in 802. By the 11th century, Provins and other towns in the Champagne region were important trade centers, attracting merchants and goods from all over Europe, particularly Flanders and Italy. Nine major roads and eleven more minor roads converged in Provins, and major wholesale trade fairs were held twice a year. Provins reached the peak of its influence and weath during the 12th and 13th centuries, before declining in importance starting in the 14th century due to changing trade routes and the Black Plague.
Since we were staying at La Maison Stella Cadente we just had to walk a few minutes up the hill to reach the entrance to the Medieval Town. Although it was drizzling, the festival was still on, so armed with an umbrella we stopped at the ticket booth. Tickets to the Fete de la Moisson (Harvest Festival) were reasonable, about 15.50 EUR for my ticket, less for the munchkin.
We walked in, and soon saw La Tour Cesar (Ceasar's Tower), built in the mid 12th century by Henry the Liberal, which served as a watchtower and a prison: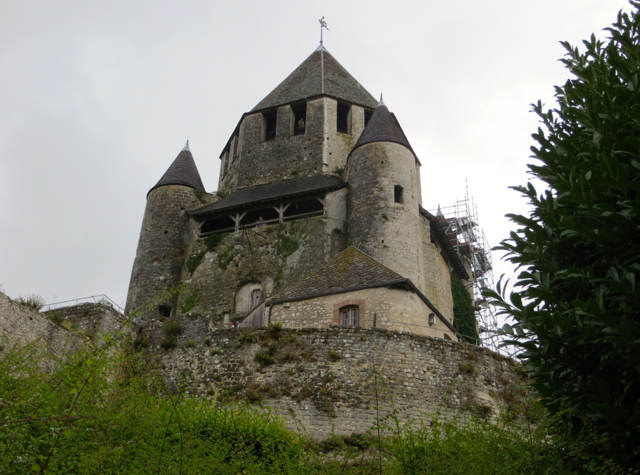 Nearby, there was face painting for kids. I loved this one of a butterfly on a little girl: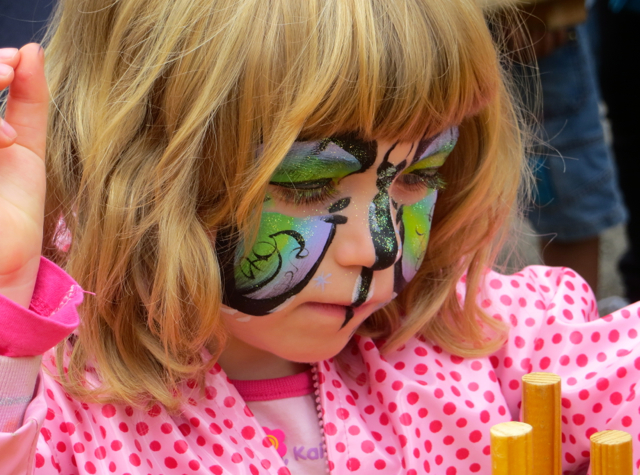 The munchkin, however, insisted on having his arm painted, instead of his face, and stumped the painter by requesting a dinosaur. It turned out to look more like a dragon's head, which, after all, was more in keeping with Provins' medieval history.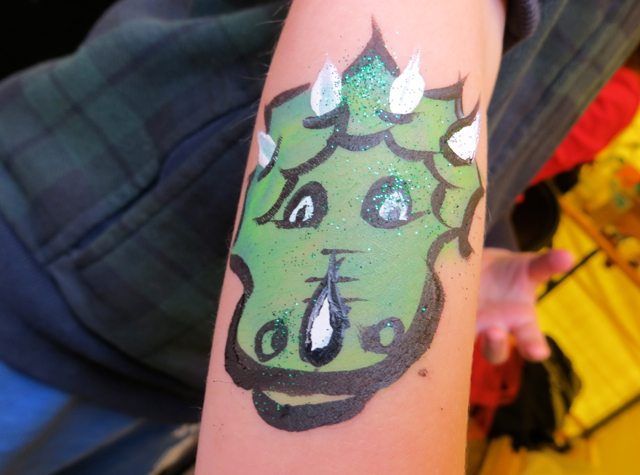 We took shelter from the rain for a bit in Saint Quiriace Collegiate Church, which was erected in the 12th century but not actually completed, due to financial woes, until the 17th century.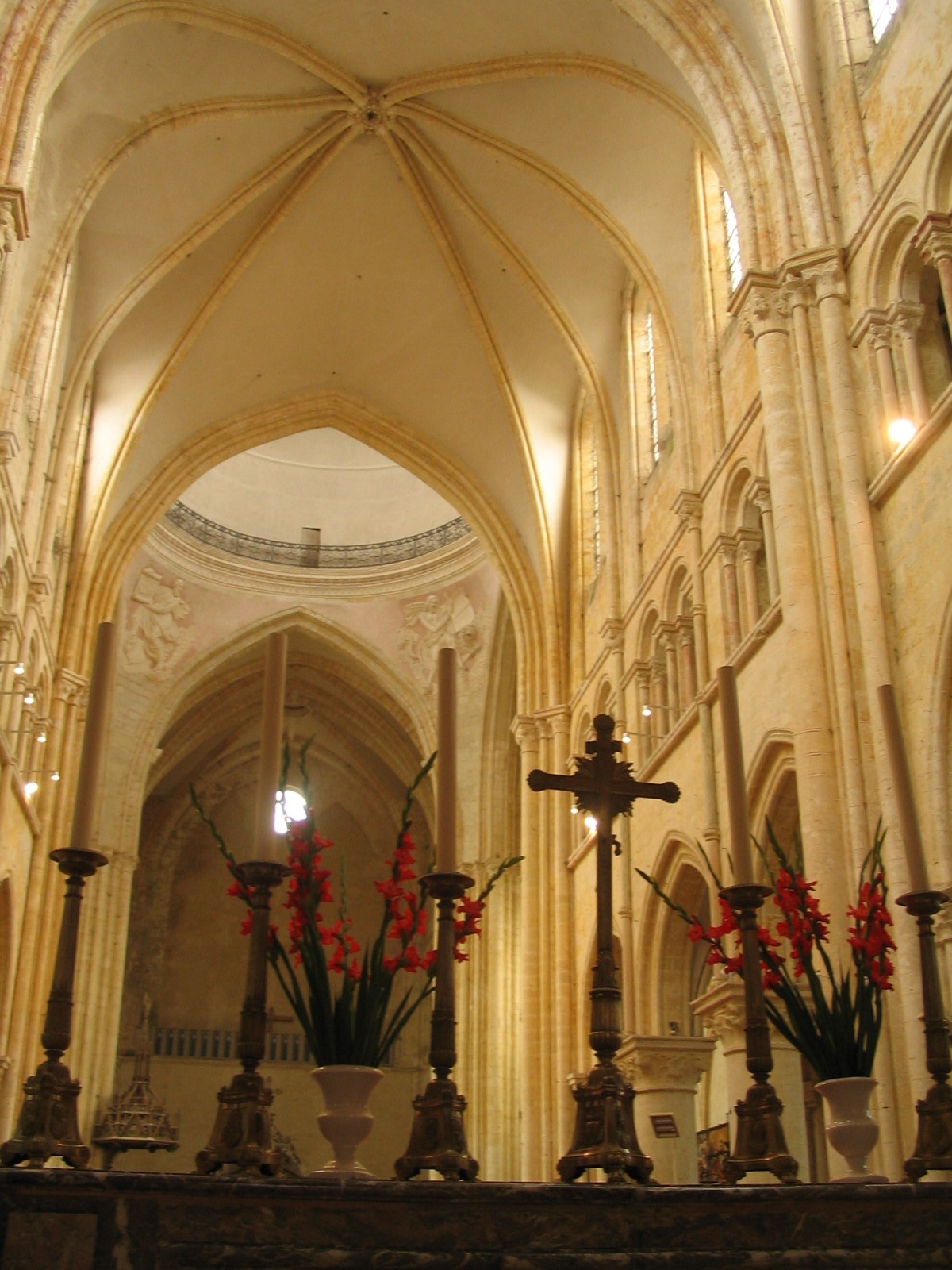 We then made our way to the Hotel Dieu, used as a hospital, for a tour of les souterrains (underground tunnels) that form quite an amazing labyrinth underneath Provins. Apparently the excavation of these tunnels was originally undertaken to extract limestone to clean and remove impurities from wool, as woolen cloth was a major industry for Provins in medieval times. It also used to be far drier in these vaults and tunnels, so some of the cloth was also dried in them.
The tunnels and vaults were subsequently used variously as hiding places, storerooms, and even by the town's freemasons.
Here's a map depicting just how extensive these underground tunnels are, underneath Provins: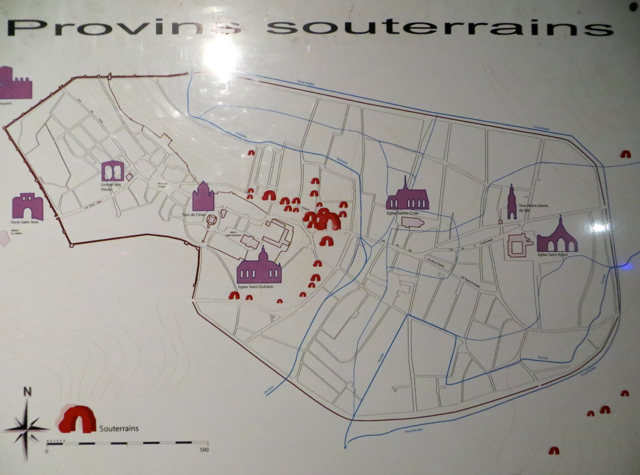 And, while my camera isn't the best, here are photos of the underground cellar where we waited before going on our tour:
And an 18th century inscription: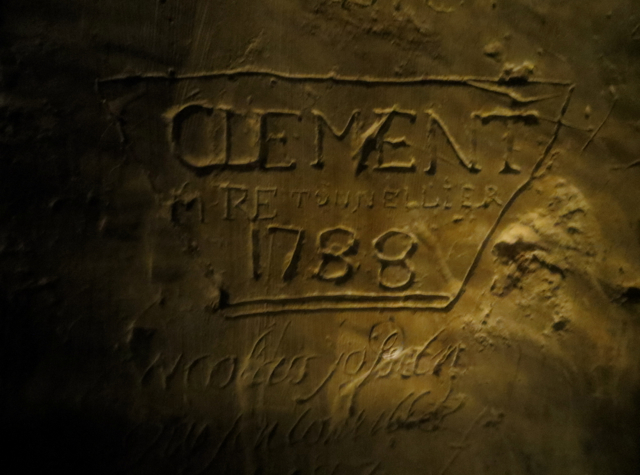 Apparently the nice cool cellars were also used at one point for wine storage, and one of the folks on our tour got some chuckles when he asked if our tour would culminate in a wine tasting 😉 The tour was entirely in French, so I definitely didn't get all of our guide's witty repartee, but it was still worth seeing the tunnels. Our final stop was a vaulted cellar that was most likely used as a covered showroom for fabric.
Here's our friendly guide, dressed of course in traditional medieval garments, at the end of our tour: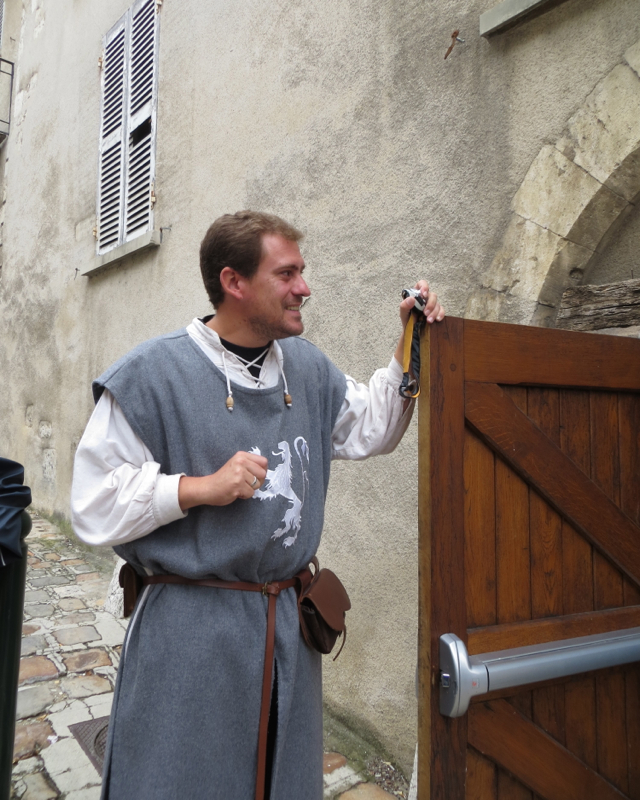 After the underground tour, we ventured into the center of town, along picturesque streets: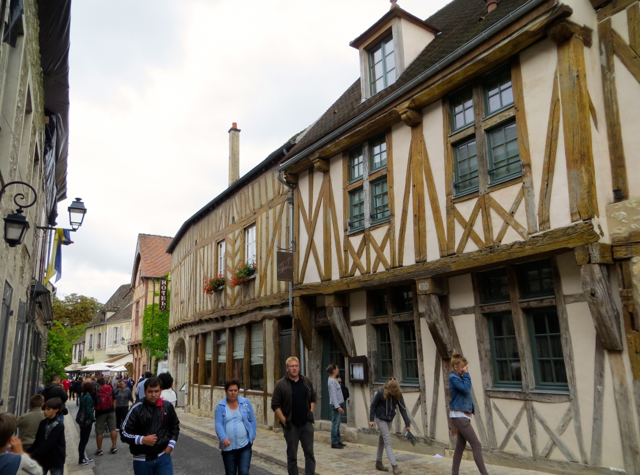 We soon came to the town square, where we got to see the Harvest Festival Parade, which featured a number of tractor pulled floats. The munchkin was in awe as they went by.
A dragon float:
A float with witches: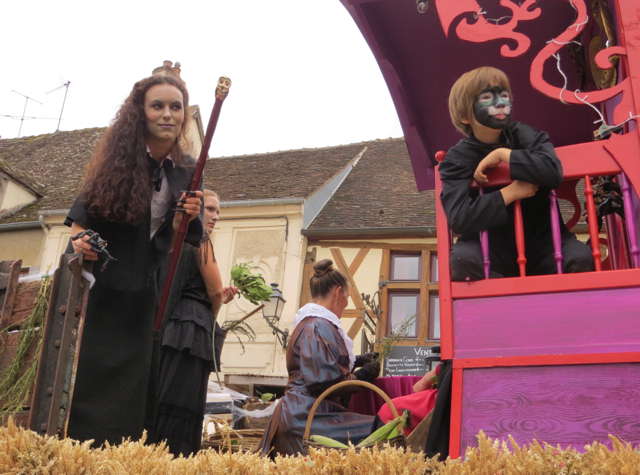 A float with a bunch of mischevious bakers, who delighted in throwing flour at everyone: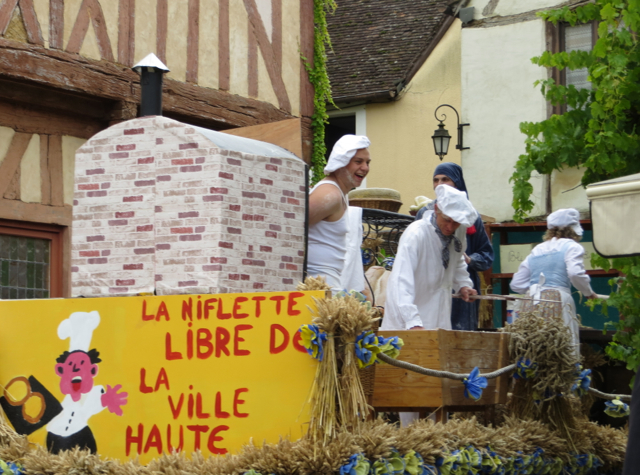 Afterwards, the munchkin spied a carousel and loved riding in it: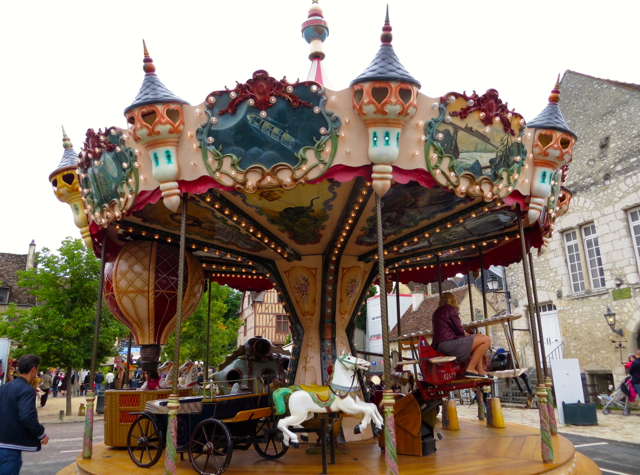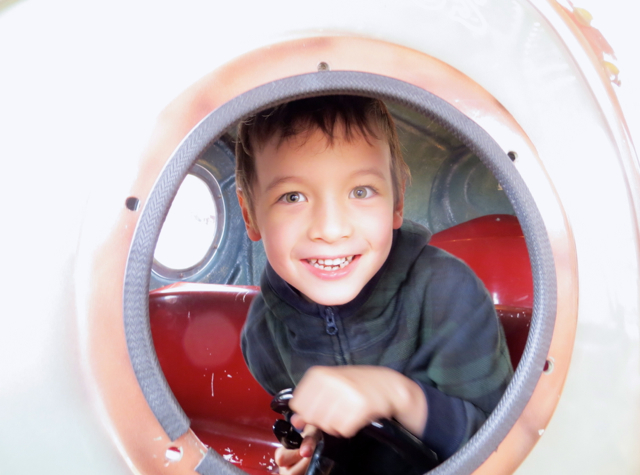 We even participated in some of the traditional folk dancing. I loved the traditional folk dresses the women wore!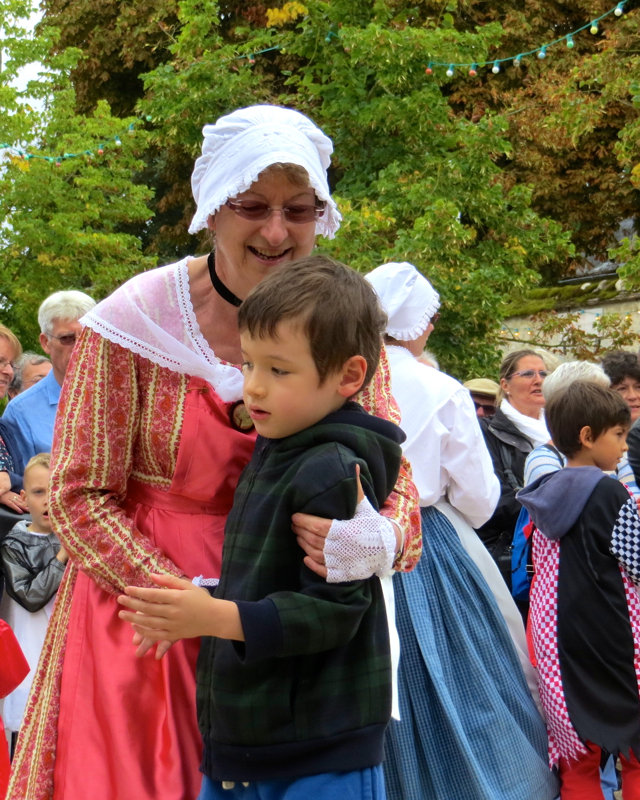 Then it was time for a snack, at a crepe and galette stand. This was probably the most satisfying galette with egg and cheese I've ever had: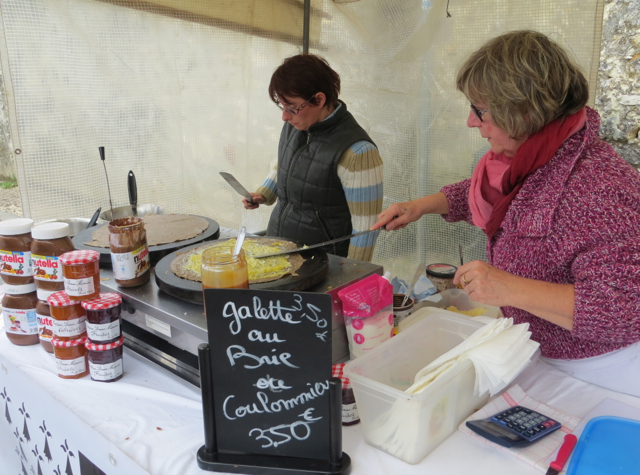 We then stumbled across a bunch of fun old-fashioned wooden children's games, which many of the adults trying them also found challenging. There was one where the goal was to lift a golf ball carefully up, avoiding all the lower holes, until it reached the very top hole. I didn't think the munchkin would be able to do it, since many of the adults weren't able to do it, but he eventually got it to the top.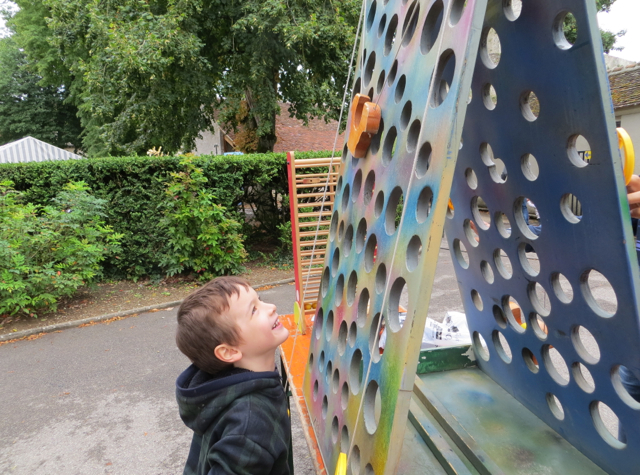 He also enjoyed (surprise, surprise) a game where the object was to knock all the wooden pegs down with a rather hard to control wooden figure on a string: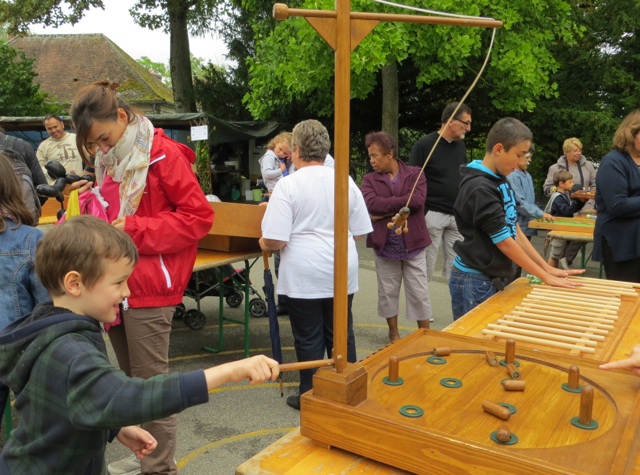 On our way back to la Maison Stella Cadente, we came across an incredible folk music group Les Guillonneux de la Brie, led by Jean Luc Gueneau:
Related Posts
La Maison Stella Cadente Review (Provins, France)
Need Award Booking Help? Our fee is as low as $75 per ticket if you book your hotel through us.
If you enjoyed this, join 90,000+ readers: please follow TravelSort on Twitter or like us on Facebook to be alerted to new posts.
Become a TravelSort Client and Book 5-Star Hotels with Virtuoso or Four Seasons Preferred Partner Amenities!