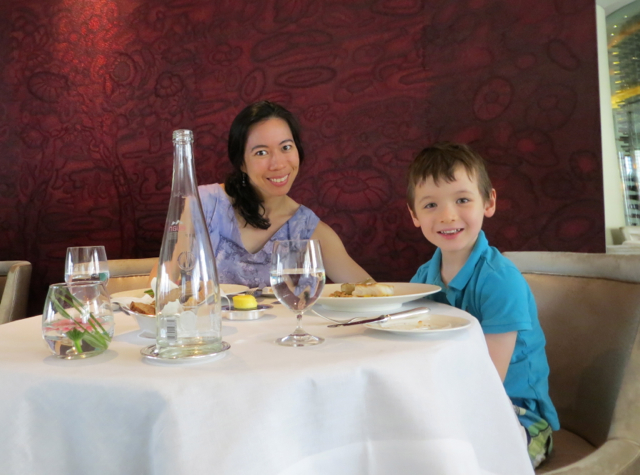 This Petrus London Restaurant Review (a Gordon Ramsey restaurant) is part of a UK and France trip report including flights in British Airways in New First Class, Singapore Business Class and Singapore Suites, and stays in a Scottish castle and 5-star hotels in London and Paris. For the prior posts, please see:
British Airways New First Class 777 Review
British Airways Galleries Arrivals Lounge London and Concorde Room
Singapore Business Class Review NYC (JFK) to Frankfurt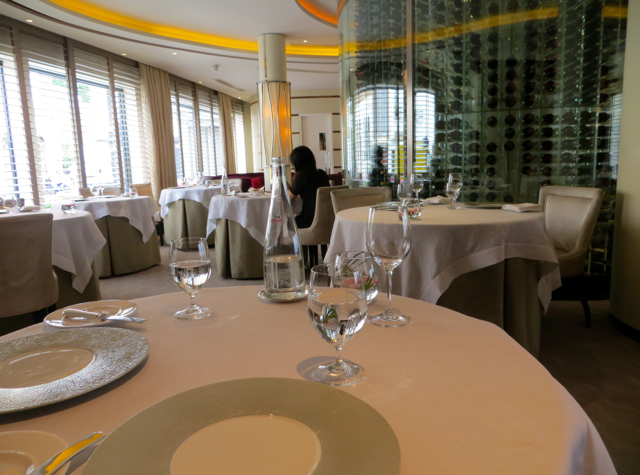 Petrus is currently ranked #1 on Tripadvisor among London restaurants, so we were looking forward to a decadent lunch for two during our recent visit to London. We arrived on time and were welcomed, even the munchkin, which is always a good sign in terms of the level of service, when at a special occasion restaurant.
While Gordon Ramsay's Petrus can be on the pricey side for dinner, when three courses run 65 GBP (~$100) per person, the lunch menu du jour is a relative bargain, at 35 GBP (~$54) per person for three courses. Note that the menu changes seasonally.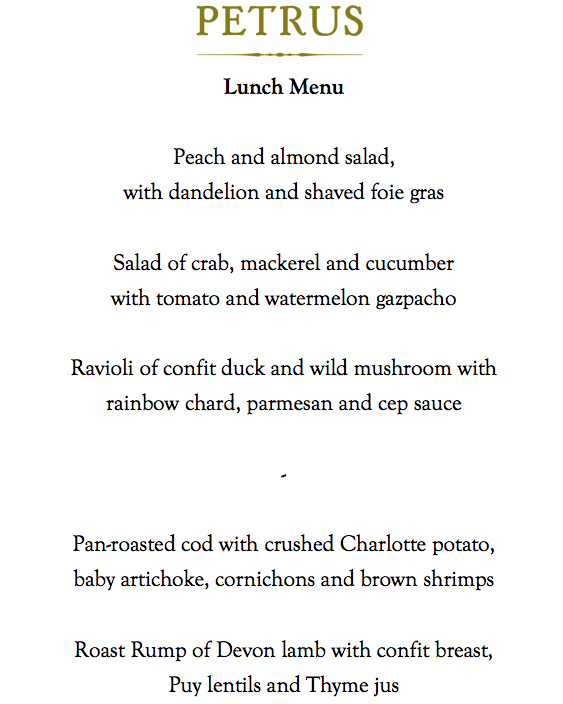 We began with a lovely amuse bouche of smoked salmon atop a vibrant watercress mousse–simple but delicious (well, at least to me–the munchkin hasn't yet developed a taste for watercress!)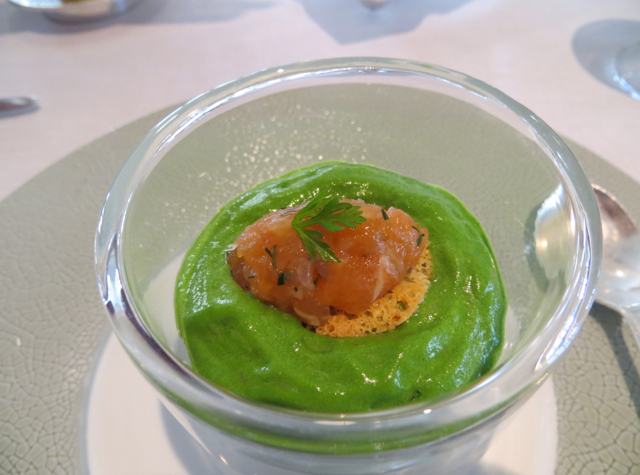 For his appetizer, the munchkin chose the Ravioli of duck confit and wild mushroom with rainbow chard, parmesan and cep sauce. Fantastic! I've always loved the earthiness of wild mushrooms, ever since tasting excellent ones in Russia, and they pair well with duck and game. This is one of the best appetizers I've ever had, period.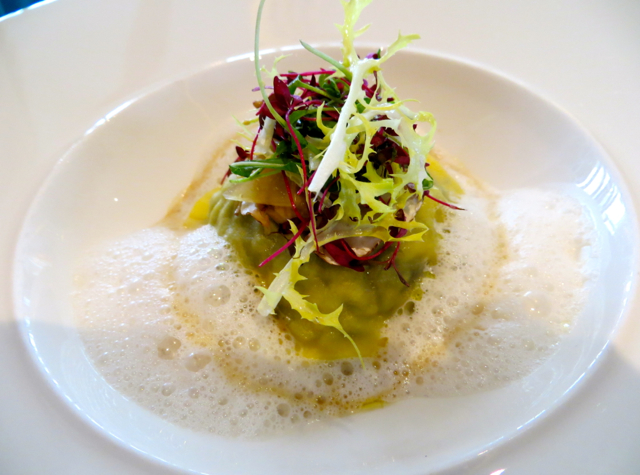 In order to try something different, I opted for the beef tartare adorned with foie gras. Does it get more decadent? I'm still not an expert in beef tartare, but I must say I enjoyed this version, with its luscious foie gras, more than the version at Le Cirque at the Bellagio in Las Vegas.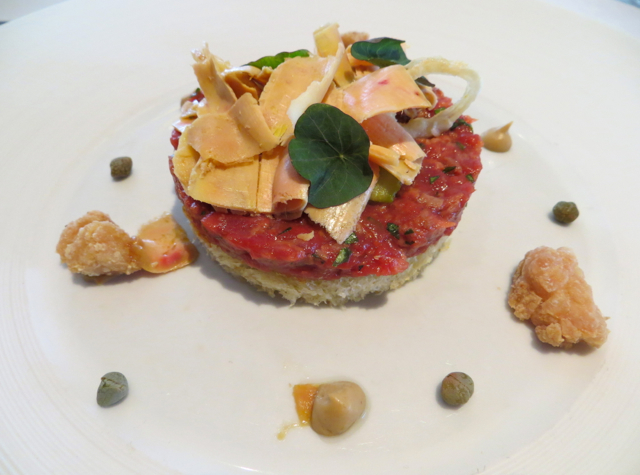 For his main dish, the munchkin chose Pan-roasted cod with potato, baby artichoke and brown shrimps. While I'm not a huge fan of cod, this was the best cod dish I've tasted and the munchkin ate most of it, except for the baby artichoke.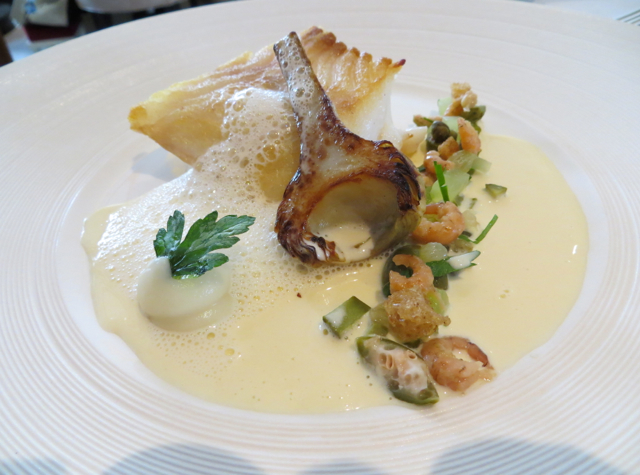 I will admit to preferring my choice, the Roast Rump of Devon Lamb with confit breast, Puy lentils and intensely flavorful accents of black garlic sauce. Mmmm! A must order, if it's on the menu.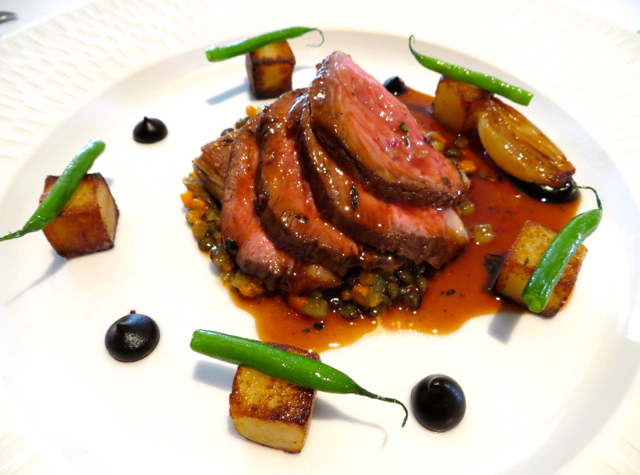 The dessert menu offered a Chocolate Sphere dessert, with milk ice cream and honeycomb, and having enjoyed this so much at Le Cirque I couldn't resist ordering it here too. As at Le Cirque, there was the tableside presentation of pouring chocolate sauce onto the sphere, opening it to reveal the ice cream center, and it was luscious. I'll admit, though, to slightly prefering the renditon at Le Cirque due to its Hazelnut Caramel Crunch.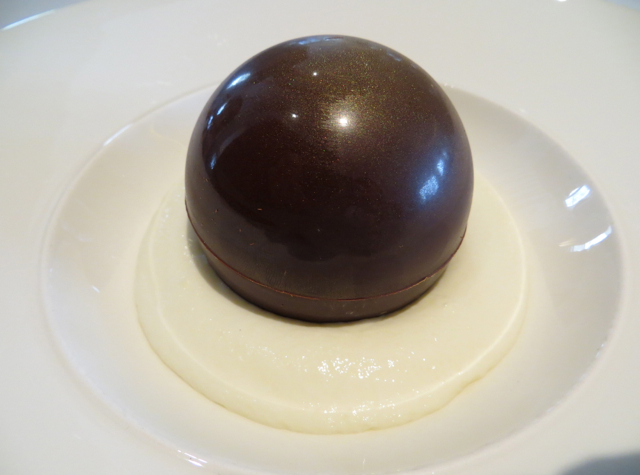 The munchkin, meanwhile, was very pleased with his selection of peach sorbet, vanilla ice cream, mango sorbet, and strawberry sorbet. Wonderful, intense fruit flavors in the sorbets, similar to top notch Berthillon in Paris.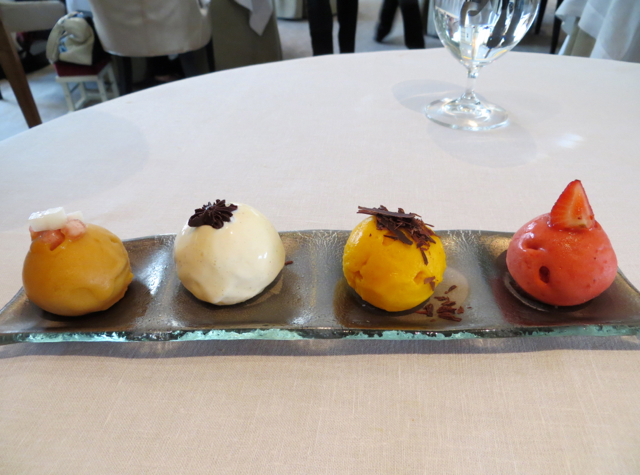 The Verdict: I haven't tried all the top London restaurants, but our lunch at Petrus was very memorable, both for the creative yet very satisfying dishes, and for the professional and personable service. The room itself is subdued and understated, so this isn't the place for a hip fashionista, but it is a great place to take a foodie or oenophile. In keeping with its modern French cuisine, the Maitre D' and most of the servers were French. There was one small misunderstanding when the munchkin's ravioli was removed before he was finished with it, but they apologized profusely and made him a completely new one.
And when we expressed interest in visiting the kitchen, this was very graciously accommodated and we even took a photo with the talented Head Chef, Sean Burbidge. Highly recommended for a special occasion lunch in London.
Related Posts
London with Kids: Travel Guide for Families
Best Frequent Flyer Miles for London Award Travel?
Need Award Booking Help? Our fee is as low as $75 per ticket if you book your hotel through us.
If you enjoyed this, join 90,000+ readers: please follow TravelSort on Twitter or like us on Facebook to be alerted to new posts.
Become a TravelSort Client and Book 5-Star Hotels with Virtuoso or Four Seasons Preferred Partner Amenities!