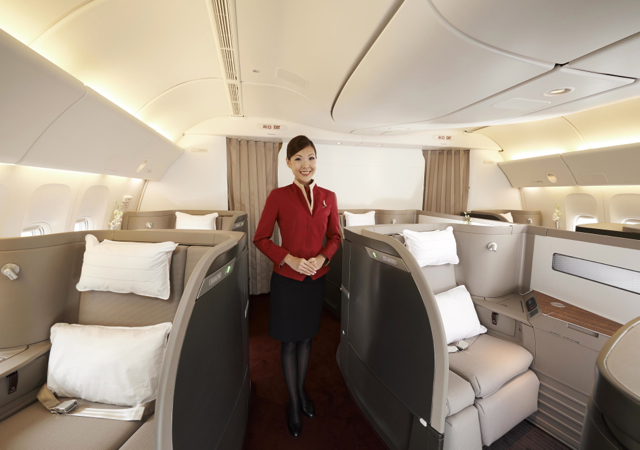 Persistence often pays off, including for award tickets. I book many AAdvantage awards for Award Booking clients, because even though Alaska miles are often less expensive, have the advantage of allowing a stopover on a one way award, and are less expensive to redeposit if you change your mind (you only pay the $25 partner award booking fee if you cancel over 60 days before departure), many of my clients have AAdvantage miles, not Alaska miles.
Many times my call to the AAdvantage partner award desk goes without a hitch. Today, however, I needed to change a client's Cathay Pacific Business Class return date so that he'd be back in time for a family member's high school graduation, as the school had changed the graduation ceremony date. Although it's a few months away, there was no Cathay Pacific Business Class award availability for his preferred date, or even for the 4 days prior to his preferred date, either with AAdvantage miles or even with Cathay Pacific Asia Miles.
Checking British Airways Executive Club and Qantas Frequent Flyer I could see a single Cathay Pacific First Class award, so I called AAdvantage to book it:
Me: "Hello, I'm hoping you can help me change a client's return ticket to another date, may I give you the record locator?"
AAdvantage Agent: "Sure, please go ahead."
Me: "It's [record locator] for [client name] flying Cathay [flight number] in Business Class on [date]. We'd like to change it to [new date]. Could you please check if you can see 1 Cathay First Class award seat available?"
AAdvantage Agent: "Let me check that for you…[pause]…there are only economy awards for that date."
Me: "Hmm, that's strange. Could you please check the dates prior to it?" [These were dates that were also showing a first class award seat, both in British Airways and Qantas, as well as Cathay Asia Miles]
AAdvantage Agent: "There are only Economy awards for those dates as well. There are no First Class or Business Class awards seats for any of those dates."
Me: "Just to double check, it's Cathay Pacific [flight number] departing Hong Kong on [date] at [time] and arriving at JFK at [time]. There's no first class award seat?"
AAdvantage Agent: "No, there's no availability in business or first class for that date."
Me: "Ok, thanks for your help."
After I ended that call, I called back, and fortunately got a different agent. She was able to see the space without any problems, so after asking her to grab the space, I proceeded to top up my client's account, since my client was short a few thousand AAdvantage miles.
That said, she said the award would be redeposited for a fee of $150 before being rebooked. AAdvantage typically does NOT charge when changing to a higher class of service, although you do pay the redeposit fee when moving to a lower class of service. So I asked politely about this, mentioning, which was true, that I'd switched a client to a higher class of service just a few days ago, and there's been no redeposit fee, only the difference in miles and taxes. It would be great, I mentioned, if she could check if the redeposit fee could be waived this time as well.
She said she'd check with her Support Desk, and after she had, she said that they'd waive the fee, which is what I'd expected, although of course I thanked her. It makes no sense to give agents the sense that you're trying to tell them how to do their job, if you hope to get the results you want.
Finally my client's ticket was queued for ticketing (AAdvantage awards don't ticket automatically and are queued), so it was time for me to select a Cathay Pacific First Class seat. The online system didn't permit a seat assignment, probably because it hadn't finished ticketing yet, but I was able to call Cathay Pacific (I find the Hong Kong line is answered faster, although even so I was on hold about 10 min.) and assign seat 1A (also see Best Seats in Cathay Pacific First Class?)
Bottom Line
I'm not sure why the first agent didn't see the award space, since typically British Airways Executive Club and Qantas Frequent Flyer Cathay Pacific award space matches what AAdvantage and Alaska Mileage Plan can book. It is true that Cathay Pacific Asia Miles can have better award availability for Asia Miles bookings, however, so you can't exclusively use Asia Miles award availability to check space when wanting to book using partner miles. In any case, it pays to HUCA if you at first get the answer that there's no Cathay award space on multiple days when you've found Cathay space with both British Airways and Qantas and/or JAL. Similarly, you shouldn't have to pay the $150 redeposit fee for AAdvantage if you're switching to a higher class of service for the award ticket and only changing the date (as long as over 21 days from departure), not the route, origin or destination.
Has persistence paid off for you when booking award tickets?
Recommended Posts
Cathay Pacific First Class Review, Hong Kong to LAX
Review: Cathay Pacific The Pier First Class Lounge, Hong Kong Airport
Review: Cathay Pacific's Renovated The Pier Business Class Lounge, Hong Kong
Review: Cathay Pacific The Wing First Class Lounge, Hong Kong Airport
Cathay Pacific First Class: Don't Count On All Unsold Seats Released as Awards
Need Award Booking Help? Our fee is as low as $75 per ticket if you book your hotel through us.
If you enjoyed this, join 200,000+ readers: please follow TravelSort on Twitter or like us on Facebook to be alerted to new posts.
Become a TravelSort Client and Book Luxury Hotels with Virtuoso or Four Seasons Preferred Partner Benefits!