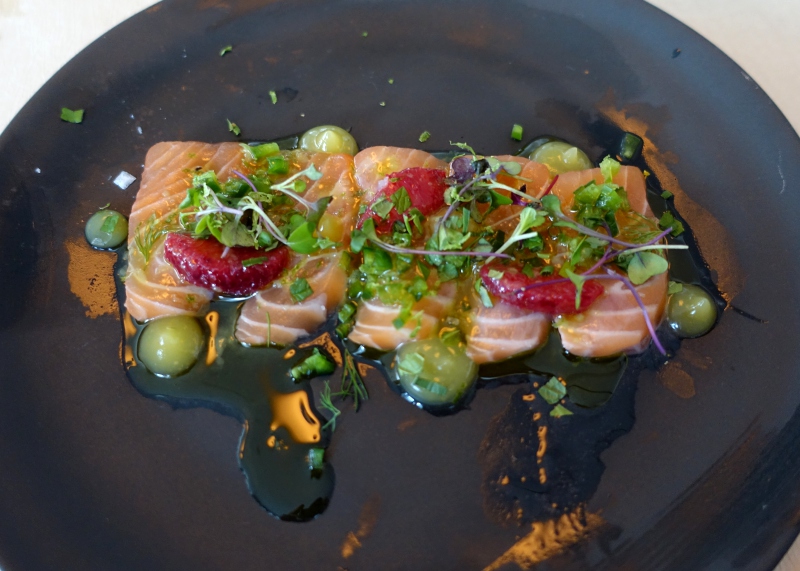 Perry St in NYC's West Village was one of our NYC Restaurant Week Winter 2017 picks for where to go. The restaurant is helmed by Cedric Vongerichten, son of Jean-Georges Vengerichten, and the chef behind the menu at AMEX's The Centurion Lounge New York, LaGuardia Airport. Visiting New York? See all of our posts tagged NYC.
Here's my Perry St Restaurant Week review.
Perry St Location and Hours
Perry St is, as its name implies, located on Perry Street in NYC's West Village, 176 Perry Street to be exact, all the way over by West Street and the Hudson River. The restaurant is open for lunch on weekdays 11:30am-3pm, dinner Sunday-Thursday 5:30-10:30pm, dinner Friday and Saturday 5:30-11:30pm, and weekend brunch 11-3:30pm.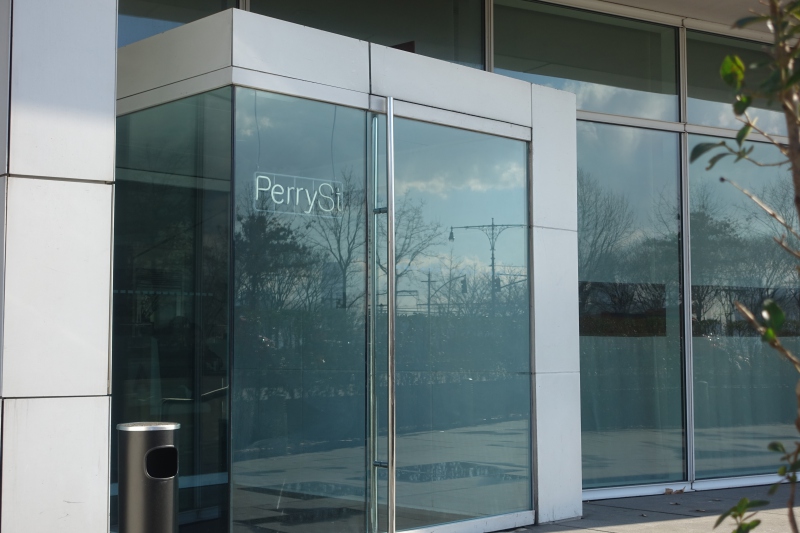 The Scene
I had an early 12noon lunch reservation, so only a few tables were already seated when I arrived, several couples as well as solo diners. Other guests who entered while I was dining included more couples and friends. Given the West Village location, I wasn't surprised to see a lack of suits or business diners.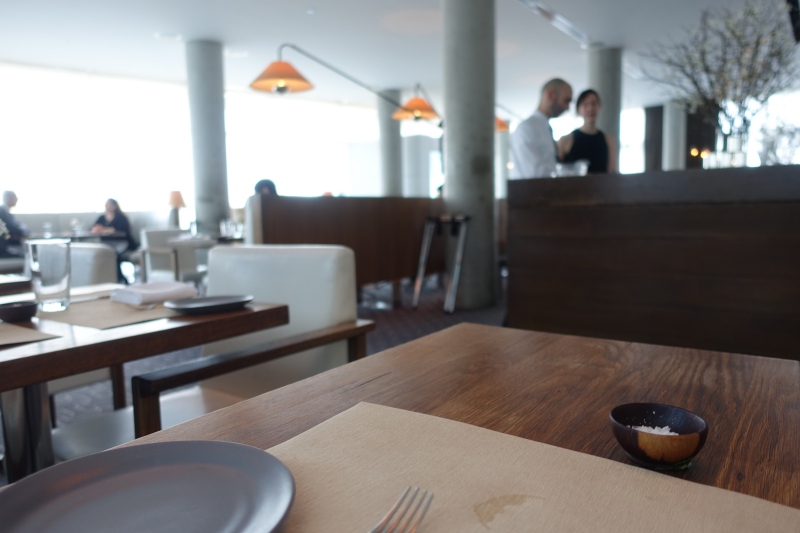 Perry St Menu and Food
One reason I liked the Perry St Restaurant Week menu was that it seemed to offer some more interesting flavor combinations than I typically see, such as fish sashimi with blood orange, and pork with dill spaetzle and samjang sauce. Unfortunately, though, none of these dishes (well, except for the Molten Chocolate Cake) is on the restaurant's regular menus, not even on the $35 prix fixe lunch menu. That should have been a warning sign.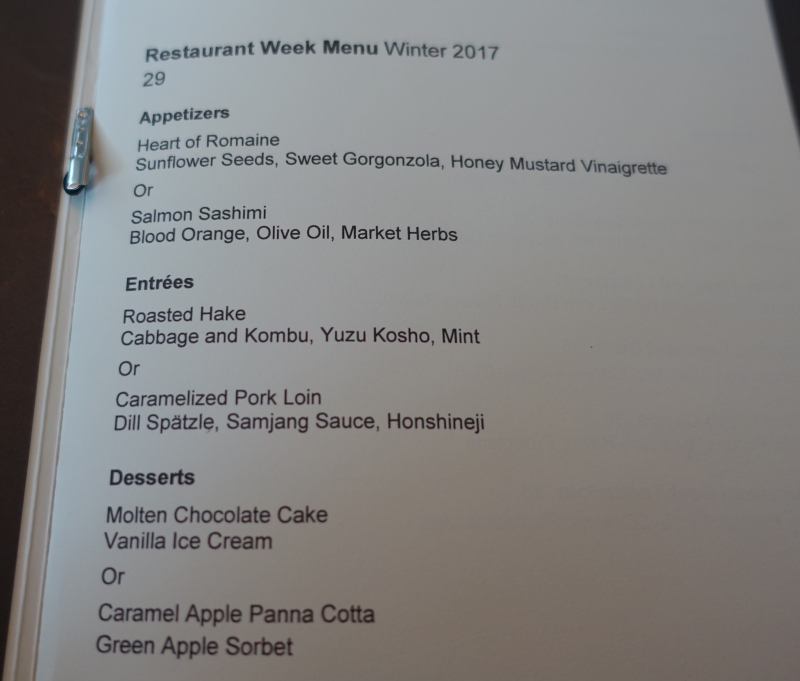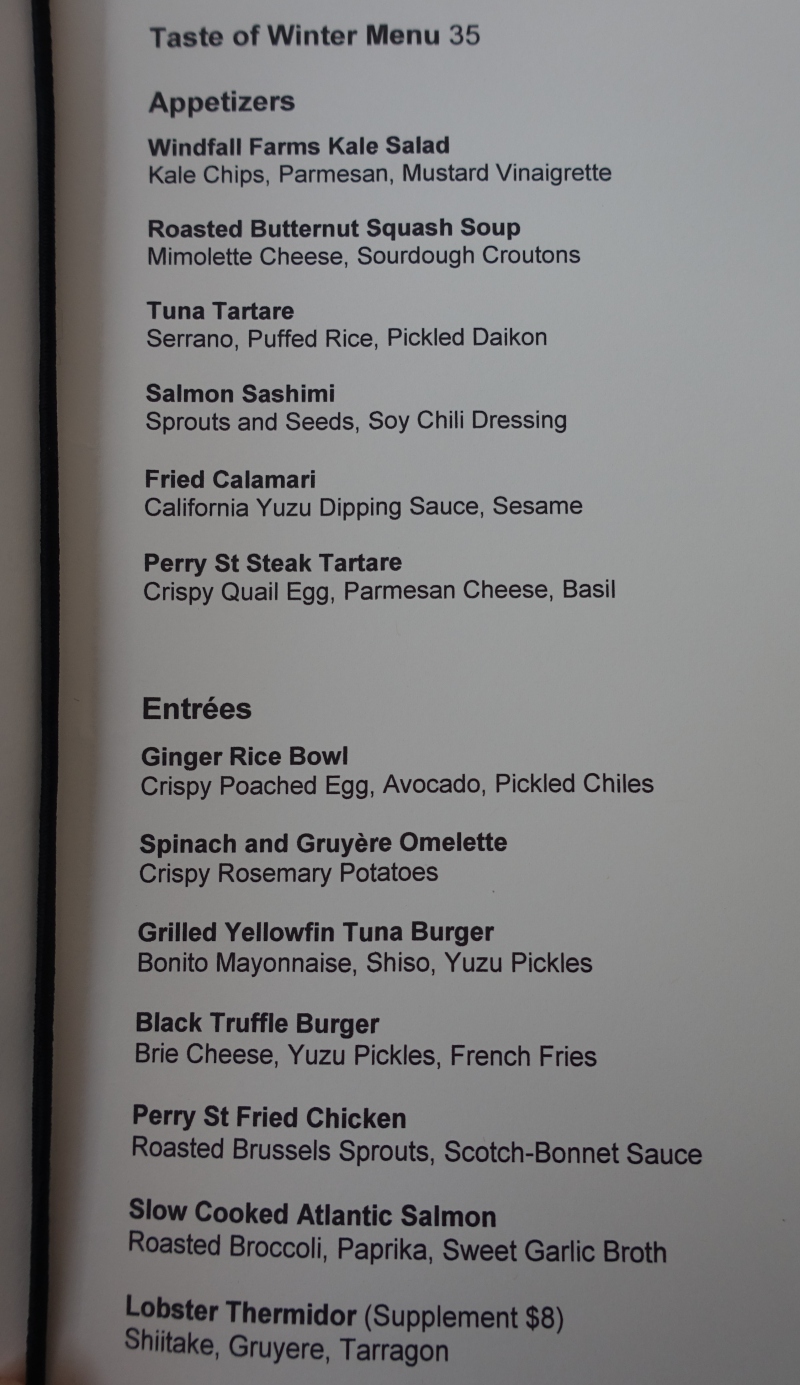 The regular lunch a la carte menu is quite pricey, with appetizers ranging from $16-$22 (excluding the Petrorossian caviar at $64) and main courses from $34-$41. To me, those are dinner menu prices unless it's a 1 Michelin star restaurant. To be fair, dinner menu prices are also in this range, so it's just that lunch isn't a better deal in terms of the a la carte menu, which I would have expected it to be given the neighborhood.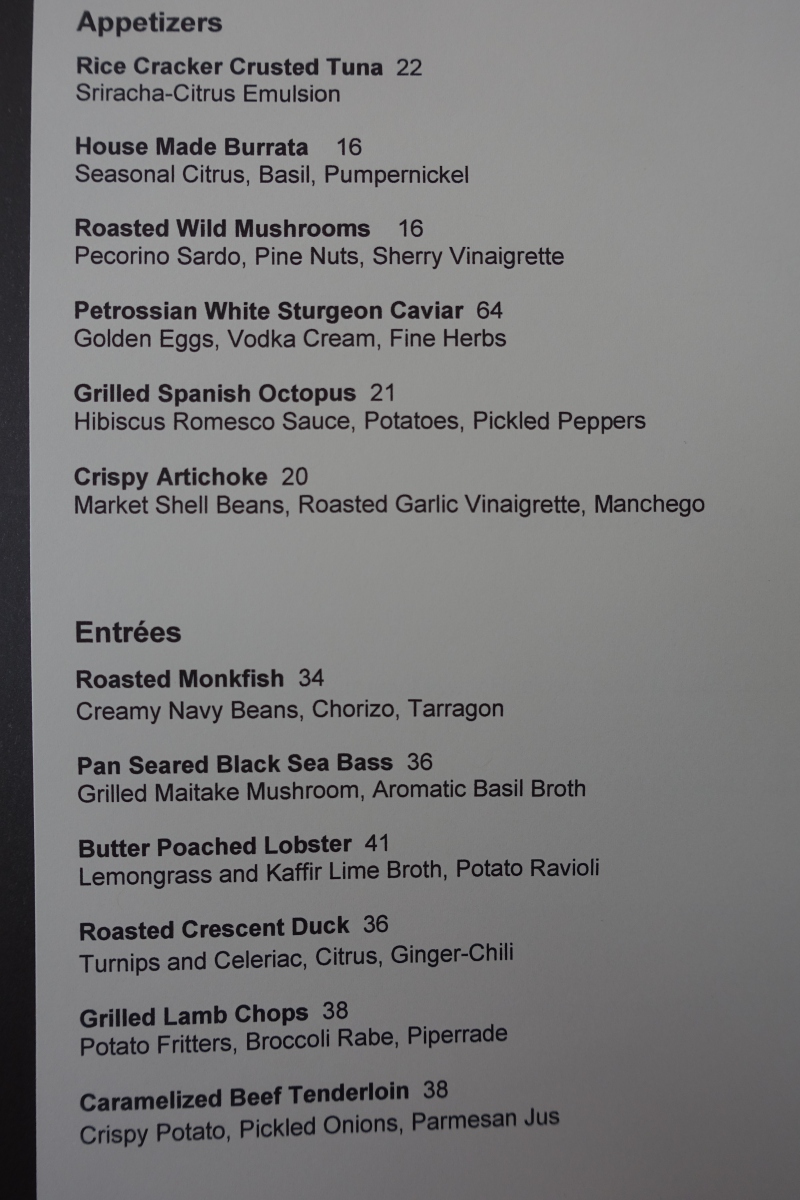 After placing my order, my server offered me some bread. There was only one choice, a kind of pain de campagne, but it was fresh and good.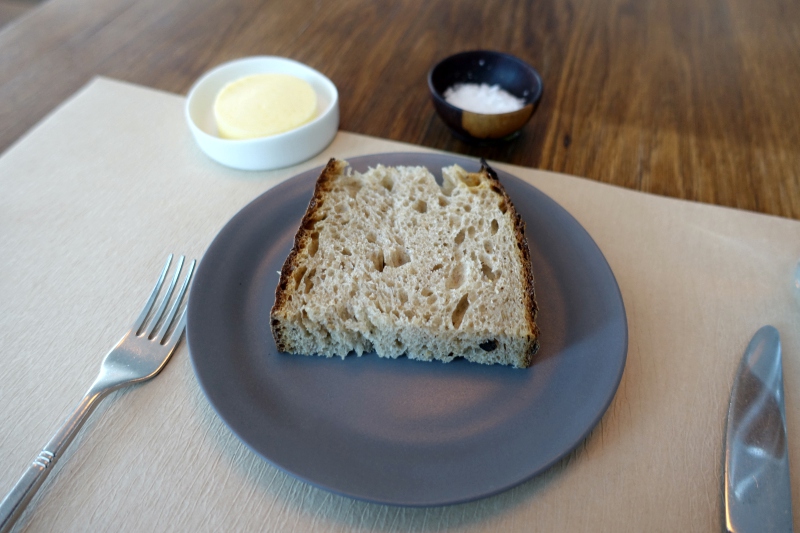 The Salmon Sashimi appetizer was beautifully plated, with a nice contrast of colors given the blood orange segments, an shower of fresh herbs. The salmon was silky and very fresh, but I felt that the blood orange segments were a bit too bitter and didn't complement the fish as well as I'd hoped. The herbs, however, perked up the dish and were appreciated.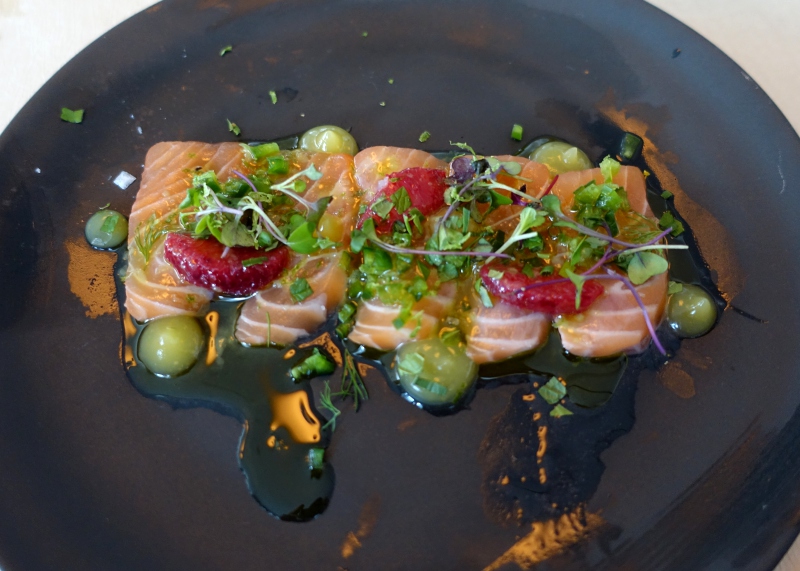 I had to look up Samjang Sauce when I saw it on the menu, and learned that, more commonly spelled Ssamjang, it's the thick, spicy and salty sauce often used with grilled foods and for foods wrapped in lettuce leaves. In fact, I'm pretty sure we enjoyed this sauce or one similar to it as part of our bibimbap meal in Asiana Business Class awhile ago.
In this case, it was an accent for caramelized pork loin, and the sauce was the highlight of the dish. I'd have requested more, if I could have flagged my server, who seemed engrossed in chatting with a colleague. The pork was fairly dry and tough. Either it hadn't been brined well or at all, or it had been overcooked. The dill spaetzle were nice, although there wasn't a very pronounced dill flavor, which would have been more interesting. Points for creativity, but execution was lackluster, at least for the meat.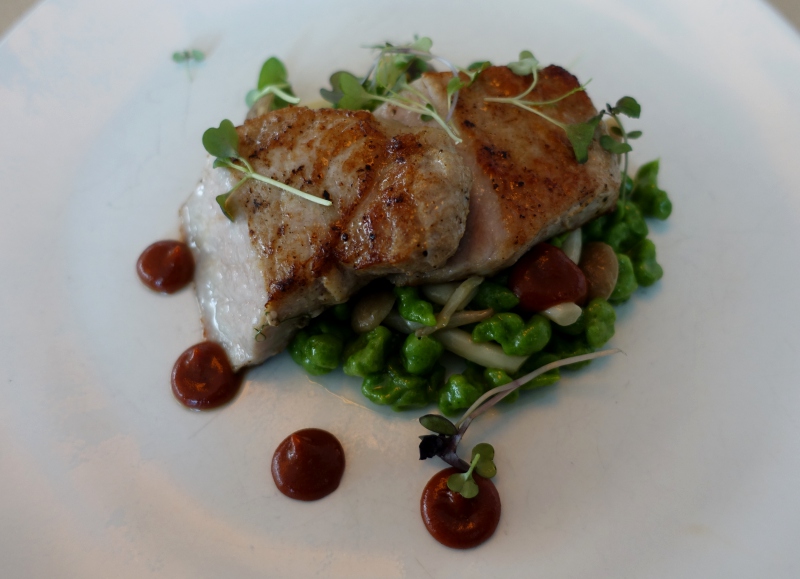 The Molten Chocolate Cake (a Jean-Georges classic), however, was perfect, with a molten filling and high quality vanilla bean ice cream. This was the highlight of the meal.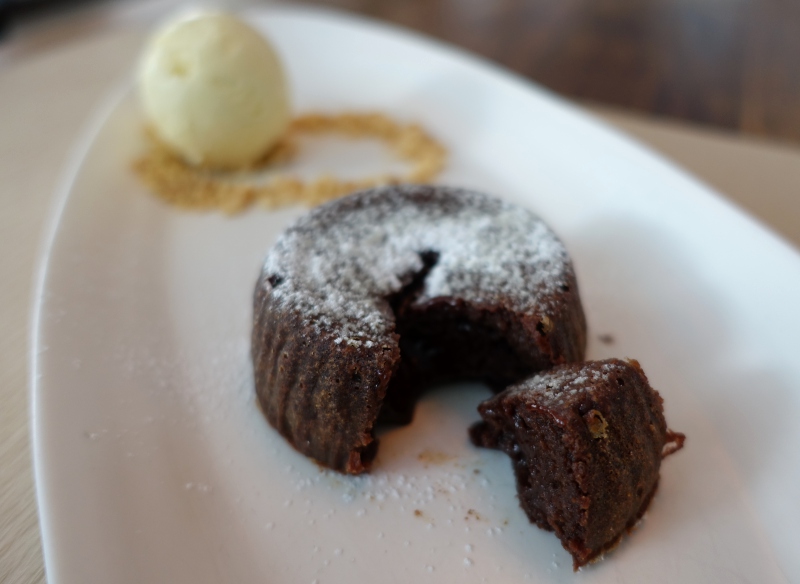 The Verdict
Overall, Perry St was a good, solid Restaurant Week lunch, with a beautifully plated and refreshing starter, ok main dish, and satisfying classic molten chocolate cake dessert. Nothing blew me away or would motivate me to come back for a regular meal, however, which is a shame, since I'd assume that's a goal for Restaurant Week: to lure in new clients and have them return. It's not a good sign for me when I'm thinking that I could have cooked the protein in the main dish better, since making real food isn't my forte–I'm more skilled when it comes to desserts. Granted, it could be a one off, and both the $35 prix fixe menu and a la carte lunch menu had some tempting selections, at least on paper.
I will say, however, that servers could be friendlier and more attentive, asking about how the meal is. Not once during my meal was I asked how things were, and only at the end did a manager ask how it was. I told him, and he was concerned, and seemed to even be offering to take something off my bill, but I declined, since I wasn't looking for a discounted meal–simply a better lunch experience than I had.
If you've dined at Perry St recently, what was your experience?
Recommended Posts
NYC Restaurant Week Winter 2017: Where to Go and AMEX Statement Credit
Pizzetteria Brunetti NYC Restaurant Review
Review: The Centurion Lounge New York LaGuardia Airport (LGA)
Top 5 Best Value NYC Michelin Star Restaurants
Need Award Booking Help? Our fee is as low as $75 per ticket if you book your hotel through us.
If you enjoyed this, join 200,000+ readers: please follow TravelSort on Twitter or like us on Facebook to be alerted to new posts.
Become a TravelSort Client and Book Your Hotel with Virtuoso or Four Seasons Preferred Partner Benefits!