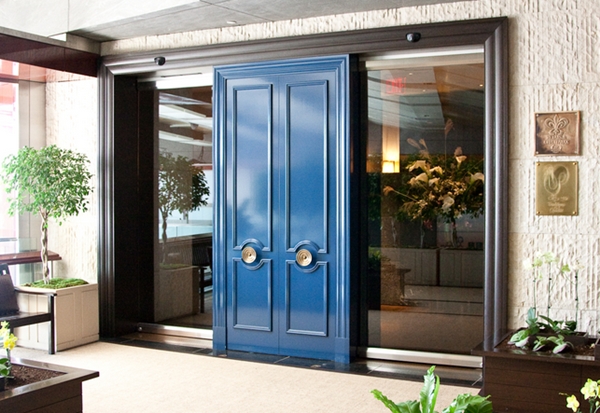 Per Se's Tasting Menu in the main dining room is $295 per person, and I knew it would take hours, so I nixed that idea and decided on the no reservations Salon, where you can select a la carte from the Salon Menu, which offers several of the same dishes from the tasting menu. While it might not be a free meal, it was clear our $100 British Airways Visa credit (from my husband and I splitting the bill and each using our card) would go a lot farther there.
Since the Salon doesn't take reservations, my husband arrived a bit before 7pm and I joined him a bit afterwards on a Friday night, but fortunately we needn't have worried–while the Salon isn't huge, there were 4-5 comfortable banquettes that could seat 4 people each, and only 3 other guests enjoying drinks when we arrived (and no one else when we left). If anything, it was more private than the main dining room!
We were welcomed by our server and provided menus; my husband had already been handed a restaurant iPad with the wine list. We checked with our server on portion size, and she advised that the a la carte Salon menu selections were about the same size as the tasting menu, so it was advisable to order about two per person. This made sense, but since we didn't want to be stuffed, we opted to each order one of the meat courses, plus a cheese course, and share all of them.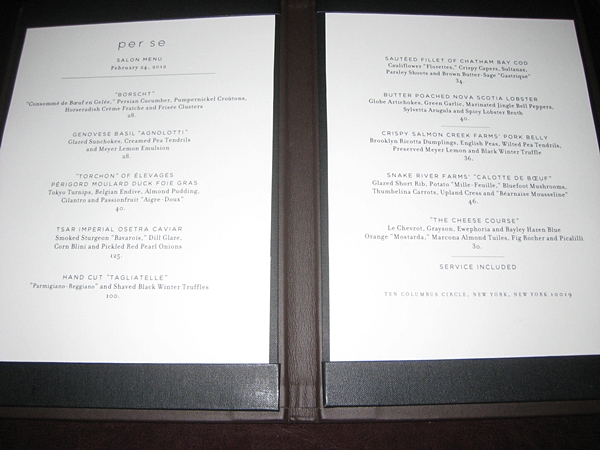 I was a bit disappointed in the small selection of wines by the glass, although I recognize that the wine list is primarily put together to accompany the tasting menu and that many couples would order at least a half bottle to accompany a meal lasting several hours. We asked for advice, given that at home, for reds, we normally prefer full bodied, fruit-driven Sonoma Zinfandels and Malbecs, neither of which was offered by the glass. Our server suggested the Talenti Brunello di Montalcino 2006 ($35) which she kindly brought two tasting sips of. My husband liked it fine, although I personally found it too tannic with not enough fruit. Our server immediately sensed I didn't enjoy it, and very generously offered to bring the Muga "Prada Enea" Rioja Gran Reserva 2004 ($40) after initially suggesting a French Burgundy, which I was unenthusiastic about. It was good of her to want to find a wine we both liked, and not something I take for granted, as the purpose of servers providing you a taste of the wine you ordered before pouring it is actually not to see if you like it or not, but just to make sure the wine isn't bad, as in "corked." The Talenti of course wasn't corked, it's just I really didn't care for it.
I enjoyed the Rioja, which was poured by her colleague, and given how generous the pour was, I asked him if he knew we were splitting a glass. "Ah, I wasn't privy to that" he said smiling, "but let's just call it a large pour" and without missing a beat, poured my husband a similarly sized glass, which of course we were thrilled with!
Yet a different server brought us miniature cheese gougeres, and moments later, salmon tartare cornets: delicate wafer cones with creme fraiche and salmon tartare atop, looking like mini ice cream cones. The gougeres had melted cheese inside them, and the salmon tartare cornets were exquisite, and perfectly embodied Thomas Keller's quote on the Per Se Web site "We want you to say, 'I wish I had just one more bite of that'" (well, in my husband's case, he'd have wanted about 10 more bites of that, but I digress…)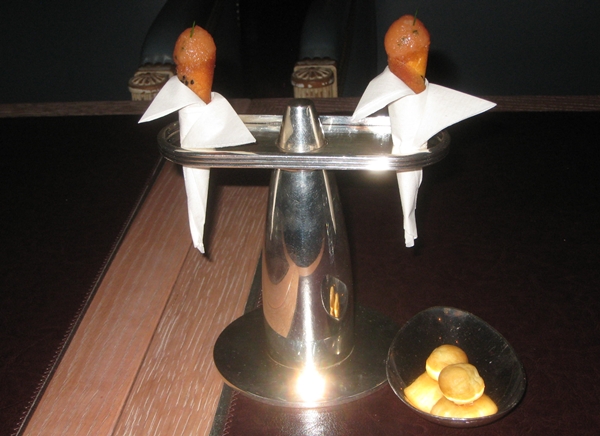 While we were enjoying our gougeres and amuse bouche, we were surprised to hear a baby crying a little (not that loudly) from the dining room, and periodically, throughout our meal, we saw at times the father or the mother carrying the baby around in the Salon. Wow. I've written (perhaps a bit controversially)
10 Tips for Fine Dining with Toddlers
and we've taken him to a fancy lunch at
Le Cinq
at the
Four Seasons Hotel George V Paris
, but even I wouldn't have dreamed of taking my son to Per Se (or Eleven Madison Park, for that matter) for dinner, given how long the tasting menu lasts. It certainly didn't bother us (the child wasn't loud, and seemed pretty happy when being held by one of his parents in the Salon) but I'm glad I wasn't one of the parents, entertaining a toddler for that long is no picnic and I can only imagine the stares, if not grumblings, of some of the other diners in the main dining room.
An entire bread basket and butter was brought to our table–very nice to not have to keep asking for bread, especially as my husband ate at least 4 rolls. Our favorite was the pretzel roll, probably due to the salt on the bread. I will say, though, that my favorite restaurant bread remains the warm, flakey, buttery rolls at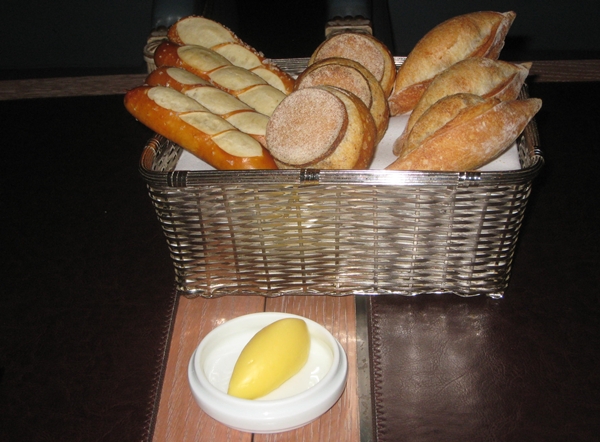 Our dishes arrived: the Salmon Creek Farms' Crispy Pork Belly with English Peas, Wilted Pea Tendrils, Preserved Meyer Lemon and Black Winter Truffle. Although the description also said Brooklyn Ricotta Dumplings, I realized only later that I didn't remember seeing or tasting any. Regardless, the pork belly was juicy, succulent, perfectly crisped on top and well accompanied by the black truffle sauce, every last bit of which we mopped up with bread.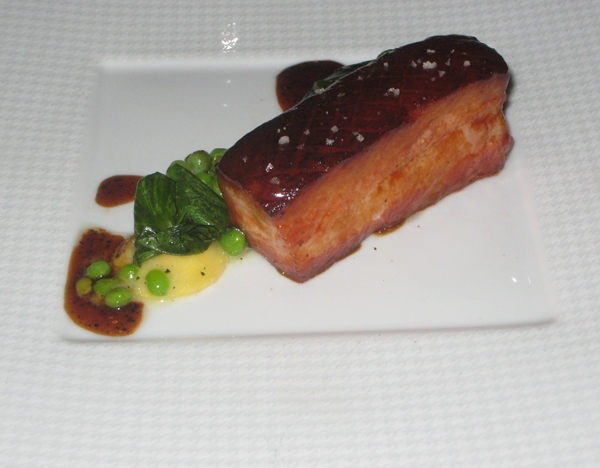 Our other selection, the Snake River Farms' Calotte de Boeuf Glazed Short Rib was possibly even better, beautifully plated with a bluefoot mushroom, thumbelina carrot, upland cress and "bearnaise mousseline" poured artistically tableside.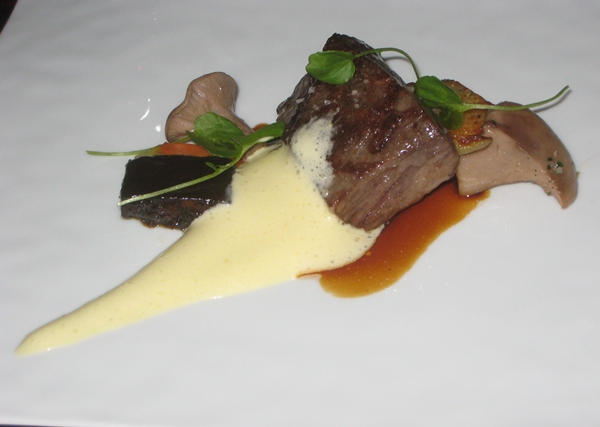 After we had finished sharing these plates, they were removed, along with our bread basket. We had actually wanted to take the remaining bread home for our son, who loves fresh bread, so we asked one of our servers, and not only obliged, but asked which bread we most wanted to take home. He promised to package up 6 pretzel rolls for us, which again, was above and beyond (since we'd eaten all but one of our pretzel rolls from our bread basket). Very nicely packaged too, in a silver box with a Per Se ribbon: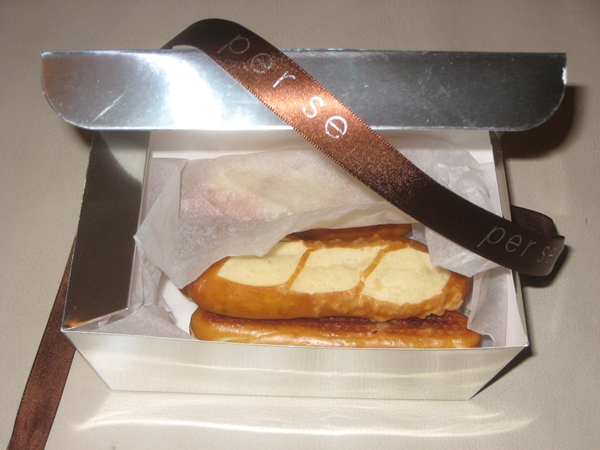 As our server noted, our meat courses were tasting sized portions, so it was a good thing we had ordered a cheese course, and fortunately it came with even more bread: walnut bread and currant bread (both of which I recognized from Bouchon Bakery, on the third floor of the Time Warner Center).
To be honest, I thought the cheese course was slightly disappointing, although I'm probably unfairly comparing it to the cheese cart experience we've had at Eleven Madison Park (and perhaps Per Se has the same, in the Main Dining Room) and at Jamin, one of Joel Robuchon's former 3 Michelin Star restaurants, which I dined at years ago. There were four small servings of cheese: Le Chevrot, Grayson, Ewephoria and Bayley Hazen Blue, along with accompaniments: picalilli, a kind of sweet pepper mixture that to me didn't really go with anything else; orange "mostada," a kind of candied orange mixture that again, I didn't feel really complemented much; fig rocher (delicious) and almond tuiles (nice but unremarkable). I personally would have been happier with more cheese and no accompaniments, and with at least one "gooey" pungent French cheese, say Coulommiers, and perhaps a Pyrenees Brebis instead of the Ewephoria. In any case, it didn't stop us from finishing everything except for a few slices of walnut bread.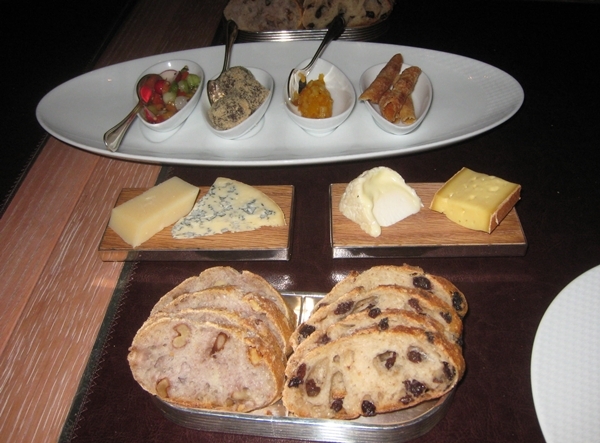 Our server asked us if we wanted to see a dessert menu, which we did. We perused it, but even though we would happily have split a dessert, and almost incredibly for me given my sweet tooth, I didn't see anything I really wanted to try. Yes, there was Thomas Keller's famous Coffee & Doughnuts, some kind of floating island dessert (my least favorite kind of dessert), a chocolate dessert of some kind and a couple others, but nothing I had to have. So I simply ordered a decaf cappuccino (good, but disappointingly no barista artistry with the foam) and they also brought some mignardises: some mini pate de fruit, caramels, and chocolates (my favorite, of course, was the chocolate). A very nice sweet touch to end on, especially as we didn't order dessert.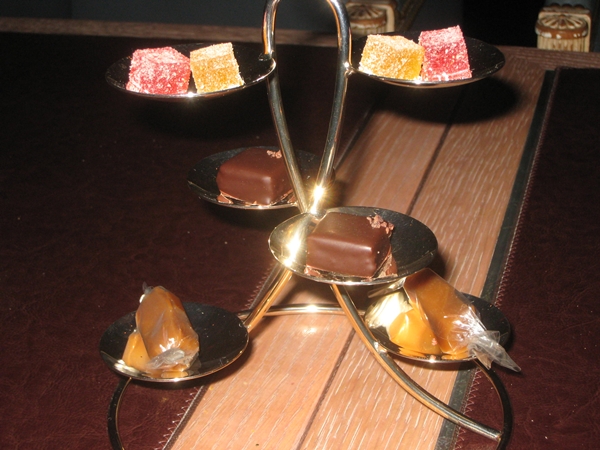 Plus, even though we were only dining in the Salon, they brought us each a beautifully packaged quartet of housemade shortbread cookies! For the past couple of nights, I dressed these up for dessert at home, by serving with vanilla bean ice cream with bittersweet chocolate and caramel fleur de sel sauces and candied pecans.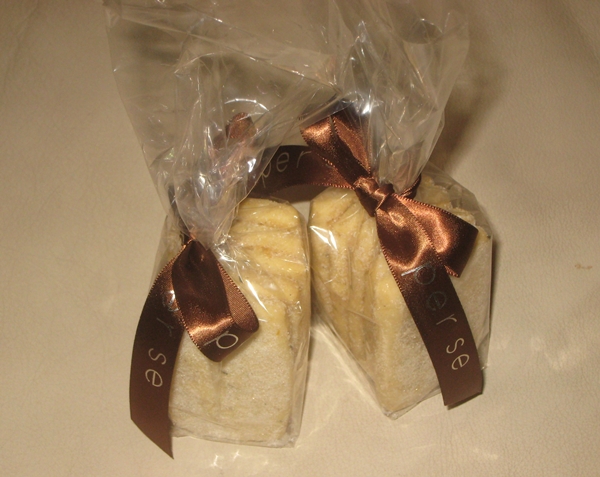 The damage? Since we split the bill and each used our BA Visa card, the effective cost to us once we receive our statement credit was $65, which included splitting a $40 glass of wine. I did leave a little more tip on top of that for good service, but it wasn't required, since service is included in all Salon Menu prices, as well as in the tasting menu.
The Verdict: As expected, fantastic service, absolutely at the same level as Eleven Madison Park. It's not fair to compare the Salon at Per Se with the Tasting Menu at Eleven Madison Park, but I'd say that at least for similar meat dishes, such as the crispy pork belly, they are on par with each other. I do give the edge to Eleven Madison Park for their more extensive list of wines by the glass and also more reasonable corkage fee ($35 vs. $90) and better bread (warm and buttery rolls). I haven't been inside Per Se's main dining room, so I can't say for sure, but I think for lunch, I'd prefer the airy, light-filled space at Eleven Madison Park more, even with the apparently great views of Columbus Circle and Central Park from certain tables at Per Se.
I also believe the value is better at Eleven Madison, where a four course lunch menu is available for $74 and lunch tasting menu for $125, with four course dinner menu for $125 and dinner tasting menu for $195 vs. five course lunch menu at Per Se (Fridays, Saturdays and Sundays only) for $185 and dinner tasting for $295. But keep in mind that Per Se's prices do already include service (although not tax), and you should be tipping at least 20% for Eleven Madison (or any other good restaurant in NYC) so the EMP lunch tasting menu vs. Per Se lunch menu would be more like $150 + tax vs. $185 + tax, etc.
That said, it's no longer possible to have dinner a la carte at Eleven Madison, so Per Se's Salon Menu, which we had, is great when you don't want to commit to the expense and time of a full tasting menu.