The St. Peninsula Bangkok Hotel Review can be booked with PenClub preferred partner and Virtuoso benefits if you're a TravelSort Client. This review of the hotel is for a short Bangkok trip, part of a Southeast Asia trip report; here are the previous posts:
ANA All Nippon Airways Business Class Review, LA-Tokyo
Singapore Airlines Business Class Review, Tokyo to Singapore
St. Regis Singapore Hotel Review
Mandarin Oriental Singapore Hotel Review
Ritz-Carlton Millenia Singapore Hotel Review
Thai Airways Business Class Review
St. Regis Bangkok Hotel Review
The Peninsula Bangkok, which opened in 1998, is consistently ranked among the top Bangkok luxury hotels, along with its more historic rival across the river, the Mandarin Oriental. It enjoys a more sweeping view than the Mandarin Oriental, since it looks across the Chao Phraya River to the Bangkok skyline. Having just stayed at the St. Regis Bangkok, my experience at The Peninsula Bangkok was a study in contrasts.
Even though it was raining when I left the St. Regis Bangkok and I didn't have an umbrella, I still decided to opt for the skytrain since the hotel is directly connected to the BTS station. After a transfer to the Silom line, I arrived at BTS station Saphan Taksin, where there are hotel ferry boats to various riverfront hotels, including The Peninsula Bangkok. There was a dispatcher there, who called The Peninsula when I mentioned that's where I was headed, but the boats do run regularly between the dock and The Peninsula. The boat staff, who are dressed all in white, helped me aboard, and it took less than 5 minutes to go across the river, since the hotel is almost directly across the river from the dock near Saphan Taksin.
I wound my way around the walkway by The River Cafe and Terrace, stopping to admire the lovely and perfectly manicured green lawn: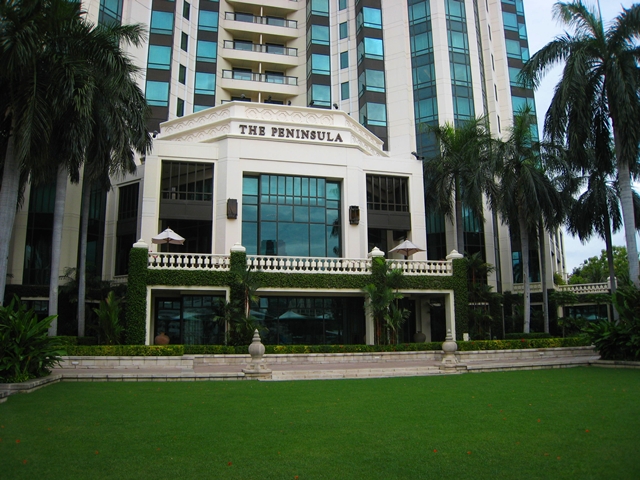 Then I took the stairs (there's also an elevator) to the main floor, where the lobby and reception are. If you enter the hotel from the main entrance, check-in is off to the left, past the concierge desk. There were two associates at the front desk, and no wait. It's not as personal a feel as the St. Regis, which has three individual desks where you sit down face to face with an associate, whereas at The Peninsula it's a conventional long desk where you stand. I was also amused to see the somewhat rumpled look of the male associate who checked me in. He reminded me of a younger, Asian version of my Criminal Law professor at Stanford, who often had hair sticking up and clothes somewhat askew. But I could care less about a slightly rumpled appearance–he easily found my reservation, noted that it included full buffet breakfast, and when I inquired about a potential upgrade he was happy to look for one. I'd booked a Deluxe Room, but he found a double upgrade for me to a Grand Balcony Room on the 32nd Floor, and escorted me up to it, after first giving me a jasmine garland as a welcome. So fragrant, it reminded me of similar ones in Bali, and also of course, since I'm from Hawaii, of Hawaiian leis.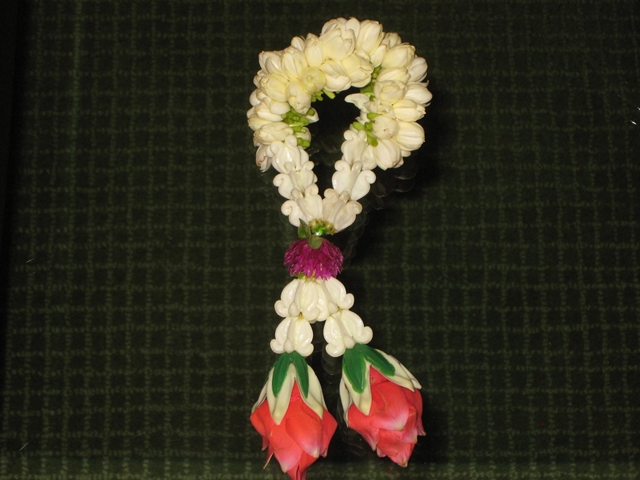 My Balcony Room at the Peninsula Bangkok was 480 square feet, so not as spacious as Grand Deluxe Rooms at The St. Regis Bangkok, which range from 505-592 square feet, and the layout isn't as open. There was a little foyer as I entered, just enough space to leave shoes, then on the right, the entrance to the room, which had a King bed: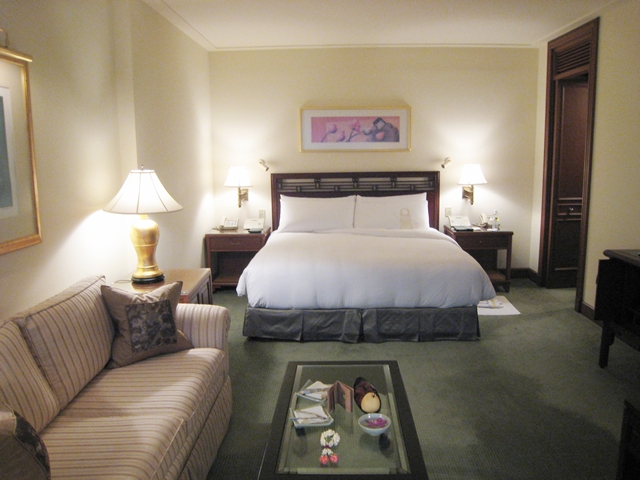 The room itself is not nearly as modern as the St. Regis, but interestingly, the tech controls, even though the panel looks dated, offered better technology than the St. Regis, with the ability to close the drapes at the push of a button, and set privacy not only for the room, but also the telephone: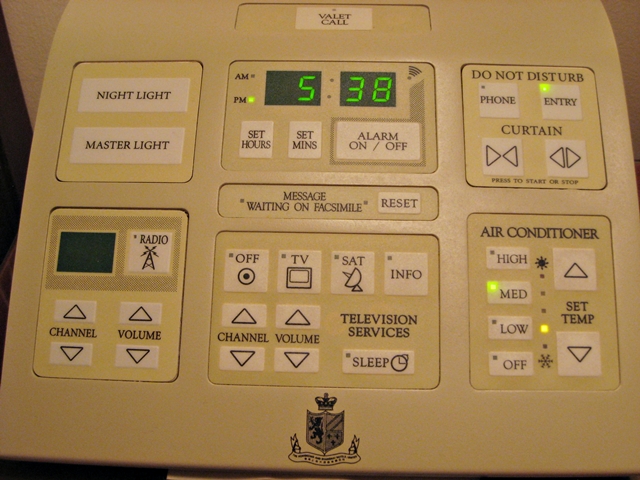 Of course I had to check out the balcony. It's certainly not big, but there are two chairs and a small table, so you could enjoy a drink or snack al fresco: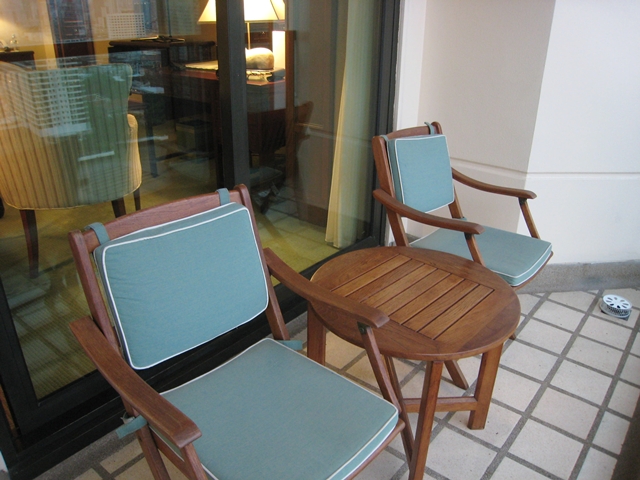 And while the view was marred a bit by slightly overcast weather, it was still fun to take in the lively boat scene below and see the Bangkok skyline: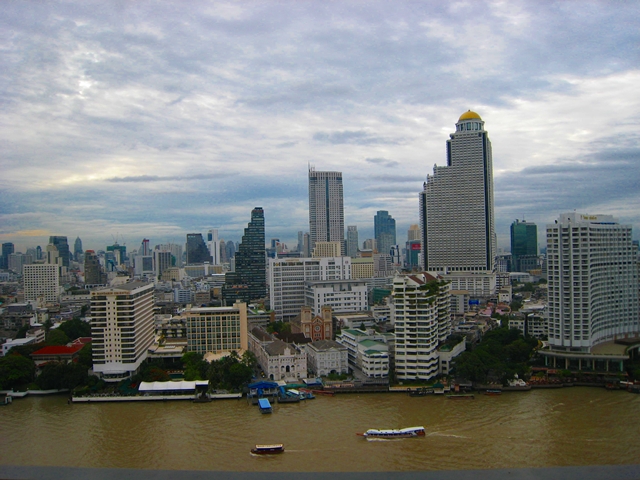 The sitting area included a sofa and coffee table:
And there was a tropical fruit welcome amenity that included rambutans, lychee and Asian pear, along with plates and a little tropical fruit guide: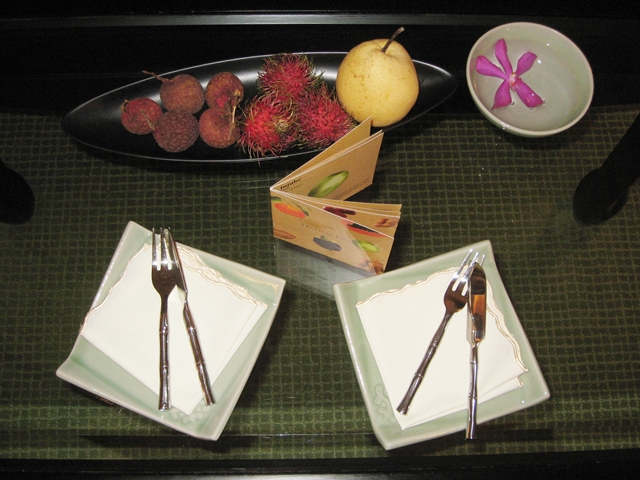 Between the bedroom and bathroom there was an interesting dressing area with wardrobe, mirror, and place to put your suitcase. I was especially glad to see a couple umbrellas there, given the rainy weather: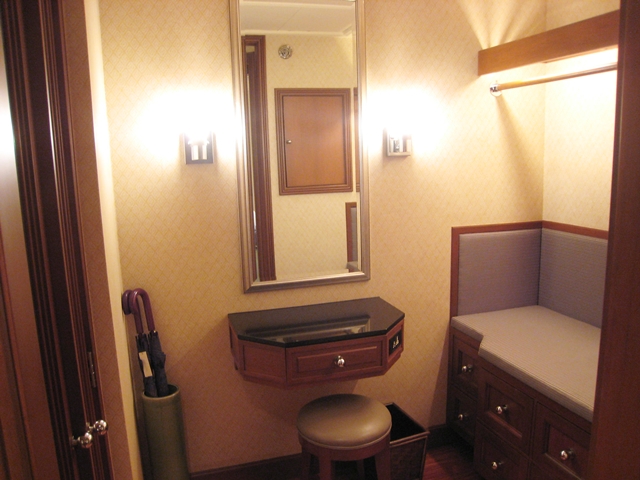 The well-appointed bathroom included dual vanities that were on opposite sides rather than side by side as at the St. Regis, and a large soaking tub: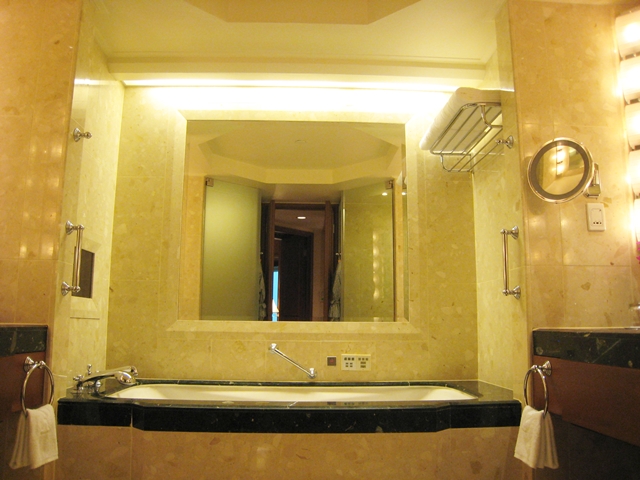 The separate glass enclosed shower was conventional, not a rain showerhead, and had a small ledge in case you felt like sitting while showering (or, I suppose, if you have a *lot* of toiletries you bring into the shower with you!). There was a light Japanese-style blue and white print yukata cotton robe, which I suppose is more practical for Bangkok's climate, although since most guests will keep the air conditioning on, it would have been nice to have a more conventional bathrobe option either by Frette or Ploh.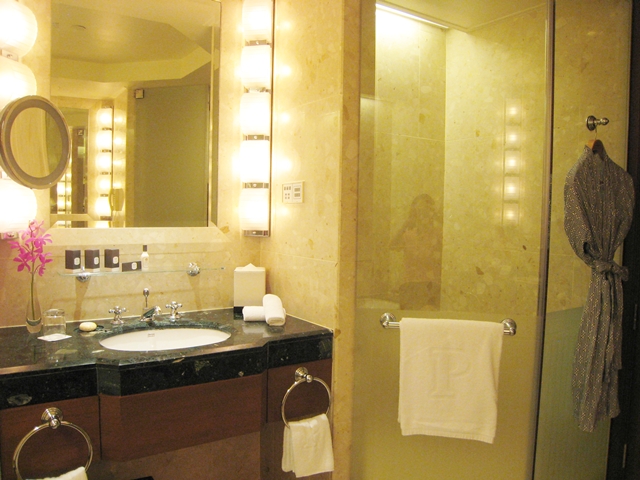 The toilet was in a separate chamber: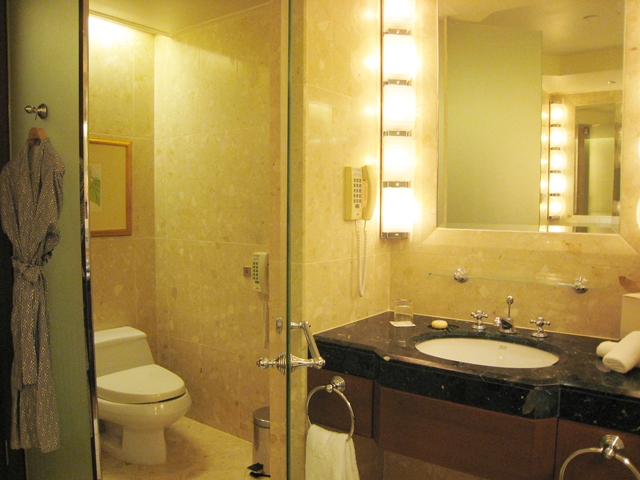 Bath amenities were by Davi, which I'd never heard of but is apparently a skincare line by Carlo Mondavi of the Mondavi wine family. I wasn't too impressed once I saw that sodium laureth sulfate figured prominently on the ingredient list, so I used my own toiletries.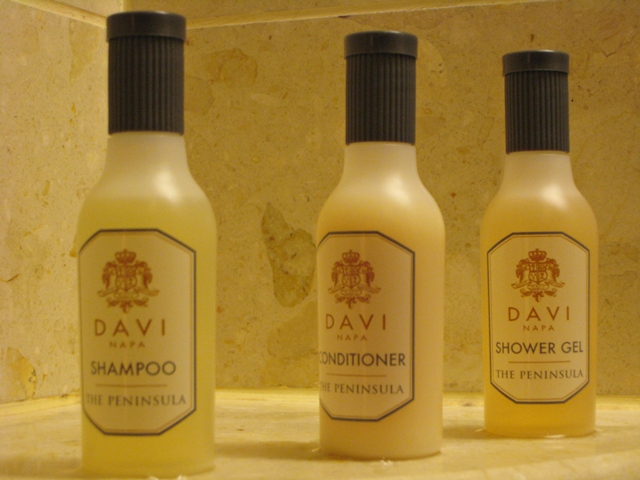 That evening, as I mentioned in What to Eat in Bangkok, I had dinner at Thiptara, the Thai restaurant at The Peninsula. It was of course pricey compared to Bangkok street food, but much better than I expected, with perfect service and a low key yet beautiful ambiance, enhanced by traditional Thai music played by a musician on the khim, the Thai hammer dulcimer. You can just make out the musician above the lantern on my table: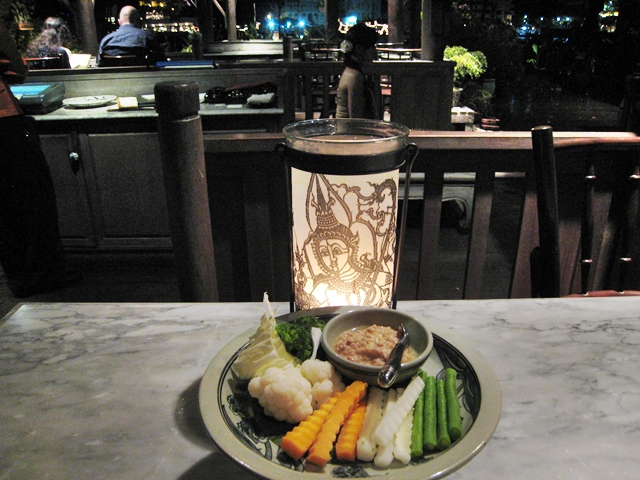 The breakfast buffet the next morning was large, but I wouldn't say the choices were much more numerous than at the St. Regis. There were the usual displays of fresh fruit: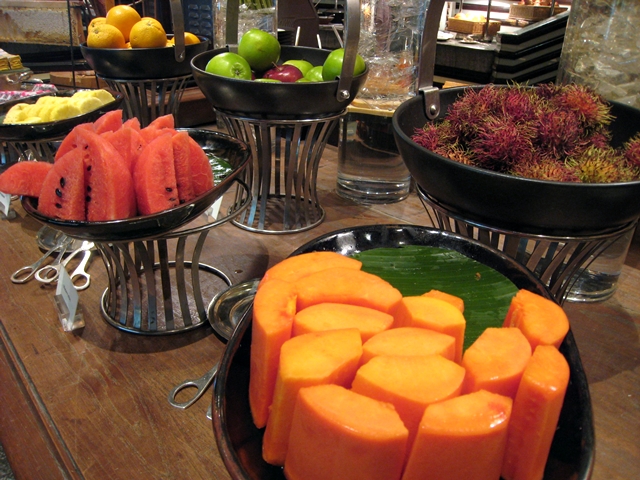 Fruit juices: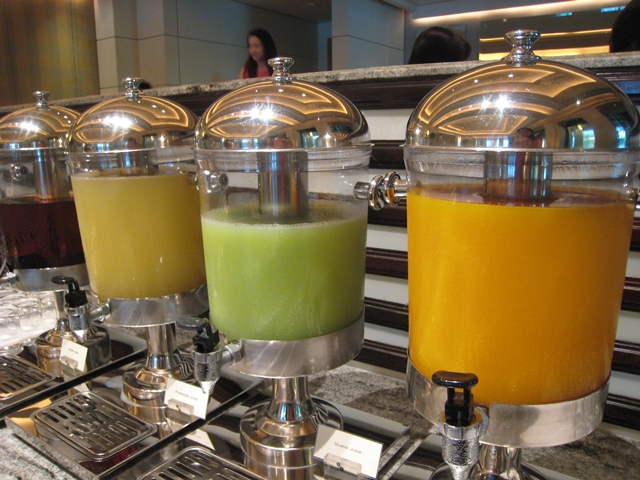 Breakfast pastries: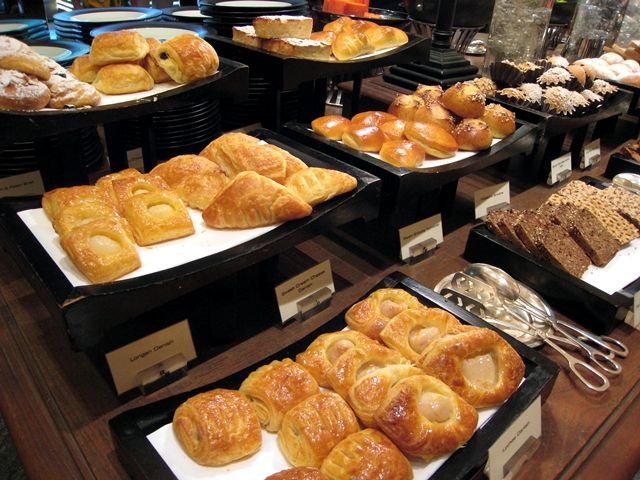 Noodles made to order and dim sum: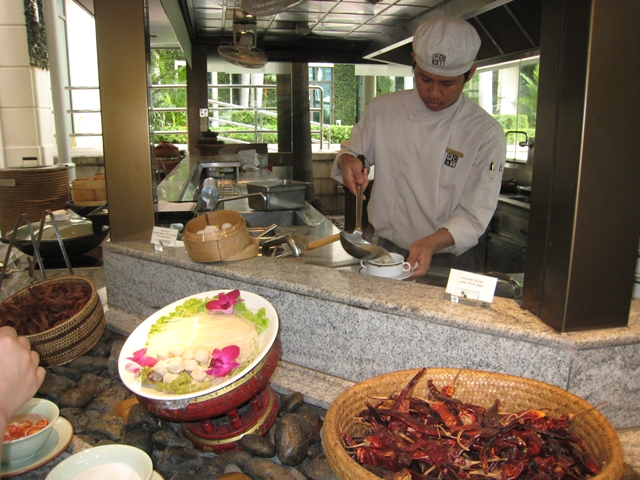 I did think the smoked salmon was better than at the St. Regis, and I was glad to have fresh mango, which the St. Regis lacked: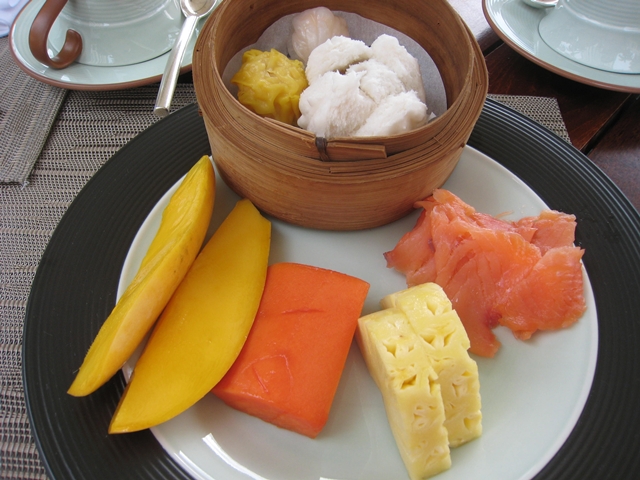 One of the highlights though were the whole wheat croissants, especially as there were also high quality (read: very high percentage of fruit, low sugar) jams, much better quality than at the St. Regis. The cappuccino was about the same quality as at The St. Regis, but you do have to request it, they won't proactively offer it to you: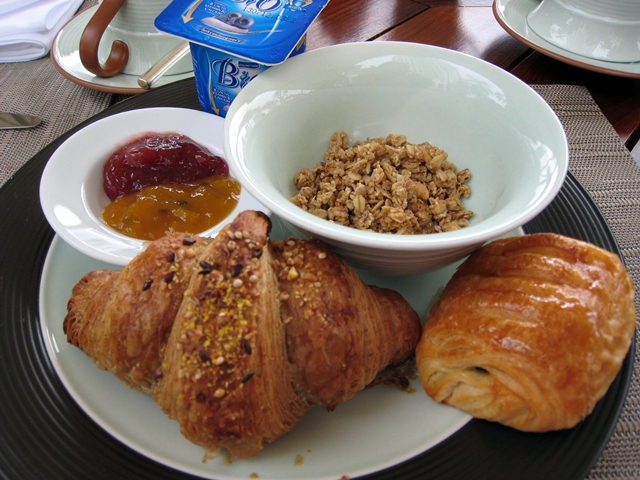 Later, after I checked out, I checked out the lovely tiered pool, which was completely deserted as it had just rained. I swam in this pool, which seemed more suitable for swimming and less like a style over substance display pool, as the St. Regis pool seems to be.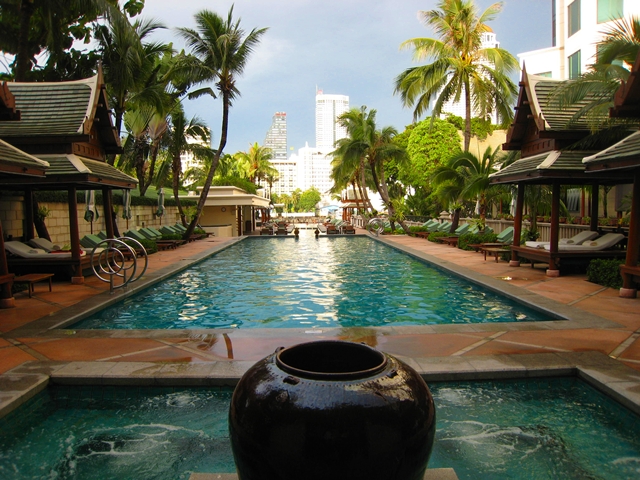 The outdoor hot tub was a welcome place to soak: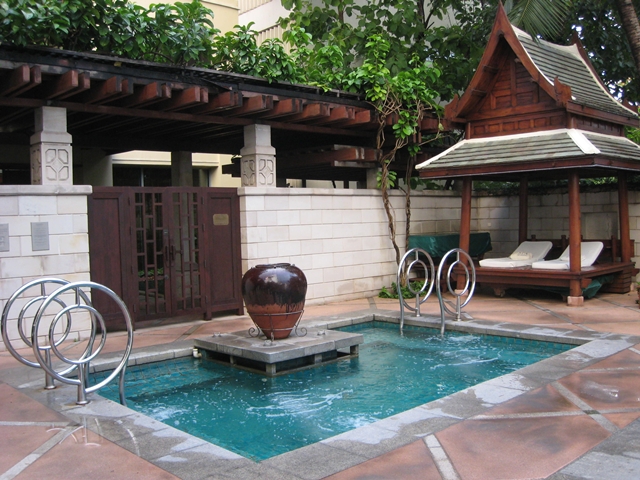 The spa locker room was a bit disappointing here as well. To be clear, I'm not commenting on the treatments, as I didn't have any, just the women's spa facilities. I was there late in the day, and it was a bit messy–prior guests had left robes and slippers lying around and they hadn't been removed. I had been given my own robe without having to ask for one, so that was an improvement over the St. Regis. There were some of the amenities I'd expect, such as wet bag for swimwear, cotton balls, body moisturizer, facial milk and mouthwash, but no disposable combs or razors to be seen.
There was a cold jacuzzi and ostensibly a hot jacuzzi, but the hot jacuzzi was only lukewarm, not as hot or as pleasant to be in as the outdoor one. I didn't see a temperature gauge for it either, but it's possible I just missed it.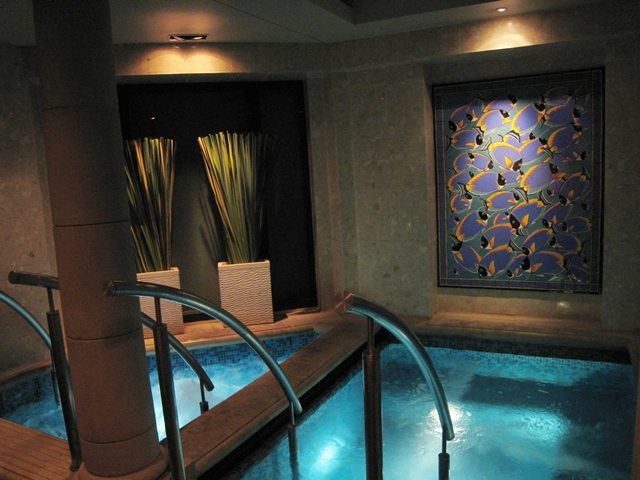 Before departing for my flight, I took advantage of free WiFi in the lounge (there's also free high speed WiFi in every guest room) to get some work done. Even though I didn't order any food or drinks, one of the associates brought me a cool towel, which was a nice touch. There's a talented pianist who plays music nightly in the lobby, and although I didn't make any requests, he was very amenable to requests made by a couple other guests.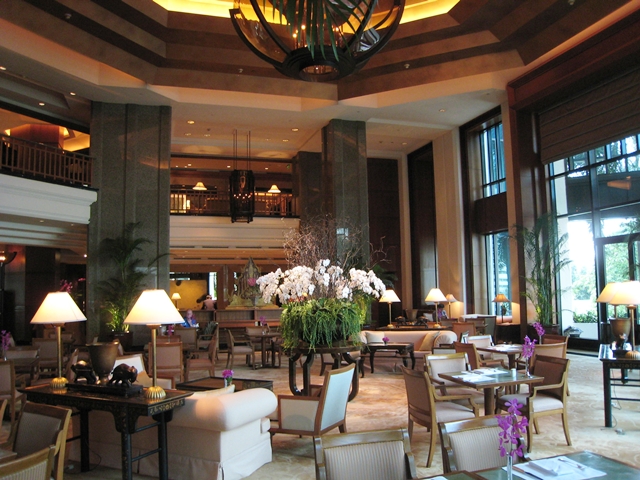 Verdict: I liked The Peninsula Bangkok more than I thought I would, mostly because of the superior service I received there. I'm not surprised it was voted No. 1 of the top 5 city hotels in Asia by Travel + Leisure readers. From the willingness to upgrade me and lovely traditional Thai garland welcome to a concierge who diligently tracked down directions to Chotechitr for me to warm smiles at Thiptara, willingness of the ferry attendants to take me to the public boat stop (not a regular stop for them), and a cool towel while working in the lobby, I felt welcome and a valued guest. Is the property perfect? No. The rooms won't suit if you need an ultra modern, open plan room–for that you'd be better off at the St. Regis. Toiletries should be upgraded to L'Occitane, Bulgari, or a top-notch local Thai brand. The Spa could use more attentive tidying up, and a warmer jacuzzi in the women's locker room. A gift shop attendant had trouble understanding English. But the Peninsula has a greater sense of place. From the short ferry ride that carries you there to the jasmine garland and tropical fruit in your room and chef slicing fresh mango at breakfast, you'll feel you're in Bangkok. I can't imagine traditional Thai music in any of the St. Regis Bangkok dining venues, but it was perfectly at home among the dining pavillions at Thiptara.
Become a TravelSort Client and Book The Peninsula Bangkok with with PenClub and Virtuoso Perks!
Related posts
St. Regis Bangkok Hotel Review
Bangkok, Land of Gilded Temples
Review: Four Seasons Koh Samui
Four Seasons Preferred Partner Benefits
Need Award Booking Help? Our fee is as low as $75 per ticket if you book your hotel through us.
If you enjoyed this, join 100,000+ readers: please follow TravelSort on Twitter or like us on Facebook to be alerted to new posts.
Become a TravelSort Client and Book 5-Star Hotels with Virtuoso or Four Seasons Preferred Partner Amenities!