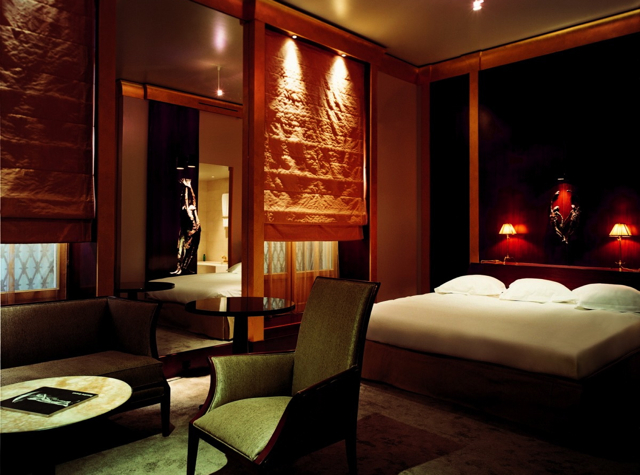 Via the TravelSort Facebook page a reader wrote "I read about the Park Hyatt Paris in an article (Best Park Hyatt to Stay 2 Free Nights with the Park Hyatt Visa), and with your little boy, how did you overcome the capacity issue? When I called to reserve, I was advised that a toddler (mine is 3 years old) counts as the 3rd person (of course), and exceeds the 2-adult max limit. May I just check in with two adults but still have her in the room while we stay there? Or would we be disqualified from redeeming the free nights?"
Strict Paris Fire Codes = Don't Assume You Can Stay with an Additional Child in Your Room
This is a great question and impacts many families visiting Paris, whether they stay at the Park Hyatt Paris Vendome or another Paris hotel. Paris has very strict fire code regulations that limit the number of guests per room, so when a Paris hotel says maximum 2 people, in general that applies to adults and children that are 2 or older; the main exception can be for babies under 2.
That said, you should always check beforehand with the specific Paris hotel you plan to stay at, and *never* assume that an additional young child in your Paris hotel room will be ok.
Park Hyatt Paris Vendome: Standard Park Queen Rooms Accommodate 2 Adults + Baby (But Not Young Child)
Park Queen Rooms at the Park Hyatt Paris Vendome are 280-323 square feet and allow a maximum of 2 guests. The only wiggle room on this is if you have a baby, since the hotel is willing to put a crib in the room. See this FlyerTalk trip report by crimson12 who stayed last year with spouse and baby. If you have a toddler or yound kid, however, you'll need to upgrade to a larger room.
Options: Pay to Upgrade to a Larger Room, Book a Suite Award, or Pay for Rack Rate and Upgrade with Points
We're booked for later this year, and opted to pay 120 EUR for an upgrade to a Park Deluxe. Diamond members would often receive this as a complimentary upgrade, but I'm only a Platinum via the Hyatt Visa, so we paid for it.
If you're staying for 3 consecutive nights, you could instead book a Suite Award for 33,000 points per night, total of 99,000 Hyatt Gold Passport points for 3 nights. Note, however, that the entry level Park Suite at the Park Hyatt Paris is really a Junior Suite. It's one large room, and doesn't have a separate bedroom–for that, you'd need to book or upgrade to a Park Executive Suite, which is *not* the suite you automatically get with a Hyatt Suite Award.
The least attractive option, due to very expensive rack rates at the Park Hyatt Paris, would be to pay rack rate and upgrade with Hyatt points.
Paris Luxury Hotel Alternatives
If you're willing to pay, you can find roomier alternatives that are also at least as if not more child friendly than the Park Hyatt Paris. A few of my favorites:
Four Seasons Paris George V
The Four Seasons Paris remains the favorite Paris luxury hotel for many families, thanks to some of the largest standard rooms in the city (Superior Rooms start at ~400 square feet), the swimming pool, and special Four Seasons kids' welcome amenities and menus, not to mention superb service. Note that as large as they are, Superior and Deluxe Rooms are for 2 adults and a baby or young child who still sleeps in a crib. For an older child or third adult, you'll need to book a Premier Room. Don't miss a splurge lunch or dinner at Le Cinq, where we were fine taking our then toddler. See Le Cinq Paris Restaurant Review. Want to enjoy complimentary breakfast for two, a potential room upgrade and spa credit by booking the Four Seasons Paris George V with a Virtuoso or Four Seasons Preferred Partner rate? Become a TravelSort Client.
Le Bristol
Le Bristol is another top favorite, not only for couples on a honeymoon or anniversary trip to Paris, but also for families with children who can afford a more luxurious stay in the City of Lights. The lovely French garden is a highlight, and kids will enjoy not only the large swimming pool, but also their own plush Hippolyte toy, and fun at the kids club. Entry level Superior Rooms are smaller than at the Four Seasons Paris, at 325 square feet, but they do accommodate up to 2 adults and 1 child. Or, for more space, upgrade to a Deluxe Room, which is 485 square feet. Want to enjoy complimentary breakfast for two, room upgrade at time of booking and spa credit by booking the Le Bristol with a Virtuoso rate? Become a TravelSort Client.
Le Burgundy
Le Burgundy is one of the few Paris boutique hotels to have its own pool, which was a huge hit with our son. All rooms and suites accommodate a crib, and even though our son was 3, he was able to sleep in a crib in our Superior Room.
Related Posts
Best Park Hyatt to Stay 2 Free Nights with the Park Hyatt Visa
Paris with Kids: Jardin du Luxembourg
Don't Miss These Paris Desserts
Need Award Booking Help? Our fee is as low as $75 per ticket if you book your hotel through us.
If you enjoyed this, join 200,000+ readers: please follow TravelSort on Twitter or like us on Facebook to be alerted to new posts.
Become a TravelSort Client and Book Your Hotel with Virtuoso or Four Seasons Preferred VIP Amenities!