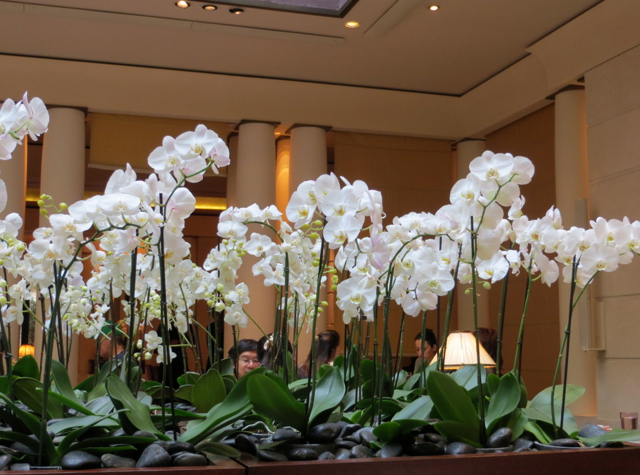 This Park Hyatt Paris Breakfast Buffet Review is part of a UK and France trip report including flights in British Airways in New First Class, Singapore Business Class and Singapore Suites, stays in a Scottish castle and 5-star hotels in London and Paris, and Michelin Star Dining in Paris. For the prior posts, please see:
British Airways Galleries Lounge in Newark and First Class Dining Review
British Airways New First Class 777 Review
British Airways Galleries Arrivals Lounge London and Concorde Room
Singapore Business Class Review NYC (JFK) to Frankfurt
Petrus London Restaurant Review
Dalhousie Castle Hotel Review, Scotland
Dalhousie Castle Falconry Review, Scotland
Epicure at Le Bristol Paris Restaurant Review
Four Seasons Paris Hotel Review
Paris Plages (Paris Beaches) Review
Le Cinq at Four Seasons Paris Restaurant Review
Park Hyatt Paris-Vendome Review
The Park Hyatt Paris breakfast buffet at Les Orchidees always garners rave reviews on Flyertalk, so we looked forward to our breakfast, which was in fact complimentary due to a Concierge fiasco (see Park Hyatt Paris-Vendome Review). The breakfast buffet is always complimentary for Hyatt Diamond members, who alternatively may order room service breakfast.
We were led to our table by a hostess, and there were quite a few other diners. I did really like the atrium, which allowed plenty of natural light to stream in. I also enjoyed the namesake orchids (first photo) which lent elegance to the dining room.
Our server was formally polite but somewhat frosty, and chose to always answer in English even though I consistently spoke to her in French. We selected juices, and the munchkin and I ordered mango juice, which was a nice choice to offer, alongside the more usual fresh squeezed orange juice, apple juice or grapefruit juice.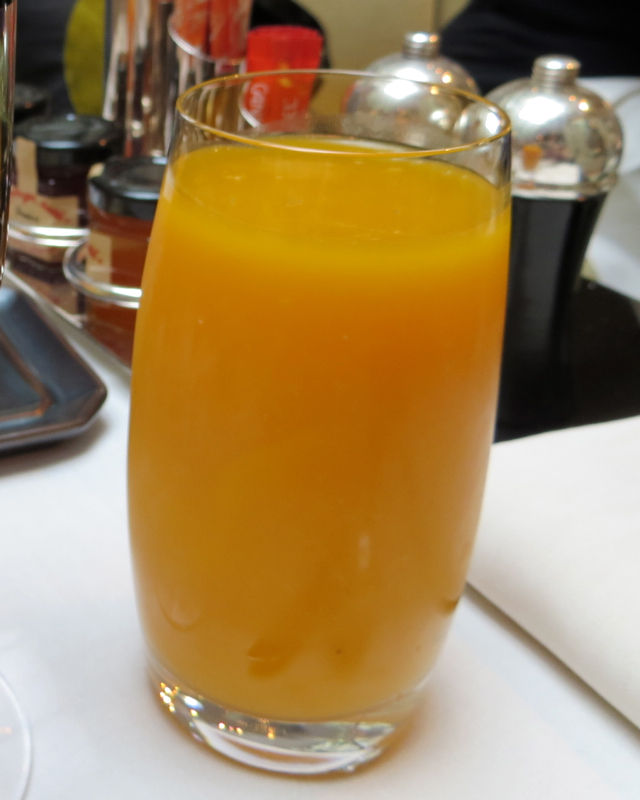 The buffet is primarily a cold buffet, although there is quiche under a heat lamp: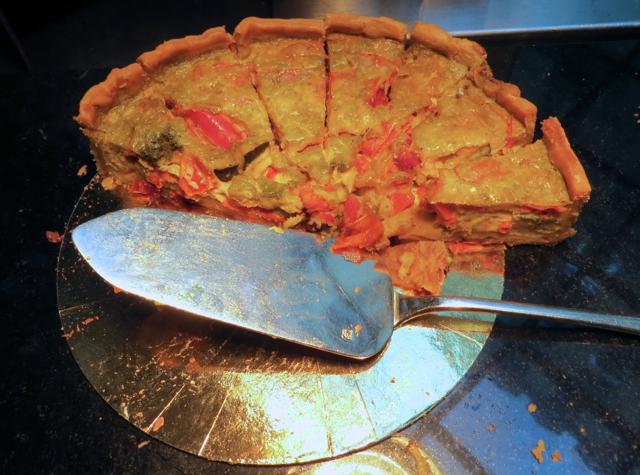 There was a small selection of fresh fruit, from which I chose pineapple and an apricot: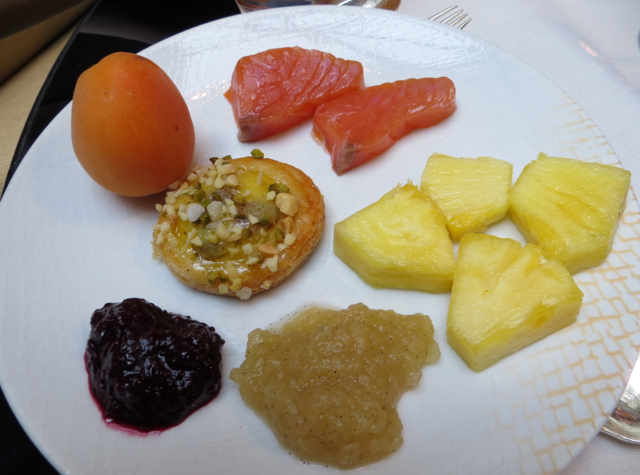 The pastries included croissants, pain au chocolat, pain aux raisins, of which the best was the pain aux raisins: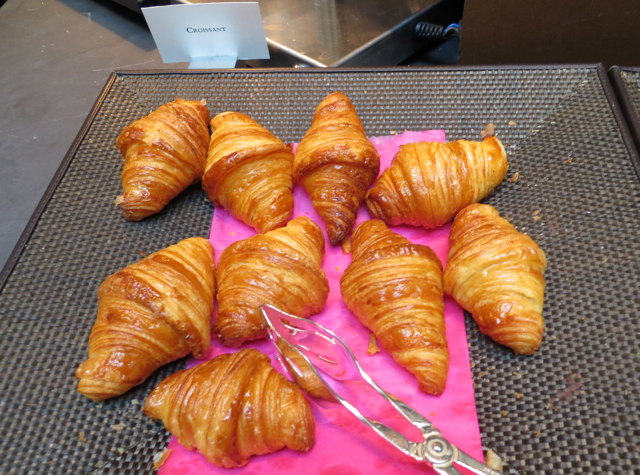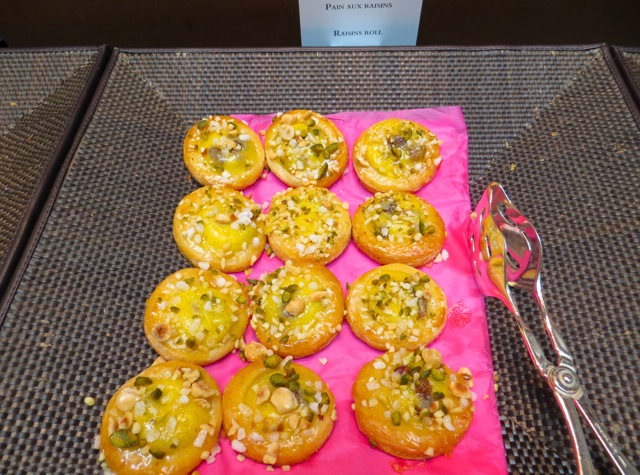 The most unusual offering was the kouign amann, which I give huge props for offering, since it's almost never offered for a breakfast buffet and can even be hard to pick up at a bakery, probably because it's so much trouble to make. I mean, if pastry whiz David Lebovitz had to struggle and tinker to create a decent kouign amann recipe, you know that it's not easy. I have to say, though, that I thought the Park Hyatt Paris version could have been even more caramelized, so I loved that kouign amann was offered more than I liked the kouign amann itself.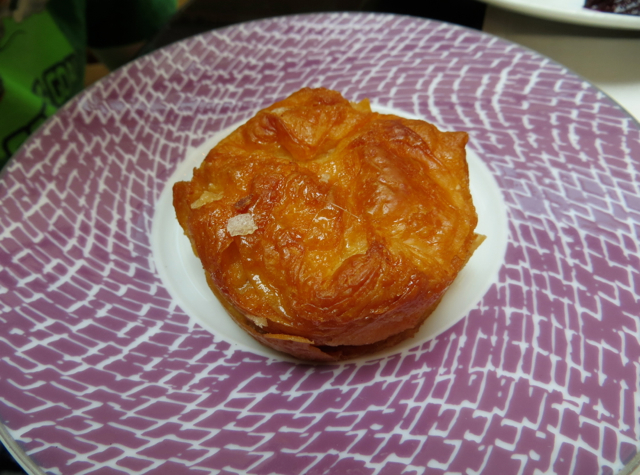 The yogurt selection was very small, although what was offered was very good–I just wish there had been more variety in flavors. Alongside the yogurts was a berry compote and an applesauce flecked with vanilla beans, both of which were good.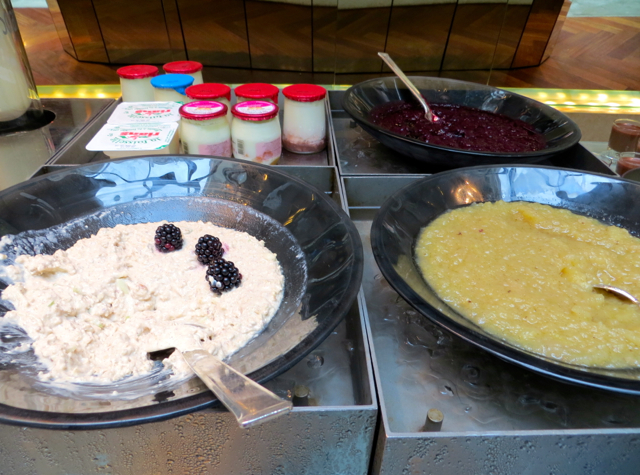 Smoked salmon was good quality, as was the serrano ham. Some of the cold cut plates were rather depleted, however.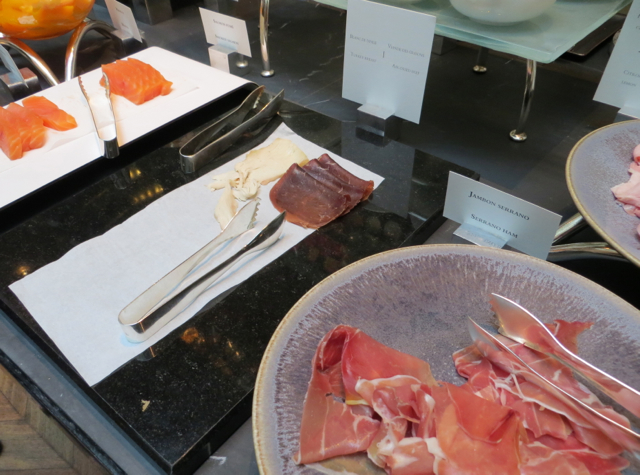 For the cheeses, I was surprised with such a limited selection, but also happy to see that given the limited selection Brebis was one of them–it's one of my favorite French hard cheeses, with a distinctive flavor due to the ewe's milk used.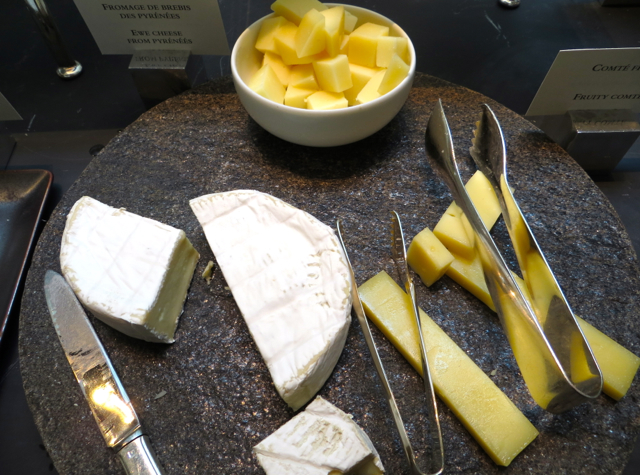 Cereals were ordinary and we didn't bother with them: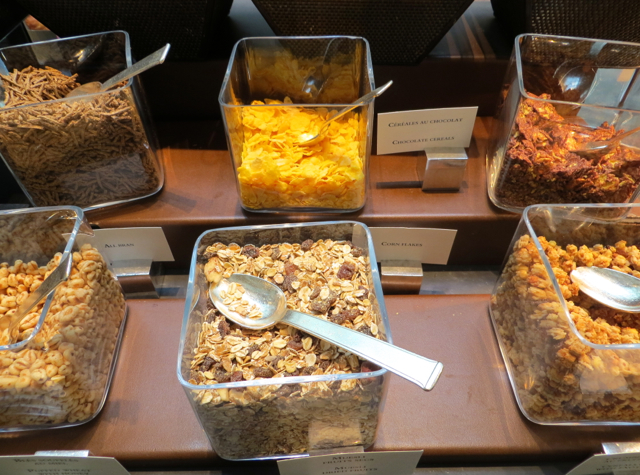 Dried fruits were also offered, but not overly tempting, since the apricots weren't as plump and moist as those we enjoyed at the breakfast buffet at the Yas Viceroy in Abu Dhabi earlier this year, on the way back from the Park Hyatt Maldives.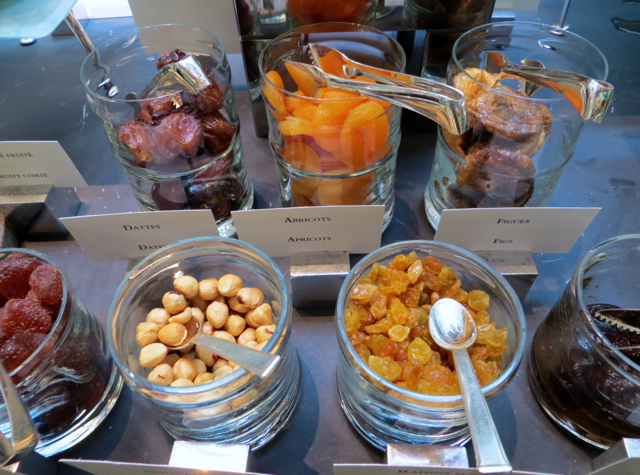 In addition to the cold breakfast buffet, you have the option of ordering hot egg dishes, so my husband ordered scrambled eggs with serrano ham. Perhaps he should have specified how he wanted the eggs scrambled–they were so undercooked he couldn't eat them, and he's not that fussy an eater. Now, you could argue that this is simply the way they're prepared in France. But in any case, after the first bite, my husband didn't touch them and the plate was taken away without any questions asked, which I thought odd. Good service in any upscale restaurant would have prompted something along the lines of "I see you didn't eat the eggs–is everything fine? Would you like something else?" But nothing was said.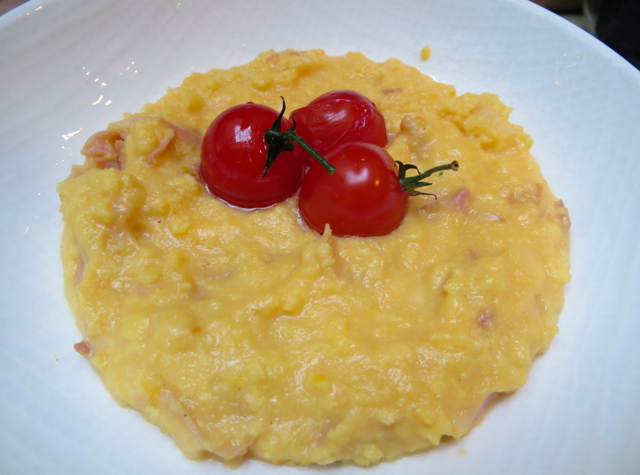 We finished off with hot drinks: hot chocolate for the munchkin, and cappuccino for me, both of which were very forgettable.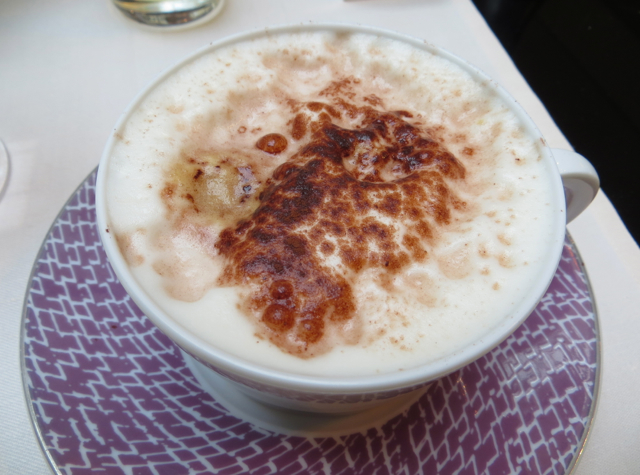 The Verdict: The Park Hyatt Paris breakfast buffet that we experienced is something that I would have paid $25-30 per person for, for the food and setting alone (given the lackluster service we experienced) but definitely not the 49 EUR (~$65) that would normally be charged. The buffet is on the small side, particularly compared to the extensive and high quality breakfast buffets that you can often get in Asia or the Middle East, such as at the Mandarin Oriental Singapore or Yas Viceroy.
I do give credit for some more unusual offerings, given how small a buffet it is, such as the mango juice, kouign amann (the idea more than the execution), serrano ham and brebis cheese. But the scrambled eggs were abysmal and service was lacking. The breakfast is unquestionably a nice benefit when it is complimentary, for Hyatt Diamonds, but if you're Hyatt Platinum or a non-elite, trust me, you can do far better in Paris for 49 EUR, at least given the service level we experienced.
Related Posts
Park Hyatt Paris-Vendome Review
What's the Best Place to Have Breakfast in Paris?
Best Park Hyatt to Stay 2 Free Nights with the Hyatt Visa
Park Hyatt Maldives Hadahaa Review
Need Award Booking Help? Our fee is as low as $75 per ticket if you book your hotel through us.
If you enjoyed this, join 90,000+ readers: please follow TravelSort on Twitter or like us on Facebook to be alerted to new posts.
Become a TravelSort Client and Book 5-Star Hotels with Virtuoso or Four Seasons Preferred Partner Amenities!