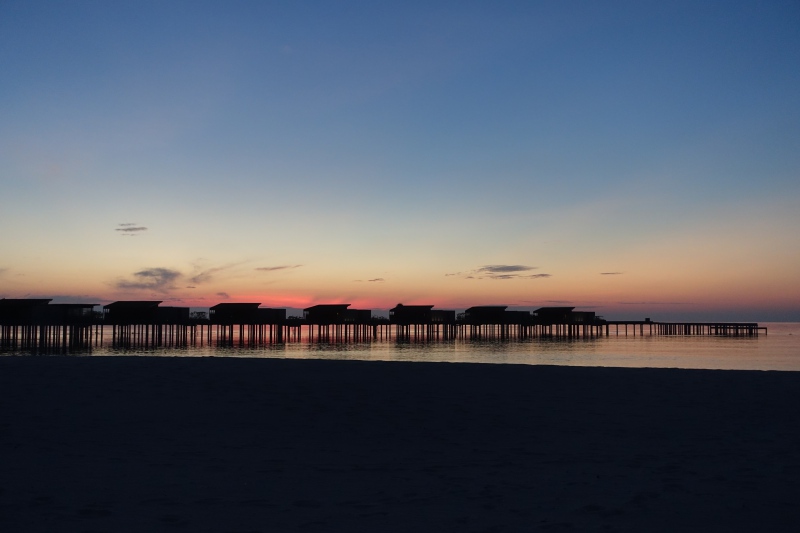 The Park Hyatt Maldives Things to Do Include a Manager's Cocktail Reception every Saturday, at 6:30pm, hosted by Park Hyatt Maldives General Manager Mariano Silvestri and his team. There are several reasons you may want to go and not miss this:
Beautiful setting, on the beach, just by the The Bar (it used to be held inside the dhoni, and the beach is far more scenic)
Complimentary cocktails, mocktails, wine and appetizers. As the Maldives is Muslim, alcohol is brought in solely for the resorts, and is very expensive. So if you do enjoy a drink or two, it's nice to enjoy this compliments of the resort.
Live Maldivian music, drumming and dancing; some guests even participated in the dancing. See my video below
Chance to mingle with management and guests, although in practice most guests (largely couples) keep to themselves.
The Setting
The beach setting is lovely, at least when the weather cooperates, as it did during our stay. There are round cushioned seats set up on the beach, with small tables for the appetizers and drinks.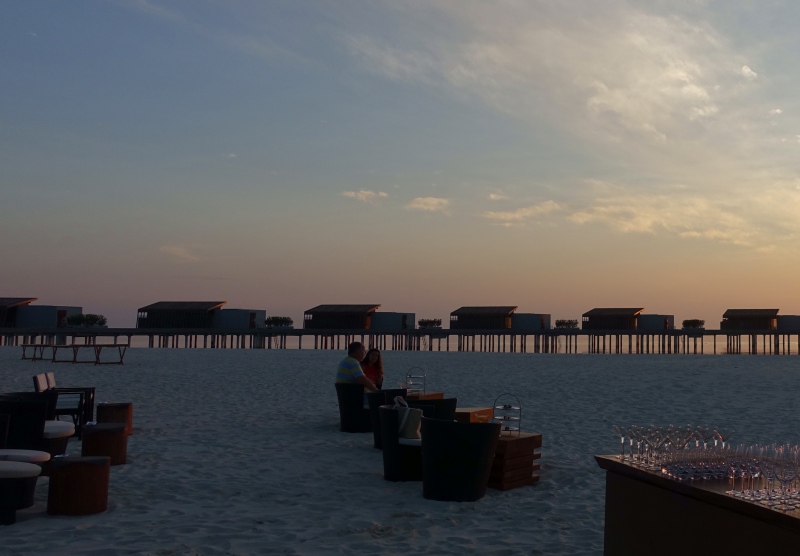 The sunset behind the Park Water Villas creates a brilliantly colored backdrop that fades into the pastel shades of twilight.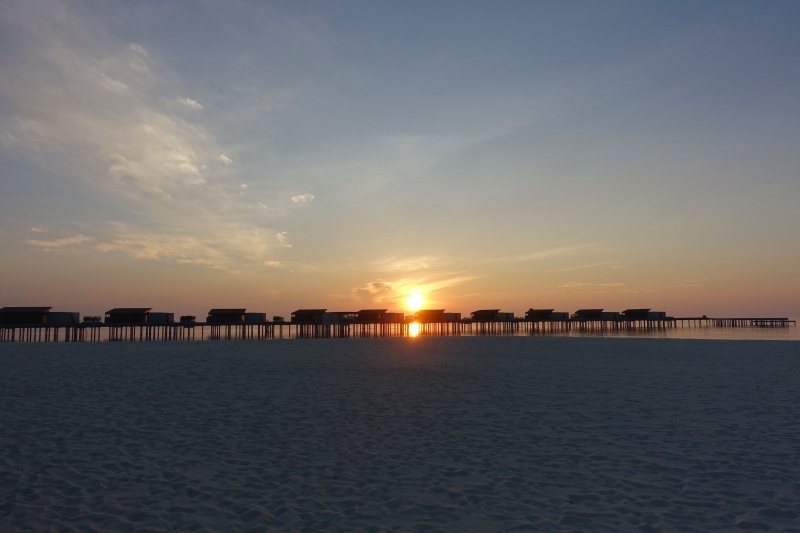 Off to the right there was a private beach dinner set up for a couple planning a romantic dinner: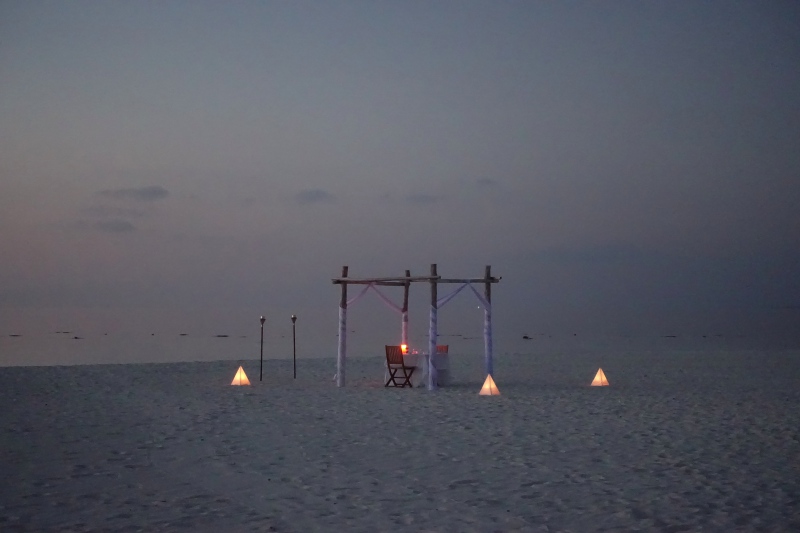 The Drinks and Food
As we stepped barefoot onto the sand, we were offered a drink. There was white wine, which my husband chose, a passion fruit cocktail that I selected, and beer was an option as well.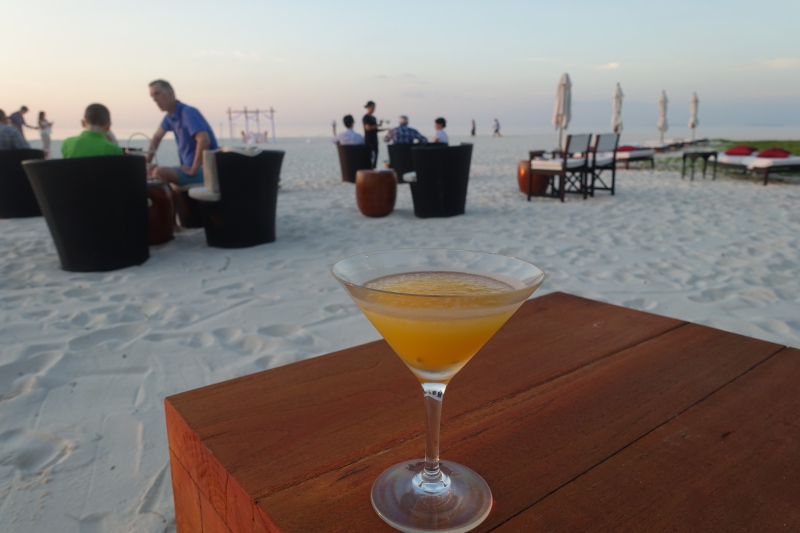 If you don't drink alcohol or if you have kids, there was also a yummy fruit smoothie that our son enjoyed and that I tasted: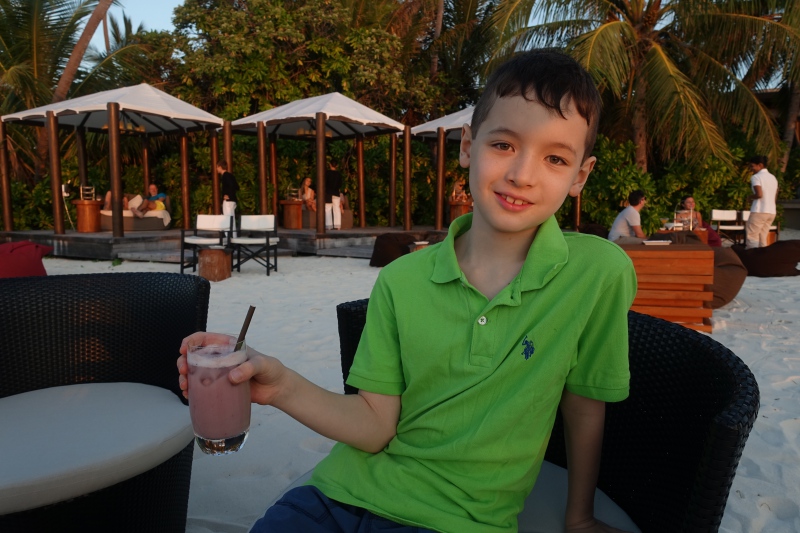 The three-tiered stand that on our previous visit was used at breakfast for fruit, mashuni roshi and pastries, was put to good use for appetizers.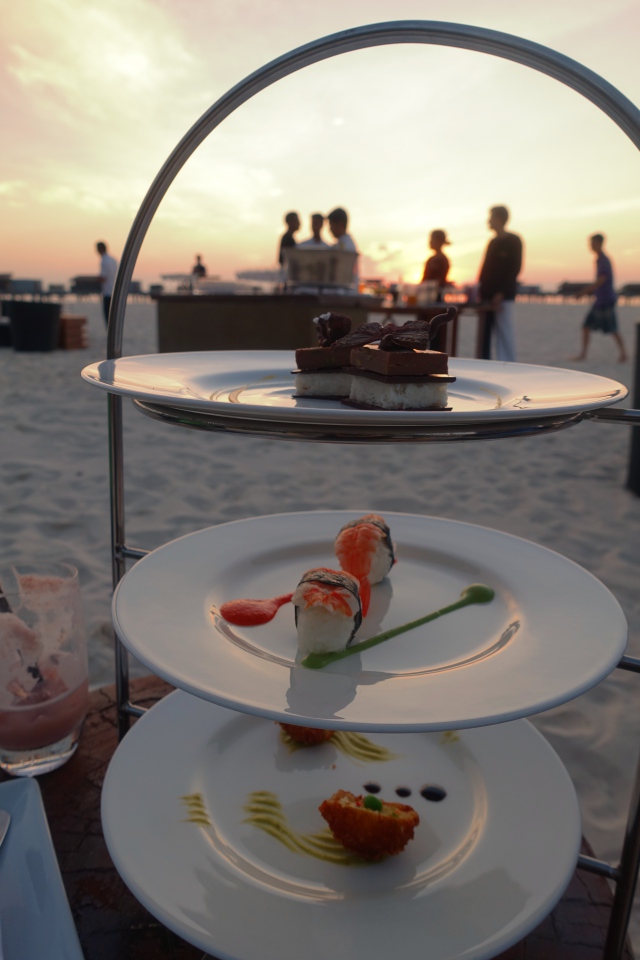 On the bottom were arancini (risotto balls that have been breaded and fried):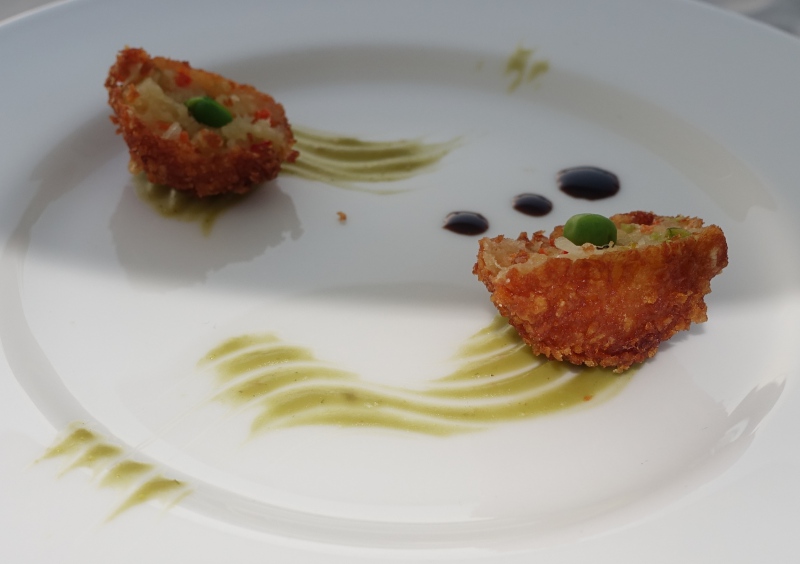 The middle tier had shrimp nigiri: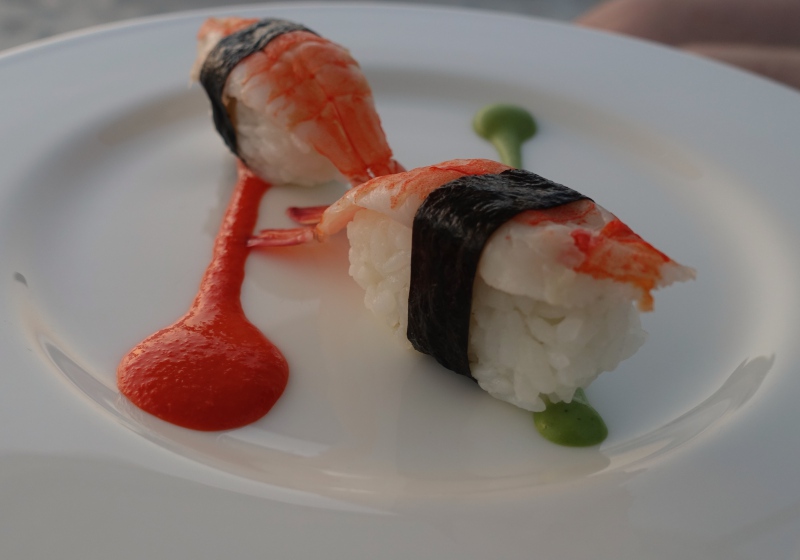 And on top were chocolate coconut dessert squares that were prettily plated and tasty, although we were all more in the mood for savory things given that this was before dinner. There were only pre-plated with two of each, yet we were three people, so we each tried two items and then requested a second set so that each of us could try all three offerings.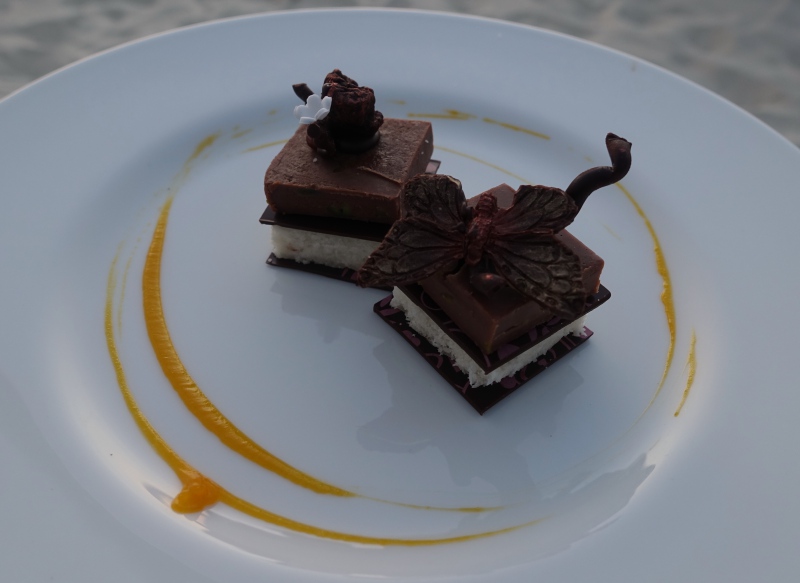 The Music and Dancing
At about 7pm, there was live Maldivian drumming, singing and dancing.
After an initial couple songs, some of the performers invited guests to join in. One of them even invited our son, who did his best to keep up, although group dancing is not really his forte.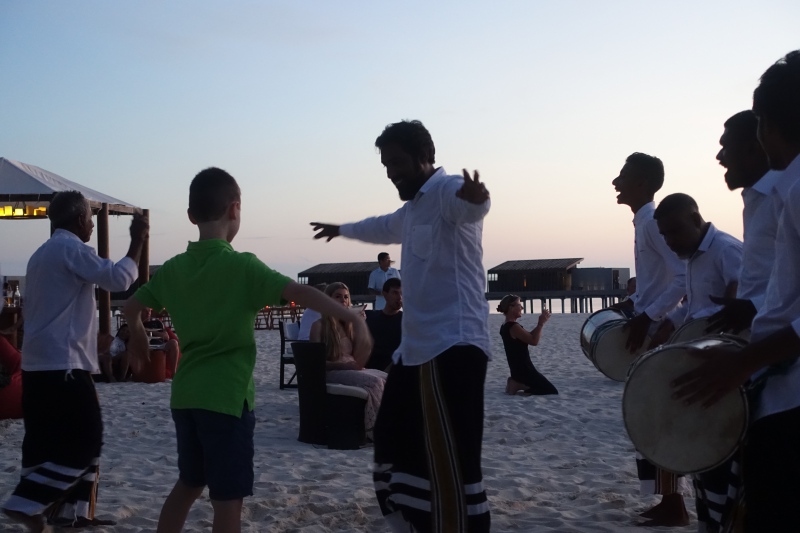 The Verdict
The Manager's Cocktail Reception at the Park Hyatt Maldives is a lovely offering every Saturday, and if the weather cooperates, it's definitely worth going for the views, drinks and a taste of Maldivian sining and dancing. The one thing I would have liked is more management interaction with the guests. The staff were definitely great about asking us if we'd like another drink, but no one on the management team came by to ask how everything was so far.
If you've attended the Manager's Cocktail Reception at the Park Hyatt Maldives, what was your experience?
Related Posts
Park Hyatt Maldives Review (2016 Updated)
Review: Park Hyatt Maldives Dining, Restaurants and Menus
Review: Moonimaa Lounge, Male and Transfer to Park Hyatt Maldives
Where to Go in December: Best Luxury Travel Destinations and Where to Stay
Honeymoon: Maldives or Bora Bora?
Need Award Booking Help? Our fee is as low as $75 per ticket if you book your hotel through us.
If you enjoyed this, join 200,000+ readers: please follow TravelSort on Twitter or like us on Facebook to be alerted to new posts.
Become a TravelSort Client and Book the Park Hyatt Maldives with Virtuoso Benefits!