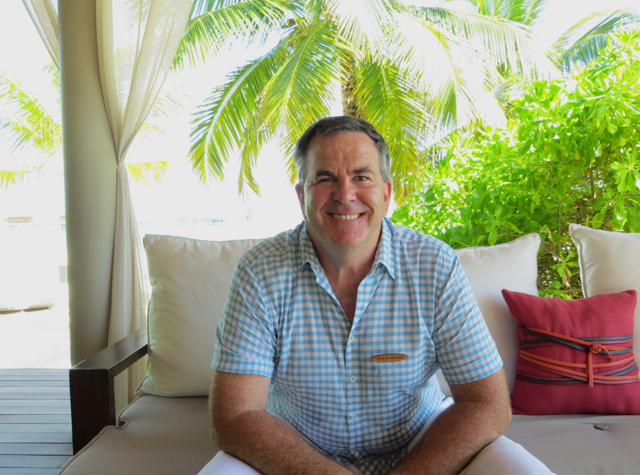 This Park Hyatt Maldives Interview with General Manager Julian Moore is part of a trip report including Qatar Business Class and the Park Hyatt Maldives. For prior posts please see:
Review: American Airlines Flagship Lounge in NYC, JFK
Review: Qatar Business Class NYC JFK to Doha
R0eview: Qatar Business Class Lounge, Doha
Qatar Business Class and Economy Class Review, Doha to Male, Maldives
Park Hyatt Maldives Hadahaa Review
Park Hyatt Maldives Island Grill Restaurant Review
Park Hyatt Maldives Water Villa Review
Park Hyatt Maldives Diving and Snorkeling
Park Hyatt Maldives Food and Menu
Park Hyatt Maldives Back of House Tour
Please note: A future post will cover additional activities at the Park Hyatt Maldives.
Julian Moore was recently appointed General Manager of the Park Hyatt Maldives Hadahaa, but he's no stranger to the resort, having been the Pre-Opening General Manager for the resort's prior incarnation, Alila Villas Hadahaa. I was happy that he agreed to sit down with me to share his vision for the Park Hyatt Maldives.
How Did You Get Started in the Hotel and Hospitality World?
I started with Regent International Australia as a porter. Initially it was just a job opportunity, I had been working in sales and was looking for something different. I enjoyed the interaction with guests, so I stayed on and worked up to become a receptionist and later Assistant Manager. I then spent several years with Sheraton. After taking a break and working in real estate for a time, I was drawn back to hospitality and joined Meridien Hotels & Resorts Thailand. I've worked at other Maldives resorts, such as the Coco Palm Dhunikolhu, Maldives and Soneva Fushi Resort & Spa, Maldives. Immediately prior to this I was GM at the Pacific Resort Aitutaki in the Cook Islands.
What Attracted You to the Maldives and the Alila Villas Hadahaa, now Park Hyatt Maldives?
The Maldives back in the 1970s was a favorite Italian playground, but the Maldivian government didn't care for the "party" reputation and focused on a long-term development plan that skewed toward luxury and boutique properties, while also emphasizing the pristine beaches and incredible marine life. The focus on protecting the marine environment and on sustainability has been a draw for me.
In terms of hotels, I always try to find hotels that I feel a synergy with. I've tended to gravitate toward independent hotels. It's about the energy: I look for people who are passionate, and feel we're here for a reason. We have the privilege of making people happy and fulfilling a dream–we are here to help create those individual memories that our guests will always cherish.
Can You Share More About What Makes the Park Hyatt Maldives Unique?
Only in the last 4 years has the Southern Maldives opened to tourism, so the Park Hyatt Maldives is one of only a handful of resorts in this area of the Maldives. This isolation has also meant much better preservation of the coral reefs and marine life.
A Maldivian family, together with Italians, own this resort. One of the Maldivian family members runs a dive center, so from the outset, the owners were very focused on preserving the coral reef and marine life, and making this an ecologically responsible resort.
In contrast to other resorts where barges mean inevitable destruction of some part of the coral reef, here on Hadahaa, the jetty was built first and everything needed to build the resort came across it. This means that Hadahaa is the only resort in the Maldives that has 100% coral reef coverage.
One of the things that surprised me when I arrived here in the project stage was that the trees had fences and blankets wrapped around them! When I asked why, I learned that it was so that they could be protected while materials were brought in and the resort was built. For most other Maldivian resorts, the island is basically razed and then newly planted after the resort is constructed–and often with non-indigenous plants. Here on Hadahaa, the oldest trees were carefully protected, and some of the villas were angled specifically to accommodate existing trees. The Spa was in fact built around one of the oldest trees–in traditional Maldivian culture, there's lore around "genies" and the good spirits of trees. So, within 6 months of opening, the island looked like it had been here for ages–and in fact, many of the trees have.
What Has Changed Since Park Hyatt Took Over the Alila Villas Hadahaa?
Hyatt has sought to preserve all the unique elements of the resort, while elevating quality standards. Hyatt saw that it was a gorgeous product, but perhaps a bit too minimalist and stark in design, so the Park Hyatt has integrated more warmth, with changes to the furnishings, upgraded technology in the villas, and further polishing of the food presentation and guest amenities. We've increased the front beach space, extended guest relaxation space, and now do more themed beach nights such as the Beach BBQ and Maldivian Night.
Additionally, one of Hyatt's great strengths is training and staff development, and with Hyatt, there are additional avenues for staff to improve their skills, not to mention greater mobility. There is a higher percentage of international staffing compared to the Alila days, although Maldivian locals are still over 50% in terms of staffing.
Hyatt also takes sustainability and social responsibility very seriously, with the Hyatt Thrive program. Local Ambassadors represent Park Hyatt on their island, and our staff have donated time and skills to help with a number of local initiatives. We've also hosted students here at Hadahaa, and we do procure as much as possible from local islands.
What Do You Envision for the Park Hyatt Maldives in the Future?
Our plans are significantly shaped by guest feedback–and we view any and all feedback as good feedback, as it helps us to improve. We also ask our staff for their input, to put themselves in the shoes of a guest. As you've likely noticed, many of our guests are Asian, particularly Chinese, so we'll be bringing on an another Chinese Relations Host, as well as adding additional menu items and spa treatments, such as special head massages and foot massages that are likely to appeal to these guests.
Some guests ask why we don't offer watersports–it would interfere with snorkeling and diving around the house reef, and the island's tranquility and relaxation. That said, perhaps in the future we could offer it on another island–but not Hadahaa. We are looking at adding some new activities, such as a Bush Walk, perhaps a visit to the ancient royal bath in Kondey. We'd like to offer guests the chance to see different stages of a Maldivian island's growth.
In terms of dining, we're putting together different types of experiences–for example, an all organic menu in the Gazebo; full seafood menu at your overwater villa; perhaps traditional, casual Maldivian dining on cushions, on your own private stretch of beach with star gazing afterwards.
Overall, there won't be radical changes–we're focusing on enhancing the product rather than modifying the product.
What Kind of Attitude Do You Seek to Instill in Your Team?
It can be stated very simply: treat people like people.
Related Posts
Need Award Booking Help? Our fee is as low as $75 per ticket if you book your hotel through us.
If you enjoyed this, join 90,000+ readers: please follow TravelSort on Twitter or like us on Facebook to be alerted to new posts.
Become a TravelSort Client and Book the Park Hyatt Maldives with Virtuoso Benefits!