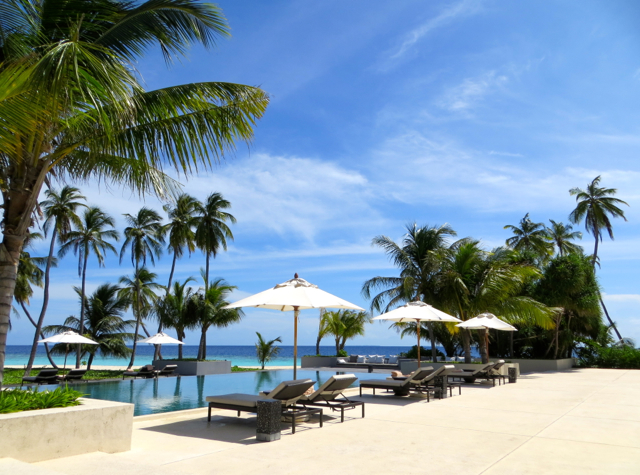 This Park Hyatt Maldives Hadahaa Review is part of a trip report including Qatar Business Class and the Park Hyatt Maldives. Trying to decide where to stay in the Maldives? Also see my Four Seasons Maldives at Landaa Giraavaru Review, Four Seasons Maldives at Kuda Huraa Sunset Water Bungalow Review and Soneva Fushi Maldives Review.
For prior posts please see these posts and posts under my Flyertalk handle, Travel Concierge:
Review: American Airlines Flagship Lounge in NYC, JFK
Review: Qatar Business Class NYC JFK to Doha
Review: Qatar Business Class Lounge, Doha
Qatar Business Class and Economy Class Review, Doha to Male, Maldives
Park Hyatt Virtuoso Benefits
If booking a paid rate, it makes sense to book as a TravelSort Client to receive Virtuoso benefits (you would still earn Hyatt Gold Passport points and elite credit) since Virtuoso amenities include:
Upgrade on arrival, subject to availability (this is your best chance to be upgraded free of charge to a Park Water Villa, if you reserve a Park Pool Villa)

Daily full breakfast, for up to two in room guests

$100 USD Equivalent Spa Services credit

Early check-in/late check-out,

subject to availability
Check-In
While our final few minutes in the Park Hyatt Maldives speedboat were quite challenging for the very seasick munchkin, our check-in was wonderfully smooth. We were welcomed by several Park Hyatt Maldives staff, including Angelo Girodo, Front Office Manager and the right hand man to new General Manager Julian Moore.
A walk along the Dusk Jetty, where we arrived, on a gloriously sunny and picture perfect day, already tremendously improved even the munchkin's spirits after our long journey. On either side we could see beautifully clear water, and the sandy white beach of the island.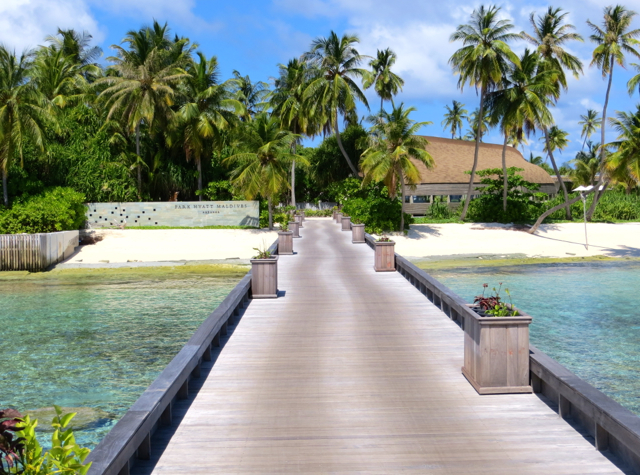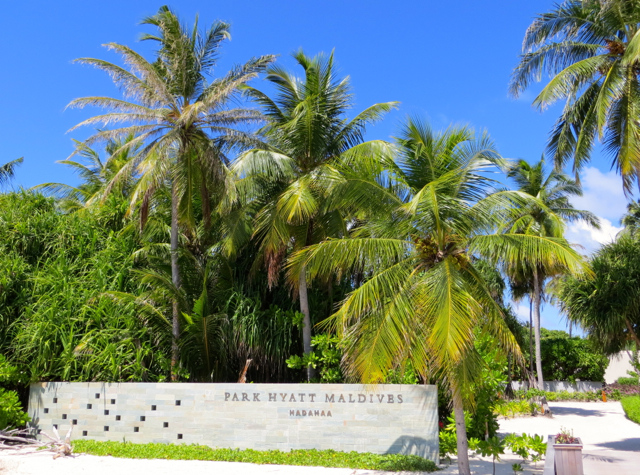 Angelo and his staff welcomed us, and introduced us to our host, Natsumi, who comfortably settled us in the Dhoni gathering place and provided refreshing iced tea welcome drinks. A traditional Maldivian Dhoni was used as a fishing vessel and has been crucial to Maldivian survival. The Park Hyatt Maldives' Dhoni was hand built in traditional style and is double the size of a typical traditional vessel.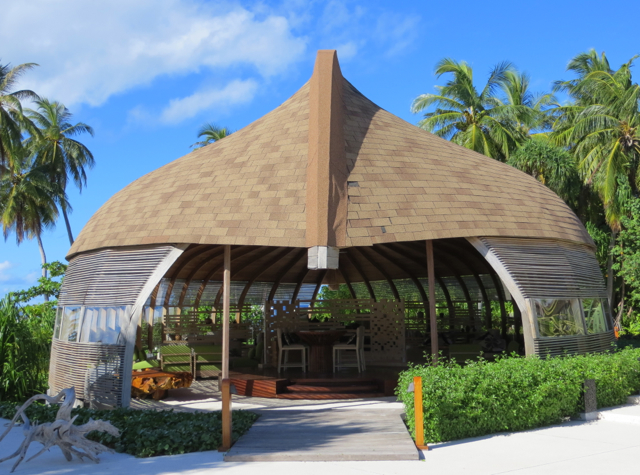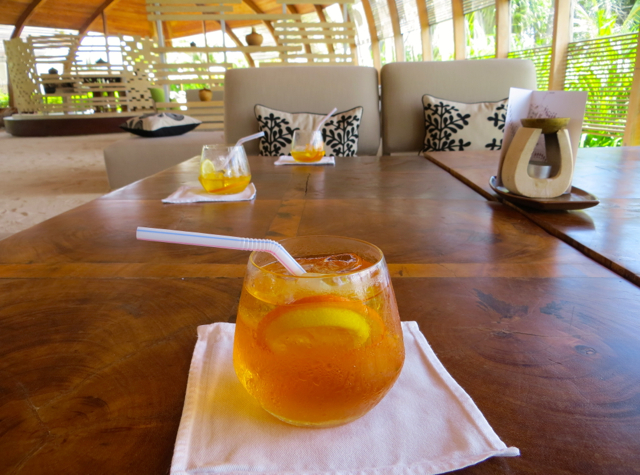 Meanwhile, our luggage (carry ons for the Qatar flights, but checked for the domestic Maldivian Air flight) was whisked away to our Park Villa. And while we had originally booked a Park Villa for the entire 7 nights on points, with a paid upgrade to a Pool Villa on our final night, Angelo explained that they had accommodated us in a Park Villa for the first 2 nights and upgraded us to a Pool Villa for the other 5 nights when they had greater availability–what a treat!
Park Villa
Natsumi drove us to our Park Villa, Villa 22, in a buggy. The path goes through lush indigenous foliage, with many mangrove trees–more on how all this natural existing foliage was preserved when I post an interview with Park Hyatt Maldives GM Julian Moore.
We arrived at the Park Villa and Natsumi showed us the amenities.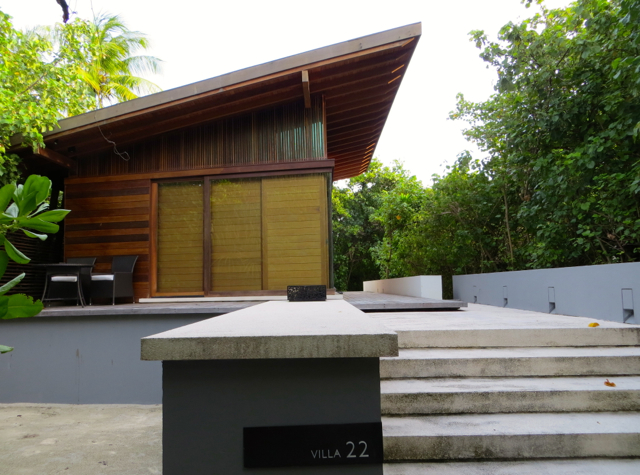 You enter into the bedroom, with its King size bed, crisply dressed in soft white linen. To the right, when facing the bed, there was already an extra bed for the munchkin set up.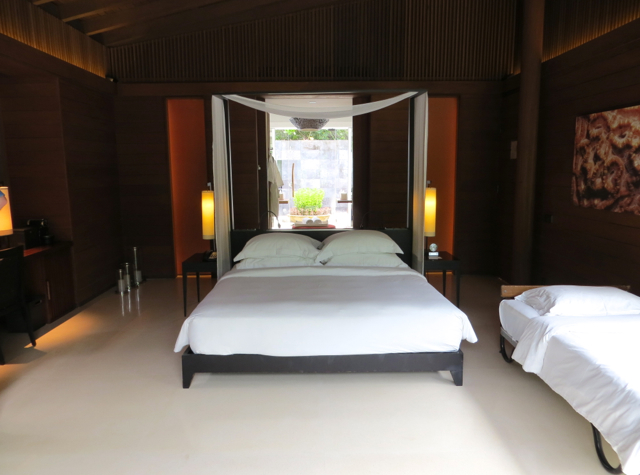 In one corner was a comfortable day bed with orange throw pillows, and a table with sparkling wine as a welcome amenity.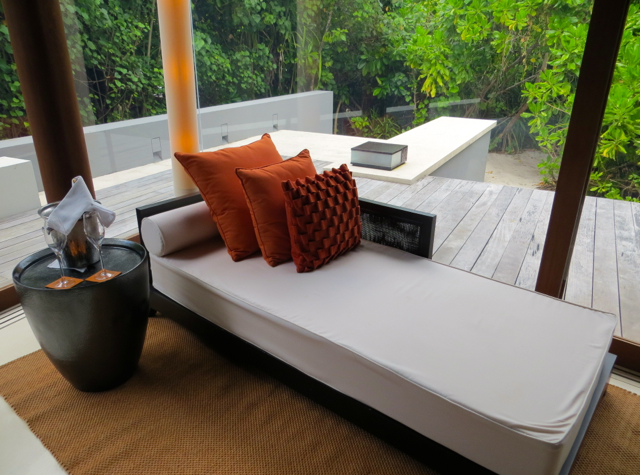 In the other corner was an orange lounge chair and ottoman, and along the left side of the room was a large flat screen TV, with integrated sound system and DVD player, and the desk, with plenty of outlets: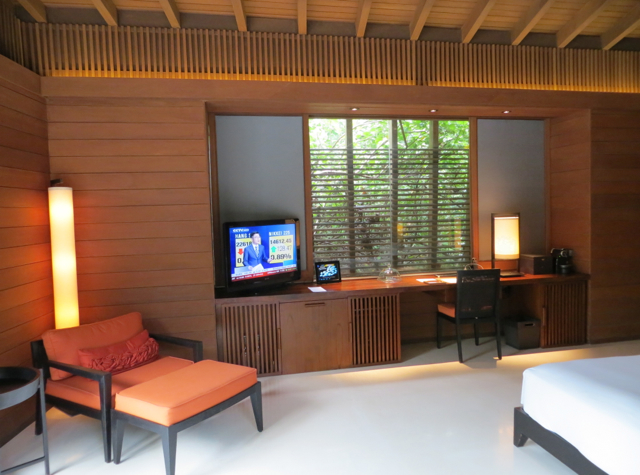 There was also an iPad for guest use, preloaded with the Park Hyatt Maldives app, a comprehensive guide to all the resort's amenities, services, dining menus, etc.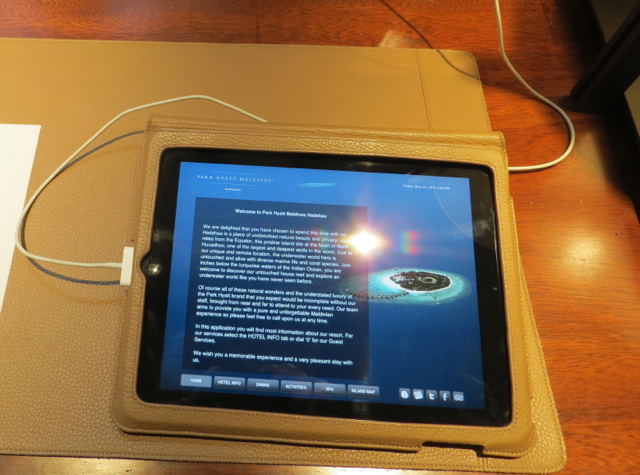 There was a mini bar with additional bottled water, both still (blue rim) and sparkling (red rim). The Park Hyatt Maldives desalinates its own water–I'll get to that in a future post on the Back of House Tour.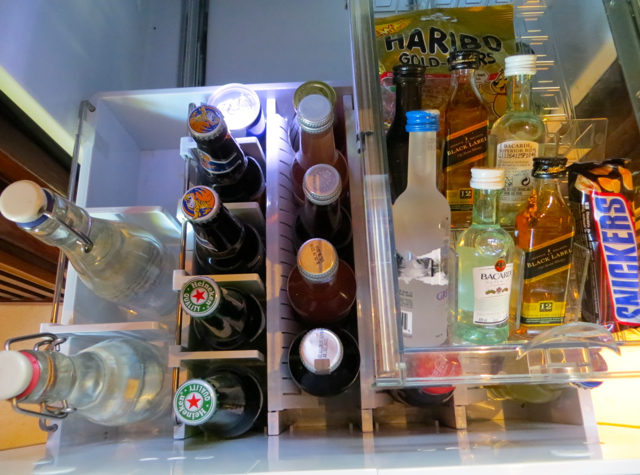 To the right of the desk was a Nespresso machine, with several Nespresso pods and also teas offered. The Maldives is one of the few places where I didn't actually make use of the Nespresso machine, since I tend to have my espresso drink in the morning and all drinks, including cappuccinos and lattes, were included with our complimentary daily breakfast. But it's a great in-room amenity to have, nonetheless.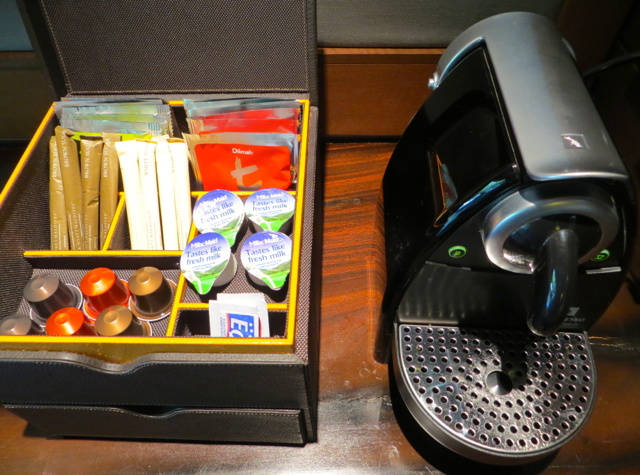 Wooden sliding doors opened to the very spacious bathroom with dual vanities and his and hers sinks: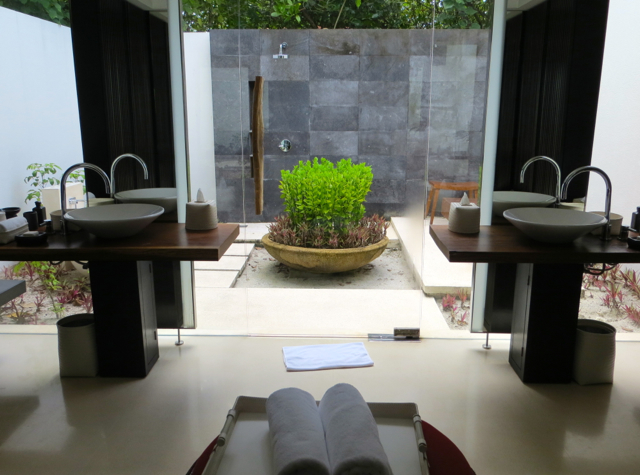 There was Le Labo soap provided, along with shower cap, toothbrush, and other amenities. As part of the resort's significant commitment to sustainability, shampoo, conditioner and bath gel are made of local Maldivian ingredients and provided in reusable ceramic containers–similar to the Four Seasons Bali at Jimbaran Bay, although as you'll see when I cover the Back of House Tour, the Park Hyatt Maldives has the greatest commitment to ecologically sound practices that I've experienced so far at a luxury resort.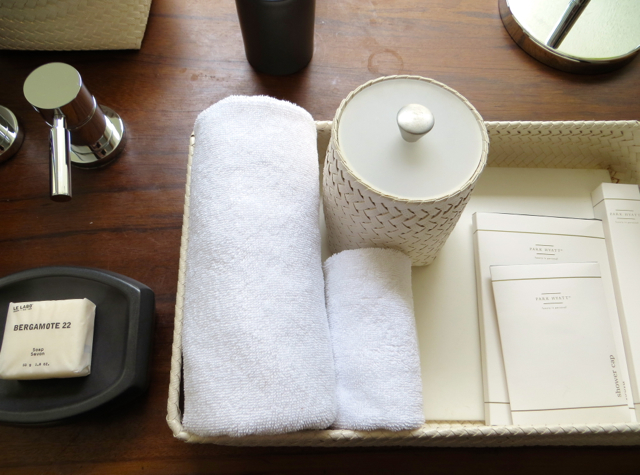 On the right was a separate toilet chamber: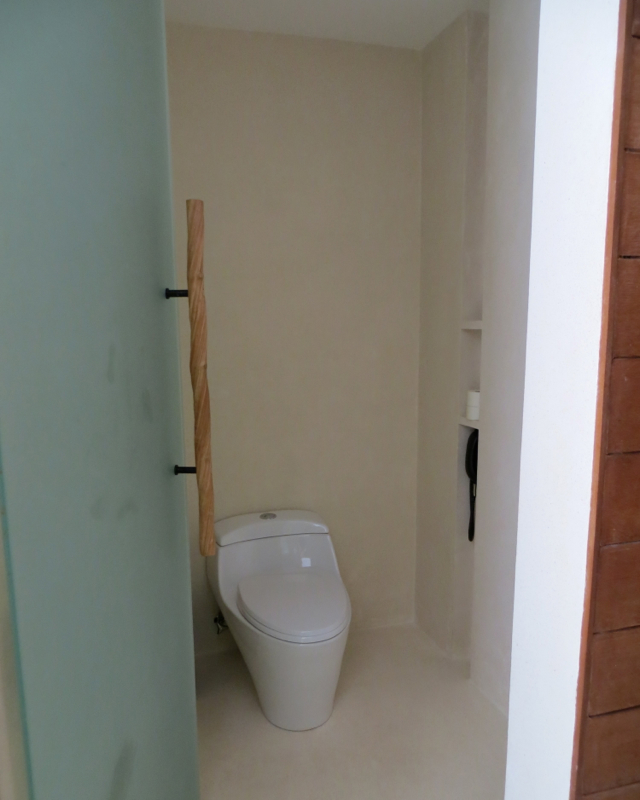 On the left was an indoor rain shower: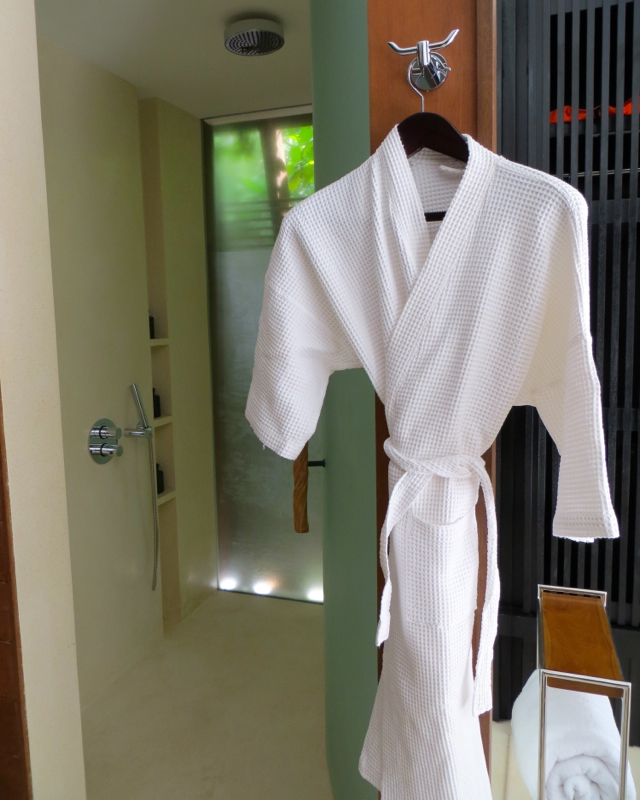 Opening the glass door led you to the outdoor shower and bath: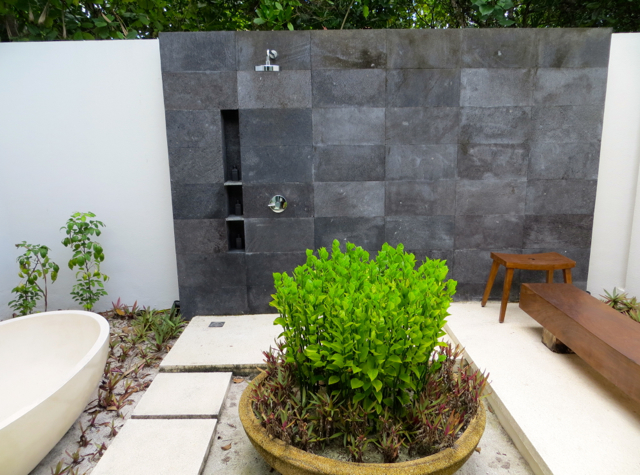 Our Park Villa, Villa 22, didn't have a view, but we actually appreciated the privacy afforded by the trees. There was an outdoor deck, small table and two deck chairs.
Steps led down to a short path of a few feet, which put you right on the pristine white sandy beach. There were two lounge chairs and an umbrella, even though we didn't actually use them: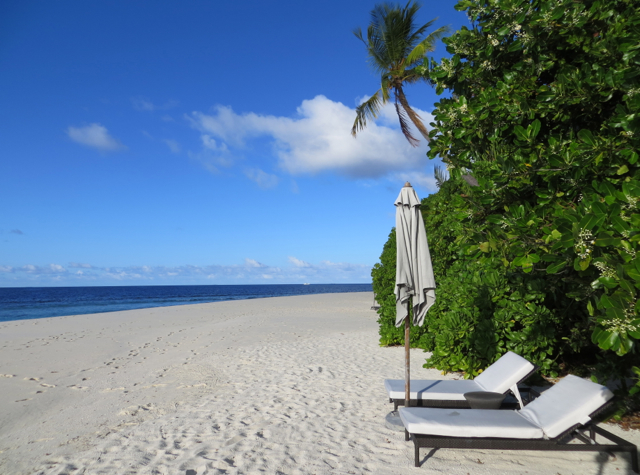 Coming back to our Park Villa after time on the beach, it was very convenient to have a basin with fresh water to wash the sand off our feet, before stepping inside: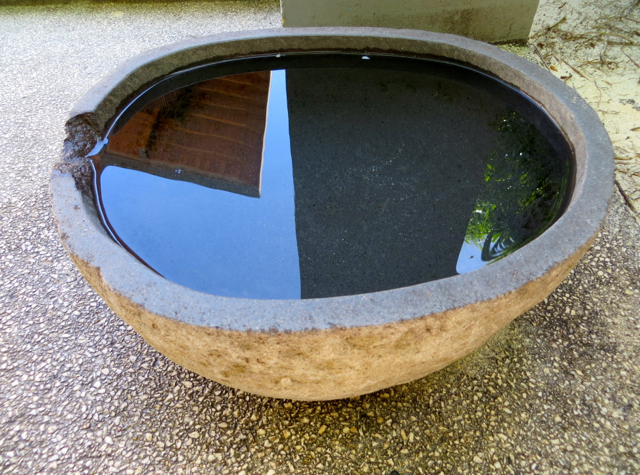 Park Pool Villa
The Park Pool Villa is in exactly the same design as the Park Villa, except with a small outdoor pool next to the deck. While some folks wouldn't care one way or the other about having their own little pool when the Park Hyatt Maldives has a gorgeous main pool, not to mention a Spa pool, we absolutely loved having our own pool. And I would absolutely recommend it to any families with young kids who visit, unless for some reason your kids don't like the water (and if that's the case, the Maldives is probably the wrong destination anyway).
The munchkin enjoyed playing in the pool at least once and sometimes twice a day, and with our own little pool, we didn't have to worry about his happy shouts or water pistol wars bothering any honeymooners. Again, we didn't have a view of the beach, but it was literally about 8 steps away. And the privacy turned out to be very handy the first night, when the munchkin decided to just strip off his clothes and go skinny dipping in the pool. Not that there was likely to be anyone on the beach, but still…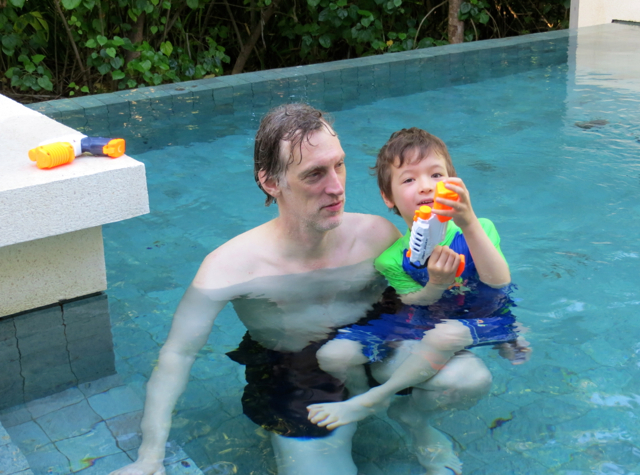 Here's a view of the Park Pool Villa from the pool: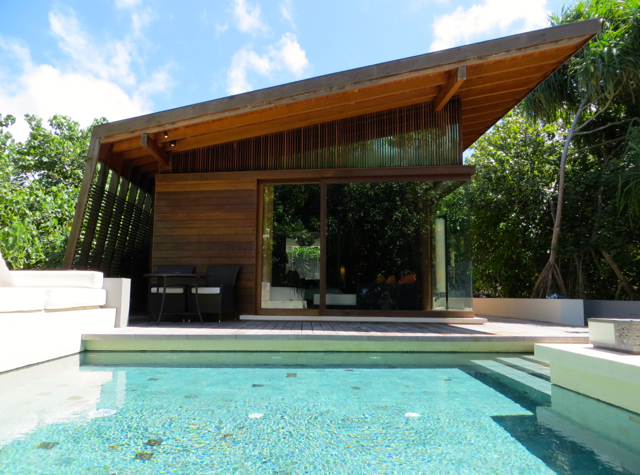 Beach
Since I'm from Hawaii, I'm something of a beach snob. I thought the San Diego beaches, particularly the water temperature, were a cruel joke. And don't get me started on Half Moon Bay, just south of San Francisco. Or the beaches along the French Riviera, which are incredibly gravelly and not soft sand at all. But the beaches of Hadahaa are simply breathtaking. The sand is perhaps not as powdery as you'll find in some other places, but it's very white, and so private that you rarely see another person on the beach in front of your Park Villa or Park Pool Villa.
And the water–so turquoise and clear that you almost need to pinch yourself to make sure you're not dreaming, you're really in this magnificent island paradise.
You could see the Dawn Jetty from both the Park Villa and Park Pool Villa that we stayed in, and we often took the short walk to it in the morning to go snorkeling: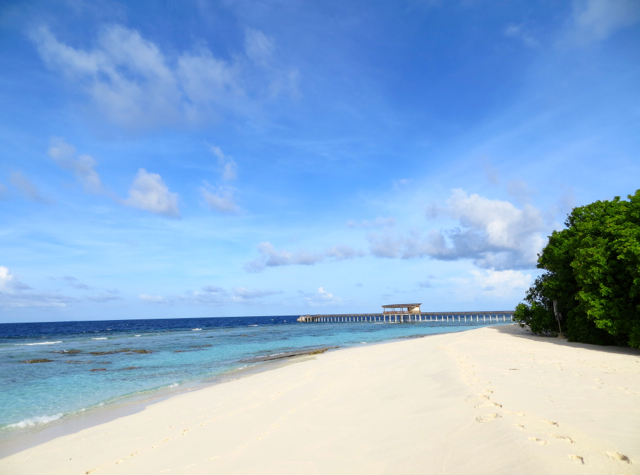 Main Swimming Pool
The design of the main pool is just stunning, providing a couple of tiers, flanked by palm trees and sun beds, and with the turquoise blue sea and azure sky beyond. I couldn't stop taking photos of it, both in the daytime and at sunset. And you get to enjoy this view while dining at The Dining Room for breakfast or dinner, or of course when you feel like lounging by the pool.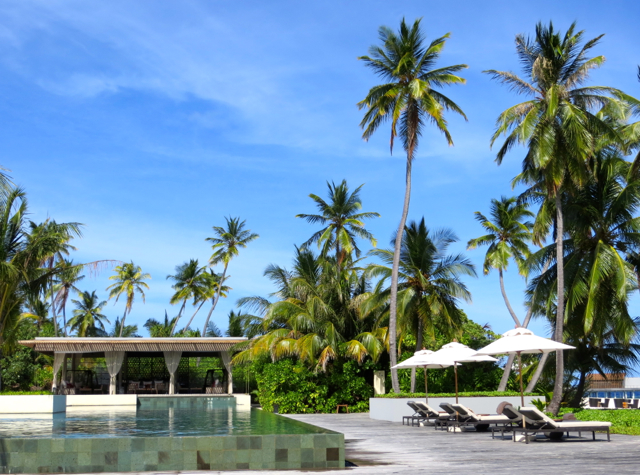 Our Host and Guest Services
One of the ways Hyatt seeks to differentiate its Park Hyatt brand from other Hyatt brands is not only the luxury of the accommodation and amenities, but also the level of personalized service. And the Park Hyatt Maldives takes this to a whole new level, given that you have a Personal Host or Concierge who helps coordinate anything you may need or wish during your stay.
Our Host, Natsumi, in addition to checking us in and showing us our Park Villa and Park Pool Villa features, made us aware of special events and dinners, brought us a delectable chocolate tart for our belated anniversary celebration, set up our Back of House Tour, and arranged for me to visit and photograph a Water Villa. She also arranged, at our request, for no one to contact us after 8pm, so as not to disturb our son's sleep.
There's also a Guest Services room just to the right of the boutique, which is air conditioned and a nice place to cool down during the day, in addition to providing any assistance you may need. When you call Guest Services from your phone, the staff members at Guest Services answers, although they coordinate with your Personal Host.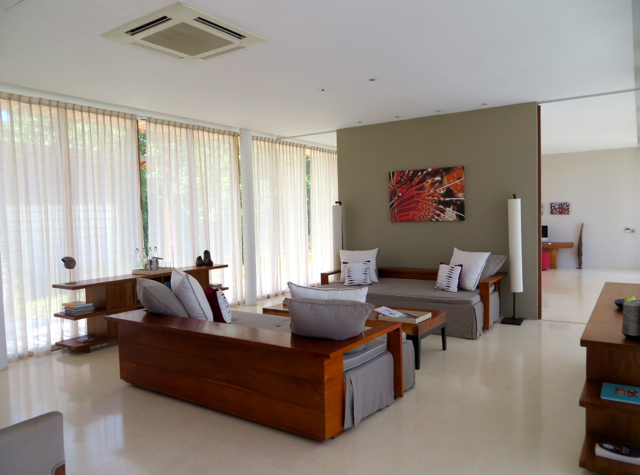 The Guests
While there may have been other Americans during our stay, we didn't meet any of them–the majority of guests appeared to be mainland Chinese, and at other times of the year the Park Hyatt Maldives apparently attracts a number of Russian visitors, since in the small borrowing library in the Guest Services room we found a number of kids' books and also some DVDs in Russian. This worked out pretty well for us, since the munchkin is bilingual in English and Russian so he entertained himself with some new Russian activity books.
How Family and Kid-Friendly?
We knew of course, going in, that this is primarily a romantic destination for couples and honeymooners, and we even saw a Chinese wedding couple in full wedding attire. That said, at no time did we feel uncomfortable as a family with a young child, and in fact the staff went out of their way to make us feel welcome. There was even a kid-sized bathrobe for the munchkin, and in a future food and menu post I'll cover the Kids' Menu.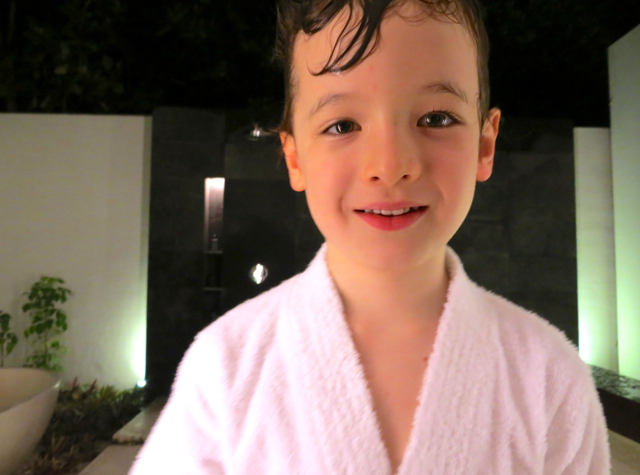 The beautiful beach and clear water, where you can view fish even from the pier, especially at the Dusk Jetty, is as magical to kids as it is to adults. And the night sky is simply incredible on a clear night, especially when there's little moon. I don't have the camera to be able to capture it, but chances are, unless you've been to Mauna Kea on the Big Island or perhaps the Atacama desert in Chile, you've never seen the stars, Venus, Mars and the Milky Way shine so brightly.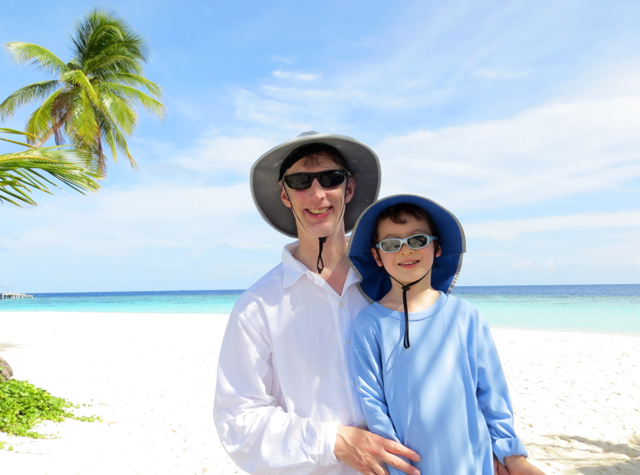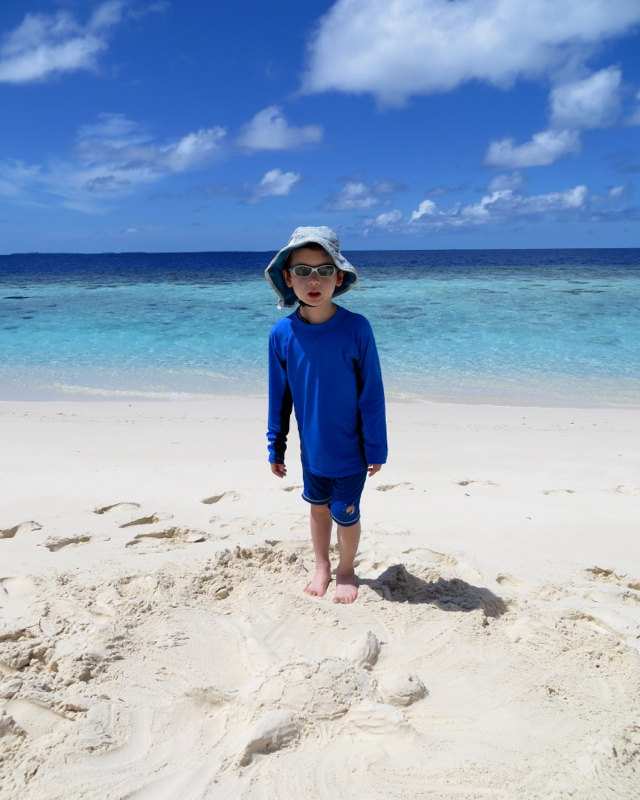 The Verdict
Short version, in two words: just go. Longer version: All resorts in the Maldives are not created equal. There are more luxurious resorts in the Maldives, but if you're seeking truly fantastic snorkeling and diving on a pristine house reef in addition to gorgeous views, beautifully designed villas and personalized service, the Park Hyatt Maldives should be at or near the top of your list.
This isn't to say there weren't a few hiccups. For example, one night housekeeping knocked on our door after we'd all gone to sleep, even though it was a mistake and we hadn't ordered anything. There was a communication glitch about an excursion we'd cancelled, although it was resolved quickly. I'd requested total pricing for two boat dives and the staff member promised to call me back after he'd checked, but never did. We requested a change to a menu item that wasn't taken into account. On one of the activities I thought the guide could have been more communicative and engaging. There were a couple of WiFi snafus during our stay, although frankly that comes with the territory of being so remote from anywhere–it's pretty amazing WiFi works as well as it does. But whether it's the island's sheer beauty or the welcoming staff or both, we couldn't really get upset over the little snafus, which really did pale compared to our overall stellar experience.
And even if you're a young family rather than a couple, I still encourage you to go, based on our fantastic experience. It's certainly the longest door-to-door trip we've made with our 5-year old, but the incredible underwater world, rivaled only by snorkeling off Nusa Penida and Nusa Lembongan, combined with the perfect beach, night sky and warm staff, made the journey more than worth it.
Disclosure: I booked our 7 night stay using 4 complimentary nights from 2 Hyatt Visas, plus Hyatt Gold Passport points for the remaining 3 nights.
Related Posts
Need Award Booking Help? Our fee is as low as $75 per ticket if you book your hotel through us.
If you enjoyed this, join 150,000+ readers: please follow TravelSort on Twitter or like us on Facebook to be alerted to new posts.
Become a TravelSort Client and Book the Park Hyatt Maldives with Virtuoso Benefits!