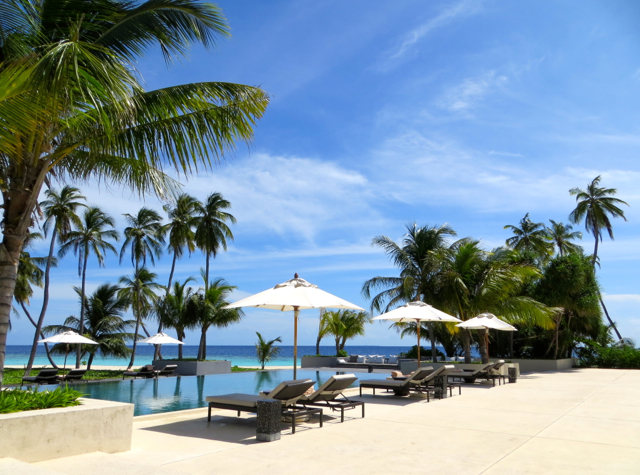 This Park Hyatt Maldives Costs post is part of a Maldives trip report including Qatar Business Class, Etihad Business Class, Etihad First Class and the Park Hyatt Maldives. For prior posts please see:
Review: American Airlines Flagship Lounge in NYC, JFK
Review: Qatar Business Class NYC JFK to Doha
Review: Qatar Business Class Lounge, Doha
Qatar Business Class and Economy Class Review, Doha to Male, Maldives
Park Hyatt Maldives Hadahaa Review
Park Hyatt Maldives Island Grill Restaurant Review
Park Hyatt Maldives Water Villa Review
Park Hyatt Maldives Diving and Snorkeling
Park Hyatt Maldives Food and Menu
Park Hyatt Maldives Back of House Tour
Park Hyatt Maldives Interview with General Manager Julian Moore
Park Hyatt Maldives Activities: Top 10
Male: Plaza Premium Lounge Review
Etihad Business Class Review Male to Abu Dhabi
Yas Viceroy Abu Dhabi Hotel Review
Etihad First Class Lounge Review Abu Dhabi
There's no question that the Park Hyatt Maldives and other luxury resorts in the Maldives aren't inexpensive, even if you manage to use miles and points for your flights there and free nights and points for your stay. The cost of the transfer from Male, dining and diving does add up. That said, as incredible luxury vacations go, the cost is manageable, even for a family of 3, as we were. Here's the breakdown for our 7 night stay, excluding the nominal taxes we paid for the Qatar and Etihad award flights:
7 Nights: 4 Complimentary Nights from the Hyatt Visa + 66,000 Hyatt Gold Passport Points for 3 Nights
Return Air and Speedboat Transfers: $1458 for 3 people
5 Dinners for 3 People at The Dining Room: ~$800 (~$160 per dinner including tax and tip)
1 Beach BBQ Dinner for 2 Adults: $270
1 Island Grill Dinner for 3: $160
1 Lunch for 3 at The Dining Room: $80
3 Dives (1 Orientation + 2 Tank Boat Dive): $460 (incl. equipment rental, tax and tip)
1 Night Snorkelling: $85
1 Massage: $175
Total: ~$3500 (+ additional tips to our Host and a few others)
While $3500 is nothing to sneeze at, keep in mind that 40% of it is just for the Park Hyatt Maldives transfer from Male: $486 per person. It's high because of how remote the resort is, in the Southern part of the Maldives, and because foreigners do pay more than local residents for internal flights.
So, taking out the transfer costs, our additional costs for everything else–dining, diving, night snorkelling, massage–was $2042 over the 7 days, which really aren't that high for 3 people considering the costs of bringing in food or of operating a dive center on an island with just over 50 villas.
Sure, we didn't go crazy in terms of elaborate dinners or activities, but we also didn't have such a tight budget that we worried about daily spend. We knew the prices going in, so there were no surprises, and to date this has been our favorite "luxury relaxation" family vacation. For any other families considering it–just go! Of course most guests are couples, but the three of us had a fantastic time and felt completely welcome.
Here are a few tips that I hope will help if you want to keep costs reasonable. Of course, if money is no object, no need to read further.
Cost Saving Tips
1. Become Scuba Certified Before Going
If you know or even think you may want to scuba dive, be sure to attain at least the basic certification of Scuba Diver before getting there. I did mine while in Jamaica, but your local dive center should still be cheaper than the Park Hyatt Maldives. You'll save a few hundred dollars, not to mention save the time of the coursework and pool sessions, by getting it done before you arrive at the Park Hyatt Maldives. You'll still need to do an Orientation Dive, for ~$100, but that's a lot better than starting from scratch.
2. For the Best Chance of a Complimentary Upgrade, Avoid Peak Season
Our stay was in late May, which we realized was somewhat risky on the weather front (in fact, we were told that the weather had been very rainy for a couple weeks prior to our trip) but it did mean that the resort was less crowded than in peak season, and we were generously offered a complimentary upgrade to a Pool Villas for 5 of our 7 nights, even as a Hyatt Platinum Member. Of course, there are no guarantees, and I also would *not* count on any complimentary upgrades to one of the few Water Villas, even as a Hyatt Diamond member, but for us at least, the Park Pool Villa was pefect, and it meant we didn't spend anything on villa upgrades.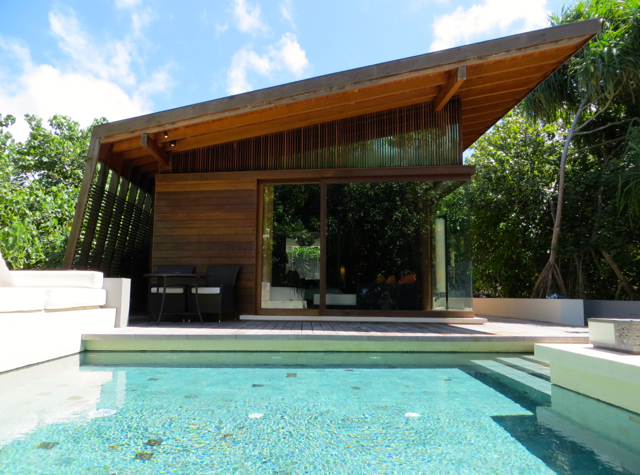 3. Splurge on Diving, Not Massage
I realize this is very much personal preference, so no doubt there are readers who would do exactly the opposite. But, even though I'm biased as a diver, I think you're missing out if you come all the way here and don't go scuba diving. The snorkeling around the house reef is great, but you'll see even more by going on some boat dives, and it's freeing to be able to explore a deeper level of marine life. Sure, there are plenty of other places to go diving in the world, but for us at least, the underwater life was a driving force in deciding to come all the way here.
In terms of the massage, while I didn't experience one first hand, my husband did, and while perfectly soothing, it wasn't as good as the ones he gets here in NYC. So unless the spa is a must, if you have to trim from your budget somewhere, I'd consider foregoing it.
4. Go Dry for Most of the Week and Order Ice Cream or Sorbet for Dessert
At home we generally have a half glass of wine with dinner pretty much every night. But we actually didn't miss not having it with most of our dinners at the Park Hyatt Maldives, perhaps because we often chose somewhat spicy offerings such as the Thai Green Curry or Beef Rendang that don't pair well with most wines anyway. We did order wine with our dinner at the Island Grill, and it actually wasn't as high priced as we'd feared–about $15 for a generous glass–but that was our last night so there was no going back on our savings 🙂
Desserts even at The Dining Room are expensive (~$25 each), so we stuck with scoops of the housemade ice cream or sorbet for $5 each, and found these a refreshing finale, given the hot climate.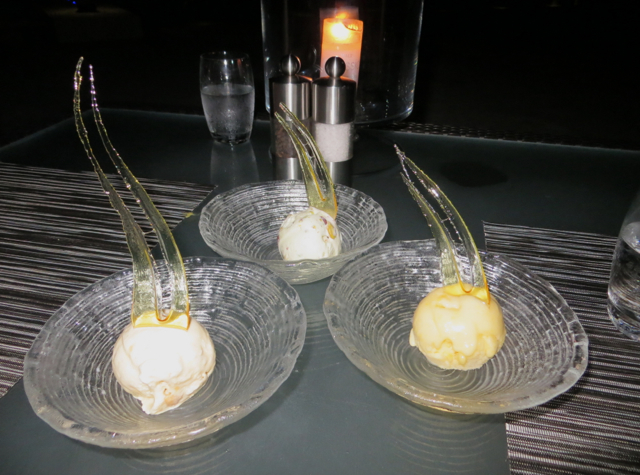 5. Eat a Big and Late Breakfast
Given that we have a 5-year old who generally gets up hungry at 7am, we weren't able to have a late breakfast, but we did have big breakfasts. In addition to the tower with fresh tropical fruit, Maldivian tuna roshi, and pastries, my husband usually had 2 glasses of fresh squeezed juice, museli, yogurt, and a waffle or egg dish.
We'd then tide ourselves over with snacks (see next section) until dinner. The only day we ordered lunch was our day of departure, since we (correctly) figured it would be the tastiest food we'd get until our Etihad flight out that night.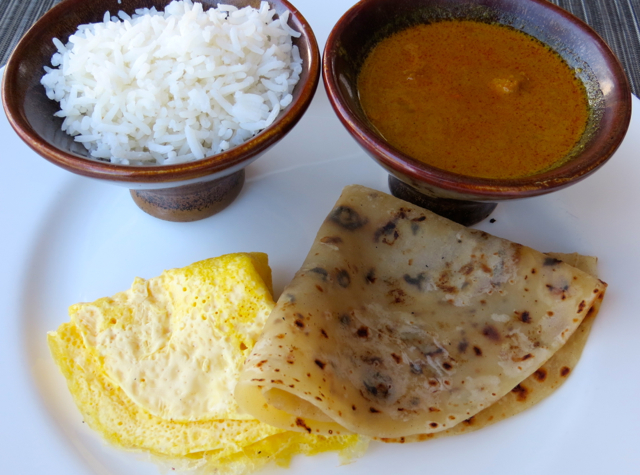 6. Bring Snacks
I brought quite a few snacks with us: toasted cashews, organic cereal, raisins and dried cherries, shelf stable applesauce packets, granola bars, and chocolate. We relied on these for afternoon snacks and morning fortification for the munchkin, when my husband and I took turns watching him while we enjoyed some early morning snorkeling.
7. If You Have a Kid, Take Advantage of the Kids' Menu
We ought to have asked for this from the beginning, but only started ordering from it the 3rd day–we had to ask for it, since we weren't automatically given a kids' menu. It was incredibly reasonably priced for the resort, since a burger was about $13 and pretty much adult sized. That was perfect for us, given that the munchkin eats like an adult, and we no longer had to order adult priced entrees for him. He didn't care for the spaghetti (too much oregano, apparently) but it didn't go to waste, as my husband happily used it to fill him up. Plus, we all had a weakness for the ice cream sundae, again reasonably priced. I'm pretty sure my husband would sometimes have ordered for himself off the kids' menu if he could have gotten away with it 🙂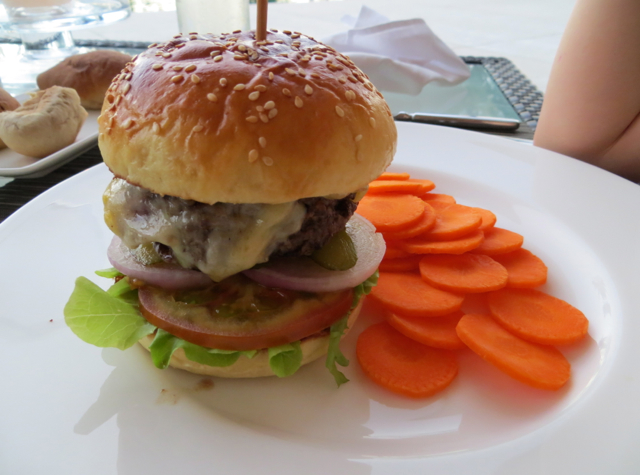 8. Views, Snorkeling, Swimming and Relaxing and Some Activities Are Free
While you could spend thousands on various dining experiences and activities at the Park Hyatt Maldives, many of the best aspects of it are free, once you're there: the beautiful ocean views and star gazing; snorkeling and swimming; and simply relaxing on the beach, your villa deck, or poolside. There's also complimentary Sunrise Yoga and a complimentary Manager's Reception, both on Saturday, and complimentary Sunset Yoga on Thursday.
If you've been to the Park Hyatt Maldives, were your costs similar? What did you think was worth splurging on, vs. saving?
Related Posts
Park Hyatt Maldives Hadahaa Review
Park Hyatt Maldives Island Grill Restaurant Review
Park Hyatt Maldives Diving and Snorkeling
Park Hyatt Maldives Food and Menu
Need Award Booking Help? Our fee is as low as $75 per ticket if you book your hotel through us.
If you enjoyed this, join 100,000+ readers: please follow TravelSort on Twitter or like us on Facebook to be alerted to new posts.
Become a TravelSort Client and Book the Park Hyatt Maldives with Virtuoso Benefits!