This Park Hyatt Maldives Activities post is part of a trip report including Qatar Business Class and the Park Hyatt Maldives. Going to one of the Four Seasons Maldives resorts? Be sure to check out Four Seasons Maldives at Landaa Giraavaru Activities: Top 10 Things to Do and Four Seasons Maldives at Kuda Huraa Activities: Top Things to Do.
For prior posts please see:
Review: American Airlines Flagship Lounge in NYC, JFK
Review: Qatar Business Class NYC JFK to Doha
R0eview: Qatar Business Class Lounge, Doha
Qatar Business Class and Economy Class Review, Doha to Male, Maldives
Park Hyatt Maldives Hadahaa Review
Park Hyatt Maldives Island Grill Restaurant Review
Park Hyatt Maldives Water Villa Review
Park Hyatt Maldives Diving and Snorkeling
Park Hyatt Maldives Food and Menu
Park Hyatt Maldives Back of House Tour
Park Hyatt Maldives Interview with General Manager Julian Moore
1. Diving
Scuba diving is fantastic at the Park Hyatt Maldives–not only will you see an abundance and variety of marine life, it's wonderful to be in warm water, where your teeth won't be chattering when you emerge and no wet suit is needed. I'd still recommend bringing your own dive skin, however, as we did, since it both protects you from the sun and provides a needed layer when wearing all your diving gear. What will you see? Check out Park Hyatt Maldives Diving and Snorkeling Perhaps my favorite, given that they are endangered, was sighting a Hawksbill Turtle: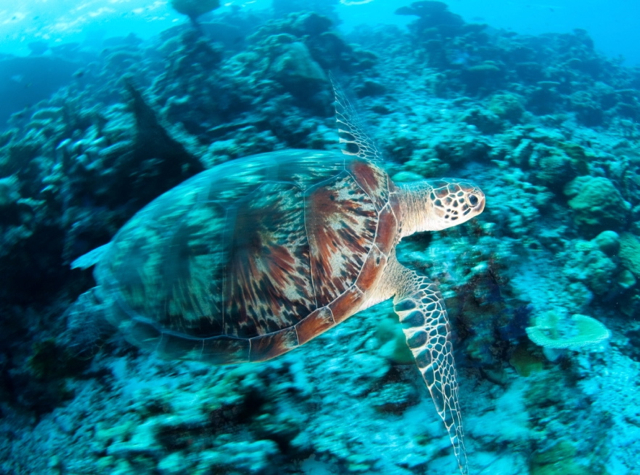 2. Snorkeling
Even if you don't scuba dive, the great thing about the Park Hyatt Maldives is how much you can see just around the house reef: all kinds of fish of course, such as the distinctive Unicornfish, Parrotfish, Clownfish, etc., but also Reef Sharks and, if you're lucky, perhaps even the resident Hawksbill Turtle. My husband, on his night snorkeling trip, saw the bioluminiscent plankton, but you can even see these yourself by just walking into any part of the water at night with a mask and waving your hands about.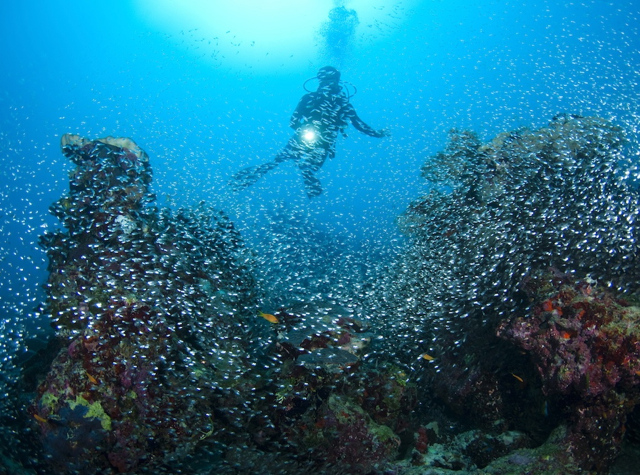 3. Star Gazing
The Park Hyatt Maldives is the perfect place for stargazers and amateur astronomers, given the breathtaking clarity of the night sky. Apart from atop Mauna Kea in Hawaii and perhaps the Atacama desert in Chile, I've never seen the planets, stars and Milky Way shine so brightly against a completely black night sky. Take advantage of the resort's telescope, which is often set up on clear evenings, sometimes on the beach.
4. Back of the House Tour
Ok, I realize not everyone is going to be as interested in this as we were, but if you do like to understand how things work and are a bit geeky, you'll probably enjoy this. Abdulla, the Engineering Manager, is a great guide.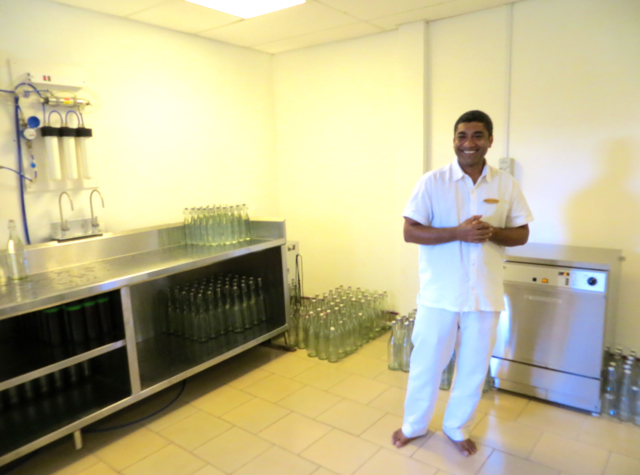 5. Manager's Cocktail Reception
Each Saturday at 6:30pm, a Manager's Cocktail Reception is held on the beach, weather permitting, with cocktails, wine, beer, mocktails and appetizers compliments of the resort. It's a lovely setting, with a view of the sunset behind the Park Water Villas, and typically some Maldivian live music and dancing.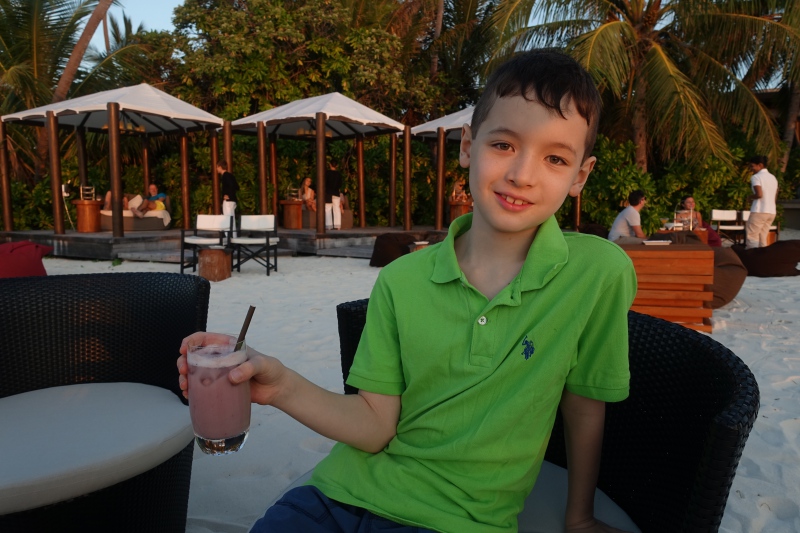 6. Sunrise or Sunset Yoga by the Beach
Enjoy complimentary sunrise yoga or sunset yoga held outdoors near the beach (check your Villa's iPad for the days this is offered). Sure, you can do yoga plenty of places, but not so often with this view.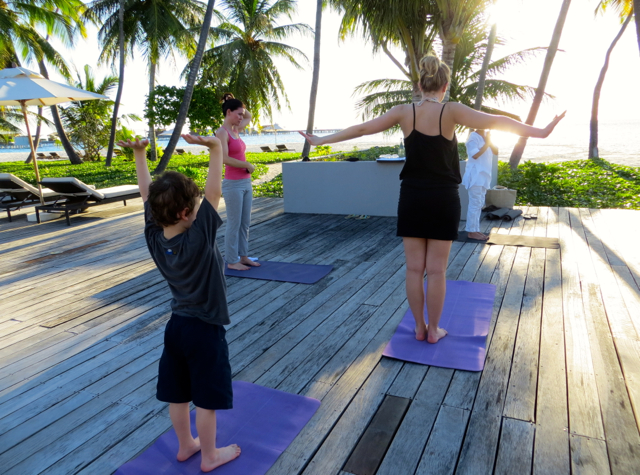 7. Lucky Dolphin Trip
Since we were lucky enough to have seen dolphins in Nusa Lembongan off Bali last year, we didn't take the Lucky Dolphin Trip, but if you've never seen dolphins in the wild before, you may want to take this trip. Of course, dolphins aren't guaranteed, but with any luck you'll manage to experience the incredible sight of a playful pod of leaping spinner dolphins.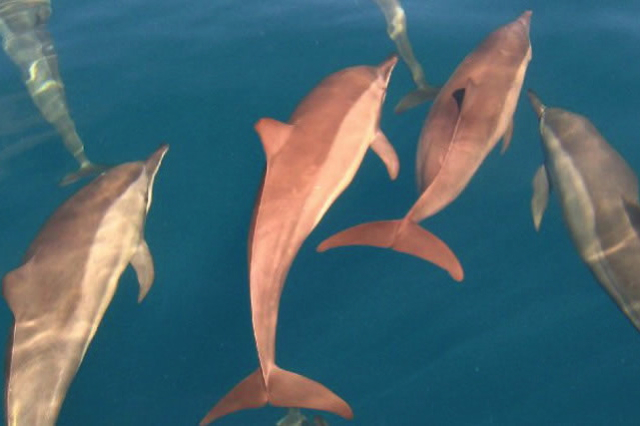 8. Maldivian Cooking Class
You can either pair the Maldivian Cooking Class with Traditional Maldivian Fishing or, as we did, simply take the cooking class on its own. It's perhaps more accurate to describe this as a cooking demonstration, since the ingredients are already prepped and you watch as one of the Park Hyatt Maldives chefs demonstrates how to make a traditional Maldivian tuna soup, Maldivian tuna curry, and a marinade for whole Reef Fish.
Then, after seeing how everything is made, you sit down to enjoy the soup and tuna curry, and later on at dinner, whether you dine at The Dining Room or The Island Grill, the marinated Reef Fish is grilled to perfection. It was fantastic, and I highly recommend ordering this at least once, even if you don't get a chance to do the cooking class. Just beware that the local flies are strongly attracted to the Reef Fish as well, so eat quickly and ask your server to clear the dishes away right afterwards!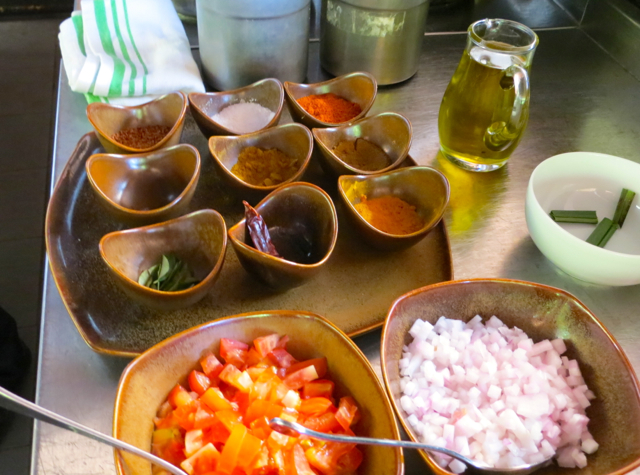 9. The Spa
Vidhun Spa offers a variety of massages, body treatments and facials utilizing traditional Maldivian ingredients. While I'm not much of a spa goer, my husband had a treatment that was relaxing, even if the therapist wasn't as skilled as the one he sees regularly in NYC. The treatment rooms are indoors, but there are lovely private cabanas with outdoor soaking baths and showers: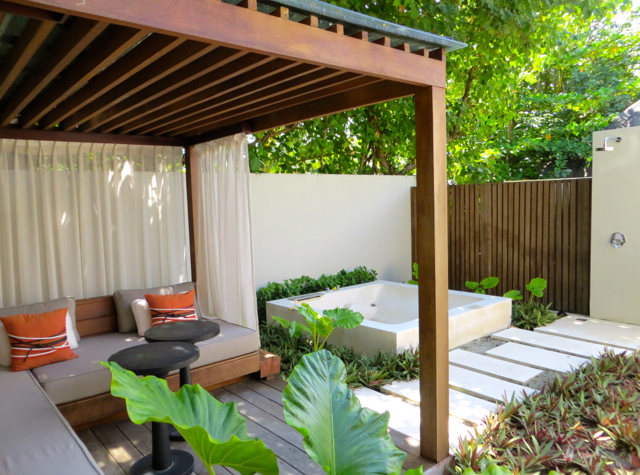 10. Relaxing!
In the midst of all the great diving, snorkeling and other activities, don't forget to simply relax or even enjoy a little nap–it is a vacation, after all!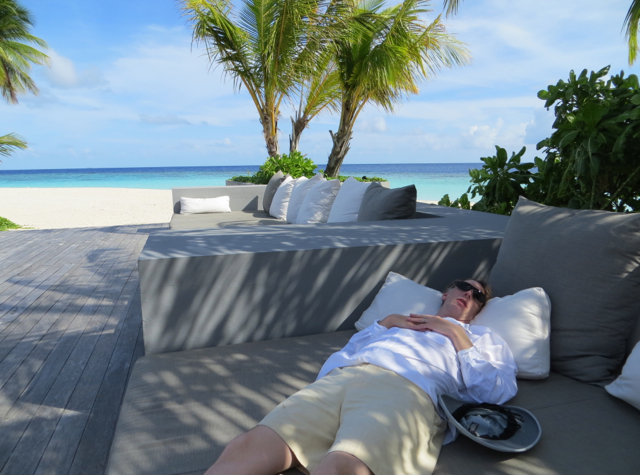 Related Posts
Park Hyatt Maldives Hadahaa Review
Four Seasons Maldives at Landaa Giraavaru Activities: Top 10 Things to Do
Park Hyatt Maldives Diving and Snorkeling
Park Hyatt Maldives Back of House Tour
Need Award Booking Help? Our fee is as low as $75 per ticket if you book your hotel through us.
If you enjoyed this, join 200,000+ readers: please follow TravelSort on Twitter or like us on Facebook to be alerted to new posts.
Become a TravelSort Client and Book the Park Hyatt Maldives with Virtuoso Benefits!