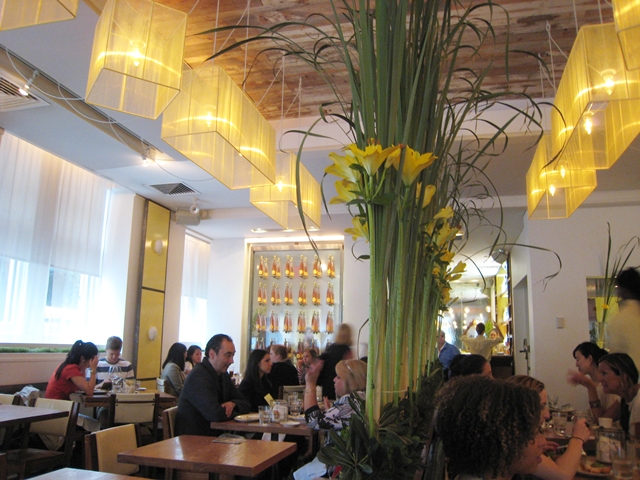 Park Avenue Summer is again participating in NYC Restaurant Week Summer 2012, and I had the opportunity to review it a few days ago. It's about the fourth time I've been to the restaurant, and the second for Restaurant Week, so figured it's about time I review it.
As you may have guessed from the name, Park Avenue actually changes its name, decor and menu by season: Park Avenue Spring, Park Avenue Summer, Park Avenue Autumn, Park Avenue Winter–yep, they're all the same restaurant. In its current summer incarnation, yellow figures prominently in its color scheme, even down to the awning at the restaurant entrance: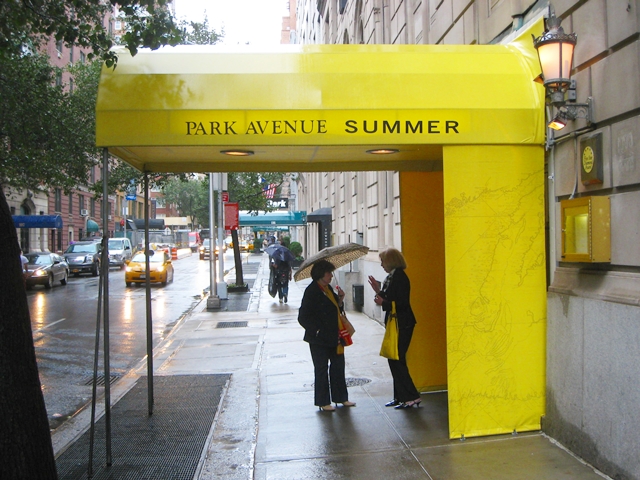 Although AMEX is again running a promotion whereby you register an American Express card to get a $20 credit this year they've raised the number of required dines to 4 from 3, so you're only getting a $5 credit back on each dine. Given that this quarter the Chase Freedom Card gets 5X on all dining, I opted to use it instead, since even on a bill of ~$30, that's over 160 points with the 5X bonus and Chase Exclusives, and at my usual United miles redemption values of 5-10 cents per Freedom point, that's face value of $7.50-$15.
But back to Park Avenue Summer. Despite the torrential downpour that day, I managed to arrive on time for my lunch reservation, and was welcomed by both the hostess and another gentleman–not sure whether he was the front of house manager, but he was very professional, and I later wished the other restaurant personnel could have been more like him. He invited me to use the coat check, and I brought my dripping umbrella there. Shortly after I returned, the hostess showed me to my table, which I'd reserved earlier that day with Open Table.
There was a bit of a wait until my server appeared, who turned out to be an older gentleman. He brought both the regular menu, which had the Restaurant Week Menu on the left, and the wine list, and explained the choices. It's nice that there is an option to order a glass of wine for reduced price of $6, although I noticed that most of the offerings weren't even on the regular menu, so I assume they're specially brought in for Restaurant Week and are cheaper varieties, and I passed.
Another server brought water and two types of fresh bread: a polenta roll with fresh corn, and a white cheddar pepper biscuit. One of the things I've most enjoyed about Park Avenue are its breads, and the cheddar biscuit was especially good, although I would have loved there to be more pepper to give it a kick. I was less impressed with the polenta roll–a bit too salty, not enough fresh corn–but you can't really complain about free and warm bread, especially as so few places serve their own warm housemade bread.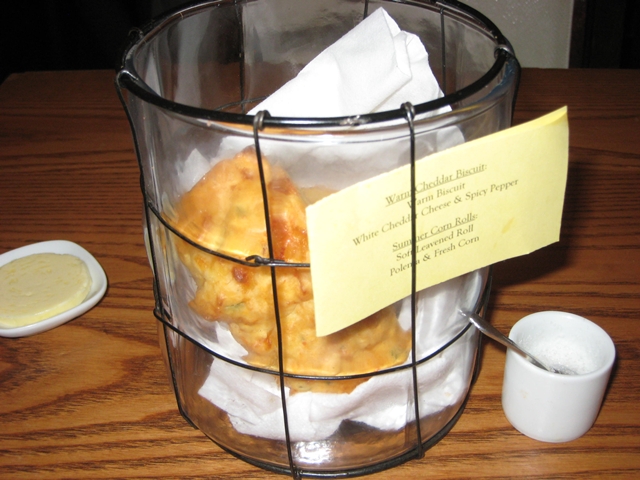 It took a rather long time for my appetizer to be brought, but I attributed that to the fact that I ordered the Crispy Softshell Crab with Avocado, Strawberry & Passion Fruit, which has a $5 supplement, and the fact that when I initially arrived, the main room I was dining in was completely full. This dish was the best of my meal, and the spicy kick that I'd been missing in the cheddar biscuit was present here in the form of jalapenos. Surprising, since it wasn't in the description, so while I loved it, I can imagine anyone who doesn't enjoy spice might have been unpleasantly surprised.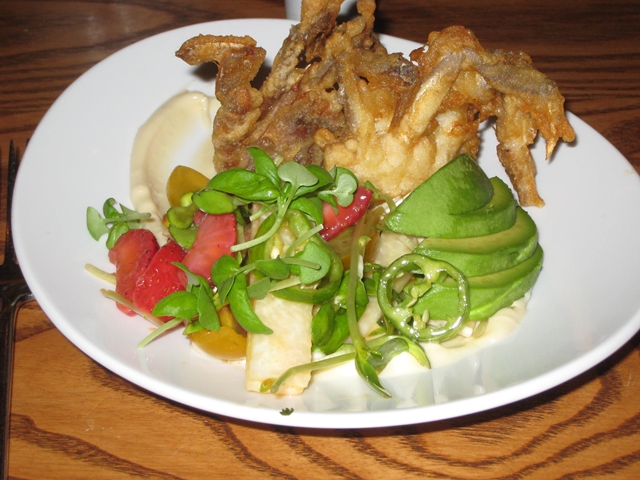 For the main, I'd been tempted to try the potato gnocchi with sweet corn and summer truffles, as I do really enjoy truffles, but instead decided on the Organic Scottish Salmon with Crispy Taro & Cucumber Salad. It took a long time for this dish, even though many diners had already left by this point. It was almost an hour after sitting down that it finally appeared. It was perfectly executed, with the salmon seared (or more likely, blow torched, given how perfect it was) and crispy on the top, yet moist and flavorful inside, but the dish was not as interesting flavor-wise as the softshell crab.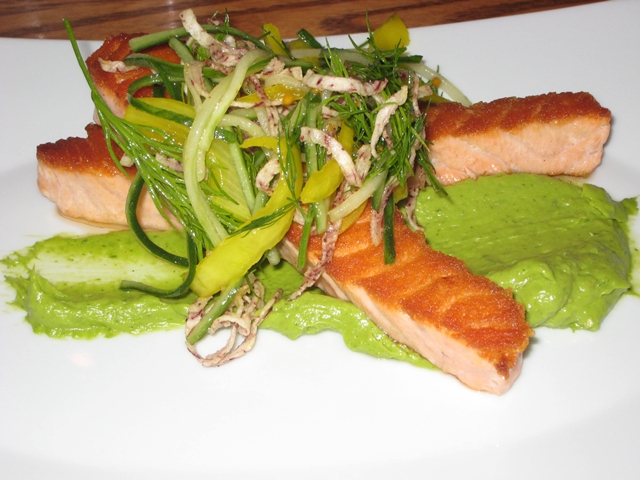 While waiting for my main course, I'd run out of water, and no one refilled it. I eventually flagged down my server and asked for more water, which he acknowledged, but another 10 minutes went by with no water. When I saw him again, I again asked for more water, and he curtly (and rather impatiently) replied, "Yes, I know" but he still didn't provide me with water, although the apparently designated water refiller for my table eventually did refill my water. That incident to me was inexcusable–filling water is so basic, and when pointed out to a server, it should be done nearly immediately, in my book, especially at a supposedly Five Diamond restaurant which Park Avenue claims to be. At that point, my server lost half of his tip from me.
One thing I'm not so keen on at Park Avenue are their desserts. Readers may roll their eyes, because I'm so picky about dessert, but really, Park Avenue's parfaits have not changed in years, and I think they need a new pastry chef, if they even have one. I got the praline parfait with chocolate crumbs and caramel because my server recommended it, but was not impressed–very old school and boring, although maybe it's the kind of thing "ladies who lunch" on the Upper East Side would enjoy.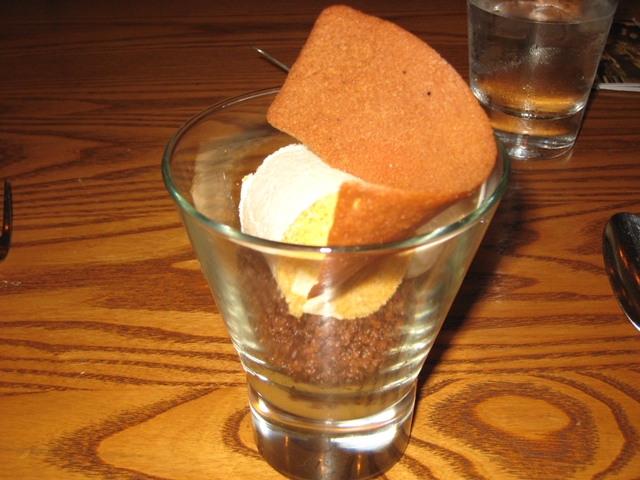 Verdict: I used to recommend Park Avenue Summer as a matter of course for NYC Restaurant Week, and I still recommend some of their dishes–the salmon was very good and the soft shell crab made my visit worth it. But service–wow. I really hope my visit was an anomaly, because I can't even remember the last time it took me 10-15 minutes and asking my server *twice* to get a water refill in this caliber of restaurant, or that I returned to the coat check and found no one there, that the bathroom needed some attention, etc. If you go, I'd advise you to go early for the first seating, to try to avoid such service disorganization and a possibly understaffed kitchen.
Related Posts
NYC Restaurant Week Winter 2014: Where to Go
Nougatine at Jean-Georges NYC Restaurant Week Review
Tom Colicchio's Riverpark, NYC Restaurant Review
Where to Eat in NYC: The Best New York Restaurants Right Now
Need Award Booking Help? Our fee is as low as $75 per ticket if you book your hotel through us.
If you enjoyed this, join 90,000+ readers: please follow TravelSort on Twitter or like us on Facebook to be alerted to new posts.
Become a TravelSort Client and Book Your Hotel with Virtuoso or Four Seasons Preferred VIP Amenities!