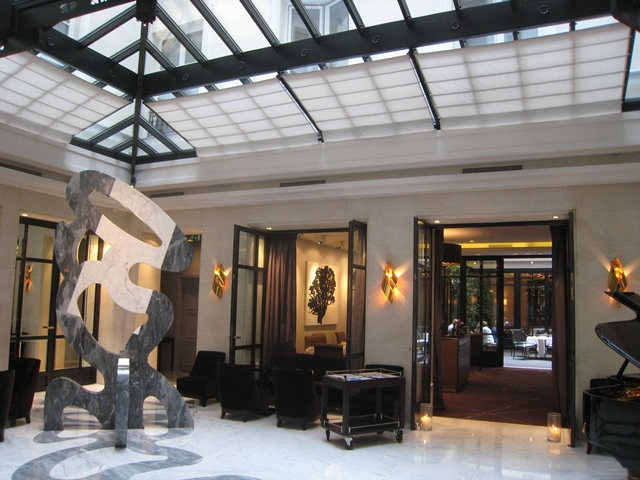 We recently reviewed other Paris hotels near the Champs-Elysees: the 5-star Hotel Fouquet's Barriere, the legendary Four Seasons Hotel George V Paris, the reonvated Prince de Galles and the 4-star Francois 1er (TravelSort hotel review). We enjoyed all of them, from the convenience of being less than a 5 minute walk to the Champs-Elysees while having perfectly peaceful surroundings and a great night's sleep, to luxuries such as beautiful interior courtyard and a swimming pool at Hotel Fouquet's Barriere and the Four Seasons Hotel George V Paris.
Our final boutique hotel experience at the 5-star boutique hotel Le Burgundy didn't feel at all like a Parisian mansion, as it has a much more modern elegance feel (check out the light filled glass atrium and sculpture, above), as but was absolutely superb and also extremely hard to leave. We chose this hotel for its legendary service and for being one of the few (only?) Paris boutique hotels with an indoor pool, and were not disappointed.
We checked in on our TravelSort reservation, and were warmly welcomed by the male front desk staff (I don't think I ever saw a woman staffing the front desk, which I thought was a little unusual). We were shown up to our room; we had only paid for a Classic Room, but they had upgraded us to a Deluxe Room on the highest floor, the 5th Floor, which was very nice. We were given a brief tour, including being shown the main light switch to shut off all lights and a Privacy Button, which I thought was a very nice touch. It was also completely respected; no interruption during the afternoon nap we took. Unfortunately I forgot to turn it off when we went out, so we didn't receive turndown service, but that was my fault.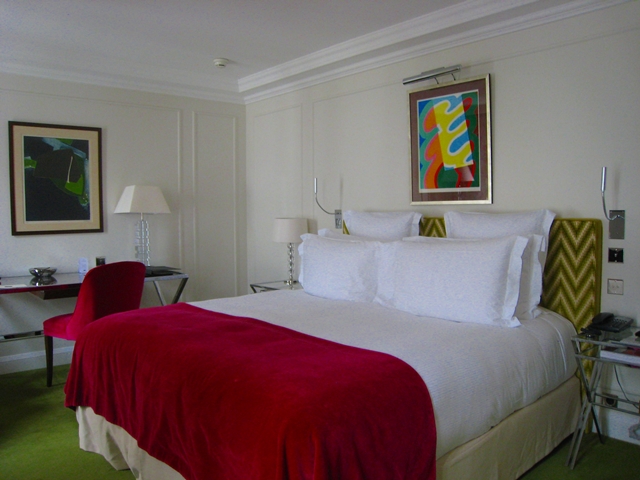 In addition to the King size bed (a genuine rarity in Paris hotels unless you book a suite or 5-star hotel) there were two comfortable upholstered chairs and some lovely orchids.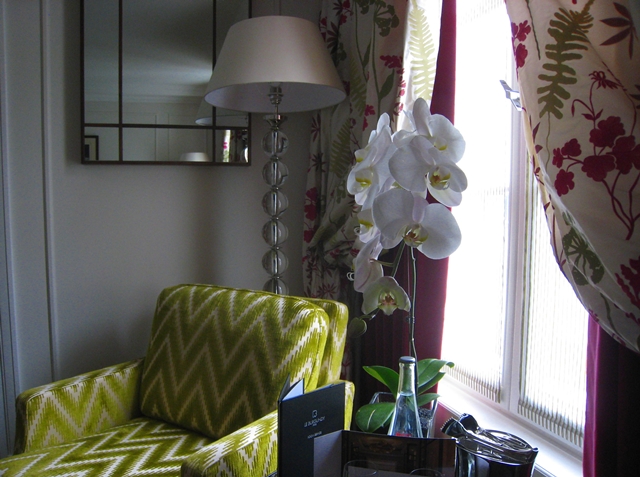 Near one of them, a glass table with a welcome card, a glass bottle of Evian and a slate with marshmellows and chocolates. You can guess what happened to those in short order, given the sweet tooths that we are: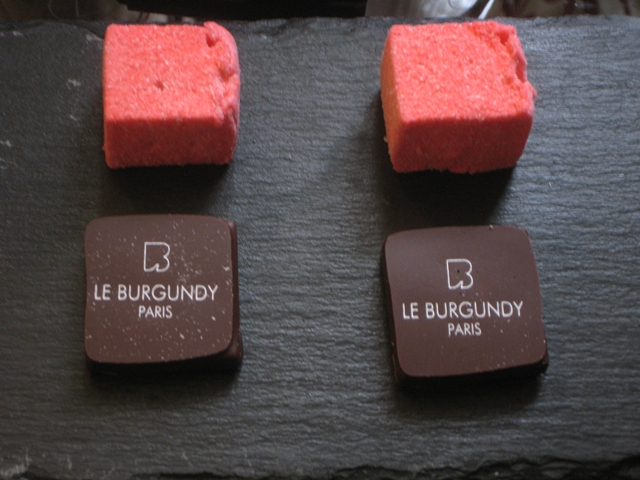 The bathroom was in two parts, with the toilet separate from the main bathroom, which featured a large soaking tub (no jacuzzi jets, unfortunately, like at the Junior Suite in the Champs Elysees Plaza):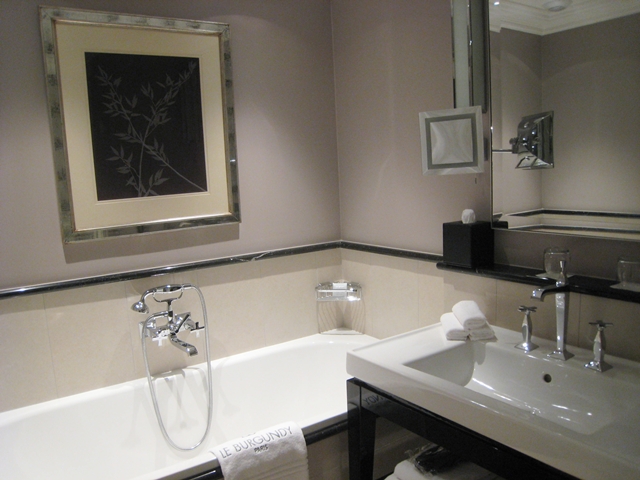 Since I'm more a shower person anyway, it was nice that I could take my shower while my husband soaked in the bath.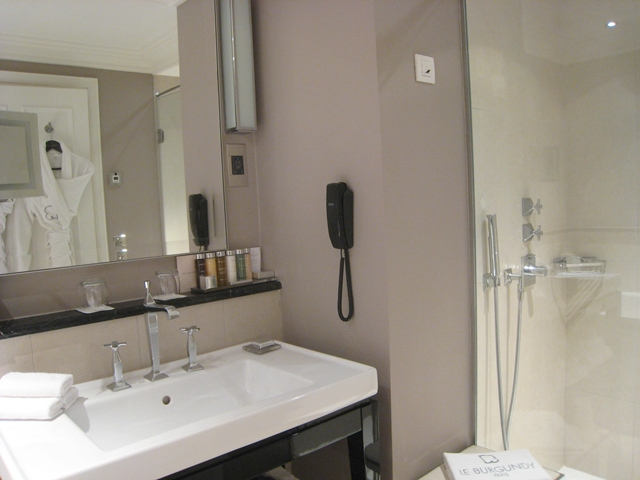 Bath amenities were by Anne Semonin, and included not only shampoo, conditioner, bath gel and body milk, but also bath salts and mouthwash: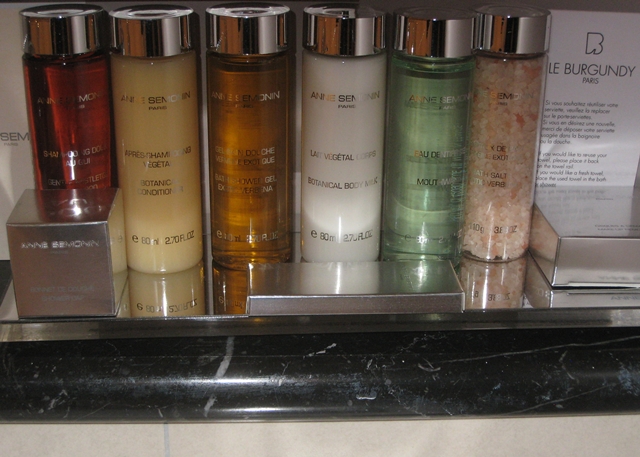 The separate toilet: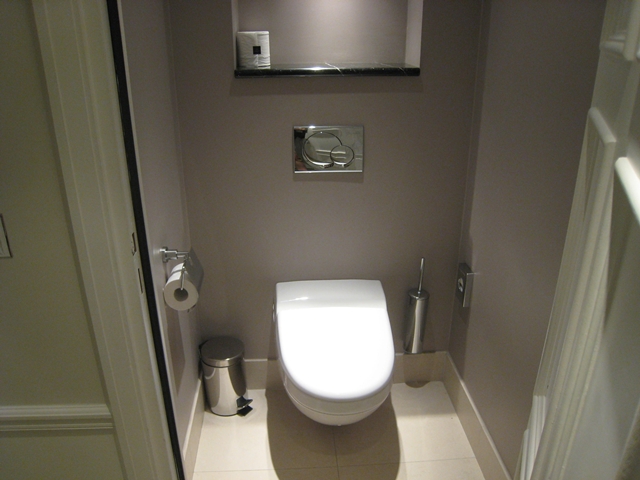 There was also a good sized work desk, which I made use of later that evening, together with the complimentary Wi-Fi (code available from the Reception, along with a plug adapter, which I was very grateful for). One nice thing about all three Paris boutique hotels that we stayed at was complimentary Wi-Fi. Most 4 and 5-Star chain hotels, including Westin, Hyatt, Marriott and even the Ritz-Carlton and Four Seasons charge for Wi-Fi. Not so these luxury boutique hotels.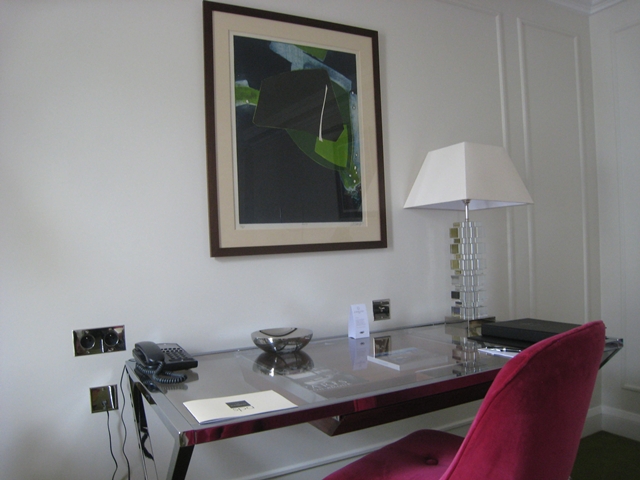 After our nap, we were ready to take on the pool. The spa attendant greeted us, and provided keys for us to use lockers in the spa changing rooms, which offered robes, slippers, and beautiful showers and more Anne Semonin bath amenities. Perhaps because it was just after most people's dinner time, there was no one in the pool while we were there, either that evening or the next morning. Basically, it was like having a private pool and waterfall!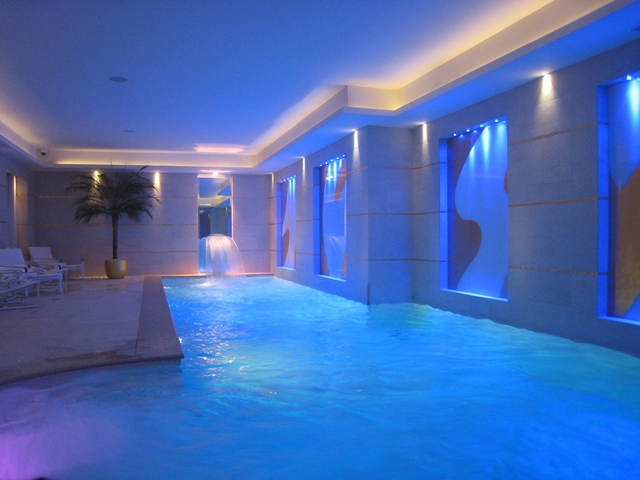 While we didn't eat at the hotel restaurant, Le Baudelaire, it does have 1 Michelin star, and is said to be excellent (although pricey, as one would expect from a hotel restaurant).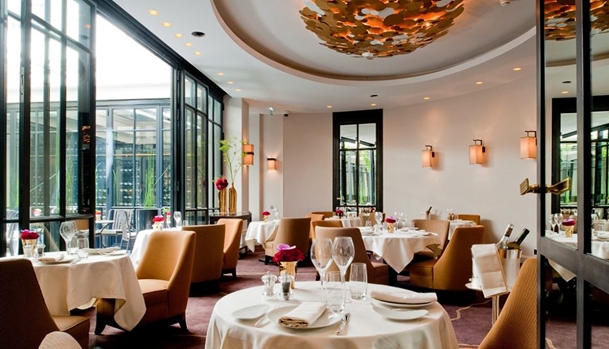 Similarly, we didn't drink at the bar (as we had a 3-year old with us), but it looked like a cozy and romantic spot to linger: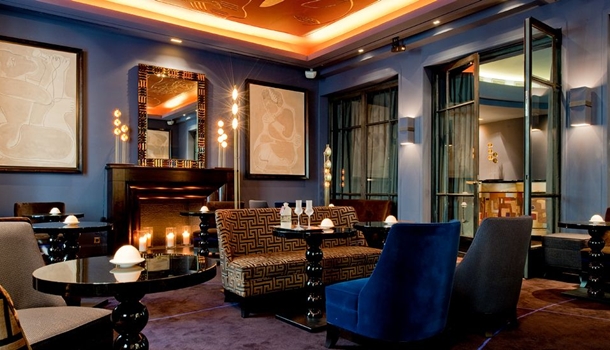 The one issue we had during our stay was that our flat panel TV didn't get any pay per view movies for some reason. The Concierge was very apologetic and offered to let us borrow a DVD player and one of the few movies they had (most had already been checked out by other guests at the time we discovered this) but we opted to simply watch the Colbert Report via Hulu, on my laptop. I'll bet if I'd made a big deal over it the next day I might have gotten a complimentary breakfast or some other compensation, but it wasn't really a big deal for us at the end of the day.
Now, naturally none of this comes cheap, and we paid close to $500 for the room. Keep in mind, though, that the cheapest room at the Four Seasons George V Paris goes for over $1000. I've stayed there, and while the room and bathroom were larger than our Deluxe Room at Le Burgundy and I do somewhat prefer the Four Seasons chocolates and Bulgari bath amenities, in my view they're not worth paying $500 more out of pocket. If you get work to foot the bill, by all means! I also actually prefer the more modern feel of Le Burgundy, and lest you think that all rooms have pink accents, rest assured that many of them do not–the rooms come in a variety of color schemes, each with unique touches. Regardless of the hotel you choose, I recommend indulging in a leisurely and insanely delicious lunch at Le Cinq, the 2 Michelin Star restaurant at the Four Seasons Paris. And if you don't want to spend that kind of money on lunch, we have a more reasonable lunch choice just a 5 minute walk from Le Burgundy: L'Ardoise. Stay tuned for our review…
Related Posts
Hotel Fouquet's Barriere Paris Hotel Review
Four Seasons Hotel George V Paris Hotel Review
Park Hyatt Paris Vendome Review
Need Award Booking Help? Our fee is as low as $75 per ticket if you book your hotel through us.
If you enjoyed this, join 90,000+ readers: please follow TravelSort on Twitter or like us on Facebook to be alerted to new posts.
Become a TravelSort Client and Book 5-Star Hotels with Virtuoso or Four Seasons Preferred Partner Amenities!