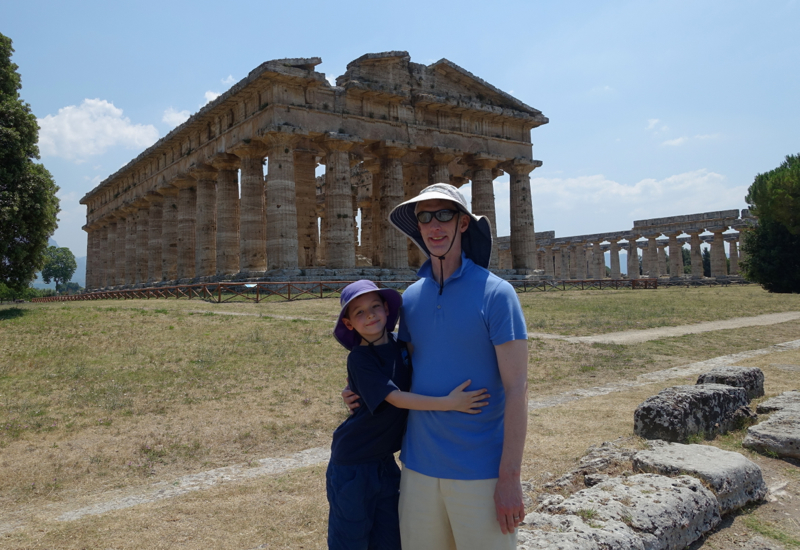 These Paestum Greek temple photos are part of a trip report featuring the Amalfi Coast, Tuscany, Florence, Rome, Singapore Suites, Air Berlin Business Class, and luxury hotel stays, dining and activities in Berlin and Italy.
For the prior posts, please see:
Review: Air Berlin Business Class A330 JFK to Berlin
One of Europe's Best Hidden Secrets: Guess the Place
Review: Virgin Atlantic Clubhouse, New York JFK Airport
Review: Singapore Suites A380 New York JFK to Frankfurt with a Kid
Katz Orange Berlin Restaurant Review
Marzapane Rome Restaurant Review
Emma Pizzeria Rome Review: Great Pizza in Rome
Review: Pompeii with Private Tours of Pompeii
Review: Monastero Santa Rosa Hotel and Spa, Amalfi Coast
We had a very short stay in the Amalfi Coast of only 2 nights, but nevertheless we drove a couple of hours to Paestum. Why? There are three Greek temples here that are better preserved than most that you'd see in Greece itself, and we wanted to give our son some context for what entire Greek temples looked liked, given how much he enjoyed seeing the Parthenon's Elgin Marbles at the British Museum in London (see London Tips: British Museum with Kids).
Paestum, as you can probably gather from its name, is how Romans named the city; when originally founded by Greeks, it was named Poseidonia, in around 600 BC. After a period under Lucanian rule in the 5th and 4th century BC, Poseidonia became the Roman city of Paestum in 273 BC.
Tips for Visiting Paestum
Try to visit on a weekday, not the weekend–traffic as we got closer to Paestum and the sea was terrible, due to all the locals and visitors driving to the seashore
As at Pompeii and Herculaneum, expect extreme heat if you're there in the middle of the day–bring a sun hat, water, wear cool clothes, and plenty of sunscreen
There's a ferry between Amalfi and Salerno, and a local train between Salerno and Paestum train station. The local ferry ride is pleasant (although check the time table–it doesn't run very often) but the train ride was *very* hot, with no air-conditioning.
Don't try to use the bathroom at the train station in Paestum, according to my husband and son. There's a decent bathroom at the Paestum Museum.
Here are some of the must-sees if you make the trek to Paestum:
1. Temple of Poseidon (Actually the 2nd Temple to Hera)
Unlike Pompeii, where the amphitheater was a major must-see, here the star is the so-called Temple of Poseidon, which is misnamed (due to the city's original Greek name of Poseidonia); it is thought by most scholars to have actually been the second temple dedicated to Hera. It's the newest and best preserved temple of the three.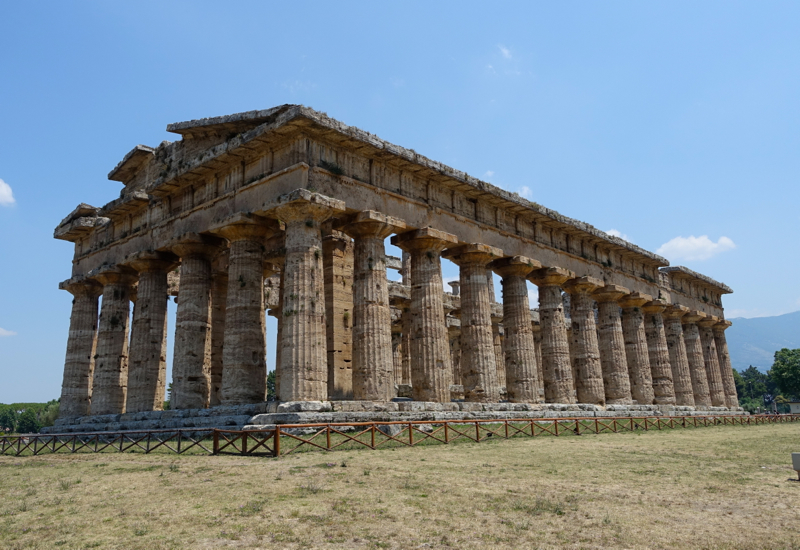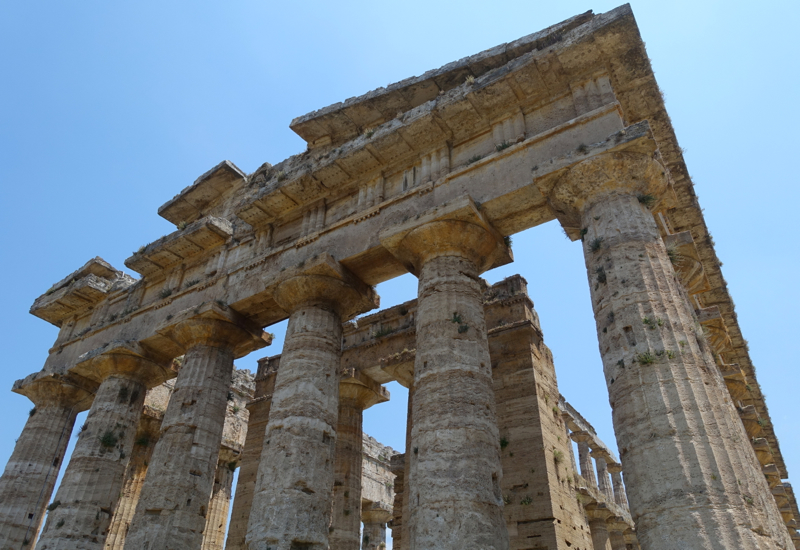 2. Temple of Athena (Misnamed the Temple of Ceres)
The Temple of Athena is likely the first temple you'll see after entering the archeological site, as it's immediately on your right. This temple dates to 500 BC, and while it's not possible to see from the outside, there are interior columns that are in the Ionic style rather than the Doric style that was prevalent previously–a temple that straddles this change in styles.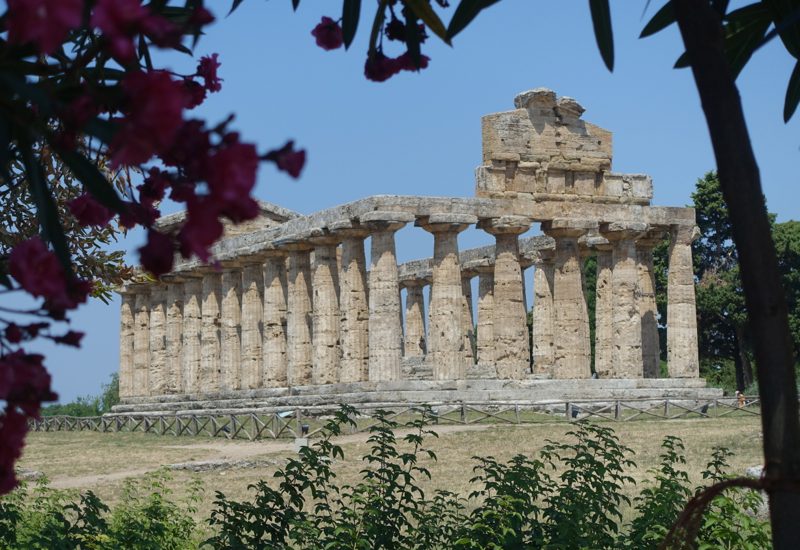 3. Temple of Hera (Basilica)
The oldest of the temples is the original Temple of Hera, which again is misnamed as the Basilica; it dates to 550 BC. When it was rediscovered in the 1700s, it wasn't recognized as a temple, and was thought to be a town hall, or Basilica. However, many figurines of the goddess Hera have been found here, so this temple was in all likelihood dedicated to her.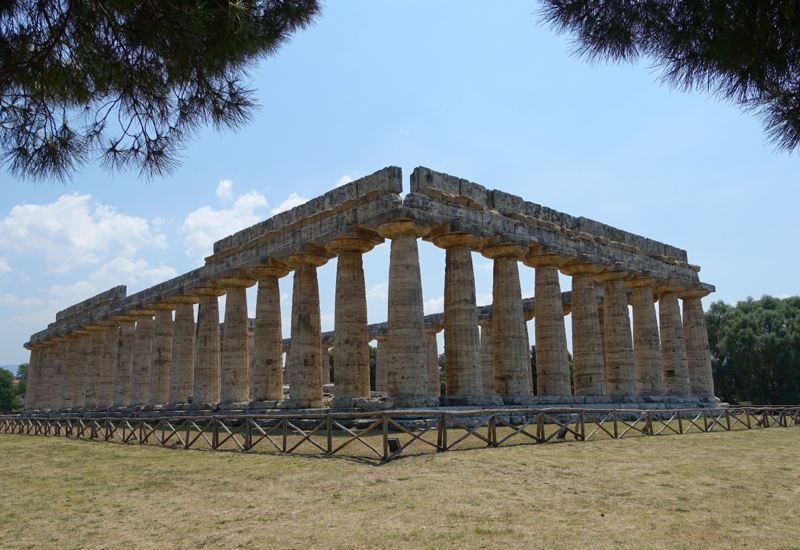 4. Tomb of the Diver
Don't forget to visit the Paestum Museum, which is where you'll be able to see the slabs from the Tomb of the Diver, as it is known–the finest example of 5th century Greek painting. In case you're wondering, it's unlikely that an actual diver was buried here; rather, the scene is most likely symbolic, showing the soul leaving the body and diving into the sea of eternity.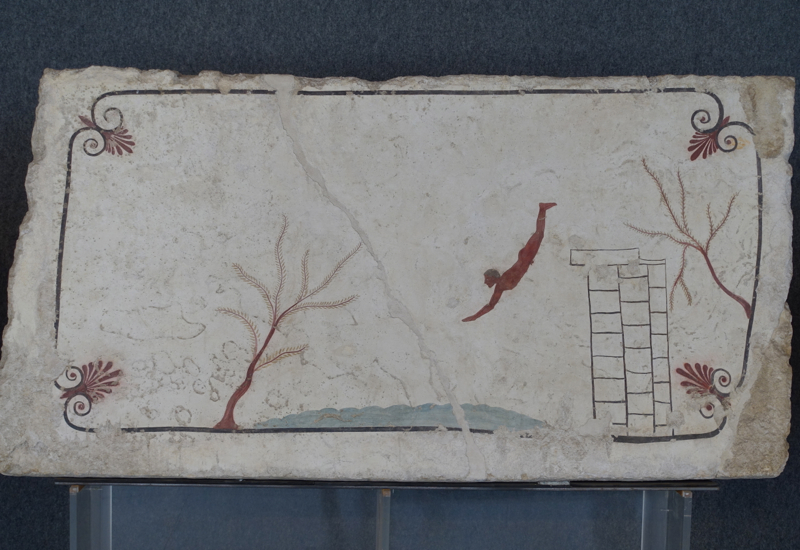 5. Hera of Paestum Figurines
These figurines of Hera, holding a pomegranate (symbolizing fertility) are only found in Paestum.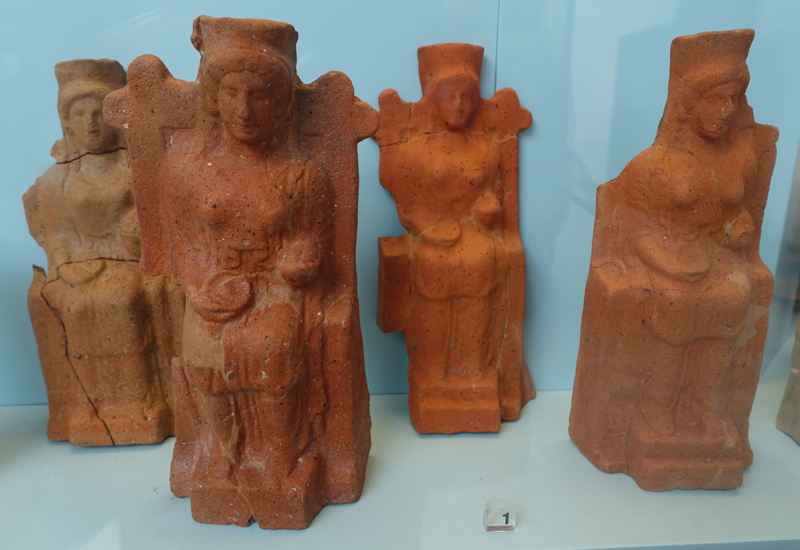 6. Cool Off with a Gelato at the Museo Gelateria
After walking around in the hot sun, the perfect way to cool off is with a gelato at the Museo Gelateria. It's not of the same quality as Grom, but still quite decent. I recommend the Fragola di Bosco (wild strawberry).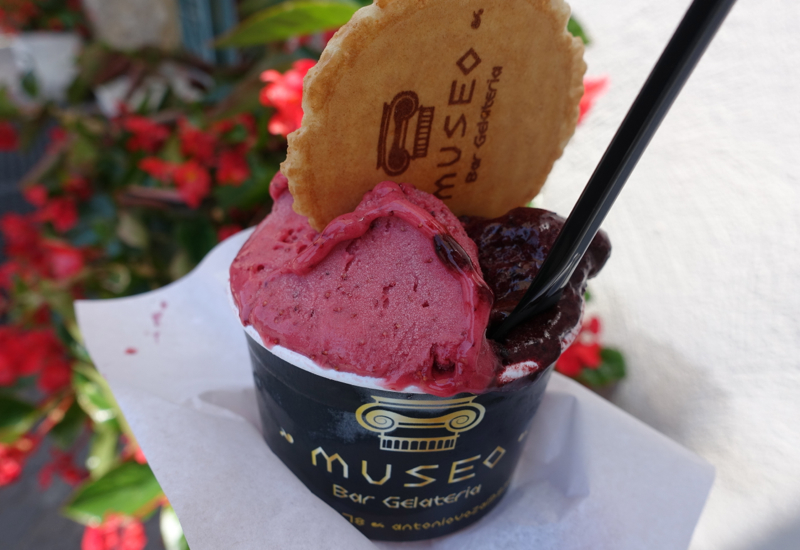 If you've visited Paestum, what was your experience?
Related Posts
Review: Monastero Santa Rosa Hotel and Spa, Amalfi Coast
Review: Pompeii with Private Tours of Pompeii
Artistic Travel along Italy's Amalfi Coast
Virtuoso Hotels: Bookings with Upgrades, Complimentary Breakfast and VIP Perks
Need Award Booking Help? Our fee is as low as $75 per ticket if you book your hotel through us.
If you enjoyed this, join 200,000+ readers: please follow TravelSort on Twitter or like us on Facebook to be alerted to new posts.
Become a TravelSort Client and Book 5-star hotels with Virtuoso Perks and Four Seasons Preferred Partner Benefits