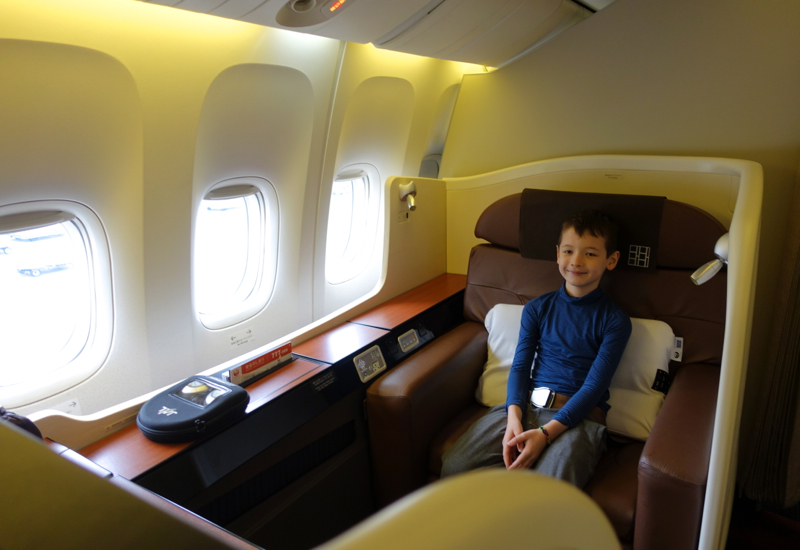 What are Your 2016 Travel Goals? For us, miles and points are not the goal, but they are crucial in enabling us to fly first class or business class to the destinations and luxury hotels we really want to visit. Earning 1 million miles and points last year allowed us to visit the best New Zealand luxury lodges by flying comfortably in Qantas A380 First Class and Etihad First Apartment on the A380, to fly Air Berlin Business Class to Europe, and most recently to fly to Four Seasons Bora Bora in Air Tahiti Nui Business Class.
To put this post in context, we are not elites in ANY airline frequent flyer program (since we fly very few paid flights) or hotel loyalty program (since we prefer luxury hotels–more on this below), so our miles and points earning is NOT from employer-reimbursed flights or hotels. Instead, it's all from credit card signup bonuses, spend, category spend bonuses, other bonuses, and from buying miles.
Since the very best luxury hotels and resorts are not available with miles and points–Aman Resorts, Virtuoso boutique hotels, Four Seasons, Mandarin Oriental, The Peninsula–we tend to focus our miles and points earning on transferable points (such as Chase Ultimate Rewards, Starwood Preferred Guest Starpoints, AMEX Membership Rewards, Citi ThankYou points) that can transfer to airline frequent flyer programs, as well as airline miles. That said, we did make an exception that I'll describe below under Credit Card Signup Bonuses, and I'll explain why.
In contrast to hotels, miles and points do enable you to fly most of the very best first class products, such as Singapore Suites, JAL First Class, Etihad First Apartment, Emirates First Class, Cathay Pacific First Class, and others, even though of course there can be significant restrictions in award availability depending on your dates, route, the number of award seats you're seeking, etc.
I say "most" because there are first class products such as Etihad's The Residence, SWISS First Class and Air France First Class that are effectively impossible to redeem for, unless you have an enormous points balance and, in the case of SWISS and Air France, are also a top-tier elite in the airline's frequent flyer program.
But back to the focus of this post–our progress so far in 2016.
Here's our rough breakdown so far in 2016 of our earned and purchased miles and points:
42%: Credit Card Signup Bonuses
8%: Spend and Category Bonuses
20%: Purchased/Shared Miles
30%: Other Bonuses/Referral Bonus
And here's a rough breakdown of the miles and points we earned:
36%: American AAdvantage Miles
19%: Chase Ultimate Rewards Points
14%: British Airways Avios Points
14%: Hyatt Points (= 4 free nights at Category 6 property)
11% SPG Starpoints
6% Citi ThankYou Points
Credit Card Signup Bonuses
So far this year my husband signed up for 4 new credit cards and I signed up for 3 new cards. None of them had very high bonuses, but we wanted to take advantage of the historically high 35K SPG AMEX bonus, since
Starpoints can transfer to airline partners
, and we also wanted to apply for the 50K British Airways Visa before it became harder to get approved for Chase's cobranded cards.
We also both applied for Hyatt Visas, as we plan to return to the Maldives within the next year. The Park Hyatt Maldives is our favorite Park Hyatt we've visited, and even though it's surpassed by other Maldivian resorts, one doesn't go to the Maldives for just a 3 night stay, so it enables us to spend a full week in the Maldives without spending a fortune.
Finally, we applied for the Citi ThankYou Premier for my husband before the 40K signup bonus was eliminated, since we can transfer ThankYou points to Singapore KrisFlyer.
100K Hyatt points (equivalent, since the Hyatt Visa gives 2 free nights at any Hyatt, and we will use them at the Park Hyatt Maldives, a Category 6 property that requires 25K points per award night)
70K SPG Starpoints via 2 SPG Business AMEX cards
40K Citi ThankYou points via the Citi ThankYou Premier card
Spend and Category Bonuses
Much of our spend is at 5X, thanks to
5X on all Amazon spend
and
5X on all Whole Foods
spend, as well as the quarterly Chase Freedom 5X bonuses. This quarter, Q2 2016, offers 5X on grocery stores, so we're earning 5X on Trader Joe's, including wine. There's also other spend which is required to meet the minimum spend requirements of the above credit cards, so non-bonused category spend goes on those cards.
40K Ultimate Rewards points, most of it at 5X, from the Ink Plus and Chase Freedom
20K other miles and points from meeting minimum spend on new credit cards
Purchased Miles
We bought another 150,000 AAdvantage miles this year, thanks to the 115,000 bonus offer (see
American AAdvantage 2016 Award Chart Devaluation
). We'll be using those miles towards JAL First Class and JAL Business Class awards, since I had used up our previous AAdvantage balance before the 2016 AAdvantage award chart devaluation on Etihad First Apartment and Cathay Pacific First Class awards.
Referrals and Other Bonuses
Thanks to readers, I earned 100,000 Ultimate Rewards points for referrals to the
Ink Plus
and
Sapphire Preferred
cards. I also include here the 115,000 AAdvantage bonus miles earned by buyiing miles.
The Bottom Line
So far we've earned (or are about to earn, since some of the credit card bonus miles haven't posted yet) 585,000 miles and points, and bought 150,000 AAdvantage miles, for a total of 755,000 miles and points. It's getting much harder to earn significant credit card signup bonuses, due to Chase's 5/24 rule as well as AMEX making business card signup bonuses once in a lifetime. For that reason I anticipate that a larger share of our miles and points in the future will come from purchased miles and that category spend bonuses will play a larger role.
What has been your miles and points earning so far in 2016, and which awards do you plan to redeem for?
Related Posts