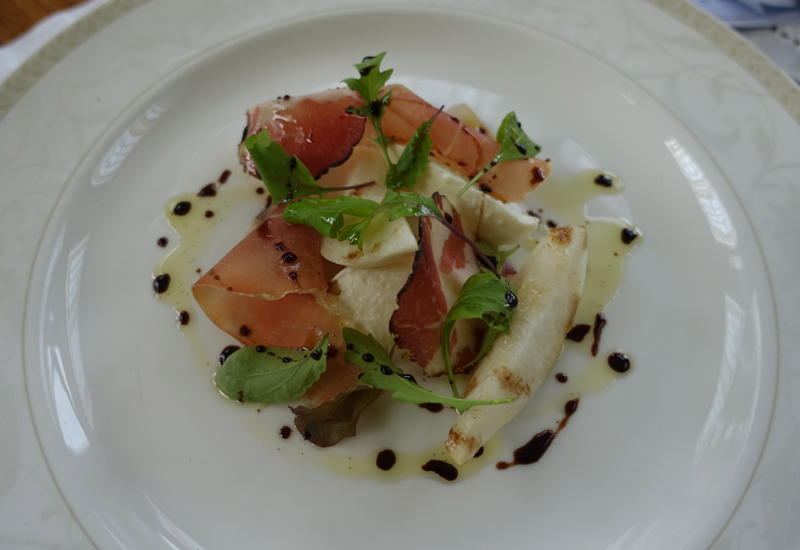 This Otahuna Lodge dining review is from our recent stay at this Virtuoso and Relais & Chateaux boutique property in New Zealand. We visited Otahuna as part of our trip to New Zealand's North Island and South Island, including stays at luxury lodges in Russell, Christchurch and Queenstown. For the prior posts please see:
Review: Eagles Nest, Bay of Islands, New Zealand
Review: Gables Restaurant in Russell, New Zealand
Paihia Dive Review, Bay of Islands, New Zealand
Review: Otahuna Lodge, Christchurch, New Zealand
Otahuna Location
Otahuna Lodge is located in Tai Tapu, just a half hour drive from Christchurch Airport. Its expansive grounds, which include a Potager Garden, mean that in season, most of the herbs and vegetables used in the dishes are from Otahuna's own organic garden. Even the pork used to make Otahuna's house cured salumi and bacon come from its heritage breed pigs.
Dining Venue Choices
While dinner is served communally in the elegant formal dining room, yoiu also have the choice to enjoy private dining in a location of your choosing, such as the wine cellar, the library, or the lovely turret just off the Drawing Room, which is where we were seated.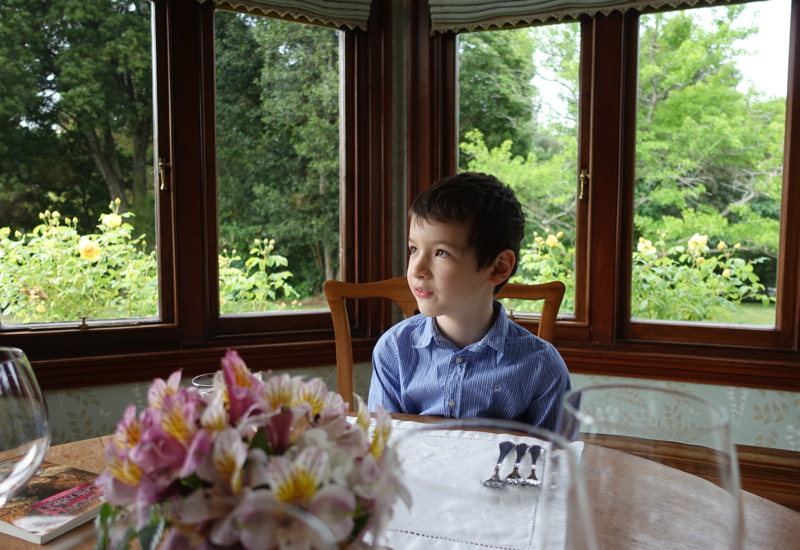 Otahuna Lodge Tasting Menu and Dinner
Otahuna's nightly tasting menu for dinner is a highlight for most guests, and it did not disappoint. I liked that the actual courses were a surprise as they were brought out, but the menu was provided later to me, as a memento of our stay.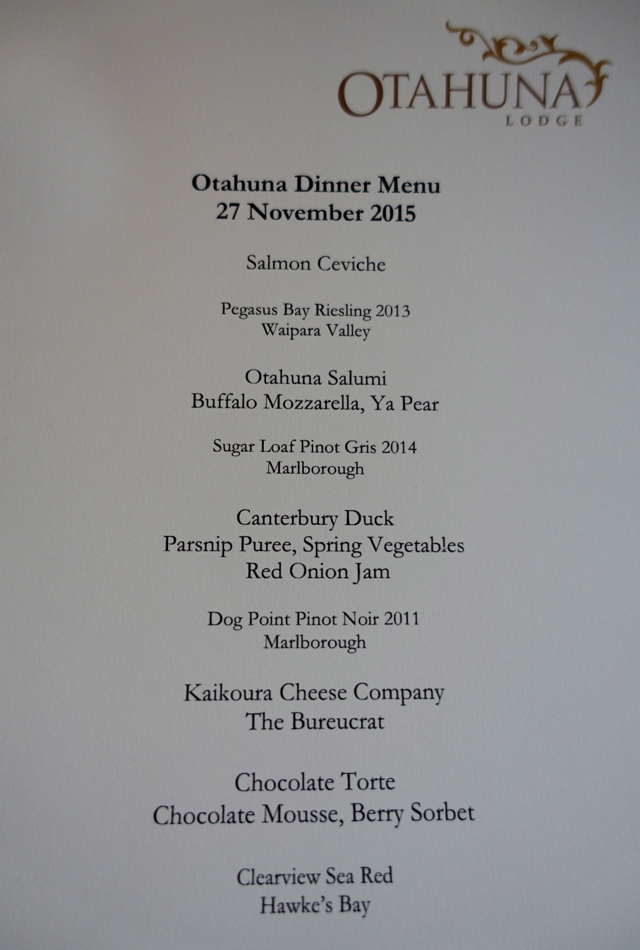 Jimmy McIntyre, Chef extraordinaire at Otahuna, personally served us each of the dishes he and his team had created, starting with these superb amuse bouche offerings, one with shrimp and avocado, and the other a perfectly seared scallop: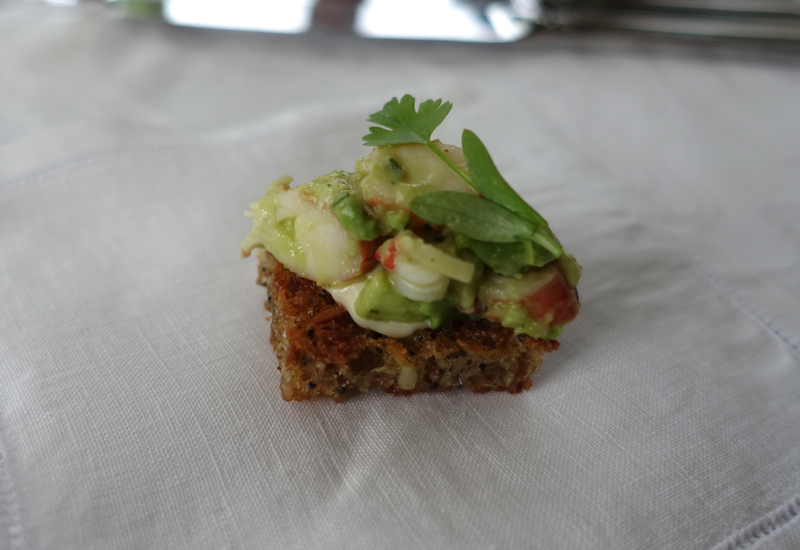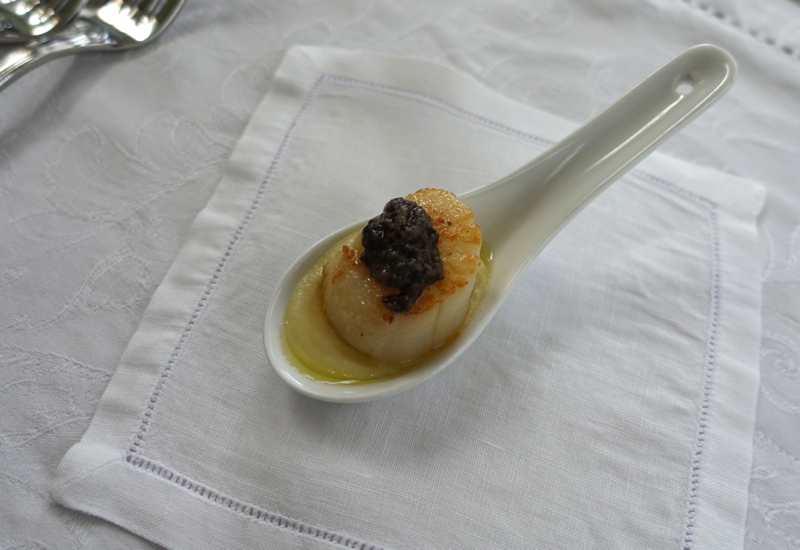 Donna, who, together with Miles, had greeted us on arrival, also served as the sommelier, describing each wine as she poured it. Even though I normally drink fruit forward red wines such as Zinfandel, Cabernet Sauvignon and Malbec, my favorite of all the wines we drank this evening was the Pegasus Bay 2013 Riesling–it was truly the best Riesling I've had in recent memory, and a superb pairing with the amuse bouche and the Salmon Ceviche that followed. Some ceviche can end up being overcured and too acidic, but Jimmy's version was perfectly balanced.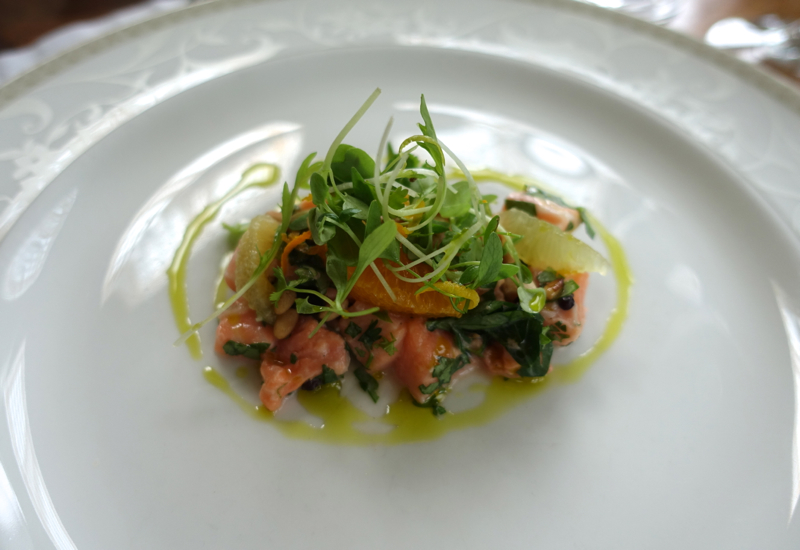 The second course of Otahuna's own house-cured salumi with buffalo mozzarella and Asian pear was one of those deceptively simple dishes that is a show-stopper once you taste it. Drizzled over the salad and pulling it together were some aged balsamic and vanilla bean infused olive oil (if you look closely at the photo, you can see the vanilla bean specks). Salty, umami, sweet and tart flavors intermingled, along with the delightful contrast of creamy fresh buffalo mozzarella and the crisp crunch of the Asian pears.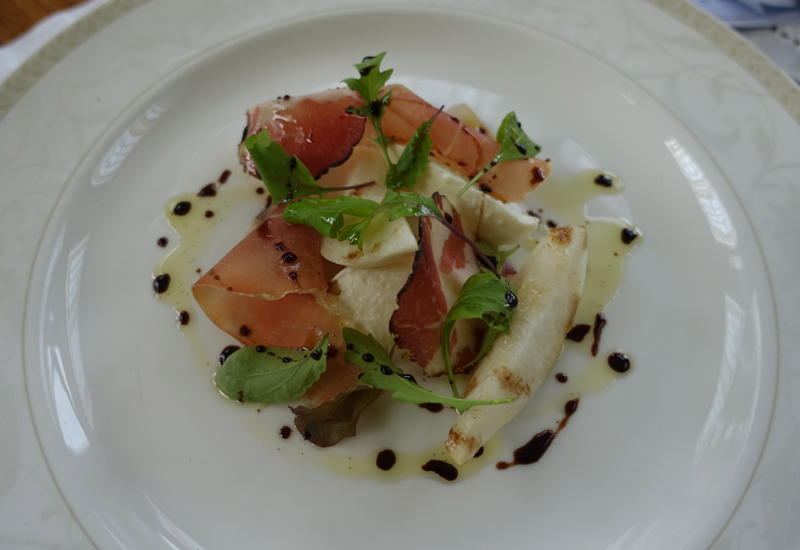 Our main course of Canterbury Duck continued an incredible meal. It's one of my family's favorite special occasion foods, and the red onion jam was a nice sweet-savory foil to the richness of the duck. I've always been fond of parsnip as well, ever since spending time in the UK, since you don't see parsnip puree very often in the U.S. The miniature carrots were right from Otahuna's garden and super sweet.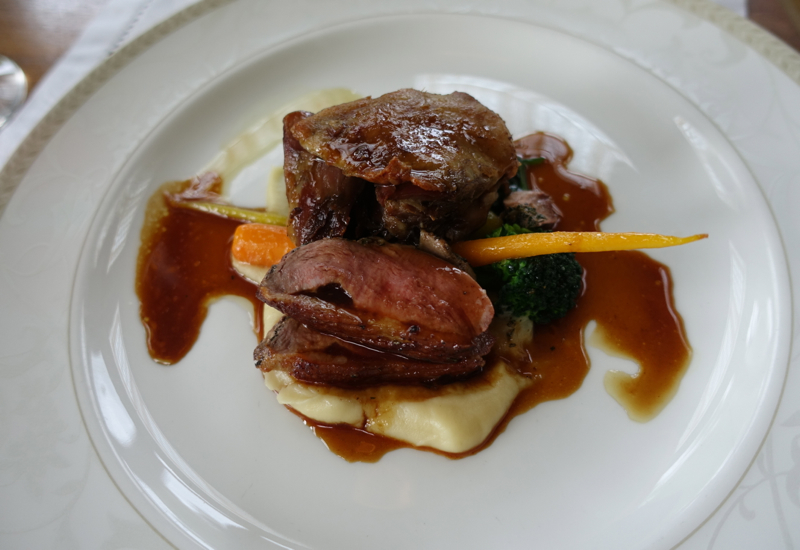 An extra cheese course could have happily been our last course–it was a fantastic washed rind, creamy cow's milk cheese called "The Bureaucrat" made by Kaikoura Cheese, just under 3 hours north of Christchurch (and incidentally, a great place to go kayaking and spot dolphins).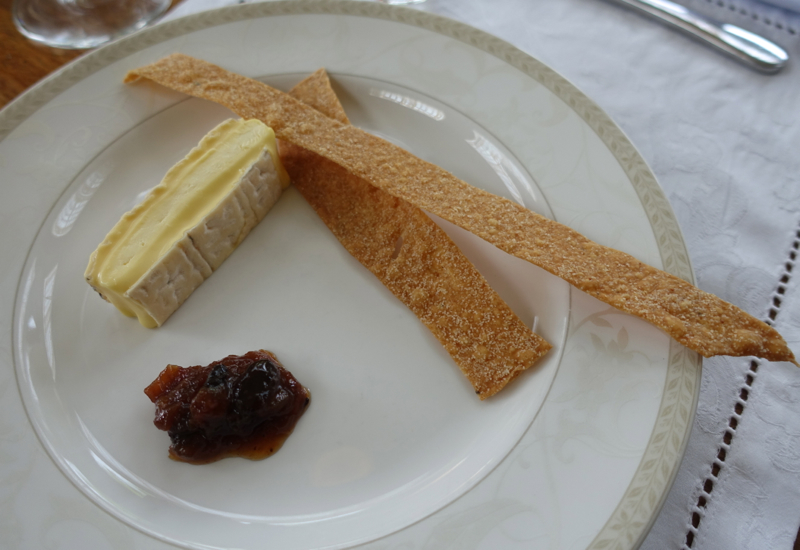 Dessert was a dark chocolate torte adorned with raspberries, chocolate mousse and berry sorbet. Even though it was delicious and I'm a dessert fiend, I couldn't finish, given all the other wonderful courses that had preceded it.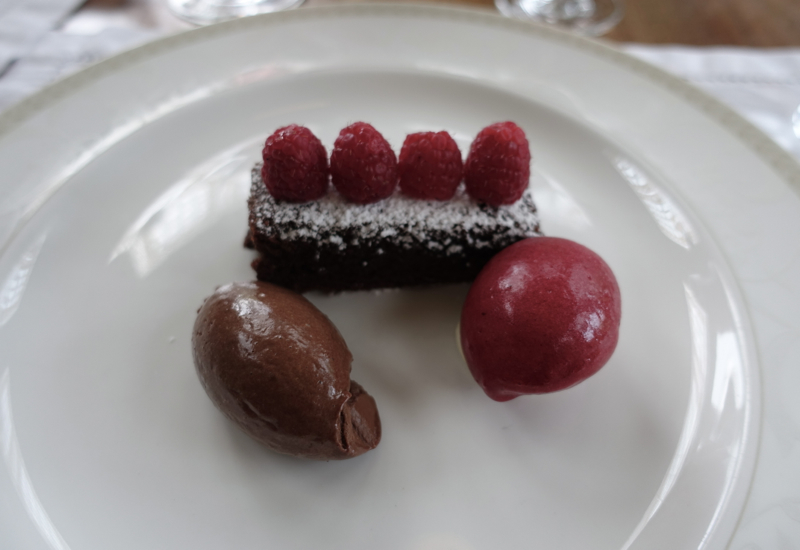 Otahuna Lodge Breakfast
It would be very easy to put on some weight while staying at Otahuna given how delicious everything is, so thankfully breakfast is a simpler but still meticulously crafted affair. It's held in the bright and cheerful breakfast room, just off the kitchen, lending it a nice informal vibe.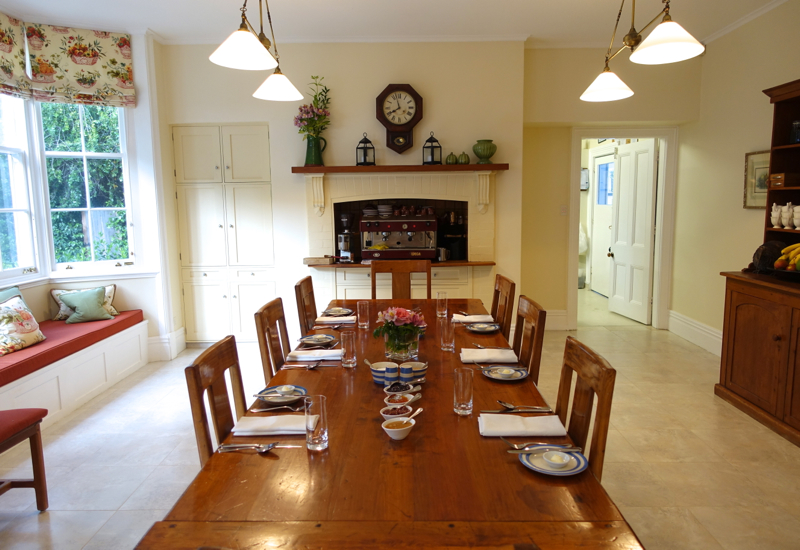 Homemade granola, a bowl of fresh cut fruit, greek yogurt, fresh breads and just baked pastries are set out for you to help yourself to: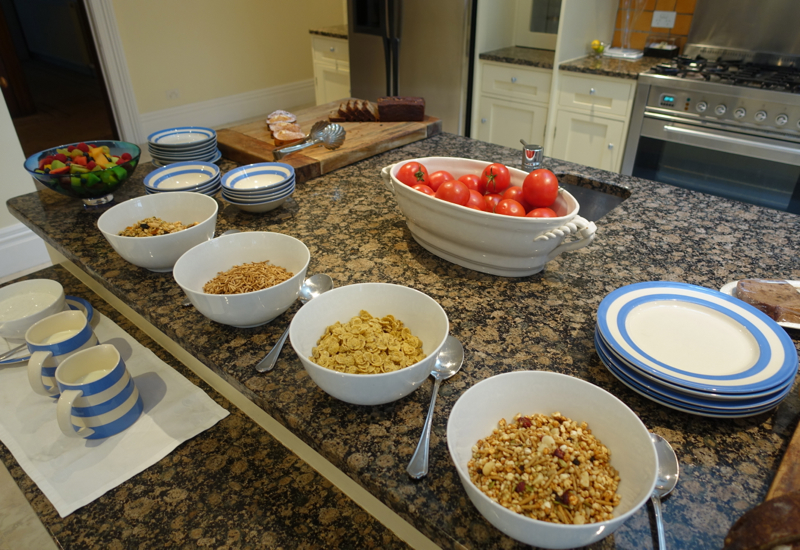 I helped myself to a bowl of yogurt with fresh fruit and granola–my favorite breakfast standby: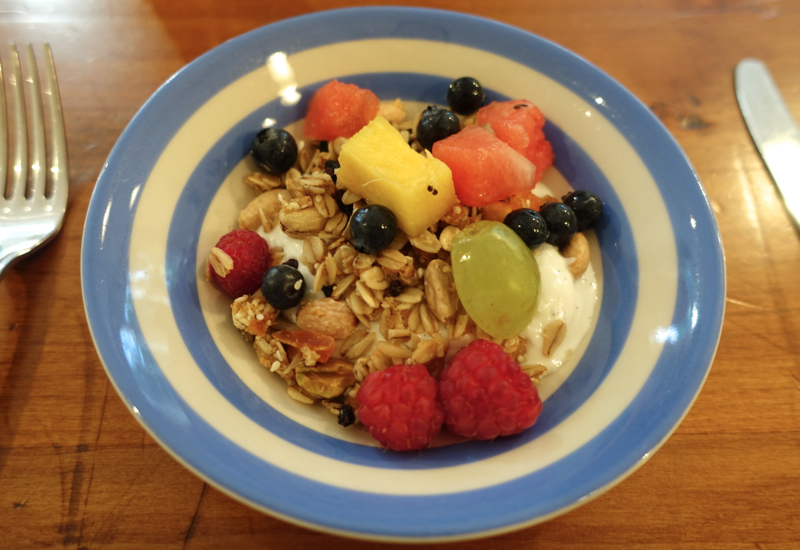 Jimmy also poured me a glass of just squeezed juice, a delightful mixture of carrot, orange and apple: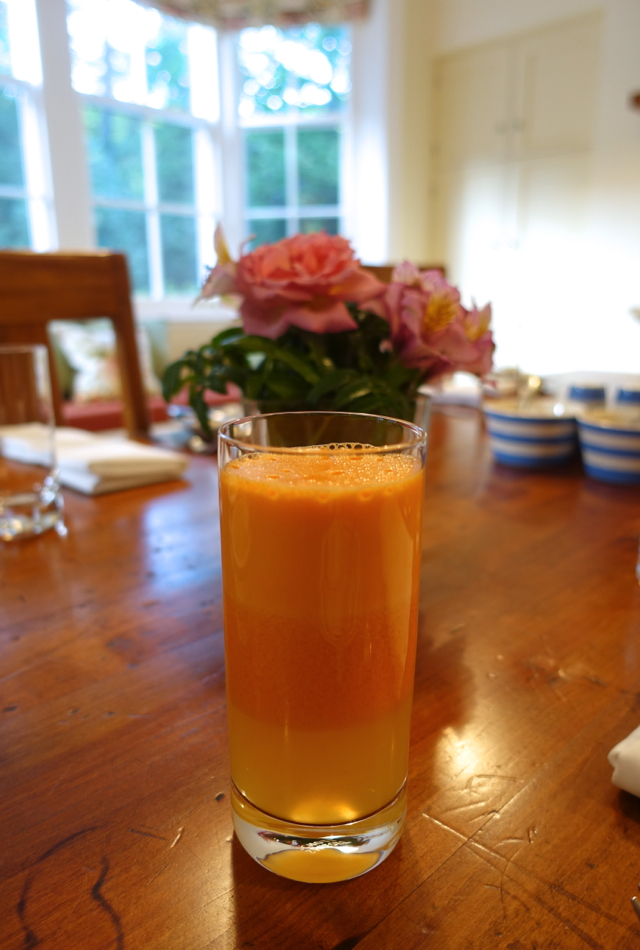 He also asked the other guests and me if we'd like any eggs cooked to order, and we all opted for scrambled eggs with bacon and toast: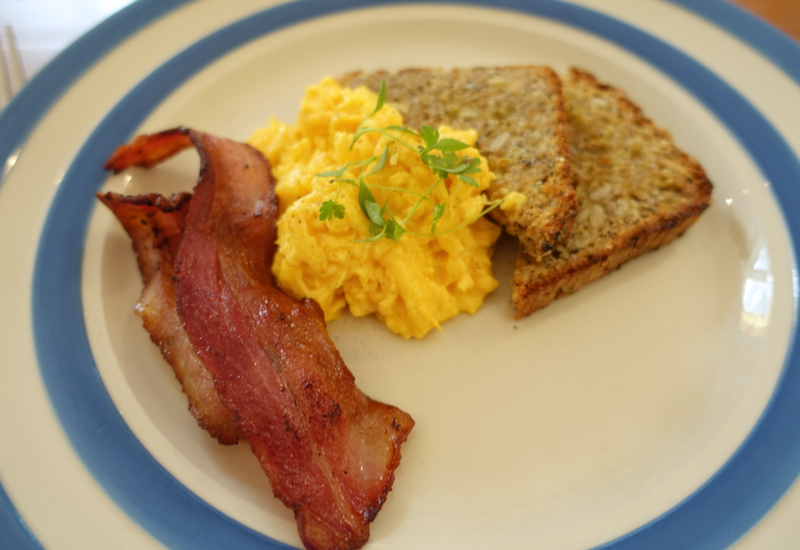 A huge highlight, given my sweet tooth, were Jimmy's homemade, buttery financier-like blueberry almond pastries (made gluten-free due to another guest's gluten allergy). Just writing about them is reminding me how amazing they were, and that I'd like the recipe for these.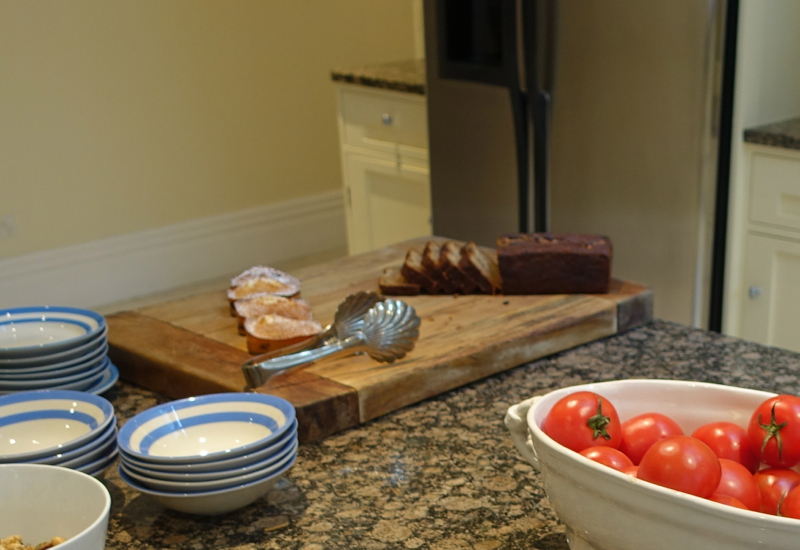 The Verdict
We had many excellent meals in New Zealand, but our favorite was dinner at Otahuna for the amazing quality of the cuisine, the perfectly paired wines, and the gracious hospitality of Jimmy and Donna. We all cleaned our plates (with the exception of some of our dessert)–including our son, who was being served adult sized portions. I even had to donate some of my duck to him, he couldn't get enough of it.
Another aspect to consider is that many New Zealand Lodges' tariffs include dinner as well as breakfast in the room or suite tariff; not all of them include wine with dinner, however, much less wine pairings, as Otahuna does. So foodies and wine lovers take note: Otahuna is a must if you visit New Zealand.
Related Posts
Review: Otahuna Lodge, Christchurch, New Zealand
Virtuoso Hotels: Bookings with Upgrades, Complimentary Breakfast and VIP Perks
Review: Eagles Nest, Bay of Islands, New Zealand
Disclosure: I received one complimentary night, inclusive of dinner and breakfast.
Need Award Booking Help? Our fee is as low as $75 per ticket if you book your hotel or cruise with us.
If you enjoyed this, join 200,000+ readers: please follow TravelSort on Twitter or like us on Facebook to be alerted to new posts.
Become a TravelSort Client and Book Your Hotel with Virtuoso or Preferred Partner Amenities!