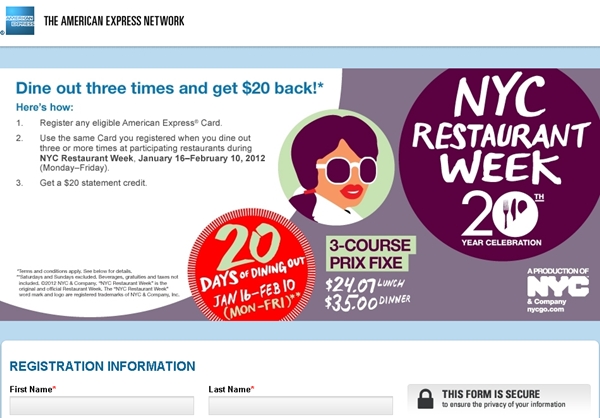 NYC Restaurant Week Winter 2012 starts Monday January 16, but "week" is a bit of a misnomer since you actually have until February 10 (3 weeks) to snag these prix fixe meals at participating restaurants. But with all the many choices, where should you go? We gave our recommendations for NYC Restaurant Week Summer 2011, so we won't repeat those suggestions; here are my new personal picks, and the ones I actually have reservations at, all of them for lunch. Before we dive in, here are some tips:
1. For Winter 2012, Restaurant Week menus are only available Monday-Friday. Last summer there were some restaurants that also offered Sunday lunch and/or dinner, but this time it's only weekdays.
2. If you plan to try at least 3 restaurants, register your AMEX card to get $20 statement credit back after your 3 dines. If you're dining with a friend or spouse, make sure to have them register their AMEX card too, so you can split the bill at each place and each get $20 statement credit.
3. If you want to save money, dine at lunch. Many restaurants have exactly the same Restaurant Week menu for lunch and dinner, but lunch is $24.07 and dinner is $35.
4. Make your reservation with OpenTable, where you can pick up 100 points for each reservation. Yes, it's only $1 (2000 points = $20 OpenTable dining cheque, 5000 points = $50 cheque) but eventually it does add up. I recently redeemed a $50 cheque for a splurge anniversary lunch at Eleven Madison Park.
And now, my picks for NYC Restaurant Week Winter 2012:
I love seafood and have been wanting to try this upscale Greek seafood restaurant for some time. I've heard great things about their fresh, simply prepared fish dishes and meze plate, but their Restaurant Week menu probably has the most choices I've seen, so perfect if you want to go to a Restaurant Week lunch with a bunch of foodie friends and try everything, or if you're with picky eaters.
Our Restaurant Week picks:
Appetizer: Mediterranean Meze Plate (although the Grilled Octopus and Crab Cake made from blue crabs, both of which incur a $10 supplement, also look tempting)
Entree: Grilled Loup de mer
Dessert: Karidopita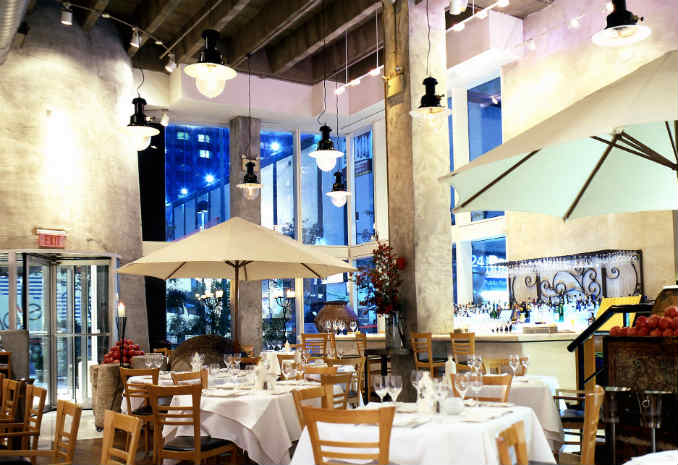 2. Maialino
Maialino, would you please release a Restaurant Week menu? But even in the absence of one, I made a reservation. Maialino is located in the dark and gothic-hip Gramercy Park Hotel, designed by Julian Schnabel. Fortunately, Maialino has none of the former's gloom–it's light and airy inside, with light streaming in through south-facing windows, and the aroma of freshly baked foccacia and Italian pastries, at least at brunch, which is when we've been. Maialino means "little pig" in Italian, so much like Traif, which also specializes in all things pork, suckling pig and all its derivative dishes really shine.
No Restaurant Week picks (since Maialino hasn't released a menu) but here's what I *wish* would be on it, from the regular lunch menu:
Appetizer: Polpo ai Ferri (seared octopus, celery root & parsley)
Entree: Malfatti al Maialino (Homemade pasta with braised suckling & arugula) or Coppa Croccante (crispy suckling pig terrine, lentils & turnips)
Dessert: Budino di Cioccolato (chocolate croissant bread pudding & chocolate gelato)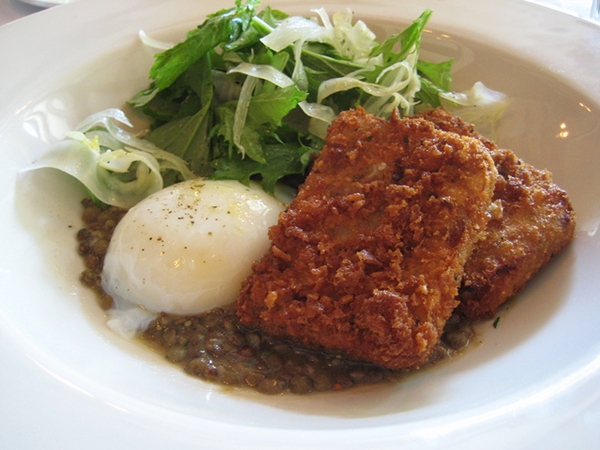 3. Le Caprice
Le Caprice is a French bistro ensconced in the elegant Pierre Hotel (a Taj hotel) but is actually a London export: the owners have several upscale London restaurants, including the original Le Caprice and the Ivy. That said, it got rather lukewarm reviews when it opened in late 2009. Fast forward to May 2011, and Ed Carew of Gramercy Tavern, Craftbar and San Francisco's Cafe des Amis was brought in to revamp the menu to be more seasonal "Modern European" cuisine, although some British stalwarts (Welsh Rarebit, Fish & Chips with Mushy Peas anyone?) were kept. There aren't many high end places that are participating in Restaurant Week, and this is one I'm curious about, with the advantage that it can't afford to be complacent given its tepid reception when it first opened.
Our Restaurant Week picks:
Appetizer: White Bean Soup, Duck Confit, Olio Nuovo
Entree: Roasted Scottish Salmon, Smoked Lentils, Lemon Confit, Sauce Gribiche
Dessert: Smoked Chocolate Dome, Chocolate Ice cream, Salted Grissini
4. Boulud Sud
While we dined at one Cafe Boulud for Summer Restaurant Week, I haven't made up my mind yet whether to reserve Boulud Sud for Winter Restaurant Week. It's gotten some good early reviews. Certainly its foray into North African spices is intriguing (Moroccan Spiced Chicken Legs is on the Restaurant Week menu, and Harissa Spiced Museels is an appetizer on the regular menu). There's a lack of great restaurants around Lincoln Center, so it may end up doing well even with just good rather than great food. If I do go, here's what I would eat:
Our Restaurant Week picks:
Appetizer: Baby Squid a la Plancha
Entree: Moroccan Spiced Chicken Legs, Charred Eggplant, Couscous
Dessert: Neroli Chocolate Tart, Orange Blossom Cream, Pomegranate Coulis, Chocolate Sorbet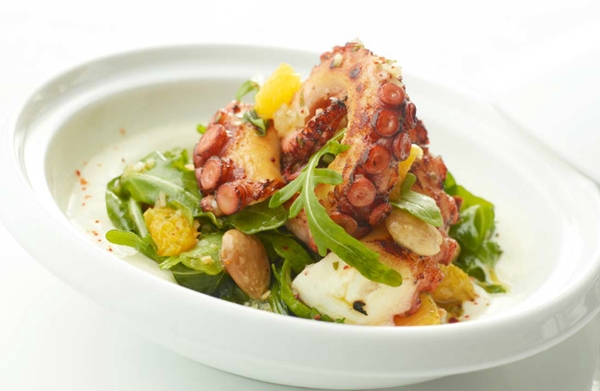 Related Posts
NYC Restaurant Week Winter 2014: Where to Go
Nougatine at Jean-Georges NYC Restaurant Week Review
Tom Colicchio's Riverpark, NYC Restaurant Review
Where to Eat in NYC: The Best New York Restaurants Right Now
Need Award Booking Help? Our fee is as low as $75 per ticket if you book your hotel through us.
If you enjoyed this, join 90,000+ readers: please follow TravelSort on Twitter or like us on Facebook to be alerted to new posts.
Become a TravelSort Client and Book Your Hotel with Virtuoso or Four Seasons Preferred VIP Amenities!
Photos: Estatorio Milos, cchen, Le Caprice, Boulud Sud