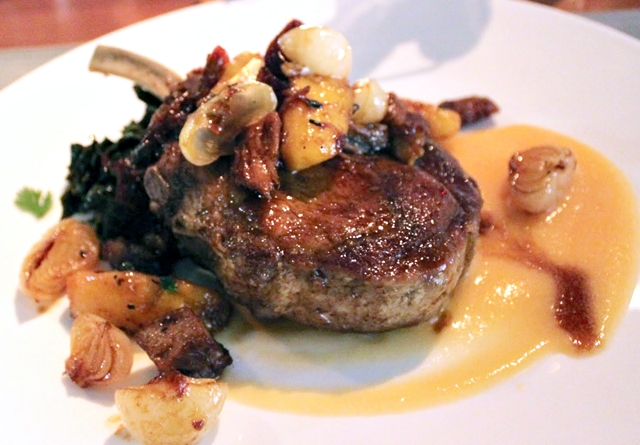 NYC Restaurant Week for Summer 2012 has already started, offering a 3-course menu at $24.07 for lunch, and $35 for dinner. But don't worry–despite its name, NYC Restaurant Week is now more than a week–in fact, it lasts 4 weeks, from July 16-August 10, and some restaurants are even offering their prix fixe menu beyond that. That gives you time to take advantage of the $20 AMEX credit if you dine 4 times (register here), and Restaurant Week also coincides nicely with two other promotions, that I think are a better deal:
1. $100 off 2 NYC Michelin restaurants using the British Airways Visa, through July 31, 2012
This is unquestionably a great deal if you enjoy good food, and not just dining at the mostly mediocre choices that are part of frequent flyer dining programs. The problem, as you can probably guess, is that the very best NYC Michelin restaurants, such as Eleven Madison Park and Per Se, of course don't particpate in Restaurant week, so you'll need to settle for Michelin 1 Star restaurants and Restaurant Week menus that don't necessarily showcase their best creations. For that reason, I don't at all regret opting for $100 off our meal at the Salon Room of Per Se and $100 off Sushi Azabu using my husband's and my British Airways Visa cards, but you could enjoy an almost free lunch for two at any of the Michelin restaurants below, using your $50 credit to cover the lunch menu cost ($24.07 x 2) and just pay for tax, tip and whatever drinks you order. Or if your dining companion and you each have the card, split the bill at Aureole and enjoy a free dinner for two.
Here are the NYC Michelin star restaurants that are also participating in Restaurant Week, in the rough ranking I'd put them in terms of their value (quality for price) and how I rate their Restaurant Week menu (obviously very subjective):
1. Gotham Bar and Grill (lunch)
2. Cafe Boulud (lunch)
3. Ai Fiori (lunch)
4. Aureole (dinner)
5. Aldea (lunch)
6. Dovetail (lunch)
7. Rouge Tomate (lunch)
2. 5X points on all dining using the Chase Freedom July-September 2012
Since I already used my BA Visa Michelin dining credit at Per Se and Sushi Azabu and AMEX is requiring 4 dines to get a $20 credit, I'll be using my Chase Freedom for NYC Restaurant Week dining, since given that I transfer Freedom Ultimate Rewards points for United miles and use them for international premium class tickets on Qatar, Lufthansa, etc., those 5X points from each dine are worth more than $5 to me.
Apply: Chase Freedom earns 5X points on all dining July-Sep. 2012
Ok, deals and points aside, here are my top dining picks for NYC Restaurant Week, Summer 2012:
1. RiverPark (Restaurant Week Lunch and Dinner Monday to Friday and Sunday Dinner)
This choice will probably surprise many, but it's all relative–I've pored through tons of Restaurant Week menus and have dined at many of the usual suspects, and what I like about RiverPark boils down to five things: excellent food that is from the regular menu, good sized (even hearty) portions, plenty of choices, pleasant service, and a river view, in that order. Apparently other NYC diners agree with me, because it's now getting extremely hard to get a reservation for the remaining dates of NYC Restaurant Week. I'd suggest trying to reserve now, and calling RiverPark directly if you don't see any availability on Open Table, in case they're keeping a waitlist in the event of cancellations.
My Restaurant week picks from the RiverPark Restaurant Week Menu:
Appetizer: Cappelletti with Oxtail Ragout or Avocado & Hamachi Salad ($5 supplement) or Crispy Sweetbreads ($5 supplement)
Entree: Berkshire Pork Chop with Grilled Peaches or Duck Breast with Morels and Spaetzle
Dessert: Peanut-Caramel Chocolate Tart with Caramel Ice Cream or Beignets with Berry Sauce
Update: Riverpark NYC Restaurant Week Review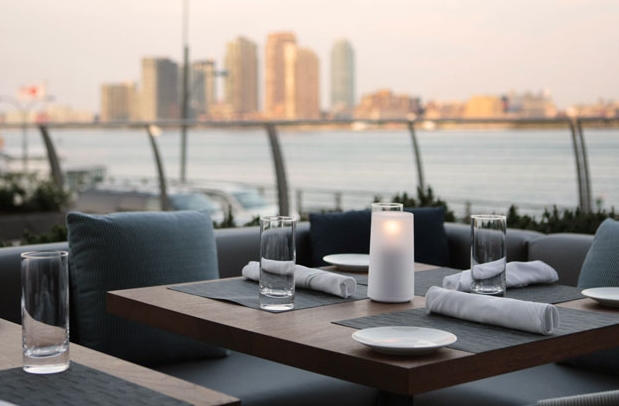 2. Bann (Restaurant Week Lunch and Dinner Monday to Friday, Sunday Lunch and Sunday Dinner)
Don't go to Bann expecting a Koreatown experience or authenticity–it's upscale Korean fusion. That said, I'm looking forward to trying some of the dishes that have been getting raves, plus it sounds as though they don't skimp on portion sizes, always a key consideration for us given a usually hungry 6'5 husband and an even hungrier 4 year old. It's saying something that we'll make the trek out to the Times Square area, which I studiously avoid, just to try Bann. I'd recommend going for dinner since they have more choices available.
Update: Bann Restaurant Week Review
My Restaurant week picks for dinner:
Appetizer: Bo SSam Bun (roast pork belly on steamed flour buns) or Cham Chi Hwe (ahi tuna sahimi with peach chili dipping sauce)
Entree: Un Dae Gu Jo Rim (black cod in spicy garlic soy reduction) or Kalbi Jim (beef short rib and kabocha braised in sake ginger sauce) or Korean Barbeque
Dessert: Asian Pear Crumble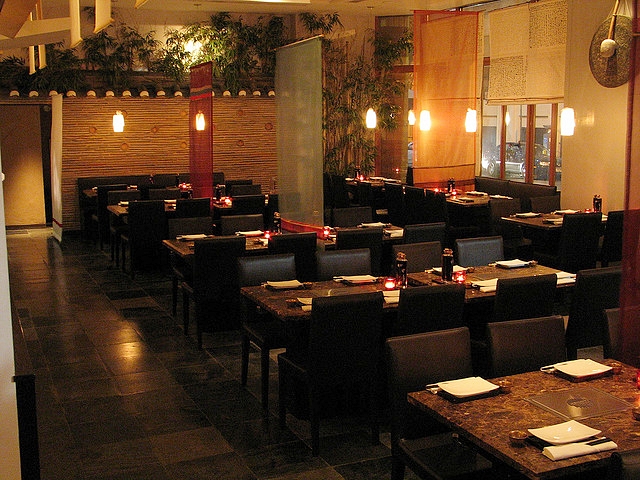 3. Gotham Bar & Grill (Restaurant Week Lunch Monday to Friday)
I haven't been to Gotham Bar & Grill in years, but it's managed to maintain a reputation for well prepared food, made with carefully locally sourced ingredients. It may not be as exciting as top tier places such as Eleven Madison Park, but it's one of the better options of the restaurants participating in Restaurant Week. Note that in addition to the Restaurant Week menu, Gotham Bar and Grill is also hosting a "Greenmarket to Gotham" menu until Labor Day that changes weekly, featuring items from a different New York farm each week.
My Restaurant week picks:
Appetizer: Wild Striped Bass Ceviche
Entree: Grilled Hanger Steak
Dessert: Gotham Black Forest Cake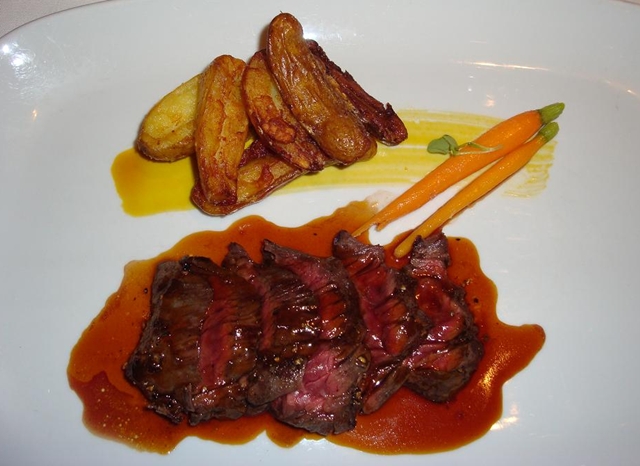 4. Ai Fiori (Restaurant Week Lunch Monday to Friday)
I have mixed feelings about this pick: Ai Fiori gets great reviews of signature dishes such as Trofie Nero (squid ink pasta with scallops) and raviolo with egg yolk and chanterelles, but its Restaurant Week menu isn't really taken from the regular menu, and portions are said to be small. Still, desserts are supposed to be excellent and its a lovely setting as the signature restaurant of The Setai, one of the top NYC hotels, so I plan to try it and report back.
Update: Ai Fiori Restaurant Week Review
My Restaurant week picks:
Appetizer: Country Terrine
Entree: Pan Roasted Skate Wing with white bean puree, preserved lemon jus
Dessert: Chocolate Creameaux with salted caramel, hazelnut, fior di latte gelato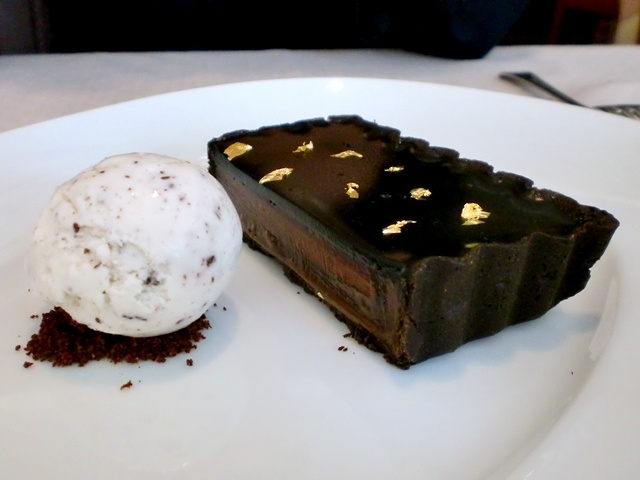 5. Aureole Bar Room
Aureole is seemingly priced for business lunches and dinners (read: expense accounts) so it's not a place I'd ever go at their normal prices. Even their pre-theater pre fixe is $55. Their Restaurant Week menu is solid, however, and while it is now only offered in the Aureole Bar Room and not the main dining room, it could be perfect for date night, when you want a nice dinner without breaking the bank. Also, in contrast to most other participating Michelin restaurants, which are only offering Restaurant Week lunch, they're only offering dinner.
My Restaurant week picks:
Appetizer: Cavatelli Pasta with rock shrimp, peas and chili flakes
Entree: Grilled Pork Loin with summer squash, whole grain mustard jus
Dessert: Hazelnut Chocolate Cake with praline and sour cherry sorbet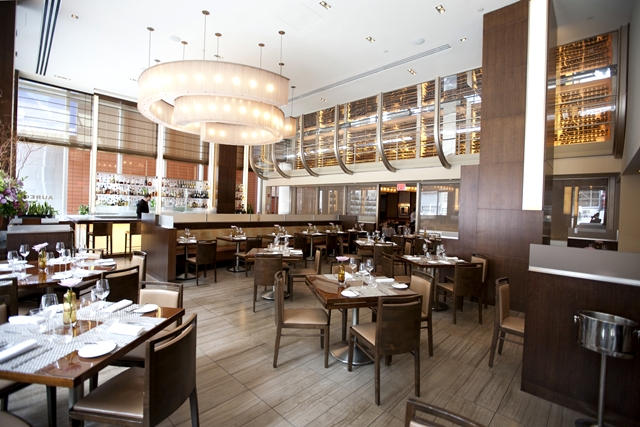 Apply: Chase Freedom Card gets 5X on all dining July-September 2012
Related Posts
British Airways Offers $100 Off 2 NYC Michelin Restaurants…Again!
Baan Korean: NYC Restaurant Week Review
Park Avenue Summer: NYC Restaurant Week Review
Tom Colicchio's Riverpark, NYC Restaurant Review
Cafe Boulud, New York Restaurant Review
Restaurant Week Summer 2011: Where to Go
Check out and apply for the Best Travel Credit Cards.
If you enjoyed this, please follow TravelSort on Twitter or like us on Facebook to be alerted to new posts.
Become a Member to find your perfect luxury or boutique hotel at up to 50% off: TravelSort Hotels