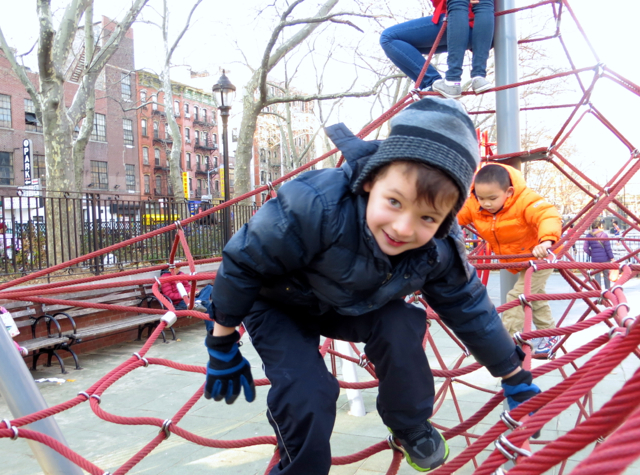 The best playgrounds in NYC (or at least Manhattan), according to the munchkin, not only have great jungle gyms and all kinds of things to climb on, but also enough space to ride a scooter, water sprinklers in the summer, and places to sit down and have a snack. While his ranking surprised me a little, who am I to argue with a 6-year old when it comes to ranking NYC's best playgrounds? Here's his list–hope it will come in handy for any of you who visit NYC with kids, or who have friends with kids visiting you here in New York City. Also see all of our posts tagged NYC.
1. Samuel Seabury 96th Street Playground
The munchkin loves that in addition to the usual playground equipment, there's a basketball court adjacent to it to shoot hoops as well as ride his scooter. He also likes drawing with chalk here, and bringing his arsenal of water pistols and water toys in the summer, when the sprinklers are on.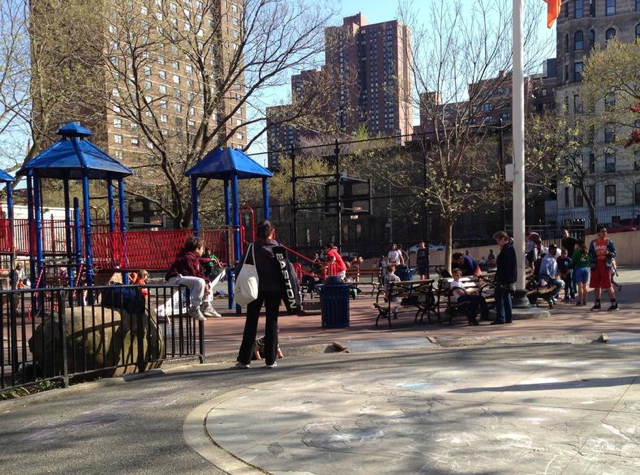 2. Union Square Playground
I'd have thought this would be his favorite playground, with its variety of slides (including a giant one, that you clamber up rocks to get to), a huge metal dome that's a challenge for even older kids to scale, a bunch of color coded "telephones" that you and a playmate can speak through, sand box for younger kids, and of course the sprinklers in the summer. What I like is that it's near to Whole Foods, Trader Joe's, the Union Square Greenmarket is there on Fridays and Saturdays, Breads Bakery, ABC Kitchen, and even walking distance to one of the newer branches of Maison Kayser.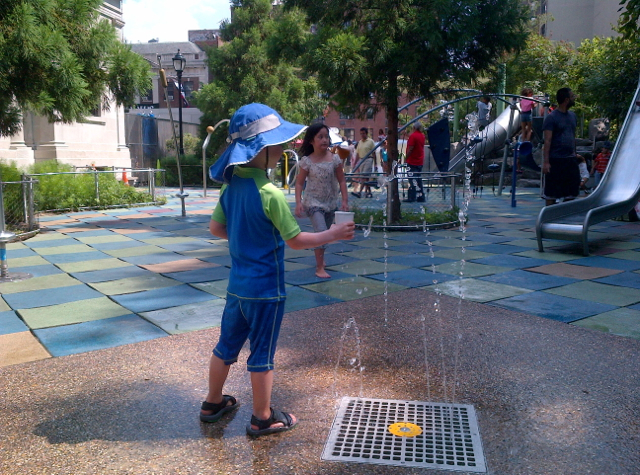 3. John Jay Playground
We only recently have been to this playground, which we'd never have known about if friends who live near it hadn't taken us there. The munchkin especially loves the blue climbing structure and attached slide, which I'm a little surprised is there at all given that it has no sides to it and seems a tad dangerous for younger kids, but then, that's probably why the munchkin likes it so much. There's also a nice rope pyramid climbing structure.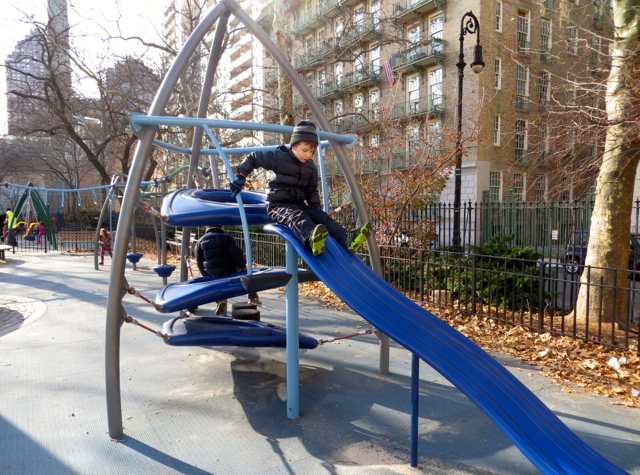 4. West 110th Street Playground (Central Park)
This is another playground we only recently discovered, thanks to friends who live across the street from it. It's not big, but the equipment is new and the setting is wonderful, especially in fall, with the gorgeous autumn foliage. In addition to the rope climbing structure with a "king of the mountain" seat to rest in, the munchkin loved a wheel that you try to balance and walk on, without falling off. Pretty challenging even for him at 6, so he's looking forward to going back to try to master it.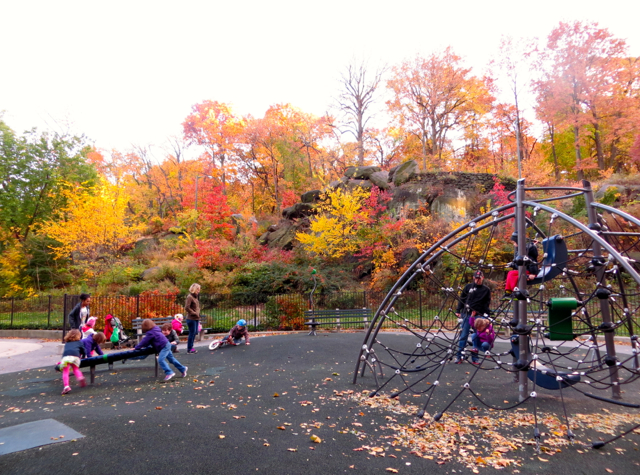 5. Ancient Playground (Central Park)
I hated this playground when the munchkin was younger, because it was so hard to try to follow him everywhere down the ladders and through the tunnels. But of course that's also what he and other kids love about it–all these tunnels and small spaces. Its location by 85th Street on Museum Mile makes it the perfect spot to visit before or after the Met or other museum, to let the kids get out their energy.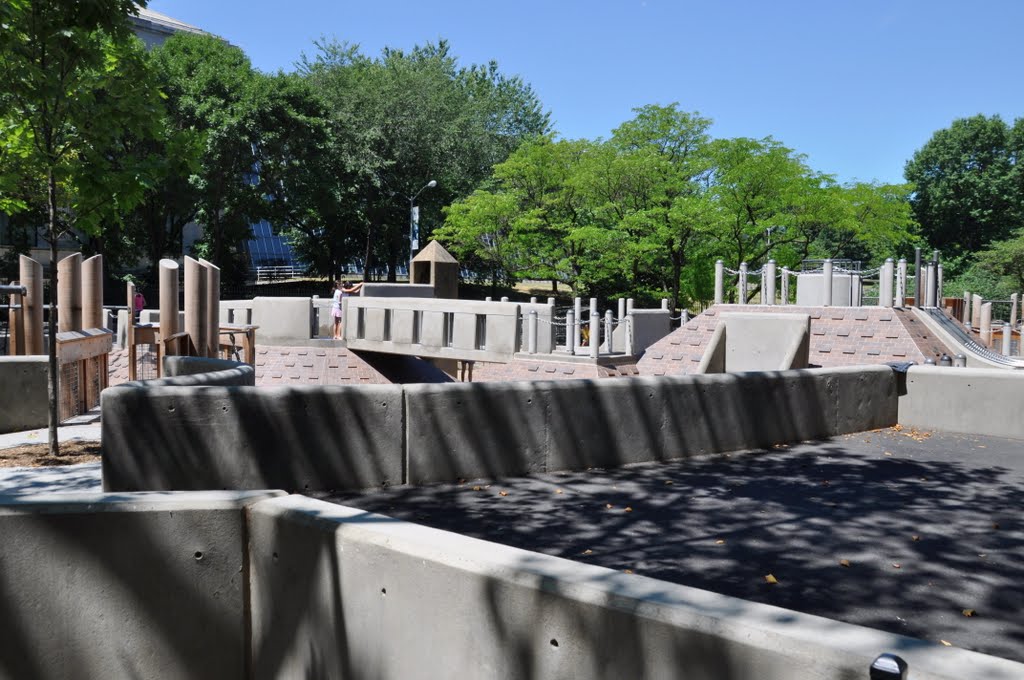 6. Natural History Museum Arthur Ross Terrace Water Play (Summer Only)
This isn't a playground per se, but the water fountains are a huge hit when it's blazing hot in the summer and the kids want some water fun. There are some tables with umbrella for shade, so bring a picnic. And of course the Natural History Museum is itself a hit with kids, especially the dinosaur fossils and films narrated by Meryl Streep.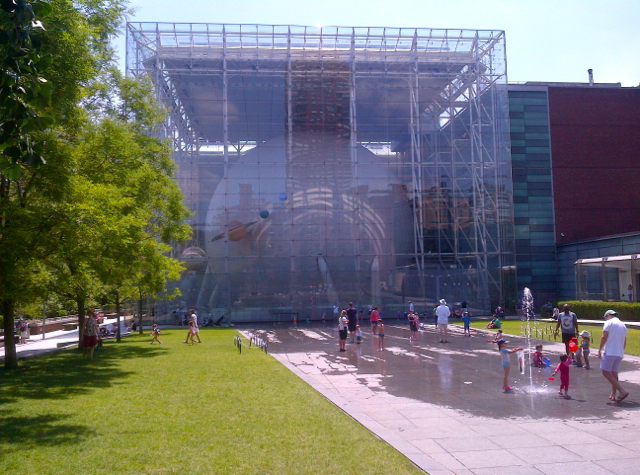 7. Carl Schurz Park Playground
This used to be our neighborhood playground, and it's a great setting, since the park is right on the East River. It's nicely divided up into play areas for toddlers, young kids, and for the older kids, the Catbird Playground. There's also a big space for waterplay in the summer, and plenty of shade here, a big plus in the hot summer months.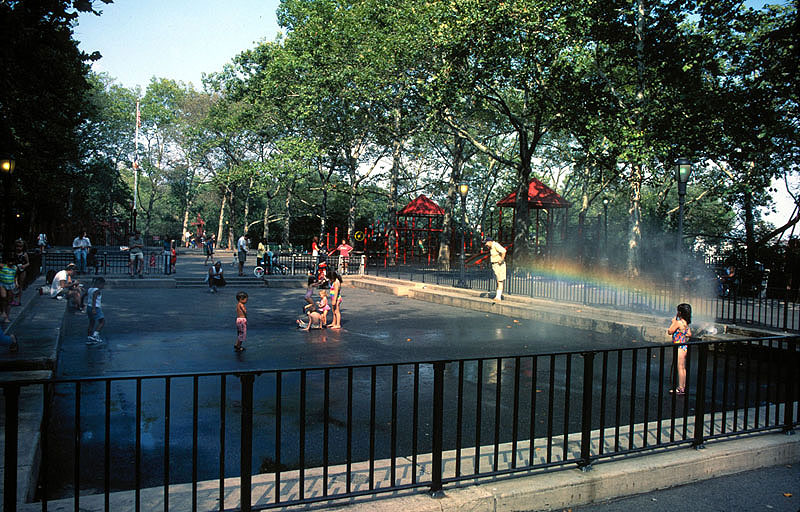 8. Hester Street Playground, Chinatown
This was fairly recently redone, and is in great shape, so worth a visit before or after a trip to Chinatown for dim sum or pho. The munchkin especially loved the rope bridge that connected to a rope pyramid, and a unique metal musical square that created musical sounds when jumping on it.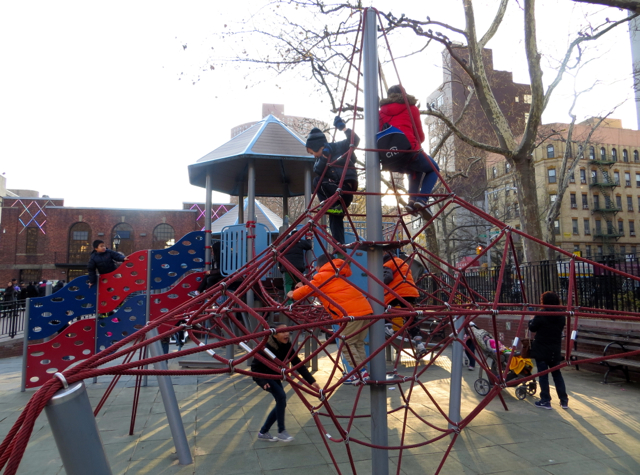 What are your kids' favorite playgrounds in NYC?
Related Posts
Empire State Building Tips and Tickets
Governors Island Ferry, Bicycling and Family Fun
Need Award Booking Help? Our fee is as low as $75 per ticket if you book your hotel through us.
If you enjoyed this, join 90,000+ readers: please follow TravelSort on Twitter or like us on Facebook to be alerted to new posts.
Become a TravelSort Client and Book Your Hotel with Virtuoso or Four Seasons Preferred VIP Amenities!