Num Pang is the best food I've had for the price in New York's midtown. That might sound bold, given the many choices for midtown dining, but in reality, it's not that surprising, given the mix of generic sandwich and salad shops (think Pret a Manger, Chop't, etc.) which sate hunger but little else, the high end expense account places (Oceana, L'Atelier de Joel Robuchon, etc.) and only a few mid-tier places where the food is truly good value for money. Actually, the line out the door of this little place should give you some inkling that this is one of the best bets in midtown: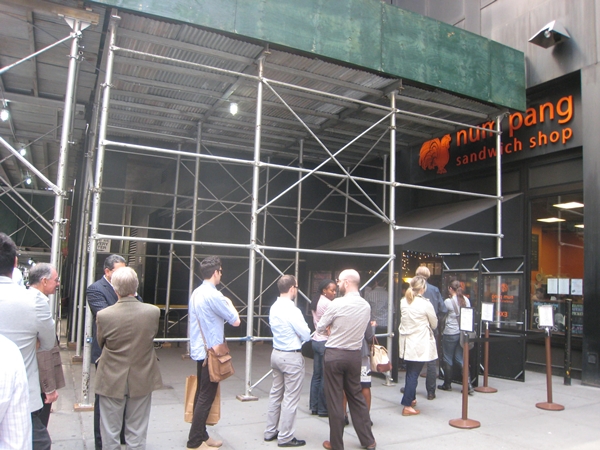 We went a little overboard in ordering for two people, each getting a sandwich, sharing a large soup and a grilled corn, and each getting a blood orange lemonade. The nice thing though about the midtown location at 140 East. 41st St. @Lexington is that you can use a credit card. Naturally, we put it on the Chase Sapphire Preferred to get 2x points. Theh original Union Square location, at 21 East 12th Street, is cash only and does *not* take credit cards.
After paying, they get to work making your food (all sandwiches are made fresh to order) and you can grab napkins, Sriracha hot sauce, water (self serve from a cooler), etc. while waiting for your number to be called. In a pinch, you could stand up and eat your sandwich right there at the narrow ledge, but pretty much everyone takes there sandwich to go, either back to their office, or, as we did, to some park benches (we walked a few blocks east to a park near the East River).
The menu is divided into Classic Sandwiches and Seasonal Special Sandwiches. The first sandwich I bit into turned out to be my husband's Grilled Khmer Sausage bahn mi, with the sausage made not by Num Pang but by Brookln Bangers. Absolutely delicious–I tried looking up Brooklyn Bangers, but looks like they must only sell stuff directly at places like the Brooklyn Flea Market, and wholesale. Darn.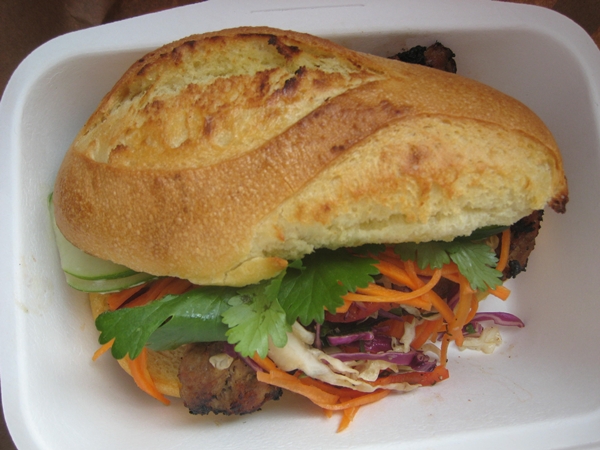 After I eventually relinquished my husband's sandwich to its rightful owner, I delved into my own Five-Spice Glazed Pork Belly with Pickled Asian Pear ($7.75 + tax). Even better! It and all the bahn mi sandwiches come on crusty semolina rolls from local Parisi Bakery, and I loved the perfectly charred and juicy pork layered with chili mayo, pickled carrots, and cucumber, with the sweet-tart pickled Asian pear a delicious complement.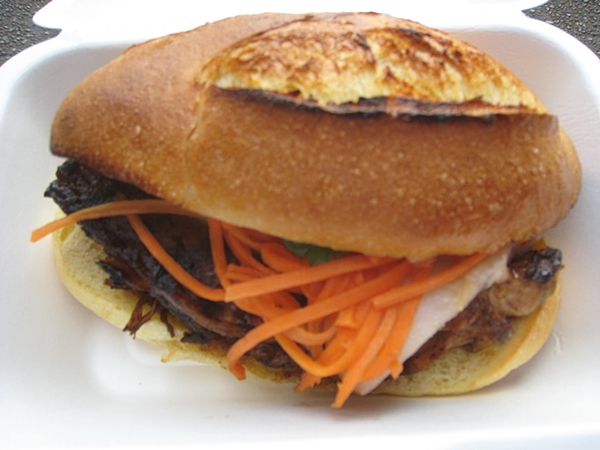 My husband really liked the roasted butternut squash coconut soup, which has a nice spicy kick to it and comes with basil croutons, which we didn't use. I liked the soup ok, but it was my least favorite of the items we tried.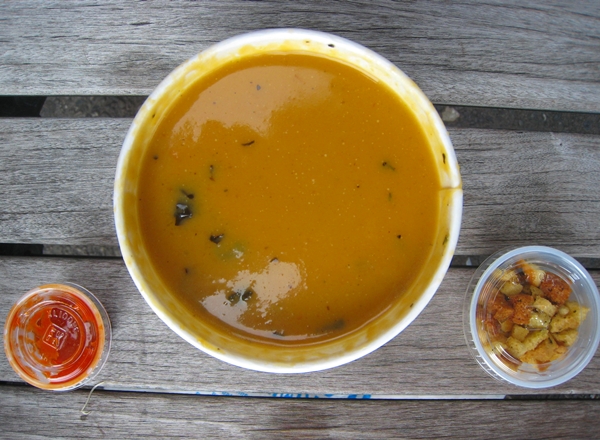 The grilled corn on the cob, on the other hand, was fantastic! It was so juicy and sweet, laced with chili mayo, sprinkled with coconut flakes and served with a slice of lime. I could happily eat one every day.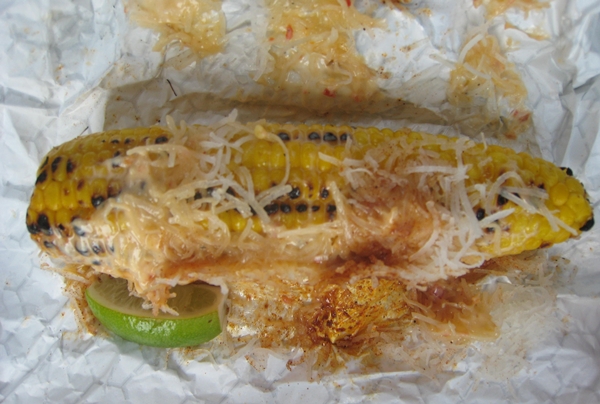 Verdict: While there are plenty of other bahn mi choices in Chinatown where the bahn mi are cheaper, I personally think the price is entirely reasonable for what you get, given the quality of the ingredients, freshness, and the midtown location. I'll be sorely tempted to go here at least once a week, even though I'm not in midtown, to try some of the other sandwich options: Pulled Duroc Pork with spicy honey; Coconut Tiger Shrimp; and Hoisin Veal Meatballs. And definitely coconut chili corn on the cob.
Related Posts
Tsushima: Best Sushi in NYC Midtown?
Somtum Der NYC Review and Menu
Ninh Kieu NYC Restaurant Review
Review: Park Hyatt Siem Reap, Cambodia
Need Award Booking Help? Our fee is as low as $75 per ticket if you book your hotel through us.
If you enjoyed this, join 150,000+ readers: please follow TravelSort on Twitter or like us on Facebook to be alerted to new posts.
Become a TravelSort Client and Book 5-Star Hotels with Virtuoso or Four Seasons Preferred Partner Amenities!