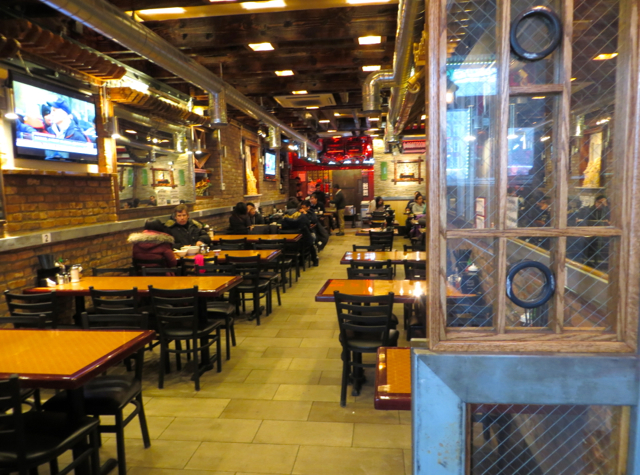 This Ninh Kieu NYC Restaurant Review is one of our many NYC Restaurant Reviews. Visiting New York? See all of our posts tagged NYC.
Vietnamese is one of my favorite cuisines. I love the fresh herbs such as cilantro, fresh mint, rau ram (Vietnamese mint) that you add when rolling foods up in lettuce, before dipping them in nuoc cham. There are also few other dishes I crave quite as much as a steaming hot bowl of pho (beef noodle soup) on a cold day. And with New York (and much of the country) in an Arctic deep freeze, we've ventured out a couple times now to Ninh Kieu for Vietnamese comfort food.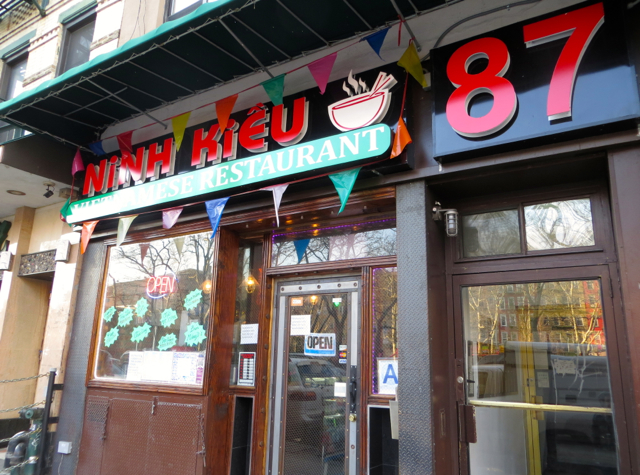 Getting There
Ninh Kieu is in NYC's Chinatown at 87 Chrystie Street between Grand Street and Hester Street, so the closest subway stations are Grand Street (B and D trains) and Bowery (J train). Or, for more transit options, take the N, Q or 6 train to Canal Street and walk from there.
If you visit Ninh Kieu with kids, it's great to let them work out some energy at the nearby Hester Street Playground. See NYC: Best Playgrounds in Manhattan.
The Scene
No one will confuse Ninh Kieu with fine dining, but it does have a more interesting, less spartan decor than many Chinatown restaurants. It's an eclectic mix of Vietnamese decor, a cool and incongruous model train in the back, and sports bar, with huge flat screens often turned to soccer (or more boringly, news channels). Other guests during our visits were mostly Vietnamese and other Asian couples, with the occasional family.
Of course, the munchkin was fascinated with the train, which even says Ninh Kieu on it: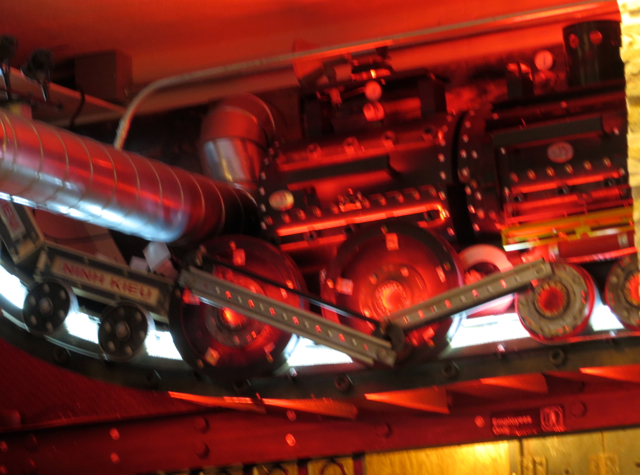 Ninh Kieu Menu and Food
Ninh Kieu has an extensive menu that may be overwhelming if you don't already have your favorite, go-to Vietnamese dishes. There are 23 choices of pho (noodle soup) alone:
On the back are numerous choices for appetizers, house specials, bun (noodle dishes), and seafood, chicken, beef, and vegetarian dishes, not to mention rice plates.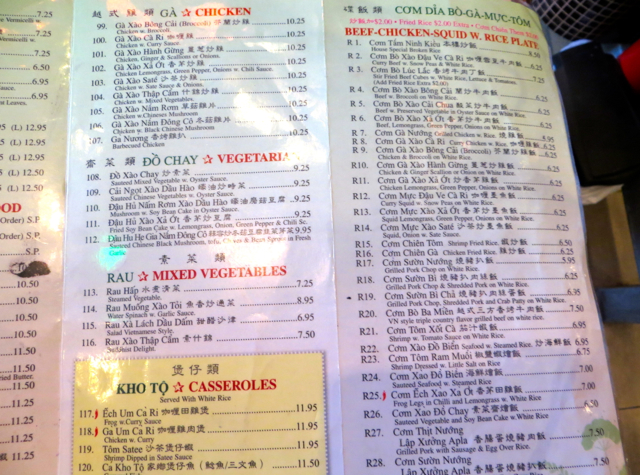 Both times we ordered Pho Tai, the most basic beef noodle soup with thin slices of eye of round. The broth was well flavored, if a bit oilier and not as clear as the best pho broths I've had. I liked that the beef was still slightly pink and not overcooked. As usual, a plate of bean sprouts and fresh Vietnamese basil was provided to garnish the pho to taste. There wasn't any rau ram, as there is at my favorite pho places in the Bay Area, but it was still very satisfying, especially when eaten with dabs of Sriracha and hoisin sauce on the meat and noodles.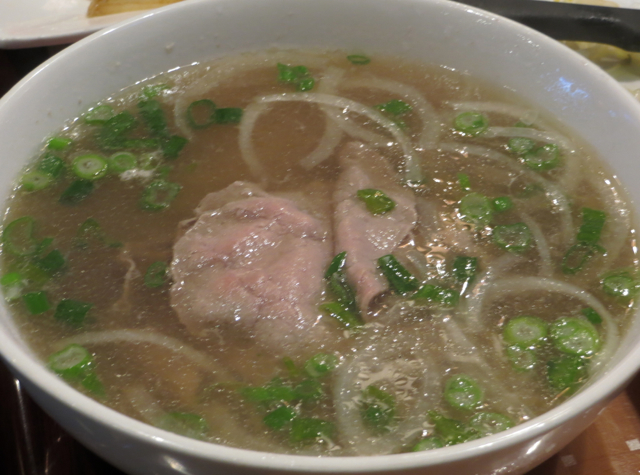 I love that Ninh Kieu offers Banh Xeo, which is described as a Vietnamese Pancake, but is really more like an omelet encasing sauteed onions, beansprouts and shrimp. It's served with a huge platter of lettuce, mint and carrots, to use in wrapping up pieces of it as parcels, before dipping in nuoc cham. A bit messy if you're not expert at doing this, but delicious with the interplay of crunchy bits of omelet, fresh mint and lettuce, and the sweet-saltiness of the nuoc cham dipping sauce.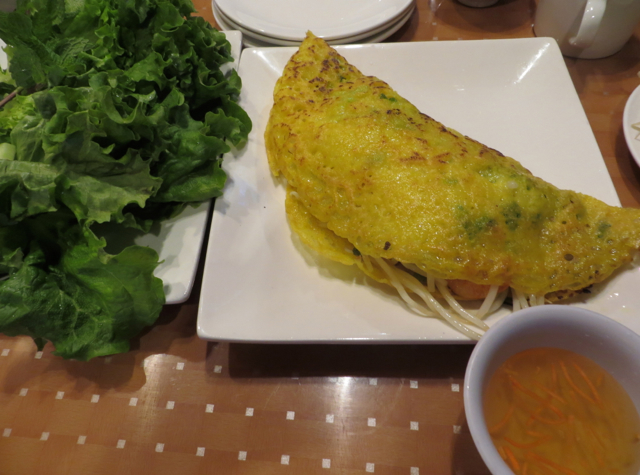 Probably our favorite dish this past time was fried softshell crab, and a steal at just $12.50 for sauteed vegetables with 4 crispy softshell crabs on top: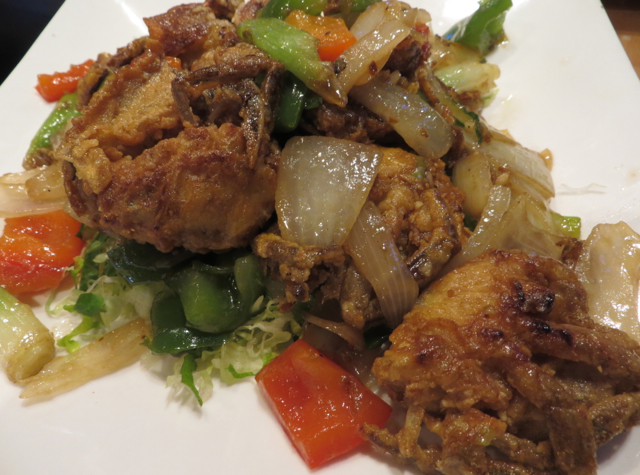 We also ordered Bun Cha Gio Thit Nuong, rice noodles with grilled pork and spring rolls served with nuoc cham. It was freshly made and good, but not as good as versions of this I've had elsewhere.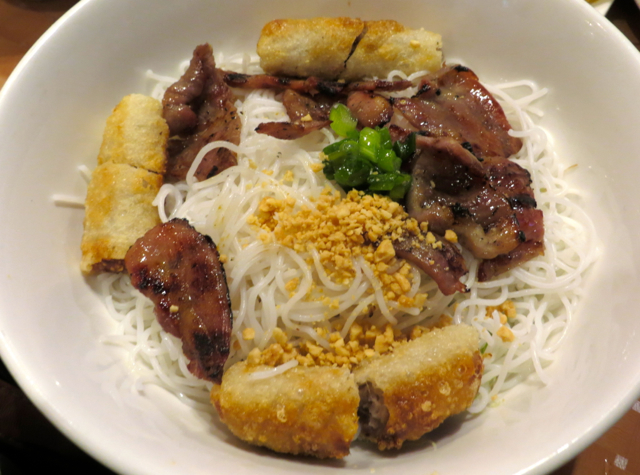 The Service
On both of our visits, we were welcomed and quickly seated. It did take some time to get our order taken on the most recent visit, since the two servers were pretty busy serving a number of tables whose orders were ready.
There was also some confusion about whether the softshell crab dish was available or not–the first server we asked said it wasn't available, but the other server we asked checked and said it was, so we happily ordered it.
The wait seems to be longer here than at some other places, although I actually take this as a good sign, that everything is truly being made to order. If you have hungry kids, be sure to bring a snack along. I was glad to have brought some apple and cheese for the munchkin for him to snack on while we waited.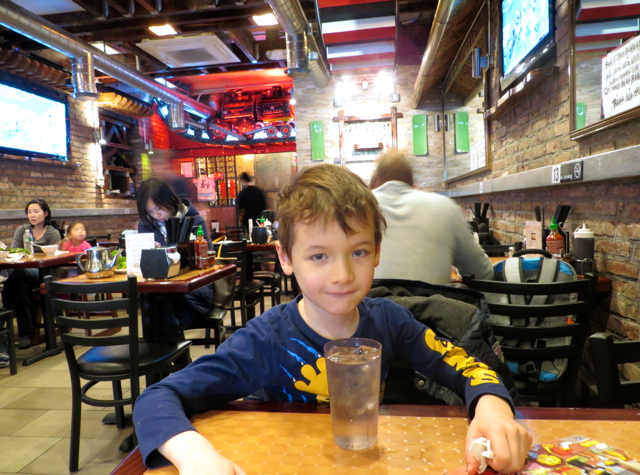 The Verdict
It can be a challenge to find good Vietnamese food in Manhattan, if you're not willing to trek out to Queens. Ninh Kieu is currently our favorite Vietnamese restaurant in Manhattan for comfort food that goes beyond pho, to include dishes such as Banh Xeo and softshell crab. And the value is incredible: even after ordering more food than the three of us (all very hungry) could finish (we took some of it home) and including tax and a 25% tip, we paid $37.
Have you been to Ninh Kieu Vietnamese Restaurant in NYC?
Related Posts
Oriental Garden Dim Sum: NYC Restaurant Review
Zabb Elee NYC Restaurant Review (East Village Location)
Where to Eat in NYC: The Best Places New York Restaurants Right Now
Need Award Booking Help? Our fee is as low as $75 per ticket if you book your hotel through us.
If you enjoyed this, join 90,000+ readers: please follow TravelSort on Twitter or like us on Facebook to be alerted to new posts.
Become a TravelSort Client and Book Your Hotel with Virtuoso or Four Seasons Preferred VIP Amenities!