I was meeting another entrepreneur at lunch the other day and the conversation turned to credit cards. "What's in your wallet?" she wanted to know. So I started sharing the cards I use and what I use them for. But now I'm also curious what's in other people's wallets, so I figured I'd start a series. I think this was even a Mint.com series at one point, but not sure it's still running. In any case, this series will mostly focus on folks who love travel and the cards (and anything else they have in their wallet) that helps them do that.
So here we go with a snapshot of my current wallet, for when I'm here in NYC: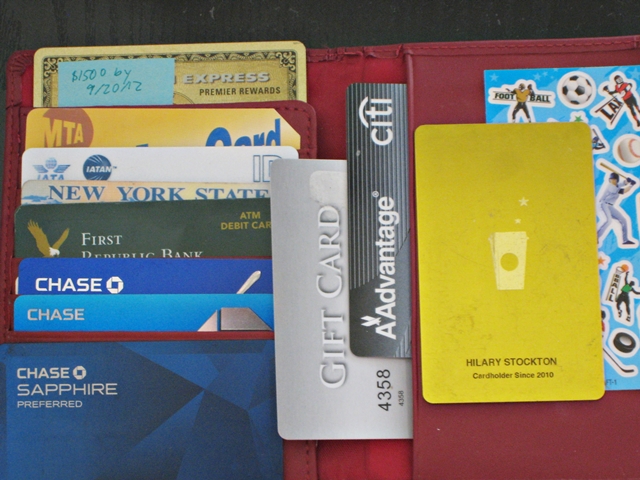 1. Sapphire Preferred
Since the Freedom currently offers 5X on dining, am currently only using the Sapphire Preferred for transportation spend, primarily MTA Metrocard refills and the occasional taxi fare.
2. Chase Freedom
My most-used card on a daily basis. All small purchases ~$2 and under go on this card because of the 10% base point bonus and 10 point transaction bonus from Chase Exclusives. All NYC Restaurant Week and dining spend also goes on the Freedom due to 5X points on dining and gas spend July-September 2012.
3. Ink Bold Business Card
For business expenses and 5X on Amazon and other gift card purchases at office supply stores.
4. First Republic ATM Card
Love First Republic: ATM fees rebated from all ATMs, and free chocolate chip cookies and personalized service when you visit their branches. If you're after no ATM fees, these bank checking accounts refund ATM fees.
5. Driver's License
Only used as ID, since you'd be crazy to own a car in Manhattan.
6. IATA Card
Not really necessary for NYC, but tend to keep it in my wallet. As a travel agent I receive industry discounts at hotels, and typically need to show my IATA card to prove I'm a travel industry professional.
7. Metro Card
While I occasionally take taxis, the pumping the brakes method of NYC taxi drivers (anyone seen the New York scene in Jim Jarmusch's "Night on Earth"? Many NYC taxi drivers are only marginally better than that) mean that I infinitely prefer to take the subway or walk if I have time. the NYC subway is not going to win any awards for the most beautiful subway stations in the world (or the most efficient system, for that matter) but it usually gets the job done, and without leaving me carsick.
8. AMEX Premier Rewards Gold Card (Retention Bonus)
I usually use the AMEX Premier Rewards Gold card for grocery shopping, due to 2X points, and for 3X points on airfare when I'm paying for taxes on award tickets. I recently got a retention bonus offer of 10,000 MR points immediately, then another 7500 points after spending $1500 within 60 days, hence the little sticky.
9. Gift Card bought with the Ink Bold
I use this gift card bought with the Ink Bold to get 5X points (effectively 4.5X after taking the gift card fee into accont) for purchases that would otherwise not receive any kind of bonus. See Make Your Own 100,000 Credit Card Bonus Offer
10. Citi AAdvantage Card (Retention Bonus)
I received a retention bonus offer of 3000 AAdvantage miles after $500 in spend, and also signed up for an offer giving me 3X AAdvantage miles at supermarkets and restaurants until 9/30, up to 2500 AAdvantage miles. So assuming I meet the AMEX PRG retention offer spend with airfare, I'll use the Citi AAdvantage card for 3X on grocery spend, and also on restaurants *if* I max out the Chase Freedom 5X points on dining before 9/30.
11. Starbucks Gold Card
I actually don't get coffee at Starbucks, as my Nespresso instant espresso powder is better, but I get the occasional piece of fruit, oatmeal cookie or tea there while using the free WiFi. And of course to refill my Starbucks card I'm currently using the Chase Freedom, for 5X points.
12. Stickers
No, they're not for me! Emergency stickers are for keeping my son entertained if I forgot to bring some books to read to him when going somewhere. I've yet to meet a 3-4 year old that doesn't like stickers.
When I travel internationally, I swap out a few of these cards: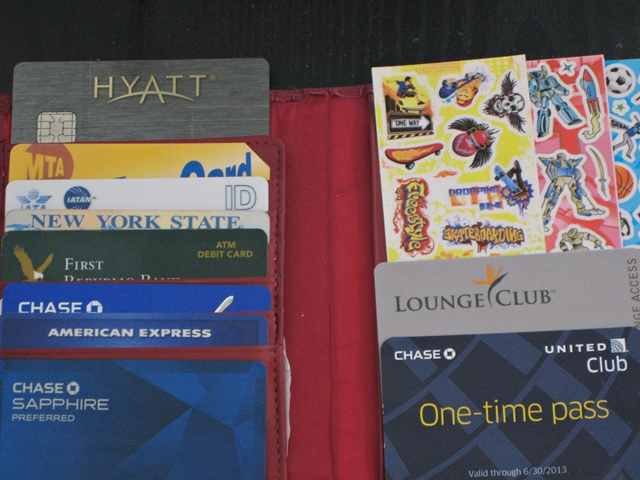 1. Hyatt Visa
Ever since not being able to pay our hotel bill in Mercantour, France with any of my then credit cards or use them at the unmanned highway toll booths in France, I've vowed I will never be without an EMV chip card when I travel. The Hyatt Visa is that card, since it also has no foreign transaction fees and gets bonus points for Hyatt spend. Check out the Best EMV Chip Travel Credit Cards in the US for other options. But I must add, I'm also really looking forward to deciding on the Best Park Hyatt to Stay 2 Free Nights with the Hyatt Visa!
2. AMEX Prepaid, refilled with the Ink Bold
Wherever I can use AMEX abroad, this is the card to have, as long as you can get refills for it using your Ink Bold so that you can get 5X on international spend. Weirdly but fortunately, unlike some other AMEX cards (including the Starwood Preferred Guest) the AMEX Prepaid card has no foreign transaction fees. And through August, if you signup for the AMEX Prepaid there's a free $25 AMEX Gift Card Offer. Note that this requires you to fund it with $200 at signup, but after that you can purchase refills with your Ink Bold.
3. Lounge Club Card with Ink Bold
While I haven't had occasion to use it yet, the Lounge Club Card gives you two complimentary visits in participating airport lounges (international and domestic) per year. It's free to sign up for using your Ink Bold, and the Ink Plus offers the same benefit. See Chase Ink Bold Airport Lounge Access.
4. United Club Pass from United MileagePlus Explorer
I used one of the two United Club passes that came with the United MileagePlus Explorer card at LAX, prior to an ANA Business Class flight from LA to Tokyo. I still have one left, which could be handy for the rare domestic trip I take, since I rarely fly on revenue tickets, don't have elite status, and Lounge Club doesn't include United Clubs.
5. More Stickers!
If a few stickers are fine for trips around Manhattan, more stickers (and many other goodies) are needed for our upcoming 16 hour trip with our 4-year old to Hong Kong. But that's another post 🙂
Related Posts
Understand How Your Credit Score Works to Maximize Credit Card Rewards
Chase Exclusives Bonuses: Maximize Chase Freedom Ultimate Rewards
Best United Bonus Offers Available Now
Need Award Booking Help? Our fee is as low as $75 per ticket if you book your hotel through us.
If you enjoyed this, join 150,000+ readers: please follow TravelSort on Twitter or like us on Facebook to be alerted to new posts.
Become a TravelSort Client and Book 5-Star Hotels with Virtuoso or Four Seasons Preferred Partner Amenities!