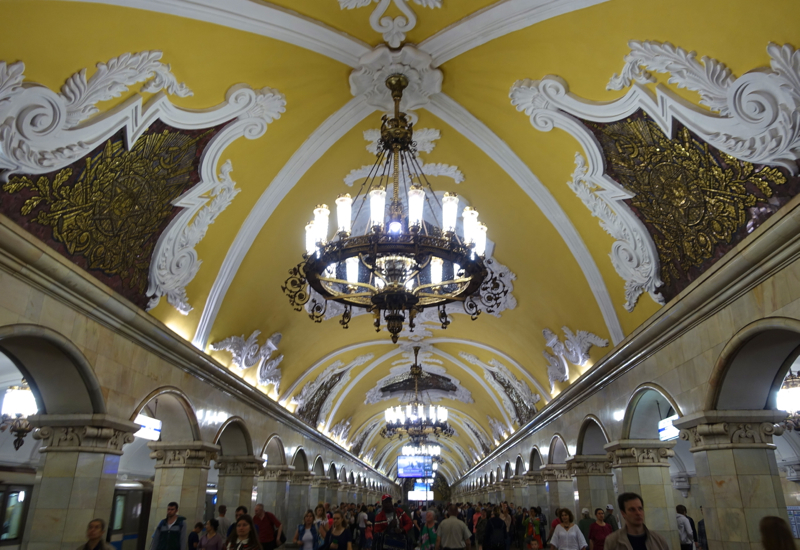 This Moscow Metro Tour with Happy Moscow Tours Review is part of a trip report including Vienna and luxury hotels and dining in Moscow and St. Petersburg, Russia. For the previous posts please see:
Review: Sofitel Vienna Stephansdom
Labstelle Wien Vienna Restaurant Review
Review: Ararat Park Hyatt Moscow Hotel
Why Take a Tour of the Moscow Metro
Moscow in many ways is similar to NYC, where I live–a cosmopolitan metropolis of millions of people, the business and financial center of the country, and also a city perpetually under construction. Despite or because of their dynamic nature, neither is as beautiful in the tourist sense as, say, St. Petersburg, Russia or San Francisco, California, both of which have the advantage of water or canal views and prettier landmark buildings than their larger counterparts.
But in an important aspect, Moscow is far superior and more beautiful than NYC: the Moscow Metro. I have yet to meet someone keen on doing a tour of the NYC subway–if I did, I'd assume it to be a joke or someone who bizarrely enjoys filthy, crowded, rodent-infested places and doesn't mind waiting 10 minutes or more for a train on weekends.
In contrast, even though the up to 9 million daily riders take it for granted, the Moscow Metro, the busiest subway system outside of Asia, is both efficient (trains come within about 60 seconds of each other) and so beautiful, with elaborate mosaics, marble, chandeliers and stained glass, that a number of guides offer tours of the metro. Even though I lived and worked in Moscow for two years, I never took a tour of it while living there, so on my son's first visit to Russia I decided to sign us both up for our first ever tour of the Moscow Metro. If you're a first-time visitor to Moscow and plan to use the metro, see my tips for getting around Moscow by Metro.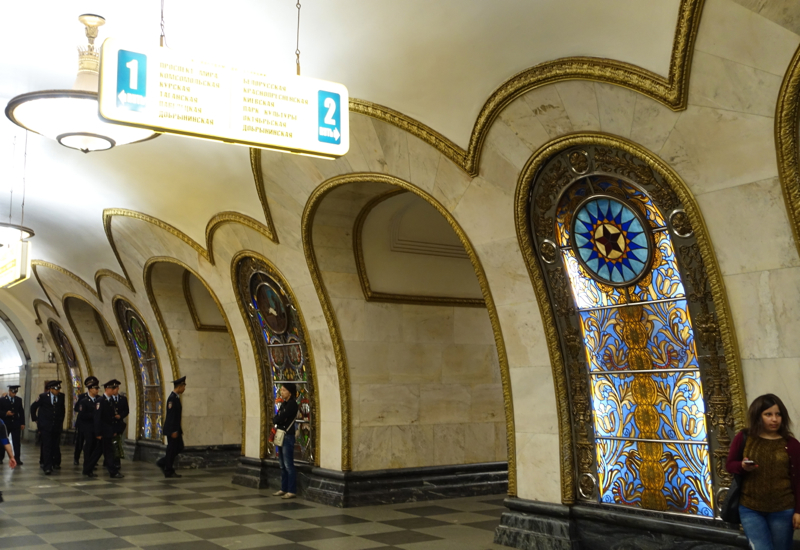 Happy Moscow Tours Moscow Metro Tour Details and Cost
Happy Moscow Tours offers several walking tours, including a "Moscow Must See" tour of the landmarks, Soviet Moscow, Sanctuary Places, and the Moscow Metro Tour that we took. The price is reasonable for a private tour: 4000 RUR for one person for a 3 hour tour; 6000 RUR for two people; 8000 RUR for three people and 10,0000 RUR for 4 people. Plus, kids under 14 are free with a paying adult, so our price was just 4000 RUR + tip.
Tours are normally given in English, although we asked for it to be in Russian in order for my son to practice his Russian. Several of the guides speak Spanish or French in addition to English and Russian.
Highlights of Our Moscow Metro Tour
1. The Case of the Missing Stalin
Our guide, Maria, proved very adept at engaging my 7-year old with some clever sleuthing: the case of the missing Stalin! Maria explained that after several failed attempts, the first successful Moscow Metro line was built under Stalin. Naturally enough, he figured prominently in a number of the mosaics and works of art in the early Metro stations. Later, however, Nikita Krushchev denounced Stalin's "cult of personality," and many of these art pieces saw Stalin removed and replaced with a different motif or design.
For example, here's a mosiac at Kievskaya Station: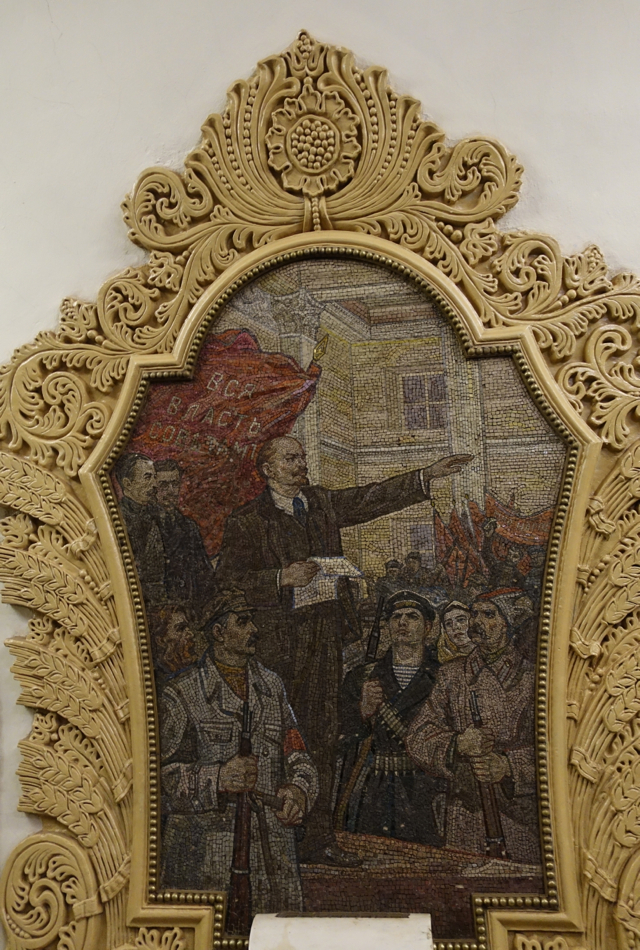 And here's the original–can you spot Stalin, who is missing in the current mosaic?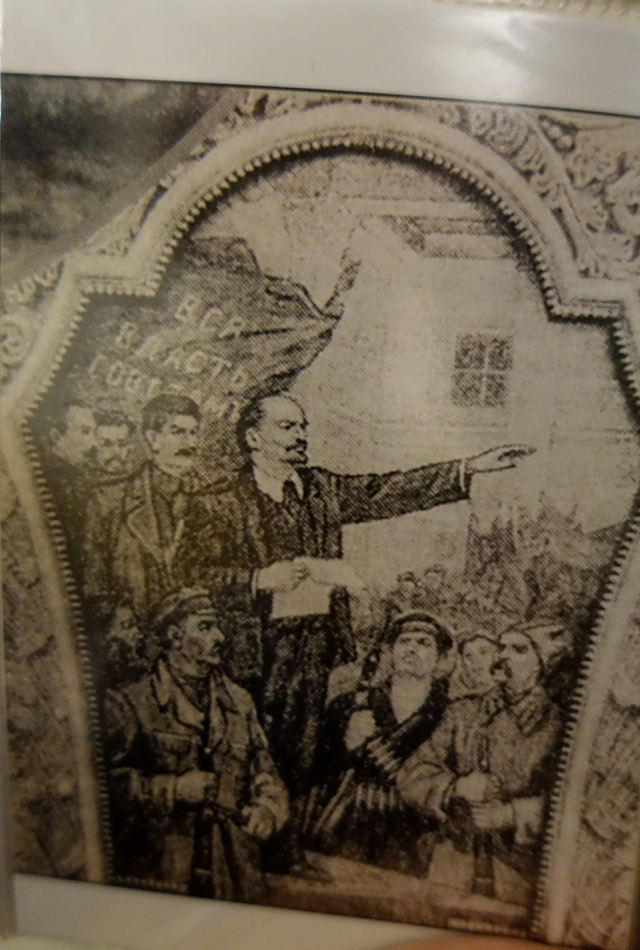 Here's another mosaic, from Belorusskaya Station, featuring a hammer and sickle and CCCP (USSR):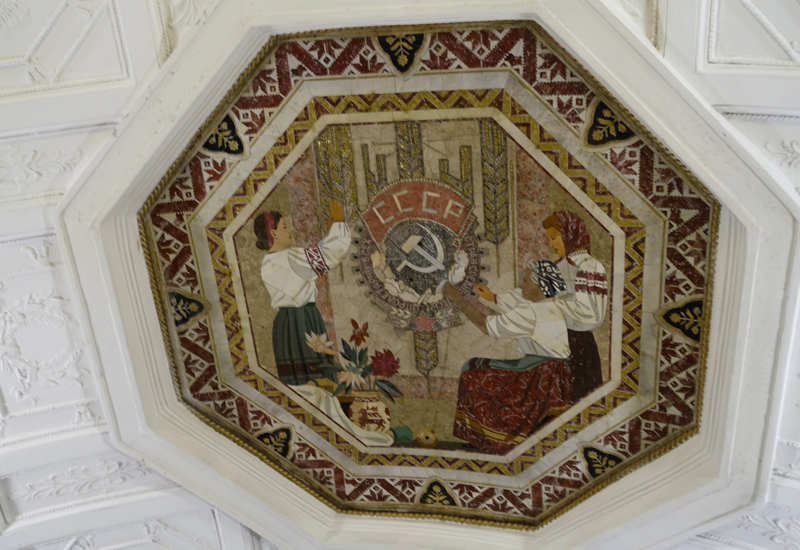 And the original version, with Stalin's head in profile: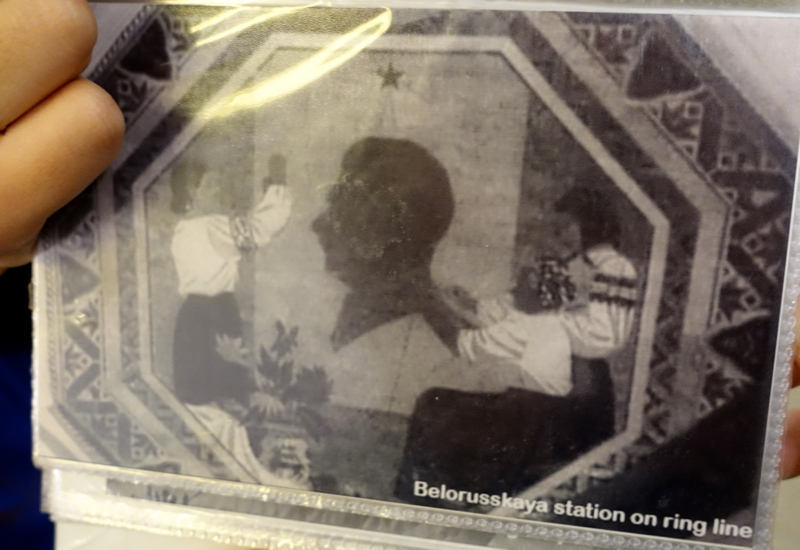 Or how about this mosaic at Komsomolskaya: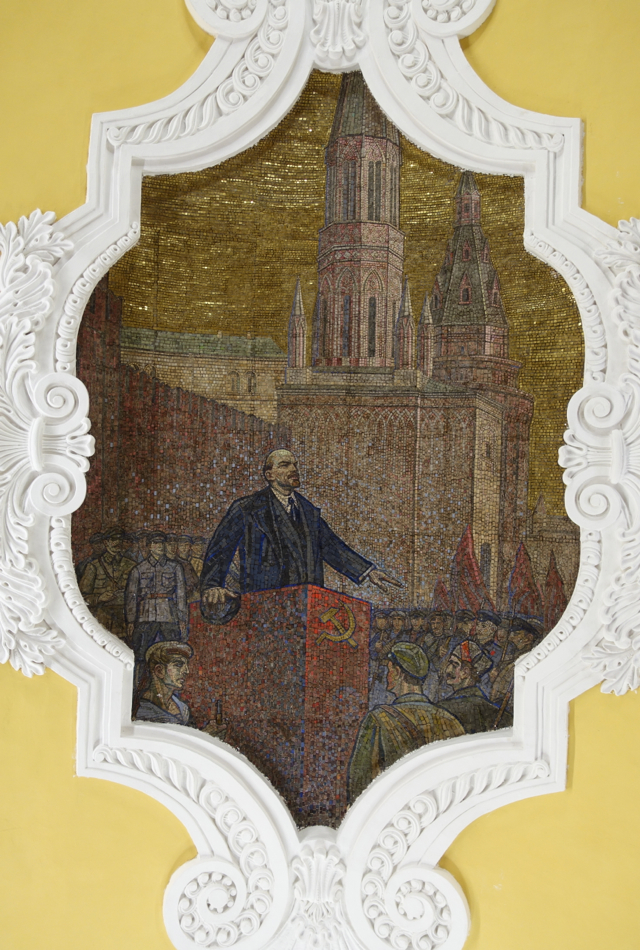 Here's the original version: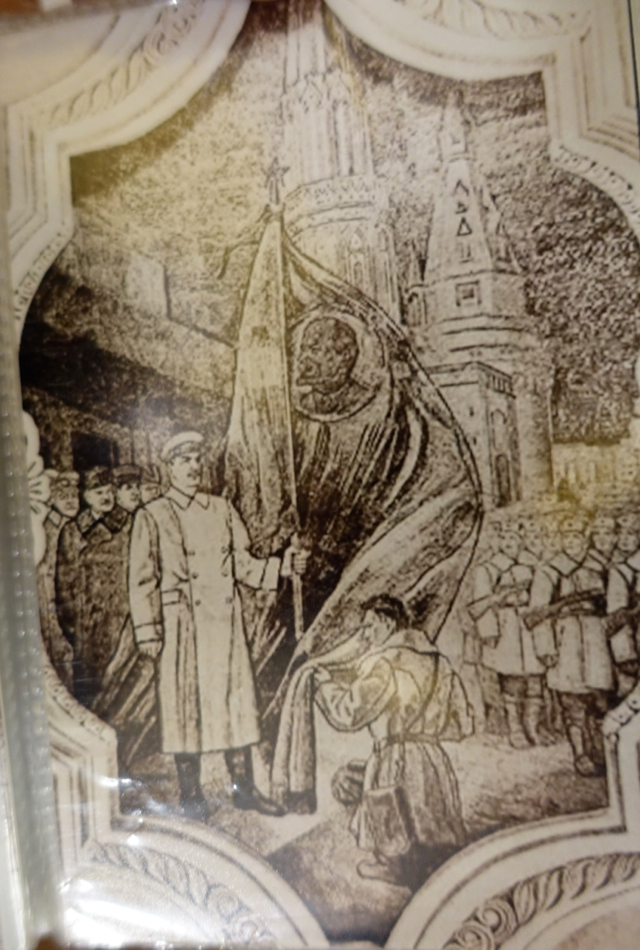 My favorite mosaic was this one, at Novoslobodskaya, with a woman and child. I've nicknamed it the Peace Mosaic, since the words read "peace throughout the world":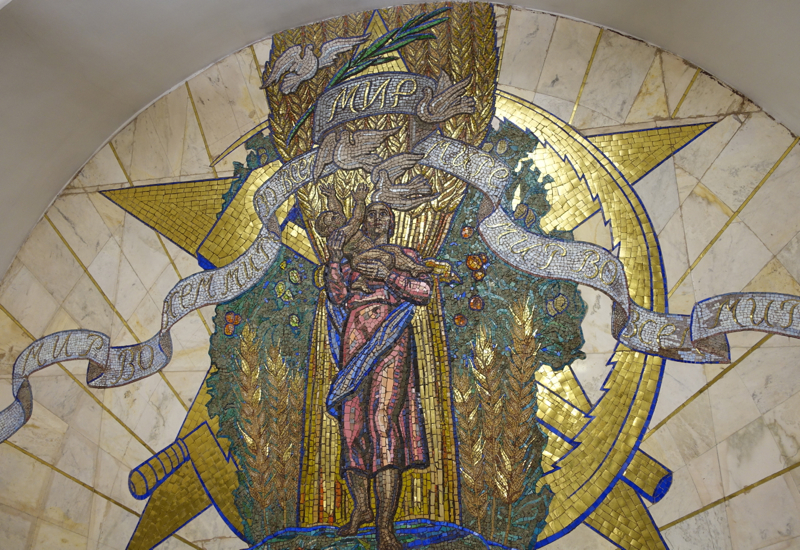 Yet even here, that big word "мир" (either peace or world–since in Russian the word can have either meaning, depending on context) was not in the original. No prizes for guessing what was: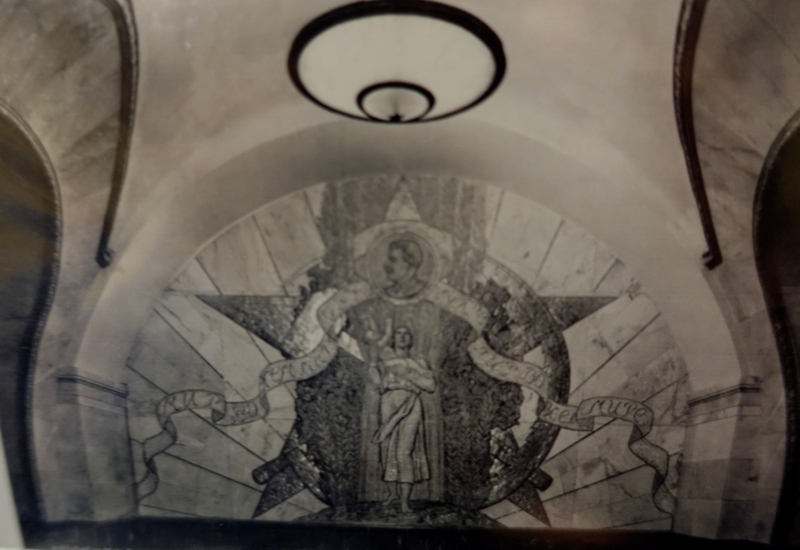 2. Bronze Statues at Ploshchad Revolyutsii
There's a reason the 76 bronze statues at Ploshchad Revolyutsii look so realistic and in such natural poses: they're based on real Soviet citizens. They didn't pose for sculptor Matvey Manizer, however–instead they were taken from photos in newspapers. I especially like the one of these schoolgirls studying a globe: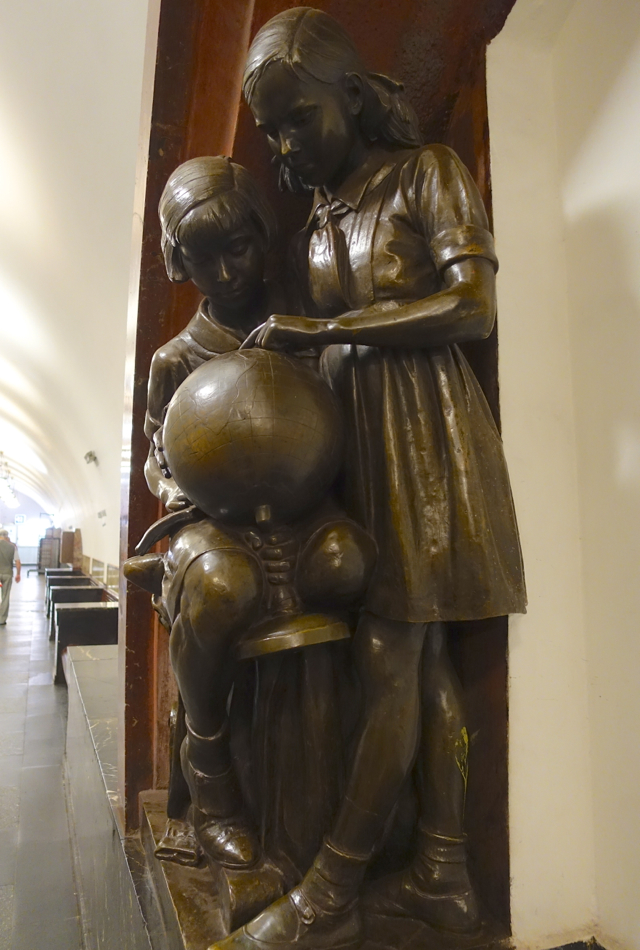 You'll notice that on many of the statues, such as the pistol of this soldier, there's a part that is shiny from being touched. It's thought to bring good luck, and even during our visit, we saw several commuters reach out and touch the pistol without breaking a stride.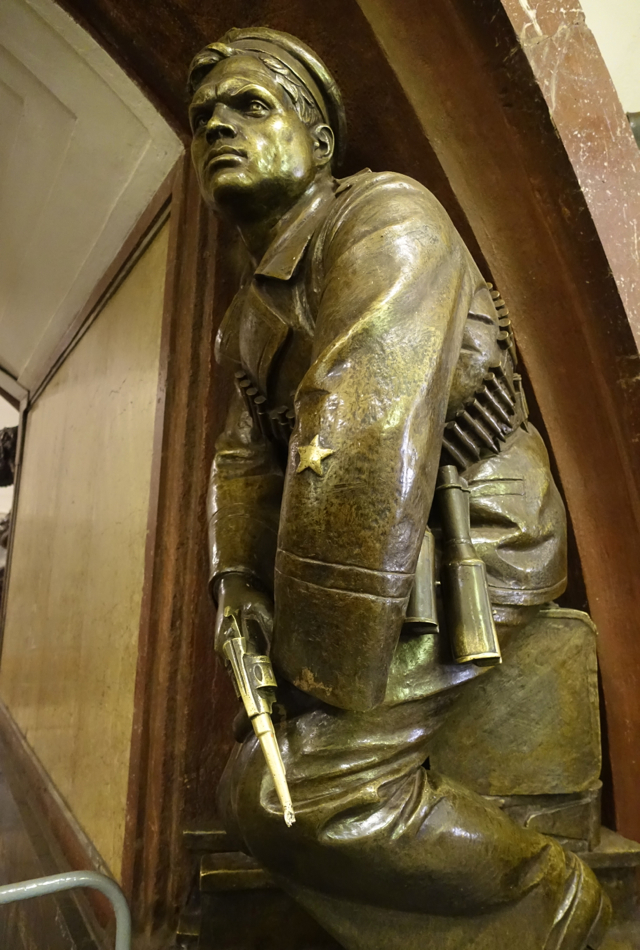 Of course my son had to try it himself, touching the foot of this bronze baby: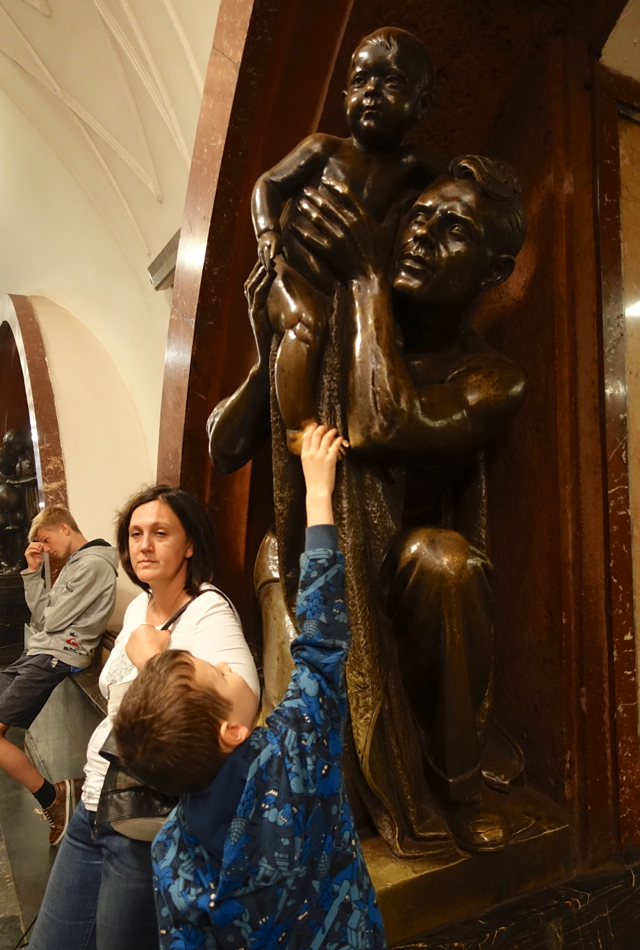 3. Is That a Cell Phone and Laptop in the Mosaic?!
Maria pointed out to us a mosaic where, at first glance, it resembles someone using a cell phone and a laptop computer. Although in point of fact it's a soldier using a field telephone, it was fun to be privy to a local joke.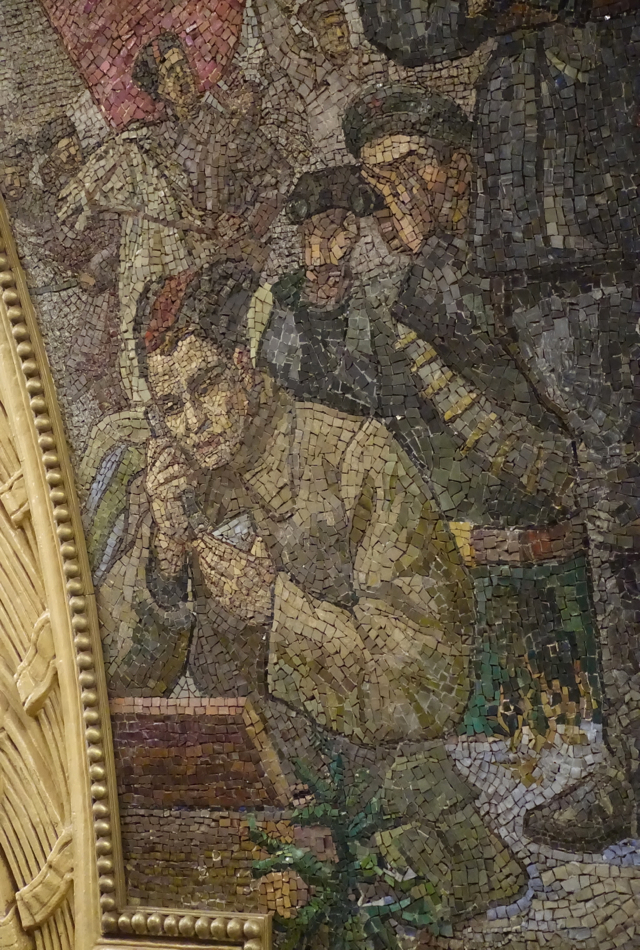 4. Stained Glass at Novoslobodskaya
Novoslobodskaya remains one of my favorite stations, for its unique use of stained glass, the work of Soviet artist Pavel Korin. Many of the panels honor a particular profession, such as musicians in this piece: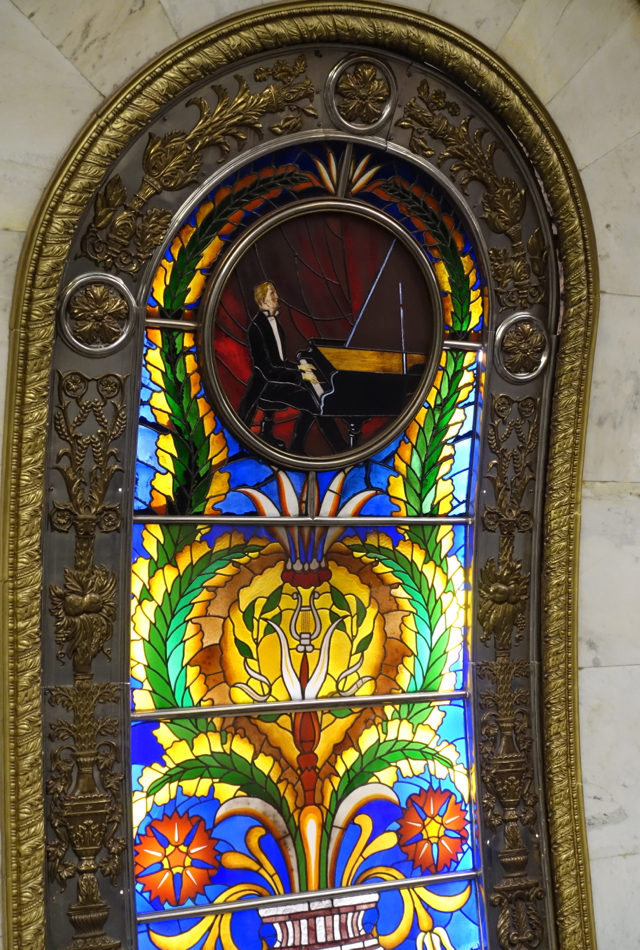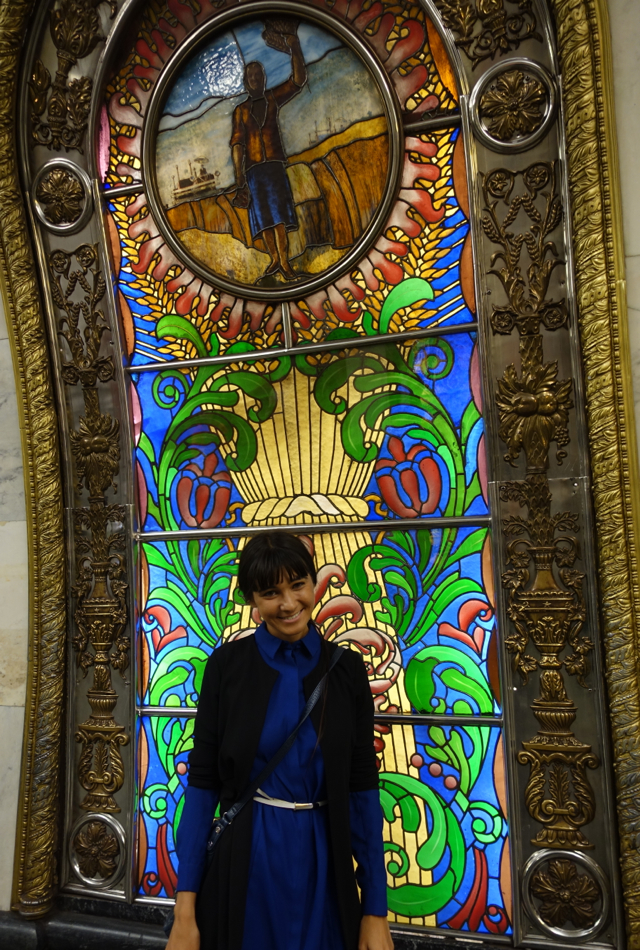 5. Mayakovskaya Then and Now
Mayakovskaya was one of the Moscow Metro stations used as a bomb shelter during World War II, which in Russian is known as Великая Отечественная Война (the Great Patriotic War). In fact, over 100 babies were born in Mayakovskaya station alone during the war.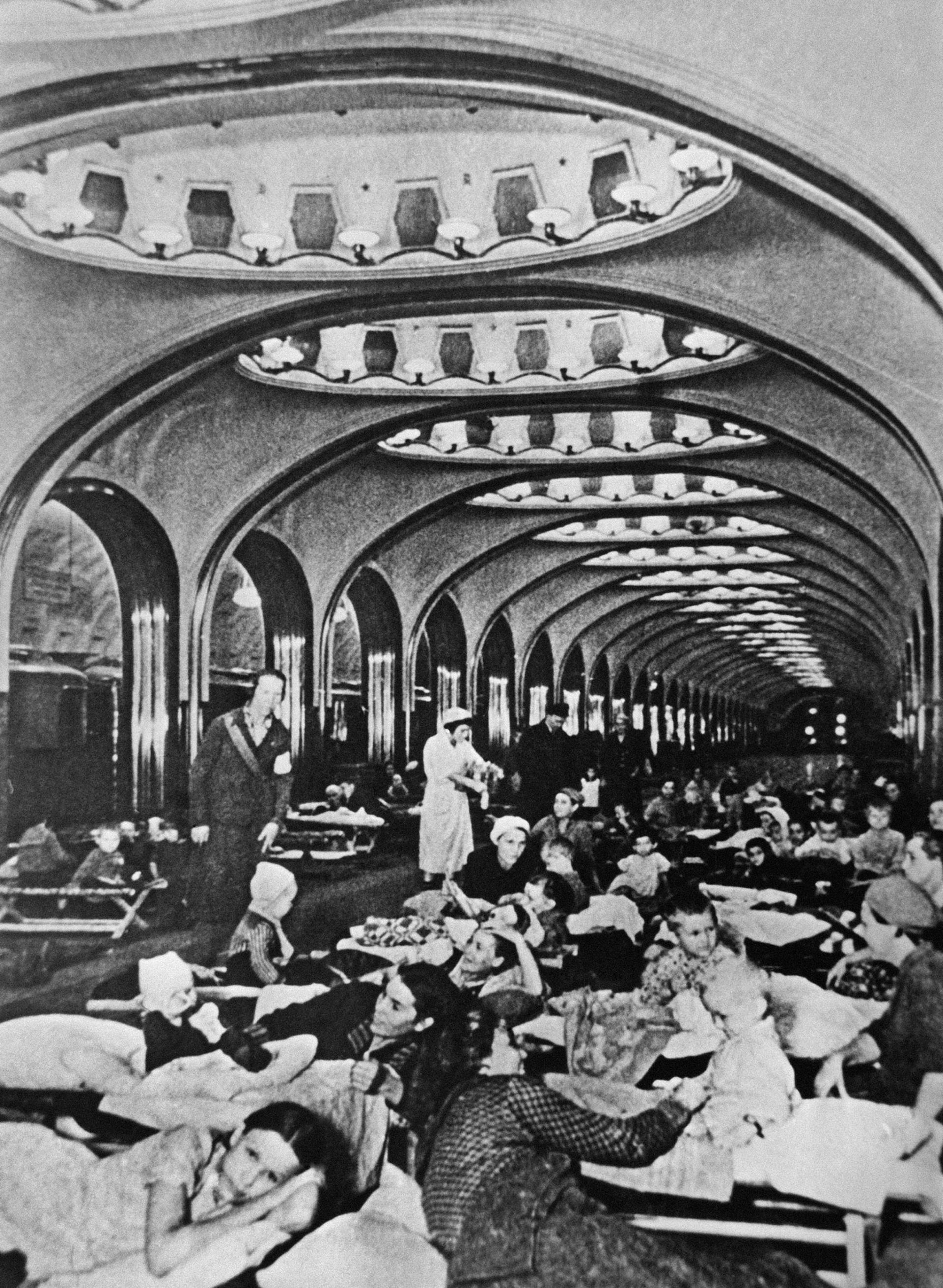 Today you can see not only Mayakovskaya Station's original mosaics, by noted Soviet modernist artist Aleksander Deyneka, but also the striking ceiling mosiac with poetry by Vladimir Mayakovsky, the Soviet poet after whom the station is named.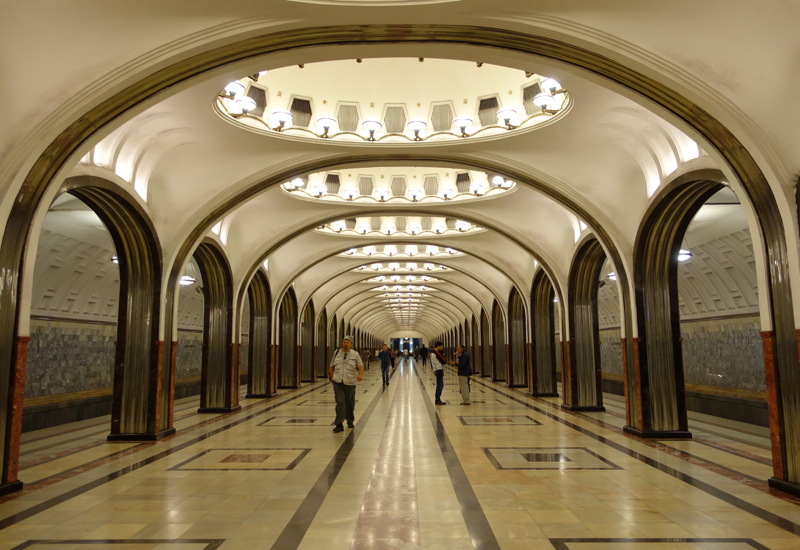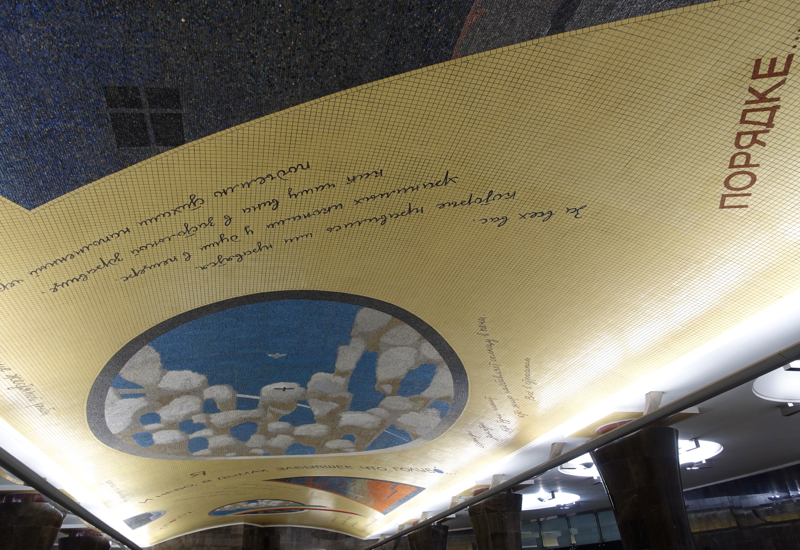 The Verdict
A tour of the Moscow Metro is a must for anyone interested in art, history, or subway systems, and we were very happy with our private tour from Maria of Happy Moscow Tours. She was able to tailor a tour that interested my 7 year old son, and was flexible and responsive when we wanted to spend more time in a given station or had a slew of questions.
Have you ever taken a tour of the Moscow Metro?
Related Posts
Getting Around Moscow by Metro: Top 10 Tips
The Most Beautiful Subway Stations in the World
Review: Ararat Park Hyatt Moscow Hotel
3-Year Russian Visa Application Requirements and Tips
Disclosure: I paid the regular rate of RUR 4000 + tip for our tour.
Need Award Booking Help? Our fee is as low as $75 per ticket if you book your hotel or cruise with us.
If you enjoyed this, join 200,000+ readers: please follow TravelSort on Twitter or like us on Facebook to be alerted to new posts.
Become a TravelSort Client and Book 5-star hotels with Virtuoso Perks and Four Seasons Preferred Partner Benefits