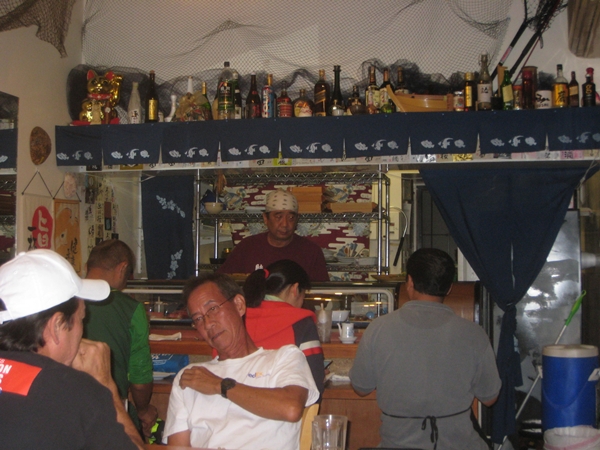 While in Hawaii, my husband and I had a craving for sushi, which led us to Morio's Sushi Bistro. I had first thought of Kona Kai Sushi, which we recommended in Where to Eat in Honolulu, Hawaii: Hidden Gems, but Kona Kai's forte is inventive sushi, many with sauces, and we were in the mood for a more traditional sushi omakase, and Morio's Sushi Bistro fit the bill, since we wanted a small, not touristy place with great fish and reasonable (for sushi) pricing.
Before going, I'd read that Morio's is BYOB and beer for Morio and his staff is appreciated, especially Heineken Light, so that's what we brought. It reminded me of my grandfather, who was very much a Heineken fan as well (although not a sushi chef).
Morio's is not in Waikiki, but rather at 1160 South King Street, so expect a 10-15 minute drive or taxi ride from Waikiki. It's a tiny place, with only about 5 tables and the sushi bar, and is no frills–no need to dress up at all, even though we did see a couple of tourists who were dressed to the nines and looked rather out of place.
Don't be put off by the lack of atmosphere or style though–there's plenty of great sushi and other food to be had.
We ordered two sushi omakase (one 12 piece and one 16 piece) and some softshell crab for the munchkin, since he doesn't like sushi yet.
Our server graciously accepted our Heineken beer, and soon brought out a salad to start off our omakase. Standard but fresh and good: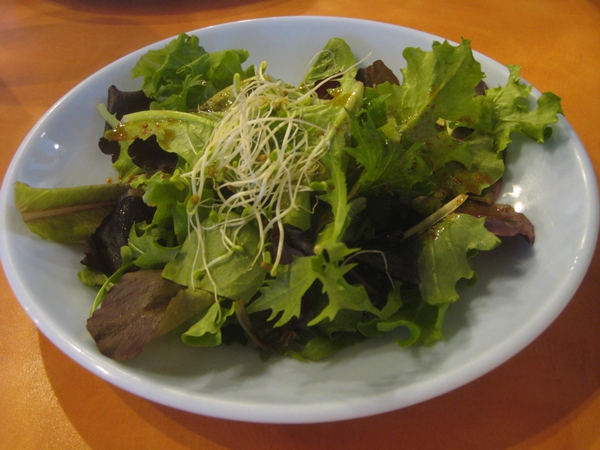 Soon after she offered us some tasty omelette slices and salted edamame. You wouldn't think a simple omelette could be so tasty, but this was delicious. While not exactly the traditional tamago (slightly sweet egg omelette used on sushi) since this had veggies in it, it reminded me of the Japanese tradition of judging a sushi bar by a single piece of tamago sushi. This is what a sushi patron trying a new sushi bar traditionally orders first, and if it doesn't pass muster, one simply leaves, since if a sushi bar can't get this simplest of sushi pieces right, there is no reason to stay. Not that we're either sushi connoisseurs (although I have had my fair share of great sushi, having lived in Japan for a year) or that fastidious, but in any case, if we were to judge by this simple omelette, we were off to a great start. The munchkin agreed, and promptly devoured one and a half of the three slices.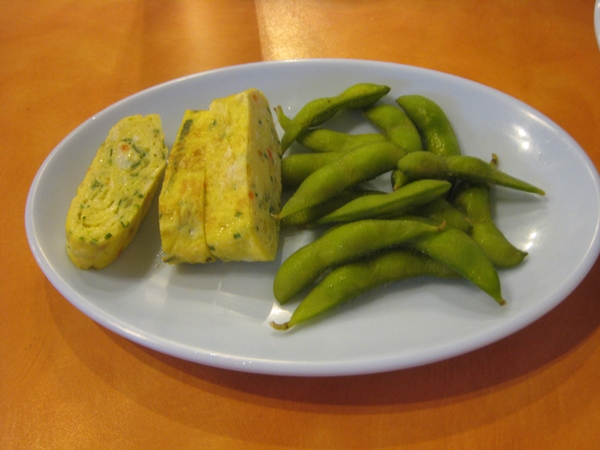 We were then brought an extra little course of a Korean pancake, according to our server, to thank us for being patient (since Chef Morio was busy preparing sushi for a couple of guests that had ordered before us). It was just as good as my favorite NYC Korean place, which sometimes offers complimentary slices of a similar Korean pancake to us, as part of the ban chan (small dishes that precede the main meal at a Korean restaurant). This was also adored by the munchkin, who easily ate half of the pancake by himself.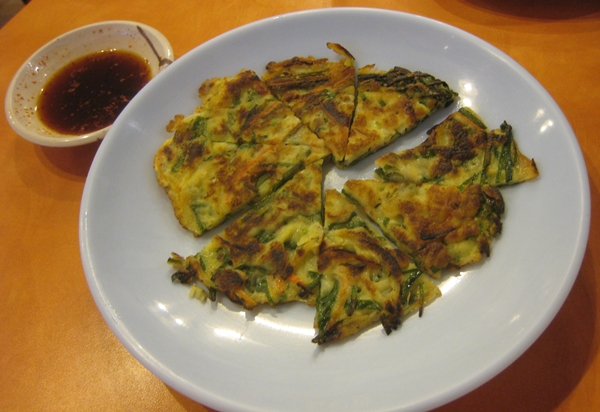 I had thought that sushi would be next out, but instead, we were brought the softshell crab we'd ordered for the munchkin. It was so good, with its light, crispy exterior, that I only managed to take a picture after my son and husband had already consumed half of it.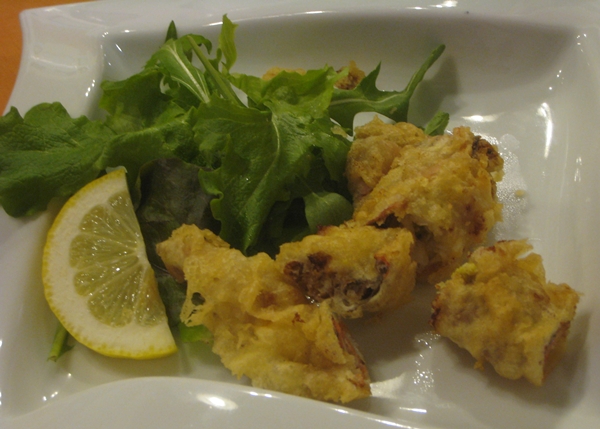 We even were brough an extra course of tempura, as a thank you for bringing Heineken for Chef Morio and his hardworking colleagues. I don't normally like eggplant, but I'd eat tempura eggplant anytime if it was as good as the pieces included with this fish and vegetable tempura: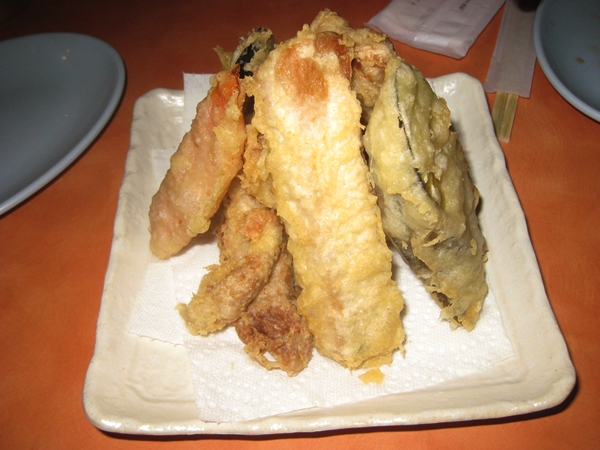 Finally, after all the delightful small plates, we were brought our omakase all beautifully arrayed on a huge platter. There were standard pieces of tuna, salmon, shrimp, etc. but my favorites were the ama ebi (sweet raw shrimp, with the head made into tempura), melt in your mouth hamachi, scallop, oyster with ponzu, and anago. We hadn't taken all the small dishes into account, so we actually couldn't finish it, and instead took it for my brother, whom we were visiting right afterwards.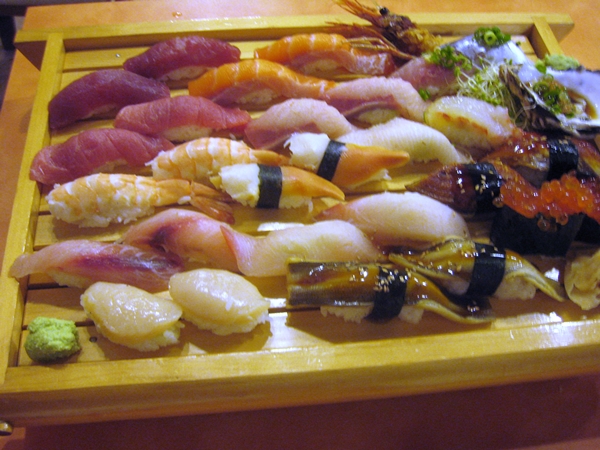 Total damage? $90 including tip–very reasonable for this quality and quantity of food, especially since we slightly overordered. Naturally, we used our Sapphire Preferred for 2X points. Morio's Sushi Bistro is great if you enjoy traditional style sushi and don't mind the no frills setting. Bonus points for not batting an eye that the third person in our party was a 4 year old; they even moved us from a two-top table with a stool to a more comfortable table for 4, which was very appreciated. And at the end of the meal, after checking with us first, they brought our son a Whole Foods fruit popsicle, which he loved! I mean, where else can you have great sushi omakase and have staff that welcome your 4-year old?
If you go, here are some tips:
It's not a good place for a large party; plan on reserving for 2-6 max
Make sure you make a reservation well in advance. We were lucky and managed to get a reservation about 3 days ahead, but you should really call at least a week in advance:

(808) 596-2288

Note that there are two seating times, given the small space: 6:30pm (which worked well for us, since we wanted an early dinner given the munchkin's bedtime) or 8:30pm. Arrive promptly, and if you're the early seating, expect to finish up your meal by 8:15pm
Bring your own beer or sake (no corkage) and make sure to have enough to give some to Morio!
Related Posts
Where to Eat in Honolulu, Hawaii: Hidden Gems
Le Bistro, Honolulu Restaurant Review
Luxury for Less: The Top 5-Star Honolulu Hotels
10 Things You Shouldn't Miss in Honolulu, Oahu
Tips for Booking Award Flights to Hawaii
Need Award Booking Help? Our fee is as low as $75 per ticket if you book your hotel through us.
If you enjoyed this, join 200,000+ readers: please follow TravelSort on Twitter or like us on Facebook to be alerted to new posts.
Become a TravelSort Client and Book Your Hotel with Virtuoso or Four Seasons Preferred VIP Amenities!