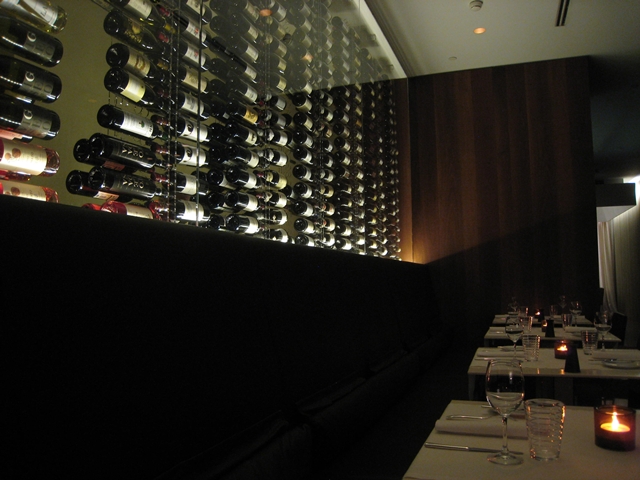 This miX in W St. Petersburg restaurant review is part of a trip report including First Class and Business Class to Moscow on Lufthansa, with reviews of luxury hotels and dining in Moscow and St. Petersburg, Russia.
For the prior posts, see:
Lufthansa First Class Award Booked 15 days in Advance
Lufthansa New First Class Review
Review: Lufthansa First Class Lounge in Munich
3-Year Russian Visa Application Requirements and Tips
Radisson Royal Moscow Hotel Review
8 Things to Eat in Moscow, Russia
Les Menus par Pierre Gagnaire at Lotte Moscow, Restaurant Review
Getting Around Moscow by Metro: Top 10 Tips
Sapsan Train Moscow to St. Petersburg Review and Booking Tips
miX in St. Petersburg has a menu inspired by Alain Ducasse and has generally received very good restaurant reviews, including acclaim from Time Out St. Petersburg as the best restaurant in St. Petersburg, so I put aside my normal reluctance to dine at hotel restaurants and made a 7pm reservation.
I ventured downstairs and was a little surprised and dismayed to find that so far, I was the sole guest. And in fact, over 90 minutes there, only one other small group of businessmen were seated. Granted, it was a weekday and not the weekend, but still–not an encouraging sign for supposedly one of the best restaurants in the city.
The friendly hostess invited me to choose where I wanted to sit, since I had the pick of the entire restaurant, and I seated myself in a booth table. Presently my server appeared, professional and also friendly, and provided me with a menu.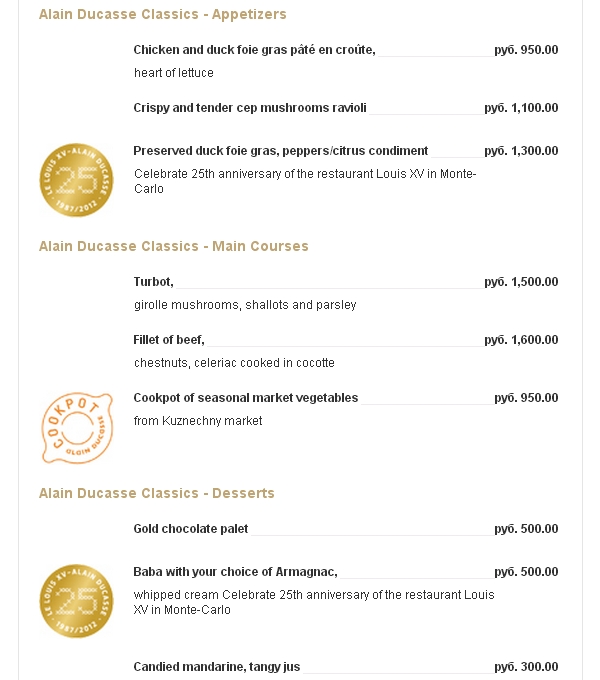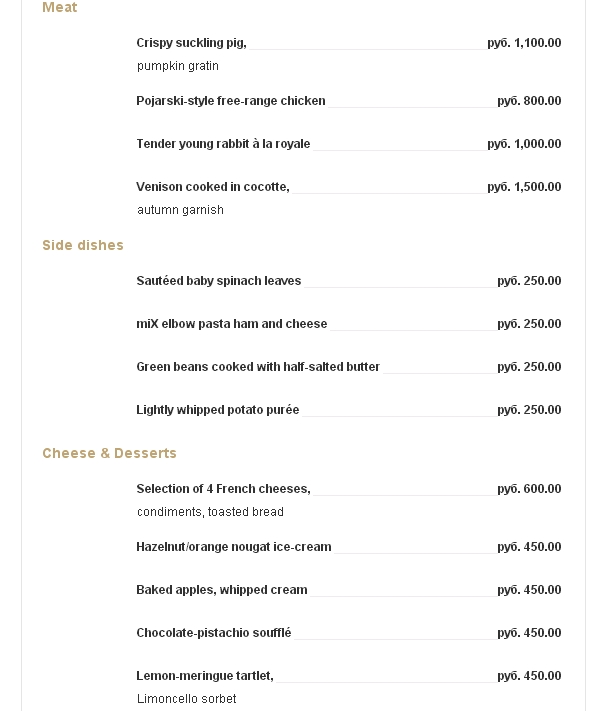 I had brought in a half bottle of wine that was a welcome amenity at the Lotte Hotel and asked the server if there was a corkage fee. She was flummoxed, so I switched to Russian to explain what that was, and she noted that it wasn't allowed to bring in wine, even if you're willing to pay a corkage fee. Fair enough, corkage is more common in U.S. restaurants. Since I was quite hungry, I opted for the Crispy Suckling Pig with Pumpkin Gratin, which, although my server said she herself didn't care for pork, assured me was popular among guests.
While I waited, reading a newspaper I had brought with me, the server brought some complimentary toast and creamy hummus style dip. It was fine, if not particularly French.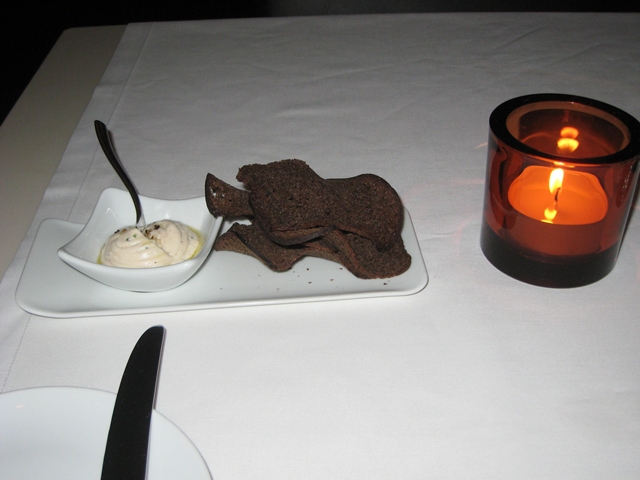 Next, my server offered fresh bread from a basket, and I opted for Russian brown bread. I wouldn't be surprised if they source this from Volkonsky by Maison Kayser, which has several bakery cafes in St. Petersburg as well as Moscow.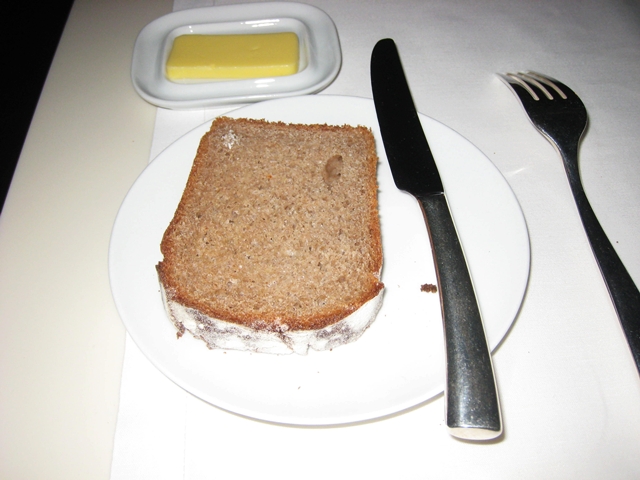 The best complimentary offering was a little "croque monsieur" ham and cheese amuse bouche. Not innovative and not a true croque monsieur, but a tasty bite nonetheless.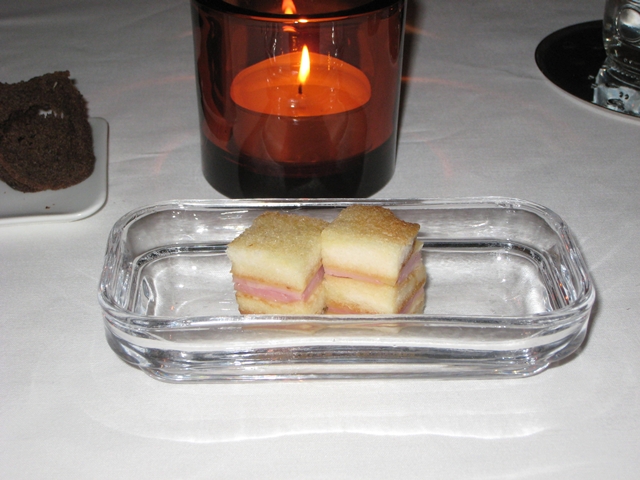 Eventually my suckling pig arrived, and I must say, I was pretty disappointed. The skin wasn't all that crispy and had a significant amount of fat that I left on the plate. Whoever is running the kitchen at miX really ought to have the suckling pig at ABC Kitchen from Chef Dan Kluger or at Eleven Madison Park from Chef Daniel Humm, to taste what a truly great suckling pig tastes like.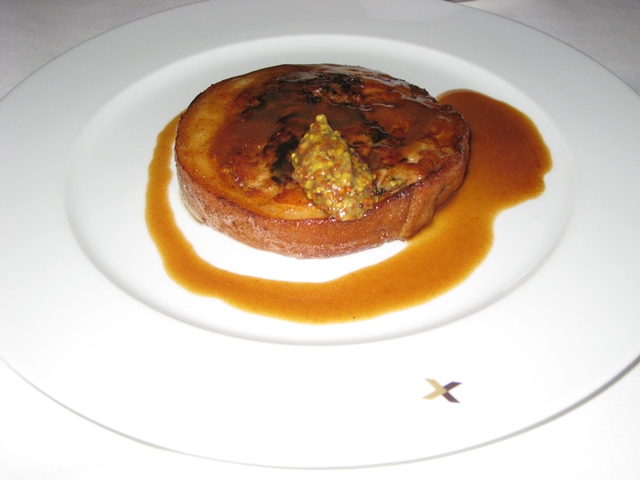 The pumpkin gratin it came with was ok, but very one dimensional in flavor. Given that I threw together a quick dinner tonight of Berkshire pork chops with pear brandy cream sauce that was (in my humble opinion) a lot tastier than this, I really can't recommend ordering the suckling pork here, although who knows, perhaps some of the other dishes are much better.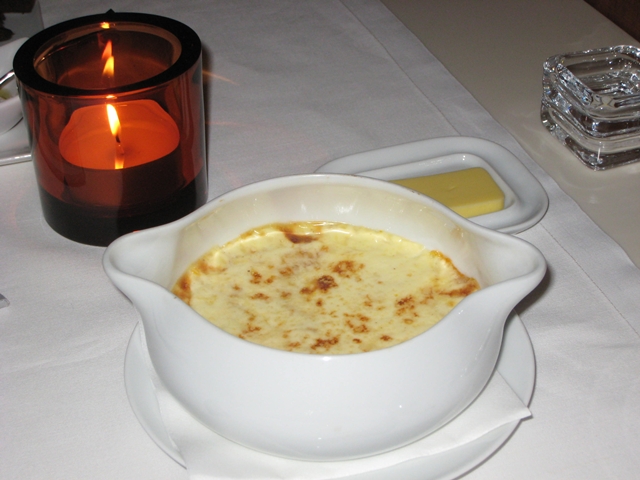 All was not entirely lost. I decided to order the chocolate pistachio souffle, and although it took half an hour to prepare, this was definitely the highlight of the meal. Texture wise it was about as good as the souffle we had at Metis in Seminyak, Bali, although it wasn't quite chocolatey enough for me. The housemade pistachio ice cream was delicious and the perfect accompaniment. If you're a dessert person, I'd recommend ordering the souffle, keeping in mind you want to order it at least half an hour before you want it to arrive.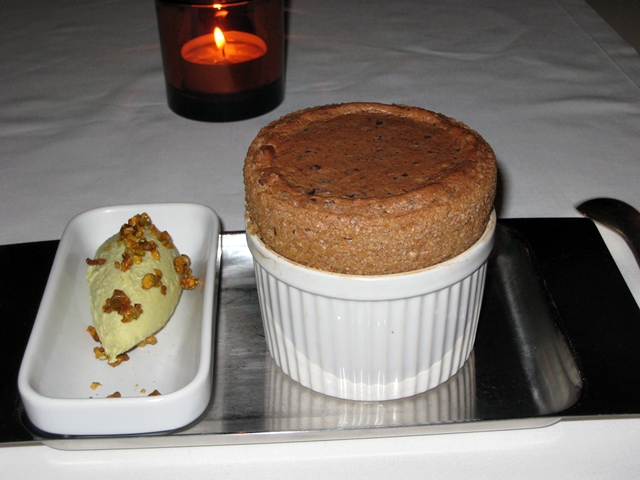 The Verdict: Perhaps I'm being a bit harsh, having only sampled a few dishes and since the prior night I'd experienced a fantastic tasting menu at Les Menus par Pierre Gagnaire at the Lotte Hotel Moscow, but I was overall just not impressed with miX at the W St. Petersburg. Although they assured me that Alain Ducasse would be personally visiting soon, and perhaps the Alain Ducasse "Classic" dishes are indeed stellar, I get the sense that the cooking here is just not close to the standard of Les Menus. Service during the meal was good, although when I was ready to pay my server was nowhere to be found and I had to enlist the hostess to help me find her, despite the restaurant having only one other party at the time. I used my AMEX Prepaid card filled with refills bought with my Ink Bold to receive 5X Ultimate Rewards points and no foreign transaction fees, but since I can no longer consistently find refills, in the future we'll end up using the Sapphire Preferred for 2.14X and no foreign transaction fees. When I'm back in St. Petersburg I'll explore other restaurants, but will come back to miX for the chocolate pistchio souffle.
Related Posts
Top 5-Star Luxury Hotels in St. Petersburg
A Romantic Trip to St. Petersburg, Venice of the North
St. Petersburg, Russia with Kids
Sapsan Train Moscow to St. Petersburg Review and Booking Tips
Check out and apply for the Best Travel Credit Cards.
If you enjoyed this, please follow TravelSort on Twitter or like us on Facebook to be alerted to new posts.
Become a Member to find your perfect luxury or boutique hotel at up to 50% off: TravelSort Hotels