Recently, TravelSort member Andrea asked this question:
Do SPG Cash & Points stays earn stay and night credit toward elite status?
Andrea pointed me to her reservation form, which she took a screenshot of, where under the Terms and Conditions it says (bolding mine):
"Guests will not receive Starpoints or airline miles for their reservation; therefore, a Cash & Points stay does not qualify as an eligible stay toward earning elite level or toward any promotions requiring nights or stays"
I did a double take when she quoted this, and did a mock reservation myself to confirm what she was referring to. Sure enough, here it is: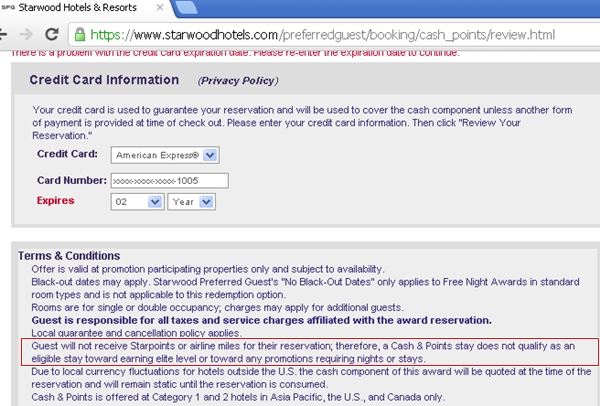 Now, earlier this year Starwood Preferred Guest announced new elite benefits and amenities. To recap, SPG Gold Members with 25 nights or 10 stays per calendar year, Platinum AMEX cardholders and SPG AMEX cardholders with $30,000 in annual spend receive one of three welcome amenities (250 bonus Starpoints or free in-room Internet or complimentary beverage) and ALL eligible SPG stays count, including paid stays, free night awards and cash and point awards.
I double checked the Cash & Points section of the SPG site, and it confirmed (bolding mine):
"Cash & Points Award stays and nights do not qualify toward any promotions requiring stays or nights; however, Cash & Points Award stays and nights from October 1, 2011 onward do qualify as an eligible stay or nights toward earning elite levels."
So the upshot of all this is that there's some outdated language floating around with some properties' terms and conditions, but SPG Cash & Points awards DO count toward elite status, although they aren't eligible for Starpoints.
Here's the SPG Cash & Points Award Chart: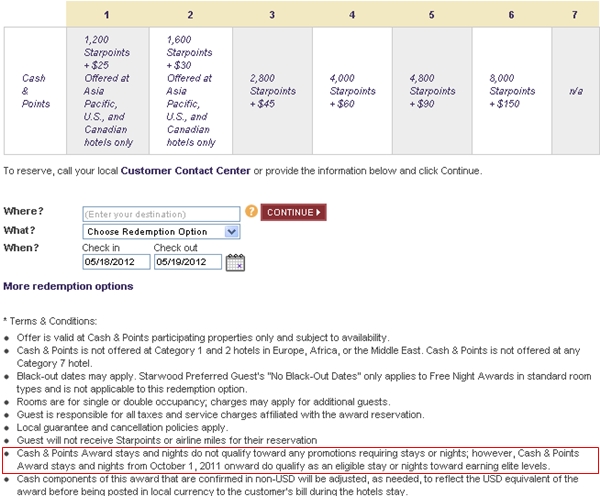 Tips for SPG Cash & Points Awards:
Category 7 hotels, such as the St. Regis Bora Bora, Gritti Palace in Venice, W Paris-Opera, etc. do not offer Cash & Points. There are a number of St. Regis properties that are Category 6 and that do sometimes offer Cash & Points, however.
Cash & Points awards are often the best value option, when available. For example, I've redeemed 8000 Starpoints and $150 when an equivalent revenue rate was around $450, getting 3.7 cents per SPG point.
Make sure you do the math though, because sometimes they aren't good value. For example, a recent Cash & Points offer at the St. Regis Bangkok for the standard 8000 Starpoints + $150 for a Category 6 property wasn't good value, because revenue rates were only the equivalent of $180 plus tax. That would be less than half a cent per SPG point! No thanks.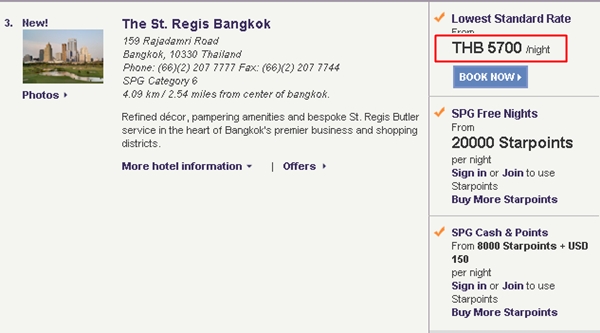 Cash & Points awards, unlike free nights awards, are subject to blackout dates. So don't be surprised if during peak periods there are none available.
The cash component of Cash & Points awards is subject to taxes.
As mentioned above, Cash & Points awards do NOT earn Starpoints (Thanks to SPG Insider and commenter Douglas N. for confirming). Because of this, you may as well forego putting the cash component on your SPG AMEX, and instead use your Sapphire Preferred or Ink Bold to get 2x UR points for hotel spend, in lieu of Starpoints.