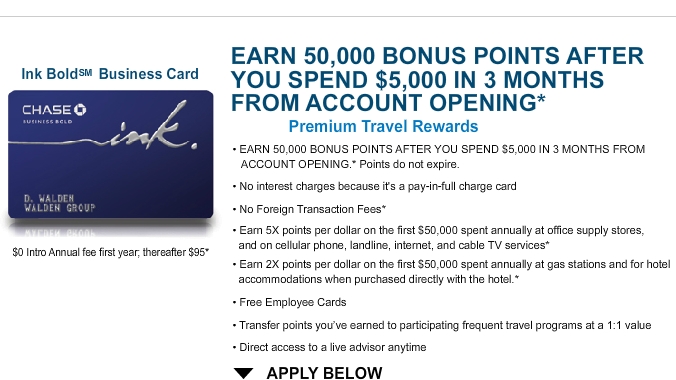 Update: Best offer now is Ink Bold Business Card – 50,000 bonus points after $5,000 spend within 3 months
If you have been considering the Chase Ink Bold Business Card, you may want to apply through the above link soon: Chase has now changed its official Ink Bold Business Card offer to provide 50,000 points after spending $5,000 on the card within the first 3 months. $5000 is better than the prior offer of $10,000 spend to get the full bonus, so I'd recommend applying for the card now under this lower minimum spend offer.
Let's say you've applied for or recently received the Chase Ink Bold Business Card–how best should you meet the $5000 minimum spend? We have some tips for maximizing Ultimate Rewards points while meeting minimum spend:
1. Switch over your phone, Internet and cable bills to the Chase Ink Bold Business Card
The Ink Bold Business Card offers a 5X bonus for "merchants that classify their merchant location for Visa/MasterCard in any of the following categories: wireless/telecommunicatioins services (excluding equipment such as phones and fax machines), cable and satellite television and radio services…" so you want to make sure you're getting the full benefit of this 4X bonus as soon as possible after receiving and activating your card.
2. Buy office supplies by first clicking through the Ultimate Rewards Mall
The Ink Bold Business Card offers a 5X bonus for "office supply and wholesale distributors of office supplies…" Note that superstores, warehouse clubs and discount stores are excluded, so don't expect to get any bonus points on Costco, Sam's Club etc.
But don't miss out on additional Ultimate Rewards points by visiting Office Depot, etc. in person–go through the Ultimate Rewards Mall, so that you can receive additional bonus points when buying office supplies. Bonuses do change month to month, but currently, for April, these are the bonuses when clicking through the Ultimate Rewards Mall:
Office Depot: 10X
Office Max: 3X
Staples: 2X
So if possible, go through Office Depot so you can receive 10X in addition to 5X as an Ink Bold bonus category. Shipping is free with a minimum $50 purchase.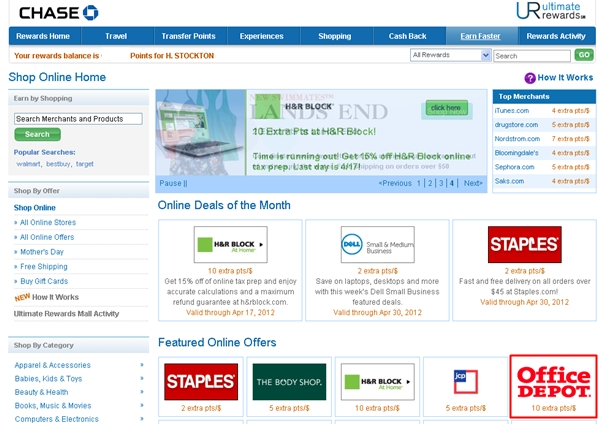 3. Book hotels using the Chase Ink Bold Business Card
Hotels is another Chase Ink bonus category: you receive 2X bonus points when booking directly through the hotel. Again, don't forget to check if you can get an additional bonus by clicking through the Ultimate Rewards Mall. In April, these are the bonuses for some of the major chains:
InterContinental Hotels Group: 4X
Holiday Inn/Holiday Inn Express: 4X
Marriott: 3X
Best Western: 3X
Choice Hotels: 3X
Westin: 2X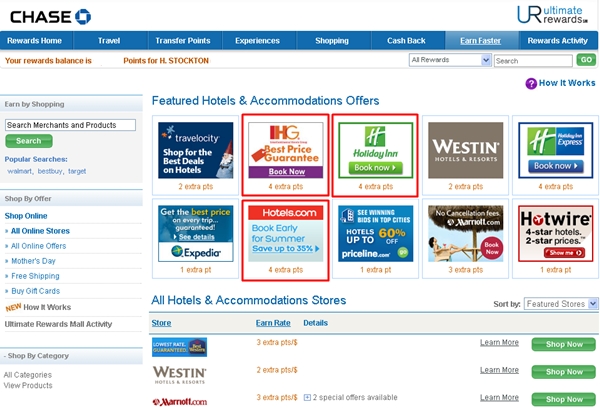 4. Book hotels through a travel agency
As I wrote in Chase Ink Bold Benefits Include 2X Points for TravelSort, Travel Agencies, if you applied through our link a month or more ago, you probably had the same offer terms I did, which awards 2X points not only for direct hotel and motel spend, but also spend through travel agencies. I called up and confirmed it for my card and recently confirmed that my travel agency spend did indeed receive the 2X bonus. If this bonus is important to you, you may need to call up and confirm it, because I've noticed that since then, Chase has changed the offer language to clearly state that only direct hotel/motel spend receives the 2X bonus.
If you have confirmed the travel agency spend bonus, you could even try to double dip via the Ultimate Rewards Mall, for Hotels.com (4X) and Travelocity (2X). While I assume they are categorized as travel agencies, I don't know for sure, since I don't use them (TravelSort has better prices!) but you could try.
5. Buy gas, if you don't have the Chase Freedom
If you have the Chase Freedom, you'll probably prefer to receive your 5X bonus for Q2 (April-June) for gas purchases, but if you don't, you could use the Ink Bold to receive a 2X bonus.
6. Buy gift cards in office supply stores
You can buy gift cards for a number of merchants at your local Staples and some other office supply stores. In fact, if you don't want to be tied to a specific retailer, you can buy Visa gift cards and use them pretty much anyplace that takes credit cards. Just be careful not to lose them; I would also think twice before putting major purchases on them that I might have cause to return or want purchase protection on.
Even with the current low Ultimate Rewards Mall bonus of just 2X for Staples and the fact that the largest denomination online is $100, you're best off buying online, unless you happen to find a local Office Depot that offers $500 denomination cards for a fee of $4.95. See the chart below, with thanks to Frequent Miler for finding these values.
You can conceivably triple dip by using a Staples Visa gift card to purchase through the Ultimate Rewards Mall, although anecdotally it seems you have the best chance of receiving points for the entire purchase if you use a gift card in combination with a credit card. Obviously in the case of a $500 gift card bought at Office Depot this will need to be a pretty significant purchase; the $100 cards are more manageable.
Even if you use it offline, a 4.4-4.5X bonus on all spend is pretty amazing, assuming you value Ultimate Rewards points at 2 cents per point (by transferring them to United MileagePlus and redeeming for business or first class flights on Star Alliance partners).

Related Posts
Earn 1 Million Miles and Points a Year Without Flying
5X Points for All Amazon Spend
Make Your Own 100,000 Credit Card Bonus Offer
Chase Exclusives Bonuses: Maximize Chase Freedom Ultimate Rewards
Do you have any tips to add about meeting minimum spend for the Chase Ink Bold while also gaining additional bonus points? Share your tips in the comments!
Check out and apply for the Best Travel Credit Cards.
If you enjoyed this, please follow TravelSort on Twitter or like us on Facebook to be alerted to new posts.
Become a Member to find your perfect luxury or boutique hotel at up to 50% off: TravelSort Hotels