Update: You'll need to call British Airways for accurate award availability: United.com is *not* a good proxy for what is actually available using Avios.
Update–after yesterday's post Maximizing British Airways Avios-Fly Aer Lingus to Europe and Avoid Fuel Surcharges, one of my relatives wanted to know more about using British Airways Avios to fly Aer Lingus from Boston to Dublin, I did another search on United. And lo and behold, Aer Lingus BUSINESS CLASS is showing up at the Saver Award level!
This is fantastic–you can use 50,000 Avios to fly business class roundtrip to Europe from Boston (as mentioned, New York to Dublin is farther, so it would be 80,000 Avios). Now, before you get too excited, the Aer Lingus Business Class seat is flat, but angled, so it isn't as good as British Airways or other true flatbed seats. The soft product–inflight service, food and wine, etc,–generally gets very good reviews, however.
You can currently book up to March 16, 2013, and availability includes most dates this summer.
If you don't yet have British Airways Avios, you can apply for the British Airways Visa and get up to 100,000 Avios, with 50,000 rewarded upon first use of the card. You can also take advantage of the current 50% AMEX Membership Rewards transfer bonus to Avios through May 31. See 50 Percent AMEX Transfer Bonus to British Airways Avios-Best Deals. This means that if you transfer 34,000 AMEX Membership Rewards points, you can get a business class roundtrip to Europe from Boston, with less than $150 in taxes and fees!
Not sure if this is a fluke or will continue, so if you were planning award flights from Boston to Europe anyway, suggest you book sooner rather than later.
Many folks are disappointed by just how much fuel surcharges, fees and taxes add to the cost of flying British Airways to Europe. In almost all cases, you'll pay over $600 roundtrip per person in fuel surcharges, taxes and fees for economy awards (World Traveller) on British Airways from the US to Europe, and over $1000 roundtrip per person for business class (Club World), in addition to the Avios points required for the award. These fees usually mean it's not worth redeeming Avios for economy travel to Europe, because you could buy these tickets at close to the same price that the fees alone would cost on an award ticket.
Premium class tickets, however, are usually so much more expensive as revenue tickets that even with the hefty $1000 per person fees on the award ticket, business and first class award tickets can be a good redemption, especially with the British Airways "Travel Together" Companion Ticket that you get after spending $30,000 or more on the British Airways Visa in a calendar year.
Let's look at what award tickets to Europe cost you when flying British Airways.
Example 1: British Airways Boston-London, Economy: 40,000 Avios + $654 in fees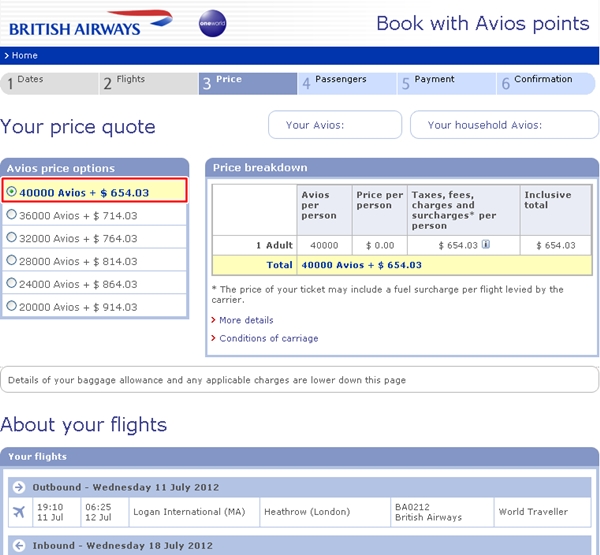 Example 2: British Airways Boston-London, Business Class: 80,000 Avios + $1097 in fees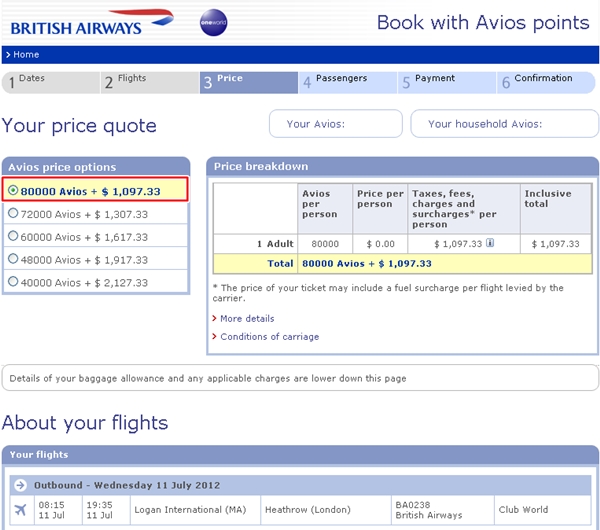 So you may well say–why not fly Spanish airline Iberia directly to Madrid, Spain, without going through London? Shouldn't that result in lower fees? Answer: yes, but not by that much, as our examples below illustrate. You only save about $100 in fees on the economy award ticket, and about $200 in fees on the business award ticket:
Example 3: Iberia NYC-London, Economy: 40,000 Avios + $551 in fees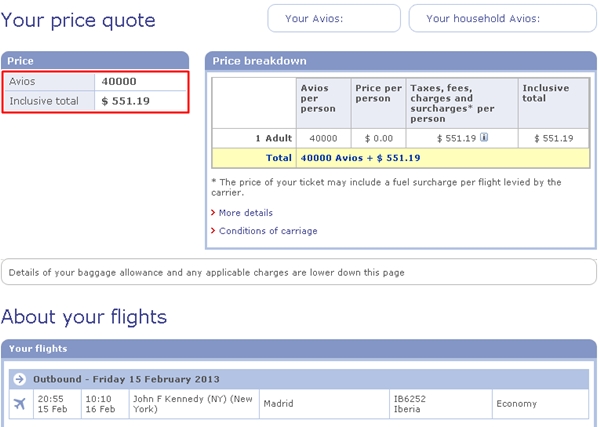 Example 4: Iberia NYC-London, Business Class: 80,000 Avios + $881 in fees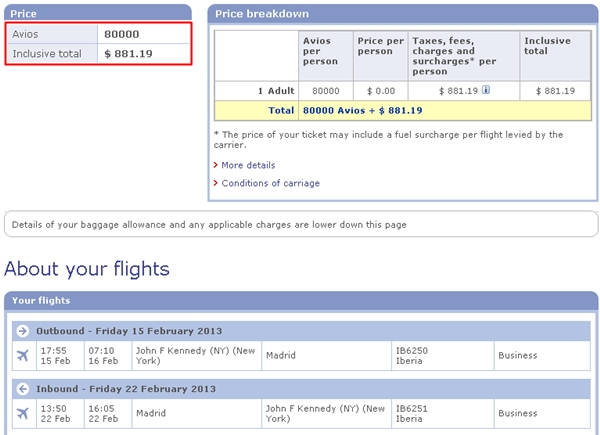 Now, you could also fly airberlin to Germany, but there are substantial fees on those award tickets too. Which brings us to non-oneworld Irish airline partner Aer Lingus. As we mentioned in our prior post, Aer Lingus has its main hubs in Dublin (DUB) and Shannon (SNN), and flies from US gateway cities Boston (BOS), Chicago (ORD), and New York (JFK).
While NYC and Chicago award flights to Dublin or Shannon require the same number of Avios as British Airways flights to London (40,000 Avios rt for coach, 80,000 rt for business), what's interesting is that Boston to Dublin or Shannon is 25,000 Avios. That's because British Airways now has a distance-based award chart:

A flight of 2001-3000 miles is 12,500 Avios one-way, or 25,000 Avios roundtrip, whereas a flight 3001-4000 miles is 20,000 Avios one-way, 40,000 Avios roundtrip. Guess what Boston-Dublin is? That's right, 2993 miles, so it just squeaks in under the 3000 threshold.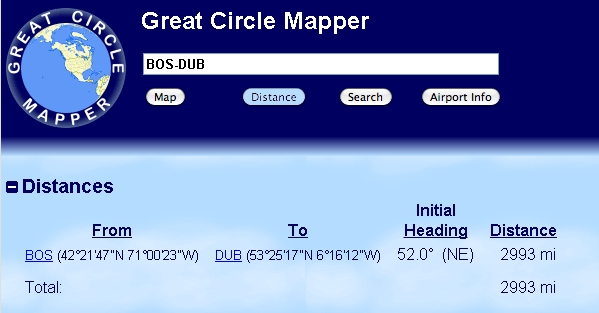 But what do fuel surcharges and taxes amount to for Aer Lingus? Unfortunately you can't view Air Lingus availability or fees using the British Airways Web site (because it's not a oneworld partner), so you have to call. It turns out fees for a Boston-Dublin economy roundtrip award ticket are just $146–that's over $500 in fees less than flying British Airways Boston-London, plus, as we noted, BOS-DUB is only 25,000 Avios, so you save 15,000 Avios! That means you could take your spouse, partner or friend to Europe if you get the British Airways Visa and just use it once (e.g. an apple from the grocery store) because you'll receive 50,000 Avios, enough for 2 roundtrip coach tickets from Boston to Dublin! If you have a family of 4, and both you and your spouse or partner get the British Airways Visa, that's 100,000 Avios, enough for 4 roundtrip coach tickets to Dublin from Boston.

Example 5: Aer Lingus Boston-Dublin, Economy Class: 25,000 Avios + $146 in fees
If your trip to Ireland is during the summer peak season, you would be paying about $800-1000 or more roundtrip for an economy ticket. That means that, after subtracting fees from the revenue fare, you'd be getting 2.7 to 3.6 cents per Avios point. That's by no means the highest redemption possible, but it's still quite good, especially for an economy award to Europe. Naturally, NYC-Dublin awards aren't as good value, given the 40,000 Avios points required–Boston to Dublin is comparatively a sweet deal.
Here's what summer revenue fares on Aer Lingus are running: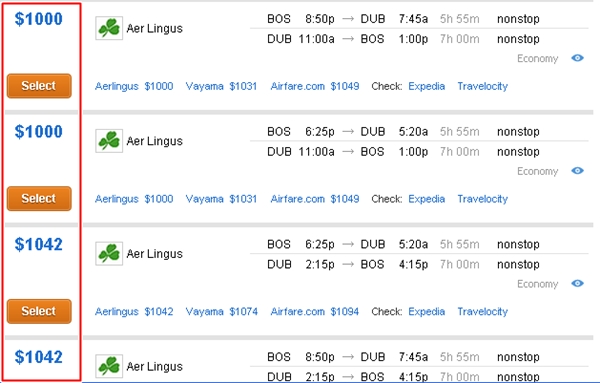 Now for the bad news: unfortunately, Aer Lingus does NOT seem to release any business class award seats to partners. Since United also has Aer Lingus as a partner and has an easy to check calendar, we checked every single month from now through next year, and not a single day had any business class availability.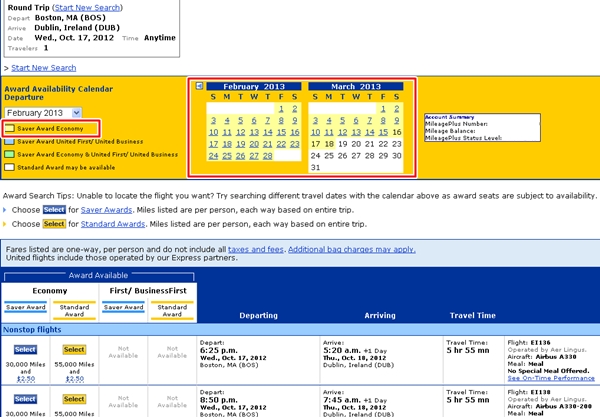 Also, if you're trying to get over to continental Europe, even though Air Lingus does have a number of direct flights to European destinations, Aer Lingus seems to release very few award seats for intra-Europe flights. You may just need to buy cheap revenue tickets on Aer Lingus or a low cost carrier such as Ryanair to hop over to the continent.
Takeaways:
If you want to use British Airways Avios to go to Ireland or the UK as cheaply as possible, fly Aer Lingus
If you only want to go to continental Europe, compare the cost of flying Iberia or airberlin plus any additional cost to get to your destination to the cost of going via Ireland via Aer Lingus. Given how hard it seems to be to get Aer Lingus intra-Europe awards, you may well need to factor in the cost of a flight from Ireland to your European destination.
To search for Aer Lingus availability you can use the United Web site or ExpertFlyer (paid service, free trial). Here's a search on United.com. You want to ensure there is "Saver Award" availability.

To book Aer Lingus, you'll need to call the US British Airways Executive Club call center at 800-452-1201 between 7:30am-8pm EST daily. A $25 fee per ticket will apply, even though you can't book Air Lingus online.
Update: Business Class now seems to be available on Aer Lingus! If you only want to fly business class or first class to Europe, forget Aer Lingus–swallow the high fees and fly British Airways (and hopefully get a free companion ticket by spending $30,000 on the British Airways Visa) since they have the best oneworld product to Europe.