While American's AAdvantage program has some of the best airline partners and the AA Citi card bonuses make it easy for even non-fliers to earn AAdvantage miles, American also has one of the least straightforward systems when it comes to redeeming miles, which can make it very tough to figure out how to maximize AAdvantage miles as a consumer. And yet many of you got a boatload of AAdvantage miles before the American Airlines Citi 75K AAdvantage Bonus Died so I figured I'd share some of the basics, to hopefully make your next AAdvantage redemption a bit easier.
To start, American doesn't allow stopovers on award tickets anymore, with the exception of at the North American international gateway. American was the first legacy US airline to introduce one-way award tickets at half the cost of roundtrip award tickets, though unfortunately it came at the expense of the beloved stopover, at least on their "All Partner" award chart. While Delta, United, and US Airways still allow one stopover of more than 24 hours enroute on an award ticket between zones, American will only let you stop at the North American international gateway.
For example, say you're flying from Los Angeles to New York to London. This means that you could stop in New York for "free" before continuing onwards, for as long as you'd like (as long as you're able to complete travel within a year of the date of the ticket being issued). American doesn't allow stopovers (stops of more than four hours) on domestic award tickets booked using their "All Partner" award chart either.
As I hinted at, American actually has two types of award chart (well, three if you count the AA awards, but these are only for American Airlines flights), which makes them pretty unique. Their first award chart is the "All Partner" award chart, which allows you to mix and match as many of their partner airlines as you'd like. This means you could book a single itinerary that involves American, Alaska Airlines, British Airways, and Etihad Airways, for example, even though only British Airways belongs to the OneWorld alliance, while Alaska and Etihad are partner airlines. It really is nice that they let you combine as many of their partners as you'd like, especially for those that live in smaller stations only served by Alaska Airlines, for example, which doesn't otherwise belong to any of the three formal alliances.
All Partner Awards
Award Chart: American Airlines All Partner Award Chart
Eligible Airlines:
Oneworld Partners: British Airways, Cathay Pacific, FinnAir, Iberia, LAN, Qantas, JAL, Malev, Royal Jordanian, S7
Other Partners: Air Pacific, Air Tahiti Nui, Alaska Airlines/Horizon Air, Etihad, El Al, GOL, Gulf Air, Hawaiian Airlines, Jet Airways, Cape Air
Stopovers
International Awards: On an "All Partner" international award you can have as many stops of up to 24 hours as you'd like, but no stops of more than 24 hours, which would cause the segments to be priced individually. So in other words, if you're flying from Chicago to Tokyo to Hong Kong to Singapore, you could stop in both Tokyo and Hong Kong for up to 24 hours each, before reaching your destination of Singapore.
Update: Effective 4/8/14, AA with no notice has eliminated stopovers at the North American gateway, which means no more AA free one ways. The exception is the North American international gateway, as mentioned above, where you can stop for as long as you'd like. As I mentioned in Maximizing the Value of Your Award Ticket with Stopovers and Open Jaws, this allows you to build in a free transcontinental flight or a trip to Hawaii. For example, say you're booking a business class award ticket from London to Chicago. At no additional cost you could add on a segment from Chicago to Honolulu in first class for anytime within a year of the date of issue, after stopping in Chicago for a while. This is because Chicago is the North American gateway, allowing for the free stopover.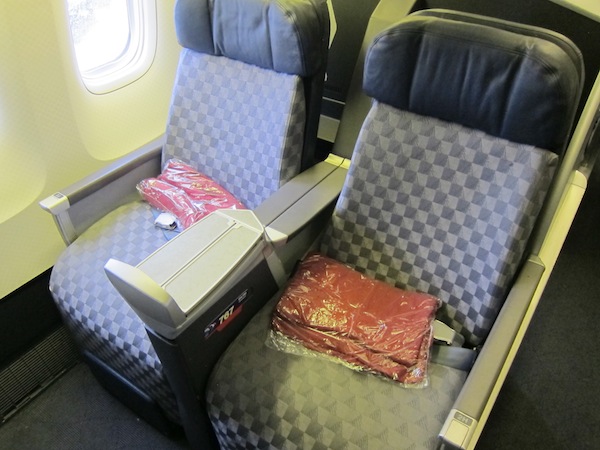 Domestic Awards: On domestic itineraries booked as an "All Partner" award, stopovers are not allowed either. So if you stop anywhere for more than four hours the segments will be priced individually, unless the next scheduled flight is more than four hours away (say if you have the last flight into a city), in which case you must take it.
Routing Rules
Now, the routing restrictions through AAdvantage are frustrating and mildly illogical. First of all, they require the overwater carrier to publish a routing between the origin and destination. This is something American can't possibly expect average consumers to understand. Basically it means that if you're flying from St. Thomas to Beijing and want to fly Cathay Pacific for the transpacific segment, then Cathay Pacific must publish a revenue fare between St. Thomas and Beijing. In 99% of instances this isn't a problem, because they do. But then there's the 1% of routes where there's oddly no published fares, and for no good reason American won't let you book it because the overwater carrier doesn't publish a fare in the market.
The nice thing is that American lets you exceed the maximum permitted mileage (MPM) on an award ticket by 25%, which is huge. That means, for example, that you can fly from Seattle to Hong Kong via New York, instead of just connecting in Los Angeles, San Francisco, or Vancouver.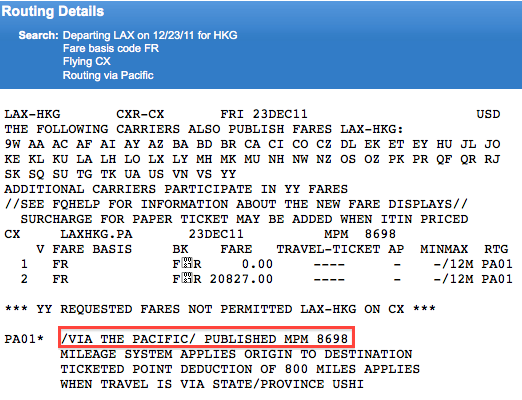 The other thing worth noting is that while American lets you exceed the MPM by a lot, they restrict the instances in which you can route through a third region. Departing from North America, the only times you can travel via a third region are when traveling from North America to India (connecting in Europe), Africa (connecting in Europe), or Asia Region 2 (connecting in Asia Region 1). Other than that, you can't connect in a different zone while in transit.
OneWorld Awards
4/8/14 Update: AA has eliminated the Oneworld Explorer Award with no notice. See No More AA Explorer Awards
Award Chart: Oneworld Award Chart

Eligible Airlines:
Oneworld Partners: British Airways, Cathay Pacific, FinnAir, Iberia, LAN, Qantas, JAL, Malev, Royal Jordanian, S7
Booking a OneWorld award requires you to fly at least two of the above OneWorld airlines
Stopovers (Domestic and International)
Then American has a OneWorld award chart, which is typically priced a bit more expensive since it's distance based, though allows several stopovers andto fly at most 16 segments, with the option of stopping at each city along the way. This is why I highlighted American's Oneworld awards in my post Using Your Miles for Round the World Trip Awards. For the purposes of a OneWorld award, a stopover is a stop of more than four hours in a domestic city or more than 24 hours in an international city. There is an open jaw allowed on the ticket, though it does count as a segment for the purposes of the ticket, unless it's between the origin and destination (meaning you're starting and ending in different cities). So, if you don't have any open jaws at all (or you only start and end in different cities) you can have 15 stopovers.
As you can see in the Oneworld Award Chart, the further you travel, the more expensive awards get. I would say that Distance Zone 5, for example, can be a very good deal. Roundtrip first class to Europe costs 125,000 American miles. For only 150,000 miles, on the other hand, you could book a first class OneWorld award with up to 16 segments and up to 14,000 miles of travel, and have as many stops as you'd like, without having to pay for all those segments individually. For example, you could do something like New York to London to Madrid to Budapest to Helsinki to Moscow to Helsinki to London to New York, with nearly 2,000 miles to spare.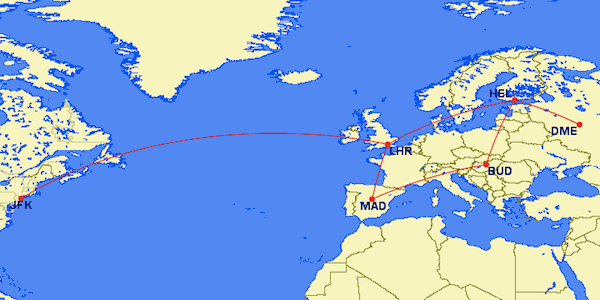 Finding Award Space
Check out the post How to Find OneWorld Award Space
Fees
As covered in my previous post Comparing Airline Award Ticketing Fees and How to Avoid Them, American charges a $25 phone ticketing fee for awards booked over the phone. The issue is that as of now American only lets you book awards for their own flights and Alaska Airlines through their website, so you're kind of forced to pay that fee. Furthermore, American charges a $75 close-in ticketing fee for award tickets booked within 21 days of departure. This fee is waived for all elite members (not just top tier elites, like many other airlines).
Holds
This is one of the areas in which American is by far the most generous airline. They will allow you to hold award tickets for up to five days, which is the most generous of any US airline. I guess we'll see how much longer that lasts…
Five Favorite Awards Using AAdvantage Miles
To finish I figured I'd share my top five award redemptions using AAdvantage miles, in no particular order:
1.    Cathay Pacific roundtrip first class from North America to Asia for 135,000 miles. Cathay Pacific is one of my favorite airlines, and ever since the devaluation of the British Airways chart (see British Airways Avios: Goodbye First Class on Cathay, Hello Coach on American), American AAdvantage miles are by far the best way to redeem for Cathay Pacific first class.
2.    Qantas Airbus 380 roundtrip first class from Singapore to Sydney for 90,000 miles. Qantas is the only airline that consistently releases Airbus 380 first class award space to partner airlines, and at only 45,000 miles one way or 90,000 roundtrip for first class between Singapore and Sydney, it's a pretty spectacular deal.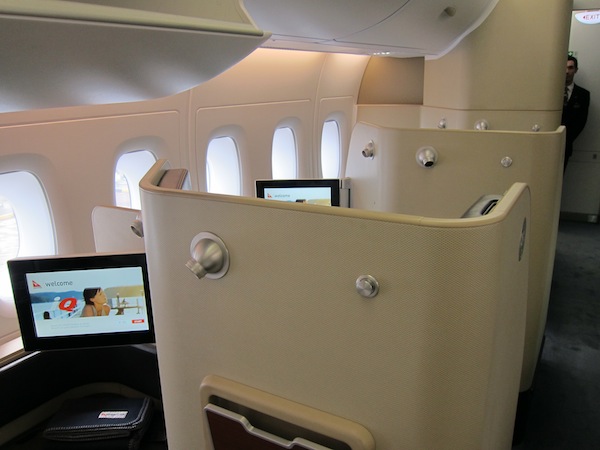 3.    Etihad Airways roundtrip first class from North America to the Maldives for 180,000 miles. The Maldives is one of the toughest destinations to get to on points, and there's no doubt that Etihad is the best product that will get you there in one-stop from North America on miles.
4.    LAN roundtrip business class from North America to South America for 100,000 miles. LAN has the best award availability of any airline to South America and a great product in business class, so that's a tough option to beat.
5.    Qantas Airbus 380 roundtrip first class from Los Angeles to Sydney for 145,000 miles. Qantas does often release two first class award seats on the Airbus 380 between Los Angeles and Sydney/Melbourne, so if you can snag the seats, it's an unbeatable award redemption.
Any questions?
Related posts:
How to Fly from NYC to Hawaii with AAdvantage Miles
Use American AAdvantage Miles for Etihad First Class
Best American AAdvantage Miles Bonus Offers Available Now
How to Find Star Alliance Award Seats
How to Book a "Crazy" Award Routing
Need Award Booking Help? Our fee is as low as $75 per ticket if you book your hotel through us.
If you enjoyed this, join 200,000+ readers: please follow TravelSort on Twitter or  like us on Facebook to be alerted to new posts. 
Become a TravelSort Client and Book Your Hotel with Virtuoso or Four Seasons Preferred VIP Amenities!