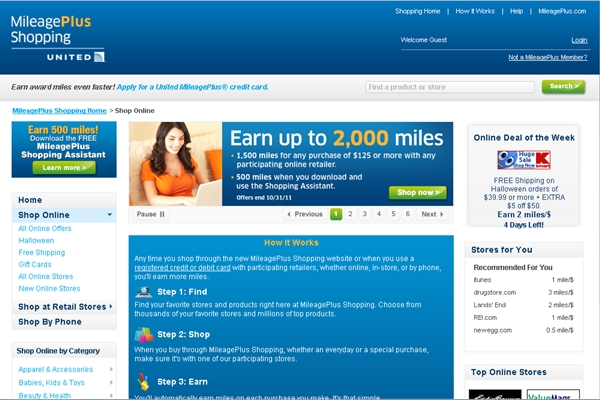 As are many of you, I'm addicted to miles and points, perhaps sometimes too much so. There are very few purchase decisions I make on a day-to-day basis where I don't at least consider the mileage opportunities before buying something.
Why use Online Shopping Malls?
The great thing about loyalty programs nowadays is that it's possible to earn points from all kinds of activities via an online shopping mall or portal, from flying to renting a car to eating at a certain restaurant to shopping at your favorite retailer.
The last category is key, since earning miles for purchases you'd otherwise make is a great way to rack up miles for next to nothing.
It can make sense in many cases, even if you're not a points addict. For example, iTunes participates in several of the online shopping malls, so for downloading a single song through iTunes you could reset the expiration date of your miles in an account. For example, just last week I noticed my dad's United Mileage Plus miles were expiring in November, so I purchased an iTunes song for him through the Mileage Plus shopping mall to reset the expiration of his miles by 18 months.
Of course for the addicts among us online shopping malls aren't just there to keep our miles from expiring, but rather a great way to rack up lots of extra miles, sometimes while saving money.
All four of the remaining US legacy airlines (American, Delta, United/Continental, and US Airways) have online shopping malls, both as Web sites and in the form of downloadable toolbars that will automatically credit you miles when you make eligible purchases with their partner merchants. While several hotel chains also offer online shopping tools, the value isn't typically as good through them unless you're trying to reset the expiration of points or take part in some promotion.
That said, don't forget to check out portals such as AMEX Membership Rewards, which sometimes offers good promotions for their retail partners, where you can get 5 Membership Rewards points/$1 spent, instead of the usual 1 point/$1:
Popular Retailers and Where to Find Them
On the whole the legacy airlines have very similar retail partners, though the points earning potential for any given retailer can vary quite a bit depending on whether or not the shopping mall is running a promotion. That's why it makes sense to check all of the shopping malls before making a purchase to be sure one of them isn't running an increased miles offering for a given retailer.
Given how popular Amazon is, they don't participate in very many online shopping malls, with the exception of US Airways' and Hawaiian Airlines' portals. US Airways offers 0.5 Dividend Miles per dollar spent through their toolbar for purchases made on Amazon (it used to be 1 mile, but recently was reduced), while Hawaiian offers 1 mile per dollar spent (down from 2 miles). Chances are that most of you don't actively collect Hawaiian miles, so it's worth keeping in mind that you can convert Hawaiian miles to Hilton points at a 1:2 ratio as long as you transfer in increments of 5,000 miles. That means you're essentially earning two Hilton points per dollar spent at Amazon, which is a good value, although of course it used to be fantastic value when it was 2 Hawaiian miles per dollar spent at Amazon, or 4 Hilton points.
As you can probably guess, typically the more desirable retailers (like iTunes and Amazon) offer the fewest points, while the high margin, growing businesses typically offer a lot more miles to incentivize purchases. That's why you'll often see flower companies offering 25+ miles per dollar spent, since their profit margins are huge. Before going for one of those offers, though, keep in mind that shipping/handling and tax are excluded from mileage accrual, and they can often add up to half the cost of your purchase.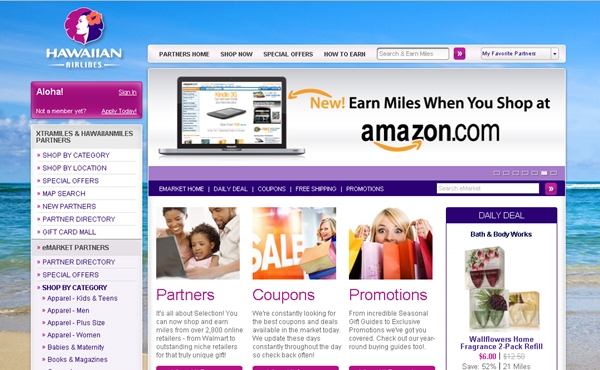 For anyone who buys Groupon deals, try to buy them through a shopping portal. Currently, Delta is offering 10 Skymiles per $1 spent at Groupon:
nt
How Soon do Online Shopping Portal Credit Miles After a Purchase?
Most online shopping malls take six to eight weeks from the purchase date to credit miles, which can be rather frustrating. This is where Chase's Ultimate Rewards shopping mall is interesting, which is available to anyone with a Chase Ultimate Rewards credit card. It has some great deals as well, though best of all points typically credit within 1-2 weeks, as opposed to 1-2 months.
Should you Download the Toolbar?
Generally speaking I far prefer to just use the shopping mall as opposed to actually downloading the toolbar so that I can choose which bonus I want to earn for any given purchase. Chances are there will be issues if you downloaded one toolbar (like the United Mileage Plus one) and are making the purchased through another shopping portal (like the American AAdvantage one).
Therefore my general strategy is to have one primary toolbar, which for me is AAdvantage eShopping, which I have installed on Firefox. Then if I want to buy something through any of the other malls I just use a different browser which doesn't have the toolbar installed.

Are Gift Certificates Eligible?
For many retailers, if you buy gift certificates you are eligible to receive miles, but you won't receive any if you're simply spending a gift certificate. You should always check the terms and conditions, however, and it's a good idea to take a screenshot of it, in case there are ever any issues later. If you got in early enough, you could even have bought up a ton of Sears gift cards on the AAdvantage eShopping mall, getting 10 miles/$1, then turned around and sold the gift cards to Plastic Jungle (which buys gift cards at a slight discount) in order to stockpile AAdvantage miles and try to lock in Lifetime Gold (Million Miler) status before November 30, 2011, the cutoff for earned miles to count towards Million Miler status. I don't think this is still a viable strategy, as I believe Plastic Jungle has stopped accepting Sears gift cards, but am happy to be proven wrong. Some people are instead selling the gift cards on Ebay, though that can be very time consuming and also involves lots of fees.
Mistake Deals: Who's Really Running the Online Shopping Portals
Another topic related to online shopping malls that has generated quite a bit of interest as of late is their handling of "mistake" deals. With the hundreds of merchants these online shopping malls work with, there are bound to be times when they accidentally publish an incorrect number of points that can be earned for a purchase.
Not too long ago the American AAdvantage shopping mall offered ~83,000 miles for a phone accessory that retailed for under $10. Obviously it was a mistake, though it was pretty clearly spelled out so lots of people made the purchase hoping to cash in big.
However, those that made the purchase were informed it was a mistake, and the shopping mall refused to honor the 83,000 earned miles. They did, however, offer everyone that took advantage of the deal 2,500 American miles, plus 2,500 additional miles if they made a future purchase through their mall. Suffice it to say this left a lot of people unhappy, though at the end of the day it was a pretty nice payoff without all that much time invested.
The more interesting thing that was revealed during the debacle, however, wasn't even related to the bonus, but rather with whom members were really dealing. When you make a purchase through the American Aadvantage eShopping Mall, you fully expect you're dealing with American Airlines, or at least a product for which American takes full responsibility. This couldn't be further from the truth, since virtually all online shopping malls are run by outside companies that essentially negotiate contracts with both the merchants and the airlines, acting as a middleman of sorts.
Of course this resulted in every party claiming no liability. American claimed they had nothing to do with the operation of the online shopping mall, the company that runs the shopping mall claimed the programming error wasn't their fault and that it was an obvious mistake, while the retailer doesn't have any responsibility since they didn't publish the offer.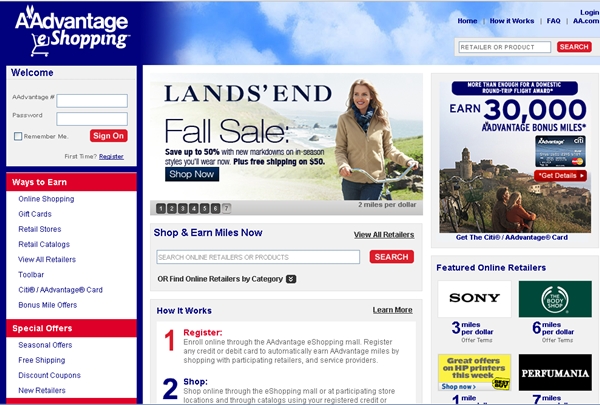 Don't Expect to Get Most Mistake Deals Honored
Just a couple of weeks before the Aadvantage eShopping fiasco, I dealt with a similar situation with Choice Privilege's online shopping mall. The website showed that one of their retailers, Big Fish Games, was offering 1,500 points per dollar (which converts to about 300 miles per dollar). I went ahead and purchased a few hundred dollars worth of their products, and about six weeks later I had a total of 1,500 points post to my account.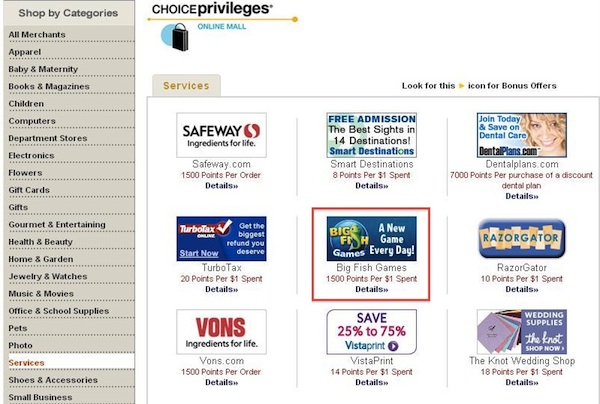 I emailed them immediately with screenshots of the purchase I made, and they literally gave me a "too bad" response – they didn't offer a refund, didn't offer any points as a gesture of goodwill, and didn't even apologize for that matter. After emailing back and forth for a while I realized I wasn't getting anywhere, since much like with the American fiasco, I was dealing with an outside company that wasn't willing to take responsibility for their mistake. In the end they worked with the retailer to get me a refund and offered me 10,000 Choice Privileges points, which converts to about 2,000 airline miles.
So unfortunately I suspect it's very, very difficult to get an online shopping mall to ever honor their mistakes. Sometimes the mistakes are obvious, while other times it's not all that obvious that a mistake "deal" is actually a mistake. So the best you can do is take lots of screenshots and if/when the points don't post correctly, point them towards their terms and conditions, which more than likely actually rule in your favor. At the very least they should offer a refund and some form of goodwill.
While that only applies to a minority of purchases, loyalty program affiliated shopping malls remain a great way to earn miles and points. When I purchased my Macbook Air through MacMall back in February, I not only saved money compared to purchasing directly with Apple, but also earned over 5,000 American Aadvantage miles by going through the Aadvantage eShopping toolbar.
As you can see below, it pays to check the various malls for the best mile deals, even keeping in mind different airline mile valuations. As Grisha points below, a great way to do this is to do a quick search at evreward.com for the retailer you're interested in.
Online Shopping Mall

Popular Retailers

Miles/$ (As of 10/11/11)

Barnes & Noble

drugstore.com

Groupon

HP

iTunes

Nordstrom

Restaurant.com

4 miles/$1

4 miles/$1

8 miles/$1

3 miles/$1

1 mile/$1

5 miles/$1

18 miles/$1

Groupon

iTunes

Kmart.com

Lands' End

Macys.com

Restaurant.com

Sears.com

Target.com

10 miles/$1

2 miles/$1

5 miles/$1

5 miles/$1

3 miles/$1

10 miles/$1

5 miles/$1

3 miles/$1

Barnes & Noble

drugstore.com

Groupon

iTunes

Nordstrom

Restaurant.com

1 mile/$1

3 miles/$1

4 miles/$1

1 mile/$1

3 miles/$1

6 miles/$1

Amazon

drugstore.com

Groupon

iTunes

Nordstrom

Restaurant.com

0.5 miles/$1

4 miles/$1

1 mile/$1

2 miles/$1

3 miles/$1

11 miles/$1

Amazon

Banana Republic

Crocs.com

drugstore.com

iTunes

Macys.com

1 mile/$1

3 miles/$1

4 miles/$1

5 miles/$1

2 miles/$1

4 miles/$1

Bed Bath & Beyond

Bloomingdales

Crate & Barrel

Neiman Marcus

Target.com

5 points/$1

5 points/$1

5 points/$1

5 points/$1

5 points/$1
Check out and apply for the Best Travel Credit Cards.
If you enjoyed this, please follow TravelSort on Twitter or like us on Facebook to be alerted to new posts.
Become a Member to find your perfect luxury or boutique hotel at up to 50% off: TravelSort Hotels