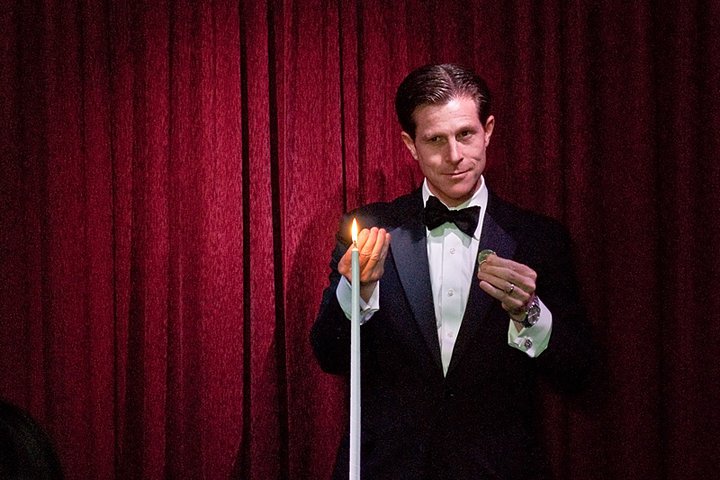 There's something incredible about close-up magic. I've nothing against David Copperfield, who did a superb show as part of this year's
Virtuoso Travel Week
I attended in Las Vegas. But what I really enjoy is being just a few feet from the magician, and being awed by seemingly impossible magic taking place right there under my nose. This is what I experienced at the Magic Castle in Hollywood, which is where top magicians from around the world perform, including masters of close-up magic, and where Peter Morrison, the Owner and Magician at
Marrakech Magic Theater
performed in 2008-2009 before opening his own magic theater in San Francisco.
The Marrakech Magic Theater offers 75 minute shows at 6:30pm and 9:30pm on Thursdays, Fridays and Saturdays, and at 6:30pm on Sundays. But doors open 1 hour before the show, and you're invited to come early both to enjoy Moroccan dishes in the Oasis Lounge, and to get to meet Peter, who provides some pre-show magic and entertainment. I was also looking forward to Morrocan food, which is one of my favorite cuisines. Here's the menu: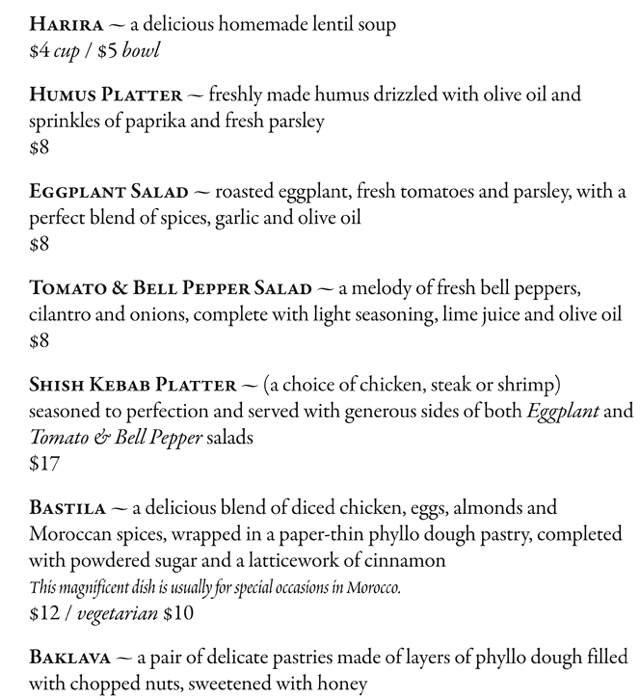 I booked tickets to a 6:30pm show and was really excited to take the munchkin. We arrived around 5:45pm, and were met by one of Peter's assistants, who regretfully let us know that the 6:30pm show unfortunately had to be cancelled, as virtually all of the other guests were part of a group, and the group's limousine had broken down so they wouldn't get there in time.
We went down the stairs, which were atmospheric themselves, illuminated by candlelight: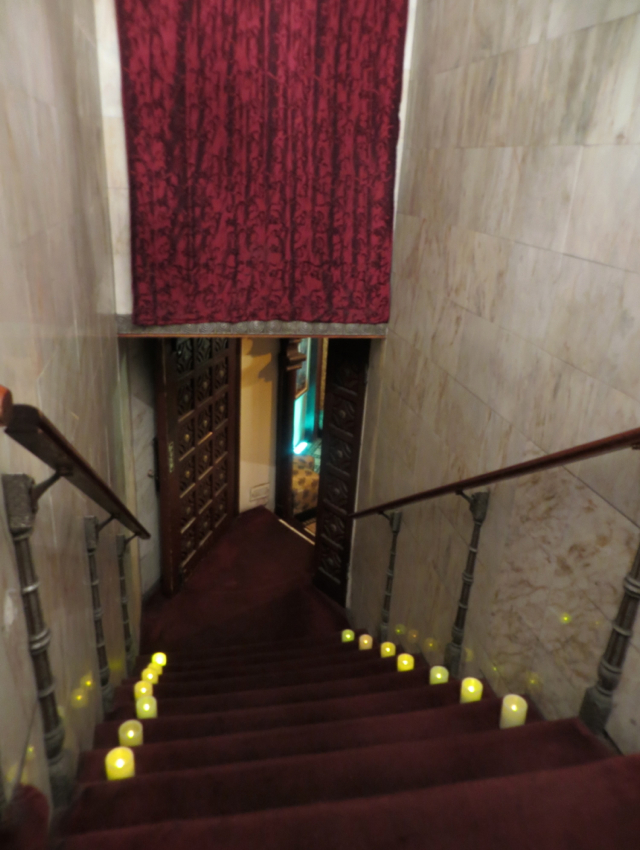 Peter was incredibly apologetic–he offered to switch us to the next show, but I knew it wouldn't be possible, with the munchkin, since we had flown in that day from the East Coast so it would be way too late for him. Fortunately, Peter generously offered to do some magic just for the two of us! We took our seats in the Oasis Lounge: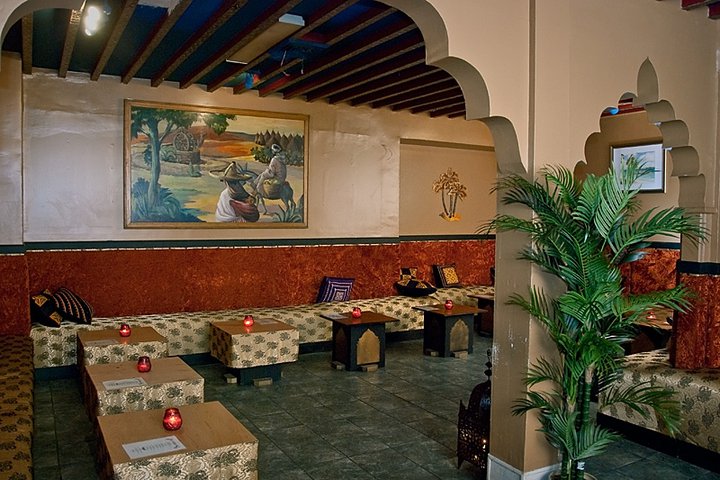 The munchkin was so excited he could barely sit still, much less draw on one of the playing cards that Peter provided. It went back into the deck and was ingeniously found in places where you least expected it, including in Peter's wallet.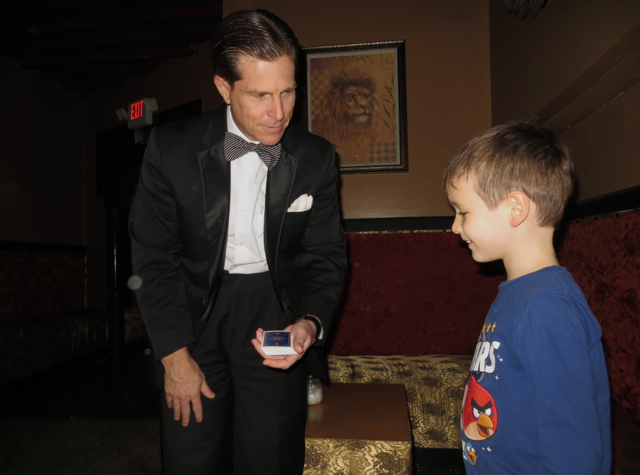 A blindfolded duck was a funny prop for correctly choosing another card that the munchkin chose but didn't show Peter: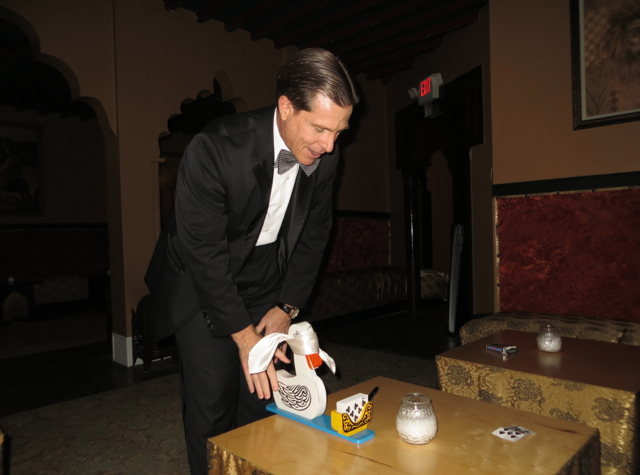 There was a rope trick which also got the munchkin to gasp in disbelief: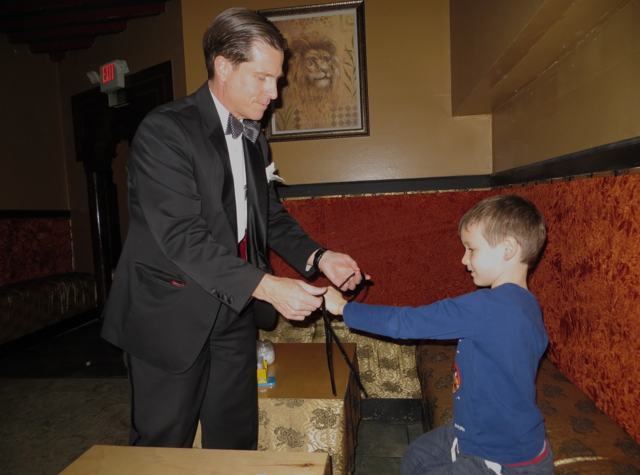 One of the funniest, which I unfortunately didn't get a photo of, was a twist on the classic hide-the-ball under the cup trick–except ultimately there was a fake eyeball there! The munchkin is still talking about this 🙂
Here's a video of Peter moving cards to uncover the one you've picked (he did this trick for a card the munchkin picked, and suffice to say we were both awed):
Peter was incredibly kind to perform some magic just for us, even though the show we booked was cancelled due to a group cancellation and we received a full refund. Although this would be a perfect date night or a great night out with friends, I love the fact that Peter also allows families and kids 6 and up to attend. Next time we're in San Francisco we look forward to seeing the full show!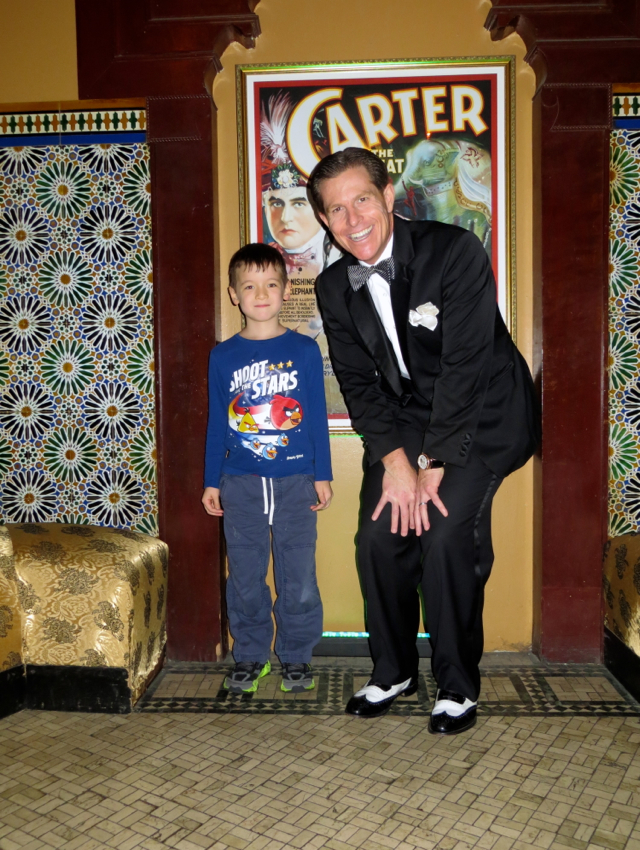 Have you been to the Marrakech Magic Theater to see magician Peter Morrison?