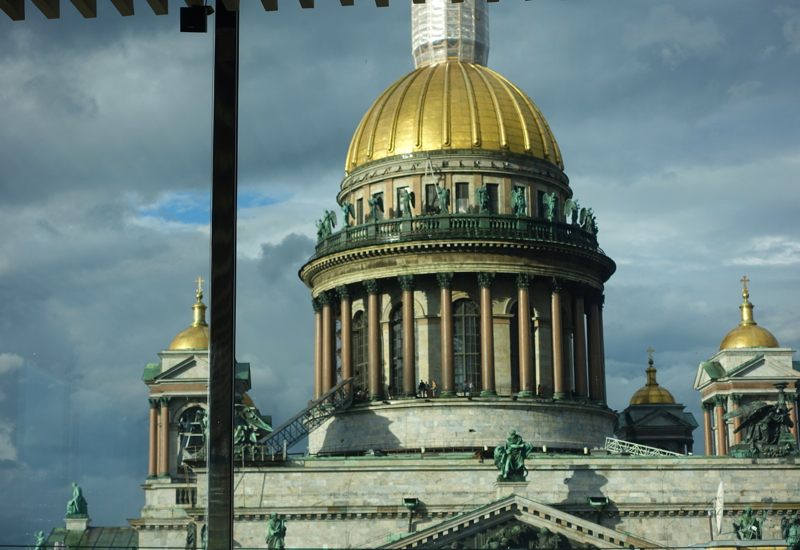 This Review of Mansarda in St. Petersburg, Russia is one of our several St. Petersburg restaurant reviews. Mansarda is a high end restaurant that is part of Ginza Project, one of Russia's most successful restaurant groups, with about 100 restaurants total in St. Petersburg, Moscow, London, New York, Rostov-on-Don, Tula and Baku. In NYC, Ginza Project is behind Mari Vanna, which I've reviewed previously.
Visiting St. Petersburg, Russia? See our 10 Travel Tips for St Petersburg, Russia.
Prior posts include:
Review: Hotel Astoria St. Petersburg, Russia
Review: Astoria Cafe, St. Petersburg, Russia
Vkus Est (Taste to Eat) Review, St. Petersburg, Russia
Summer Garden (Летний сад), St. Petersburg, Russia Review
Duo Gastrobar Review, St. Petersburg, Russia
Mansarda, St. Petersburg Location and Hours
Mansarda is located at Pochtamtskaya Street, 3, near St. Isaac's Cathedral in St. Petersburg. This makes it convenient if you're staying at the nearby Four Seasons Lion Palace St. Petersburg or at Hotel Astoria, which are both near the cathedral.
Be aware that Mansarda's location is on the 6th floor inside the Gazprom office building. To get there, pass through the arch: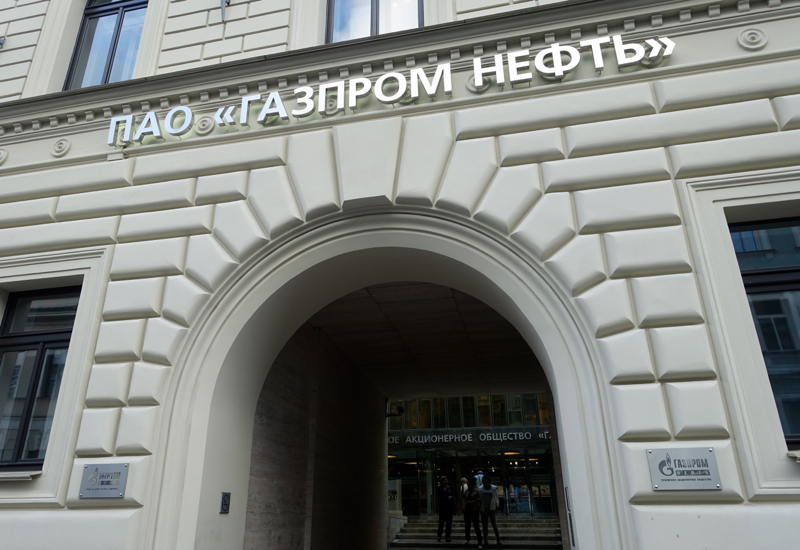 Then take a left just inside the entrance to reach a dedicated elevator up to the 6th floor, where Mansarda is located. The restaurant is open from 12noon until 1am daily.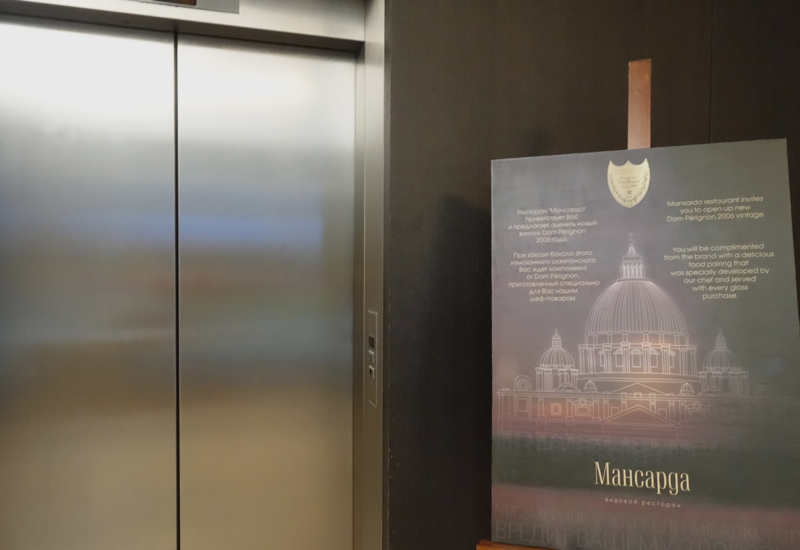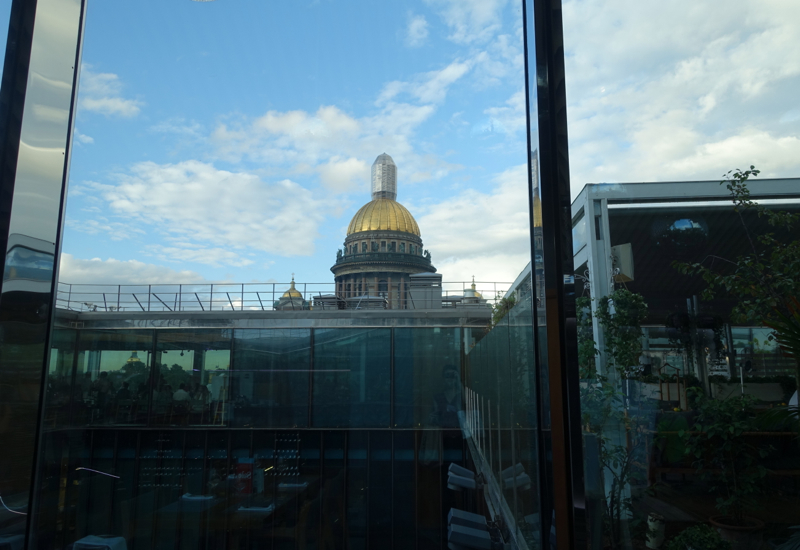 The Scene
Although we dined in the early evening on a Thursday, the restaurant, which is large, was already fairly busy with well-dressed local couples, a few other families (all Russian speaking) a few other foreigners, and some groups of business colleagues.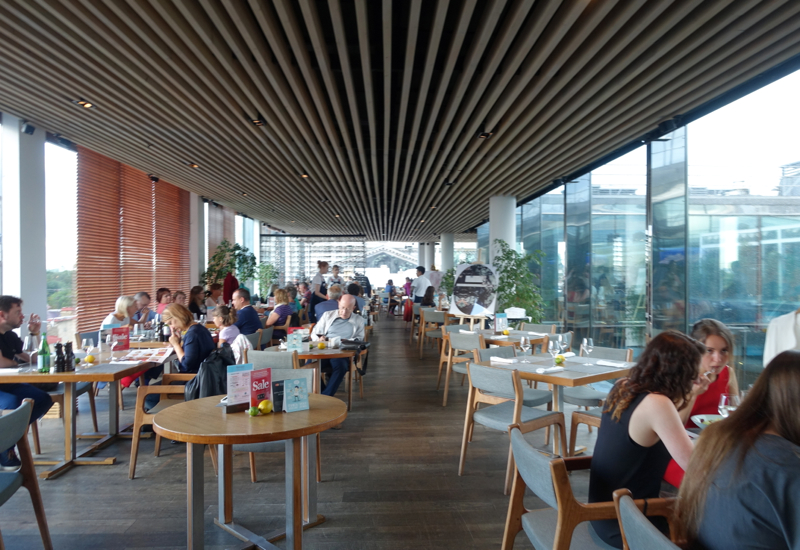 We'd asked to be seated with a view of St. Isaac's Cathedral, and while there were no two-tops available right by the window, we were at a table for two people just one table back from the window, with a lovely view. And since one of the large tables by the window wasn't occupied at the time we arrived, we took the opportunity to take a photo right by the window: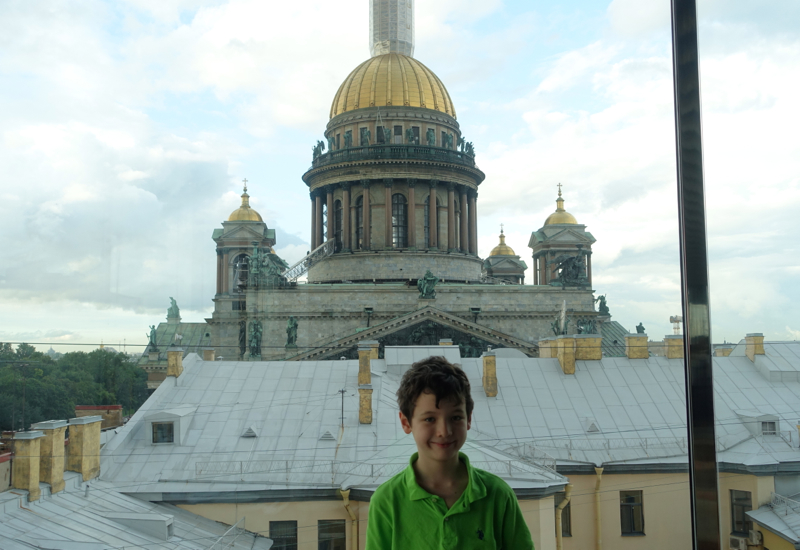 Mansarda Menu and Food
Mansarda has one of the larger and more eclectic menus I've seen at a high end restaurant. There are plenty of classic Russian dishes, including a caviar selection, but also a variety of grilled items, ceviches, sushi, Italian pastas, etc. So if you and your dining companions are all craving different things, Mansarda could be an excellent choice.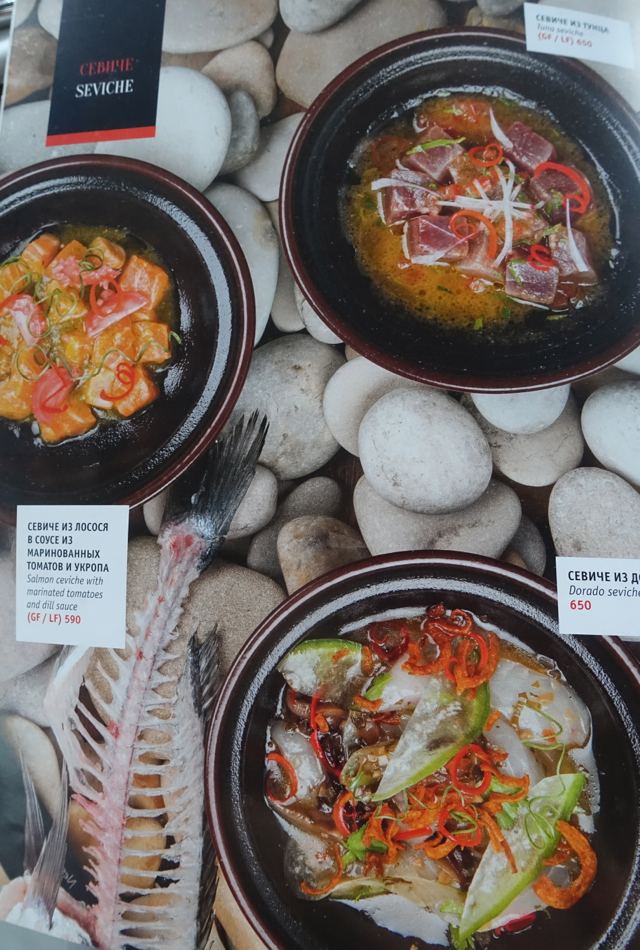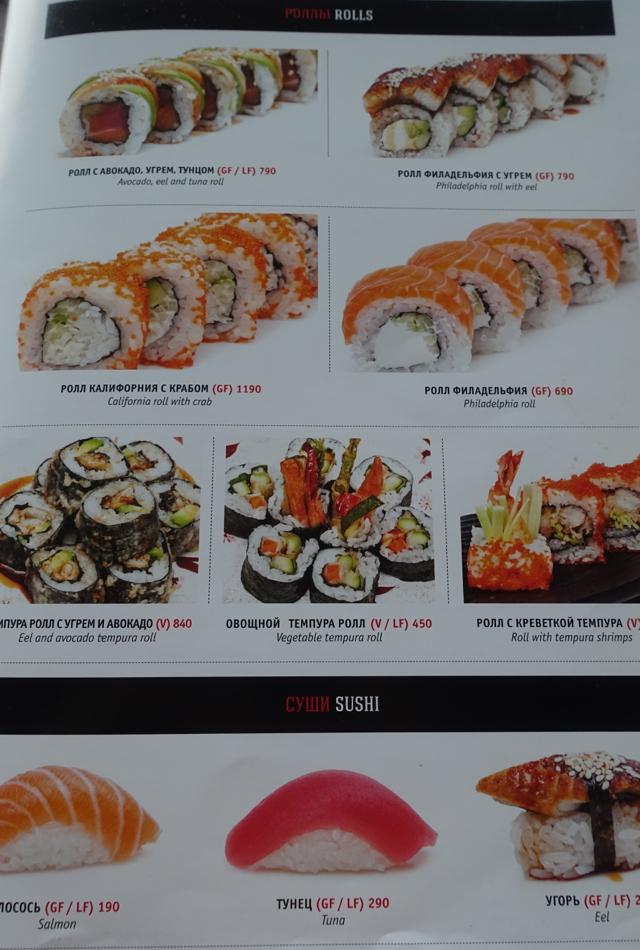 As with all high end restaurants in St. Petersburg, the servers were completely fluent in English, but quickly switched to Russian when we responded in Russian. Since my son was very hungry after a full day of camp, we started off with some "focaccia," which as I could see from the menu picture wasn't true focaccia, but more of a flat bread. It was tasty with the olive oil and balsamic brought for dipping, although I do think the focaccia name is very much a misnomer.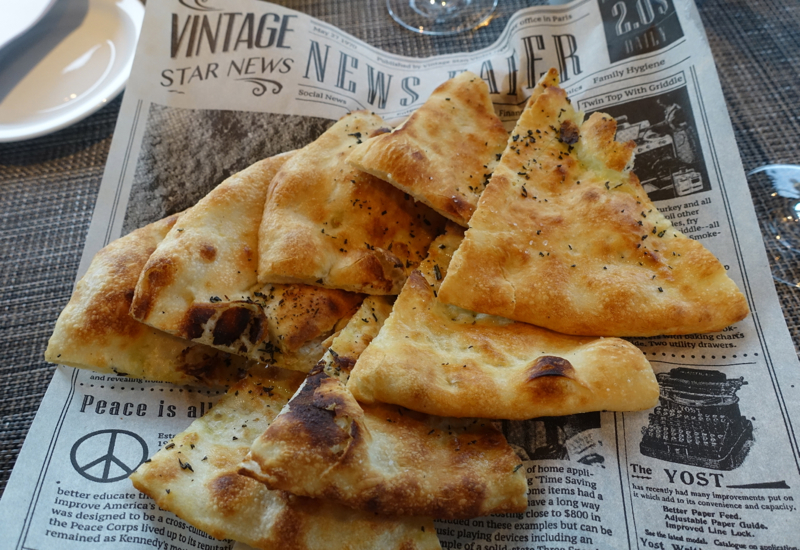 One of the things I love about Russian cuisine is the use of beets, and the Salad of Three Kinds of Beets with Goat Cheese is the best version of this salad I've ever tasted. It included chunks of cooked beets, sweet beet puree, and thinly sliced beets that artistically decorated the dish, all with a creamy mound of goat cheese and sunflower seeds.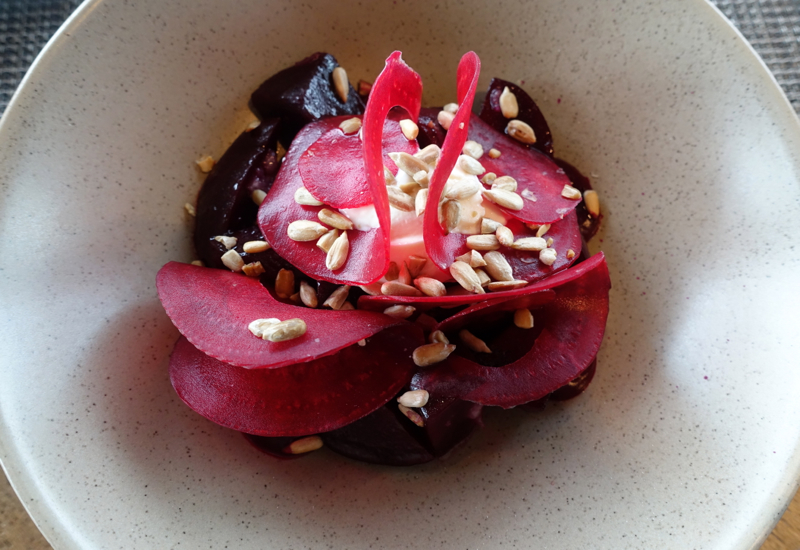 My son's Smoked Salmon with Vegetable Risotto was a highlight as well: flavorful and moist salmon with a lightly smoky taste atop tender "risotto" made with green peas and green beans, on pureed potatoes with a herb sauce.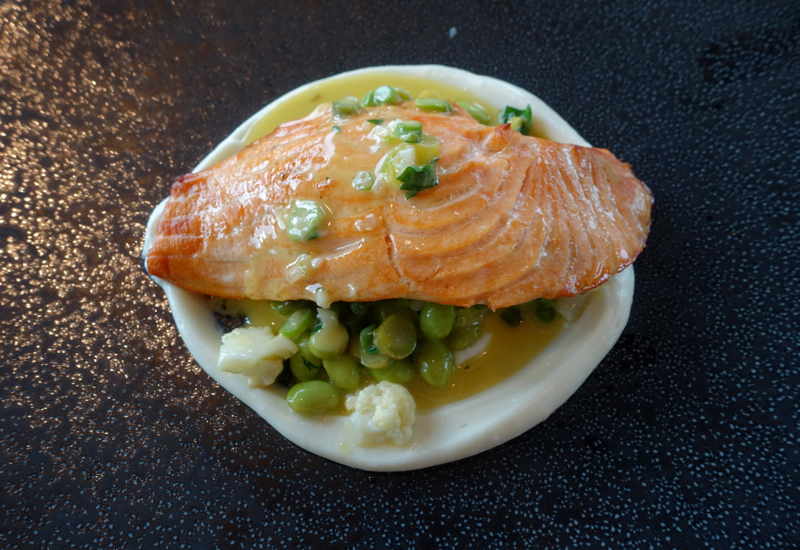 I don't often see rabbit on the menu, apart from French restaurants, so I decided to try it. I was quite taken with the preparation, since the spices seemed almost Moroccan, reminding me of the Ras El Hanout spice mixture used in Bastilla, and the exterior was crisply fried. The sweet chunks of sauteed pumpkin on the side were an excellent complement.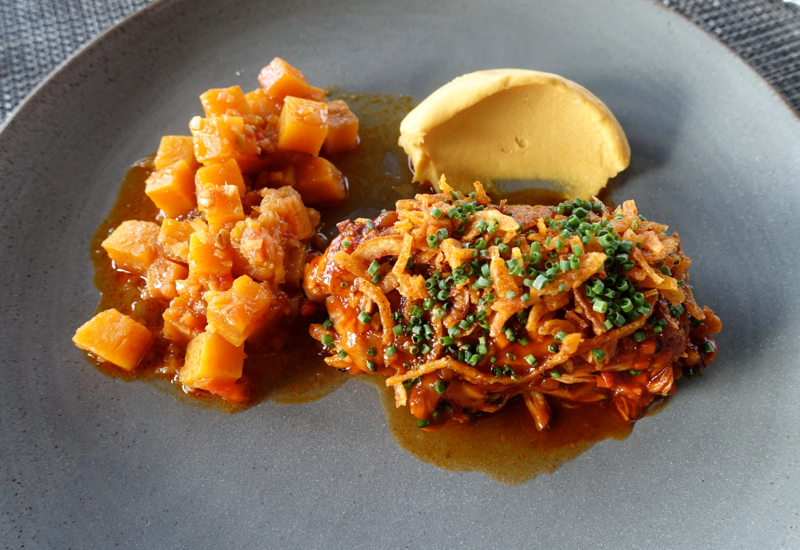 The one area the menu seemed to fall a bit short in were desserts, so we opted to finish simply, with a scoop of strawberry sorbet for my son and a scoop of black currant sorbet for me. While the preceding part of our dinner had arrived after a very reasonable wait, the sorbets took an inexplicably long time to arrive, given they required no cooking. They were good but not housemade, probably Moevenpick.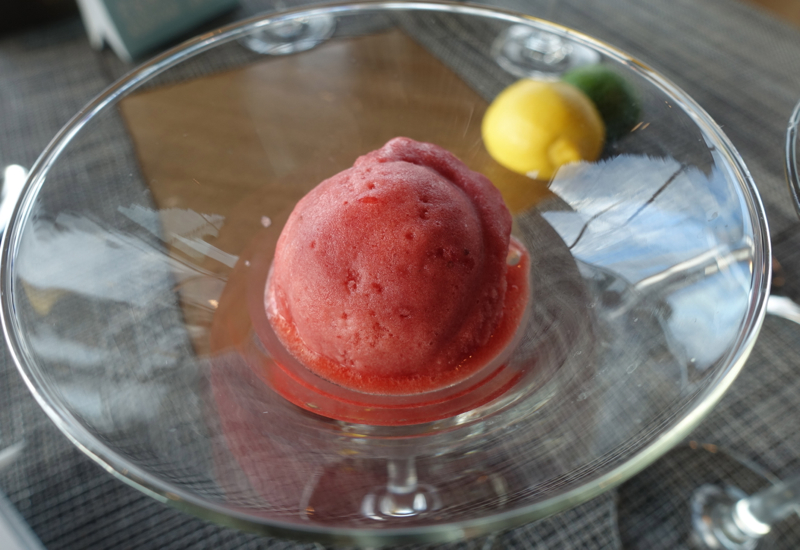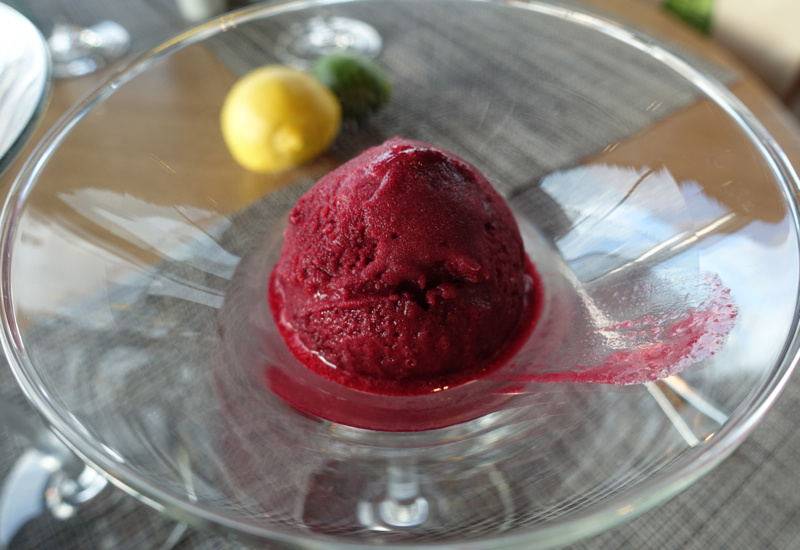 The Verdict
We enjoyed our dinner at Mansarda–the food we ordered was excellent, although be sure to look at the photos for an accurate depiction of what you're ordering, since in the case of the focaccia, it's a flatbread rather than true Italian focaccia. Service was friendly and professional, although there can at times be long waits, for example in the case of our dessert. If you'd like a view of St. Isaac's Cathedral, be sure to request it when booking, and try to go early and not at peak dining times.
If you've dined at Mansarda or other Ginza Project restaurants, what was your experience?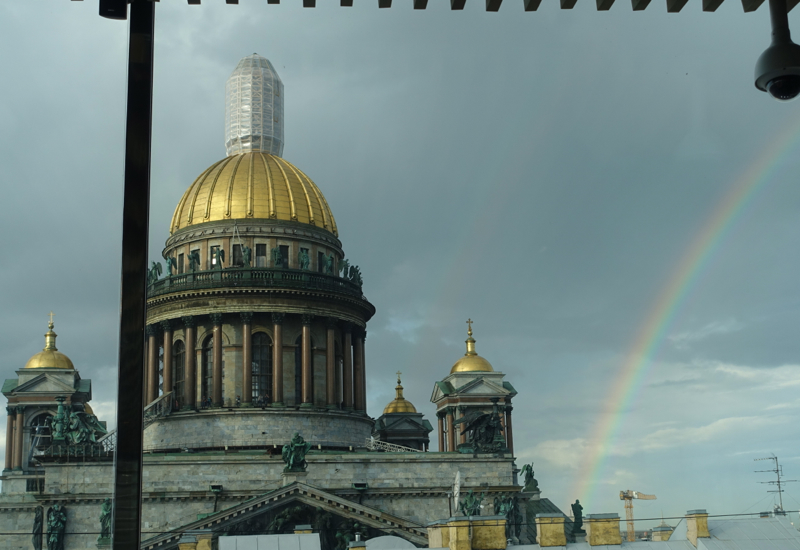 Related Posts
Review: Four Seasons St. Petersburg Breakfast and Dining
Review: Four Seasons St Petersburg, Russia
Review: Astoria Cafe, St. Petersburg, Russia
Vkus Est (Taste to Eat) Review, St. Petersburg, Russia
Volkonsky Bakery Cafe (Пекарня «Волконский») St Petersburg, Russia Menu and Review
Need Award Booking Help? Our fee is as low as $75 per ticket if you book your hotel or cruise with us.
If you enjoyed this, join 200,000+ readers: please follow TravelSort on Twitter or like us on Facebook to be alerted to new posts.
Become a TravelSort Client and Book 5-star hotels with Virtuoso Perks and Four Seasons Preferred Partner Benefits