This Mandarin Oriental Singapore hotel review is part of a Southeast Asia trip report; here are the previous posts:
ANA All Nippon Airways Business Class Review, LA-Tokyo
Singapore Airlines Business Class Review, Tokyo to Singapore
St. Regis Singapore Hotel Review
TravelSort Clients may book the Mandarin Oriental Singapore with Virtuoso benefits:
Upgrade on arrival, subject to availability
Daily Buffet breakfast, for up to two in room guests
Complimentary glass of champagne for two at Bay@5
Complimentary Afternoon Tea for two at Axis Lounge, once dujring stay
Early check-in/late check-out, subject to availability
Complimentary Wi-Fi
The Mandarin Oriental Singapore is in a prime location, perfect for walks on the Esplanade and exploring downtown Singapore, including hawker stalls in two nearby food centers, Lau Pa Sat and Maxwell Food Centre. And, while I unfortunately was too early for the opening, the South Garden in Gardens by the Bay opens June 29, which will also be a great attraction in this area.
So, as much as I enjoyed the St. Regis Singapore, I was looking forward to trying the Mandarin Oriental Singapore, and also being close to the marina with its iconic skyline and near some great hawker food. Originally I'd planned to take Singapore's efficient subway (the mass transit system, or MTS), but as I was walking to the station I realized I'd forgotten something in my room and had to trek back for it. Given the time that took and the heat, I decided to just opt for a taxi. As an aside, the great thing about Singapore is that, at least in my experience, you don't have to worry about haggling or getting ripped off. They're clean, have AC, the driver uses the meter, and is happy to give you all your change back (there's not a strong culture of tipping in Singapore) although I did always give a small tip. I'd take a Singapore taxi over a NYC cab any day.
In any case, the taxi had me at the Mandarin Oriental Singapore in minutes, and at less than the price the bellman at the St. Regis Singapore had predicted. I was ushered inside to the front desk, where I was able to check-in immediately–no wait, which I'd experienced at the Mandarin Oriental DC, in spite of the fact that the Mandarin Oriental Singapore is not small, with over 500 guest rooms and suites. The friendly associate pleasantly surprised me in two ways: he upgraded me from the Deluxe Room I'd booked to a Premier Harbour Room (yay!) and he informed me that buffet breakfast was included in my rate (even though this particular TravelSort rate was supposed to be room only).
As I proceeded to the elevator bank, I could hardly wait to see the view from the room. The glass elevators give you a nice view of the floors and the internal atrium as they whizz you upwards, so if you get vertigo easily, don't look down.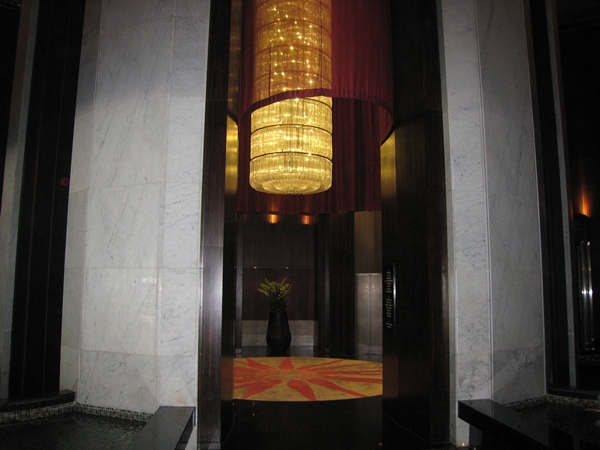 The Premier Harbour Room was good sized, although at 366 square feet, smaller than the Lady Astor Room I'd been upgraded to at the St. Regis. I went over to the window to gaze at the harbor, with the Marina Bay Sands integrated resort to the left: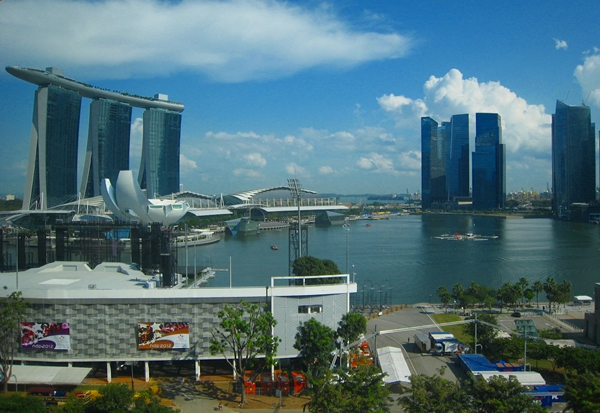 Singapore's skyline and the Esplanade, which I enjoyed an evening stroll on later, were to the right: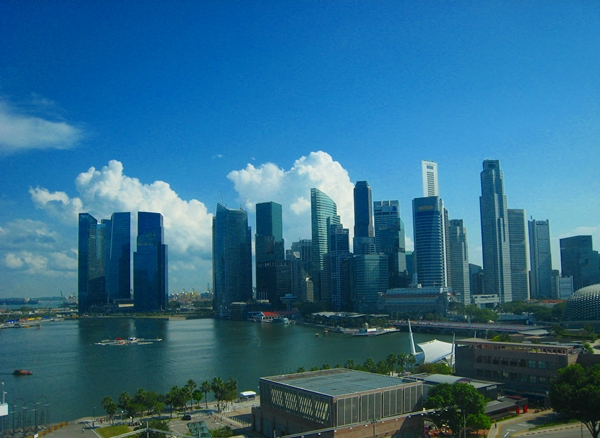 The room decor was subtle–nothing flashy, but comfortable elegance: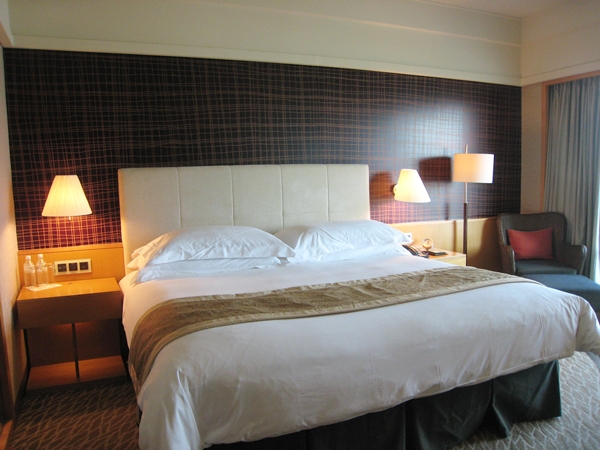 The flat screen TV, which had appeared to be off when I arrived (or perhaps was in sleep mode) suddenly turned on, with various bird trills, flowing water and other nature sounds emanating from it. It was almost as if it had decided it was time to meditate.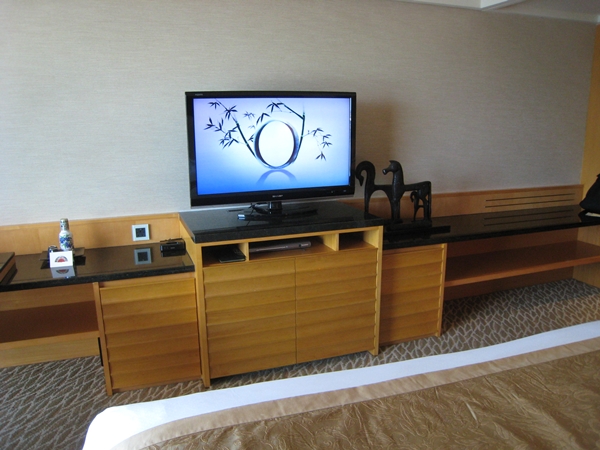 There was also a welcome amenity of blueberry white tea, although I didn't try it–I tend to be pretty traditional in my tea taste.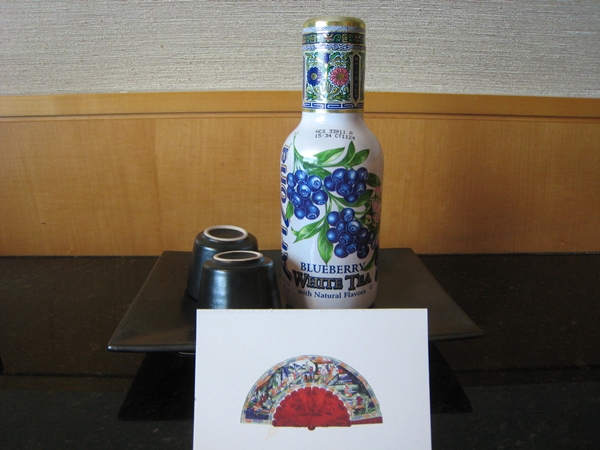 The bathroom had a full size tub and separate glass-enclosed shower (although standard shower head, not a rain shower).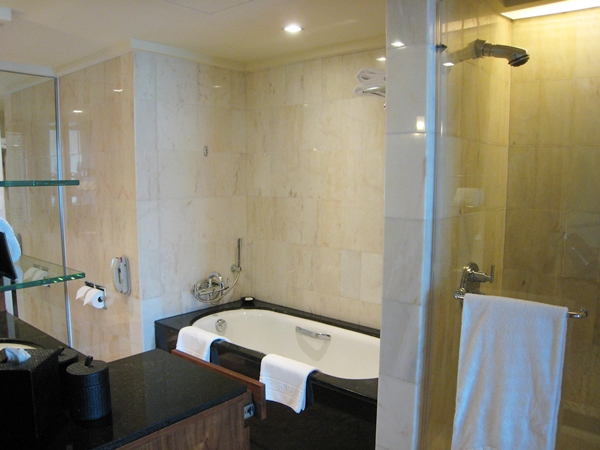 There were fresh orchids by the sink, which I always enjoy: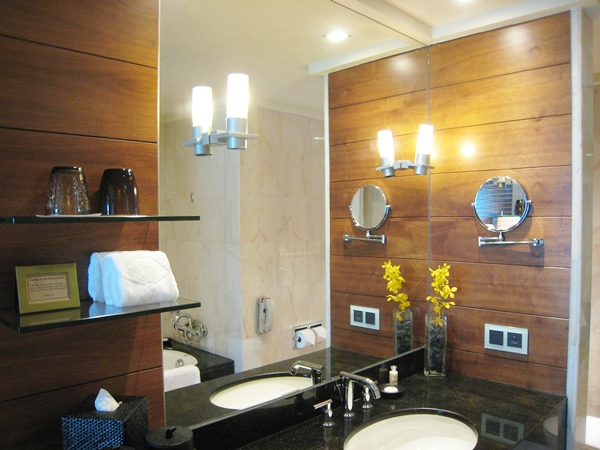 It seems individual Mandarin Oriental hotels vary in the bath amenities they provide. I was less than thrilled at the Mandarin Oriental Washington DC with their Gilchrist & Soames amenities, which I consider second rate, but the Mandarin Oriental Singapore had its own custom lemongrass & ginger toiletries. Although I would have slightly preferred L'Occitane or Bulgari, the lemongrass ginger products, made with natural essential oils, were nice enough for me to bring them along. With most hotel branded products, I don't use them.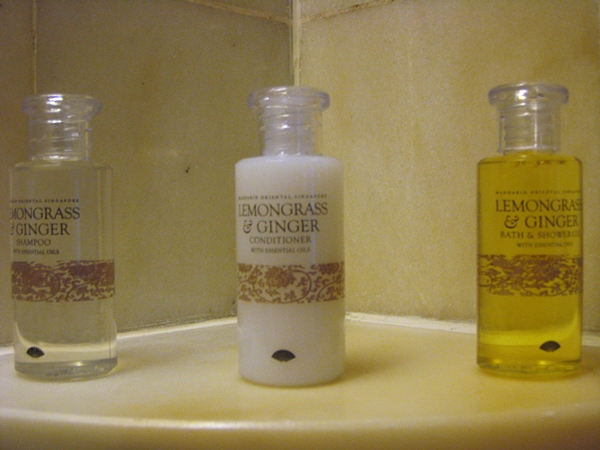 In addition to the harbor views, one of the best aspects of the Mandarin Oriental Singapore is the pool, also with a marina view: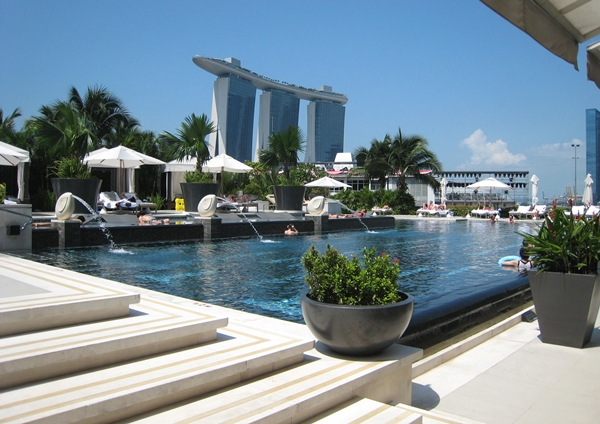 There are some small fountains off to the side, perfect for kids to splash in, even though there's no actual kids' pool. That said, the kids who were in the main pool were all being well supervised by their parents.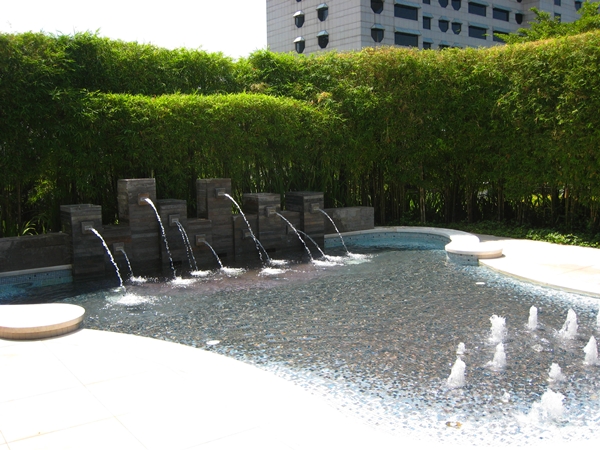 There are plenty of sun loungers, and you can also, as I did, sit on a shaded pool deck.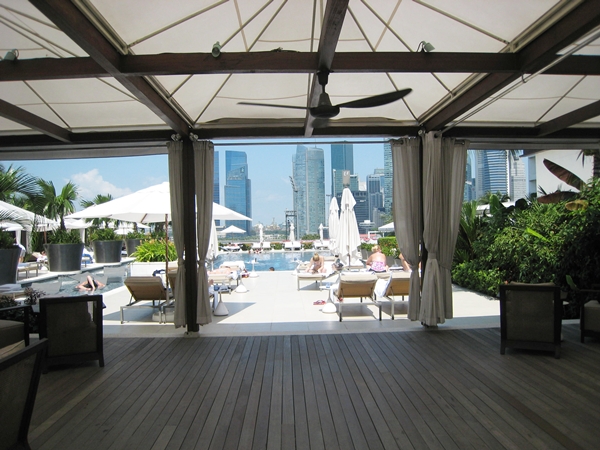 Poolside service is excellent–very soon after I sat down, an attendant proferred ice water, and my glass was never empty. That's saying something, as I drink a LOT of water, especially in warm weather. The attendant later also brought a cool towel, and a shot glass with some delicious fruit smoothie.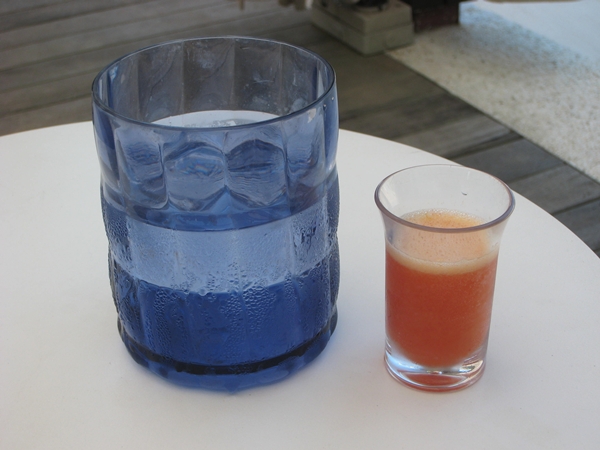 I tried the Mandarin Oriental Singapore's Melt cafe twice: once in the evening, when I had their high end version of laksa (see 6 Things to Eat in Singapore) and then again the next morning, since that's where the buffet breakfast is served. This breakfast buffet was so far my favorite of the three breakfast buffets I've had on this trip, partly because of the sheer number of Asian and Western options, and for some personal preference reasons: it was the only one to have fresh squeezed pink guava juice and fresh passion fruit, both of which I adore being from Hawaii, and their homemade yogurt was fantastic as well. Here's my first plate, including smoked salmon, fresh passion fruit, dim sum, pineapple, yogurt and a housemade danish: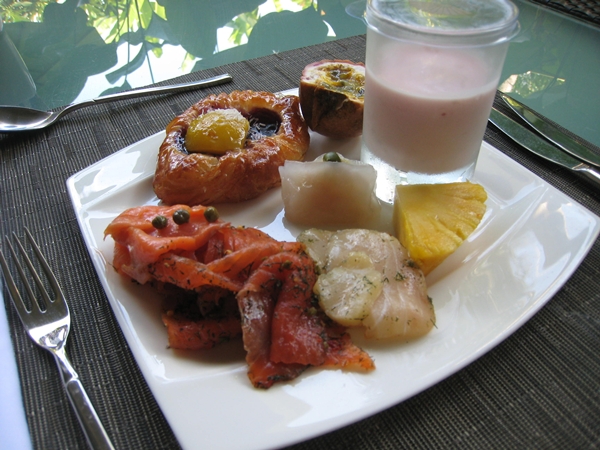 There's a station that cooks eggs and Asian soups to order, but I preferred the waffle and pancake station due to the great variety of jams, including kaya (coconut jam flavored with pandan) to top them with: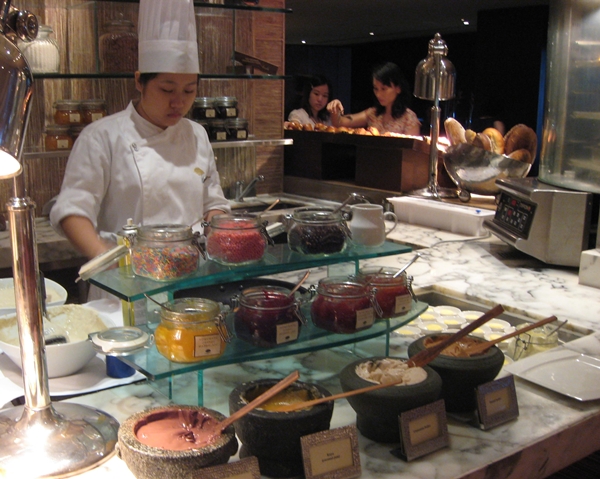 There was also dim sum, Japanese offerings, and Indian food: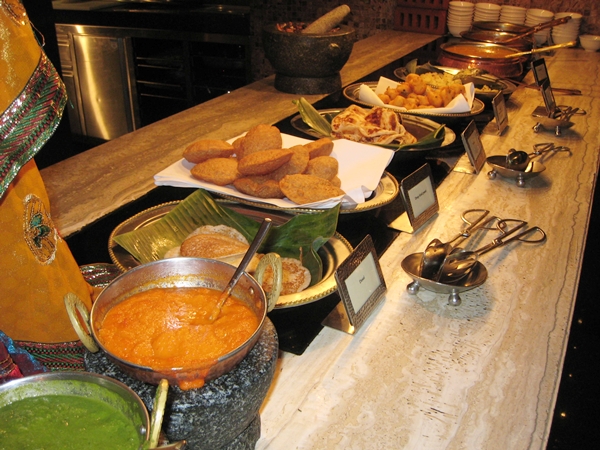 My second plate included Indian idli with chutney, otak (spicy fish paste in banana leaf), more smoked fish, dim sum, and a waffle with just about every type of jam I could fit on it 🙂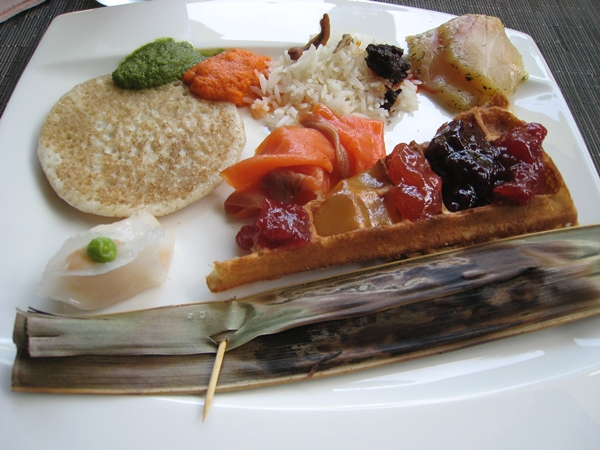 Verdict: The Mandarin Oriental Singapore is in a great location, and I'd highly recommend the Premier Harbour Rooms for an incredible view. Or, if you don't plan to spend much time in the room, you can still enjoy the view from the lovely pool area, which has some of the best poolside service I've experienced anywhere. Breakfast is lavish and could easily keep you going until dinner time, so a real boon if you get it included in your rate (or luck out, as I did). Service was pretty much perfect–front desk, restaurant, pool, housekeeping. I was working and used the "do not disturb" setting, so I opted out of turndown, but the room was immaculately clean and all the amenities I would expect were there. Rooms are a bit smaller than the St. Regis or the neighboring Ritz-Carlton, so if you need a very large room, you may need to upgrade to higher room category or consider the St. Regis or Ritz-Carlton for a lower category room.
Related posts
Best Luxury Hotels in Singapore
Four Seasons Singapore Hotel Review
St. Regis Singapore Hotel Review
A Truly Tasty Melting Pot: Singapore for Foodies
Ritz-Carlton Millenia Singapore Hotel Review
Need Award Booking Help? Our fee is as low as $75 per ticket if you book your hotel through us.
If you enjoyed this, join 100,000+ readers: please follow TravelSort on Twitter or like us on Facebook to be alerted to new posts.
Become a TravelSort Client and Book 5-Star Hotels with Virtuoso or Four Seasons Preferred Partner Amenities!