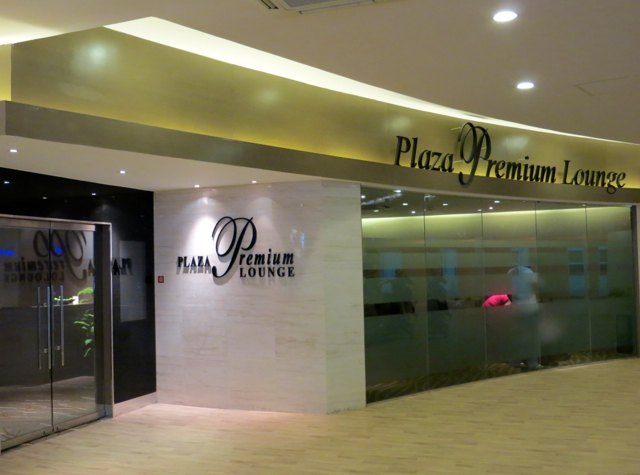 This Plaza Premium Lounge Review for Male Airport is part of a Maldives trip report including Qatar Business Class and the Park Hyatt Maldives. For prior posts please see:
Review: American Airlines Flagship Lounge in NYC, JFK
Review: Qatar Business Class NYC JFK to Doha
Review: Qatar Business Class Lounge, Doha
Qatar Business Class and Economy Class Review, Doha to Male, Maldives
Park Hyatt Maldives Hadahaa Review
Park Hyatt Maldives Island Grill Restaurant Review
Park Hyatt Maldives Water Villa Review
Park Hyatt Maldives Diving and Snorkeling
Park Hyatt Maldives Food and Menu
Park Hyatt Maldives Back of House Tour
Park Hyatt Maldives Interview with General Manager Julian Moore
Park Hyatt Maldives Activities: Top 10
The Plaza Premium Lounge in Male Airport is the only Business Class Lounge, so regardless of whether you're flying Singapore, Etihad, Qatar etc. out of the Maldives, this is the lounge you'll be in if you have a business class ticket. You'll receive passes to the Plaza Premium Lounge when you check in for your flight, and the lounge is upstairs, by all the souvenir shops, after you clear passport control and security.
We presented our lounge passes at the reception, and the staff provided slips of paper with the WiFi password. Although the lounge reception staff did change during our visit, we didn't have an issue exiting and then returning to the lounge when we went out to purchase a few small souvenirs, even though we'd already given the prior staff our lounge passes.
Inside, we found the lounge good sized, but fairly busy since it's the only lounge and there are a number of evening flights. We nevertheless found seats by the back, and the chairs were comfortable. In case you didn't bring your laptop, there are also computers available to use.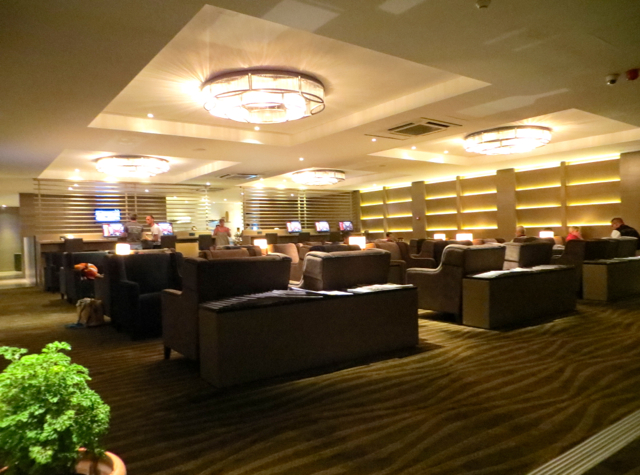 As usual, my husband and the munchkin were hungry, so we explored the food options. There were some simple but decent hot food selections, as well as fruit bowls, salad, sandwiches, fruit and desserts.
My husband opted for chicken with rice, and he said it hit the spot: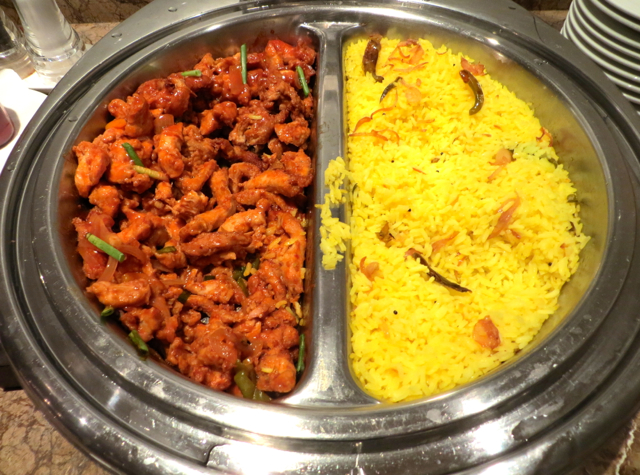 The munchkin of course wanted spaghetti, and ate most of the rather large serving: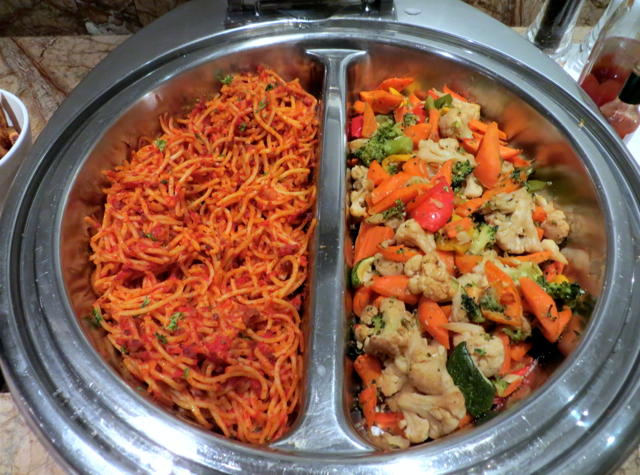 I chose some fruit, from the refrigerated case. While of course not as fresh cut as at the Park Hyatt Maldives, it was fine.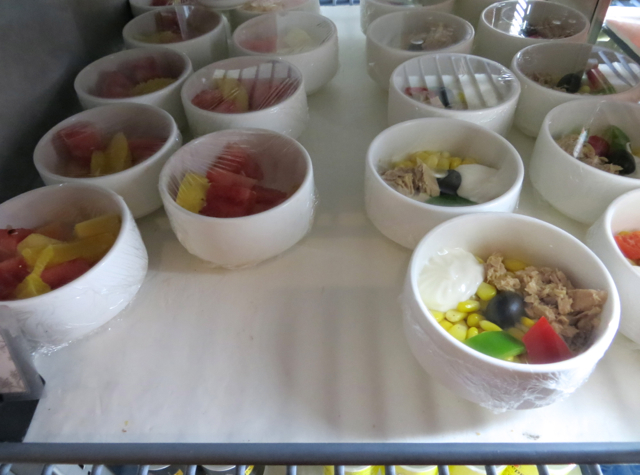 We also took some bottled water from the drinks case. Keep in mind that there is no alcohol served, due to the Maldives being a Muslim country. This didn't affect us, since we almost never drink alcohol in airport lounges anyway.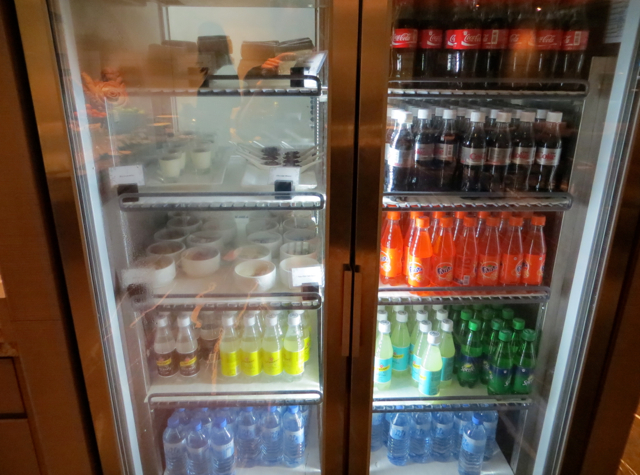 There were some desserts in the refrigerator as well, although we didn't try them: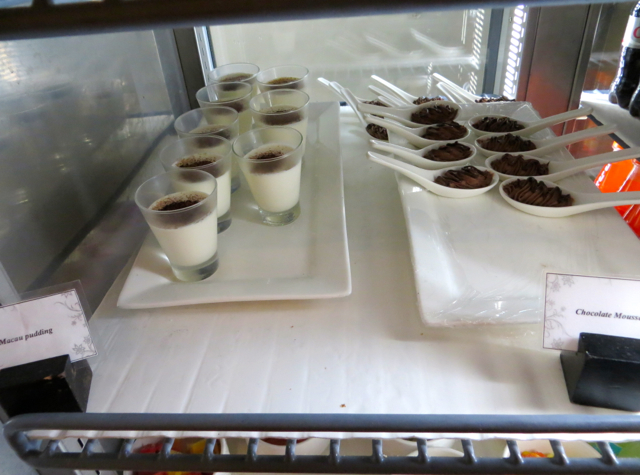 And also some brownies and cakes: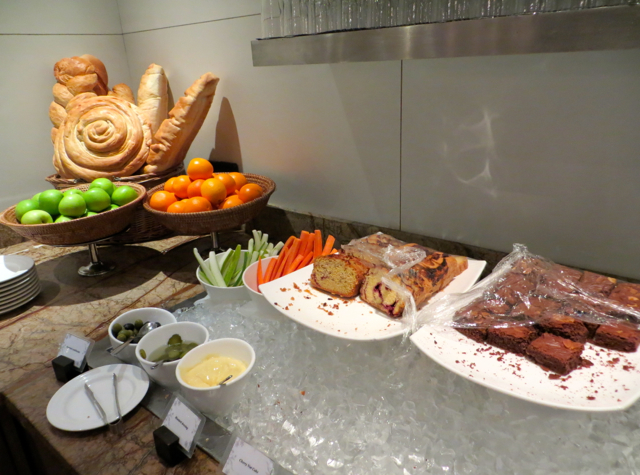 Coffee and tea options were basic, so I was glad to have my own tea bags with me: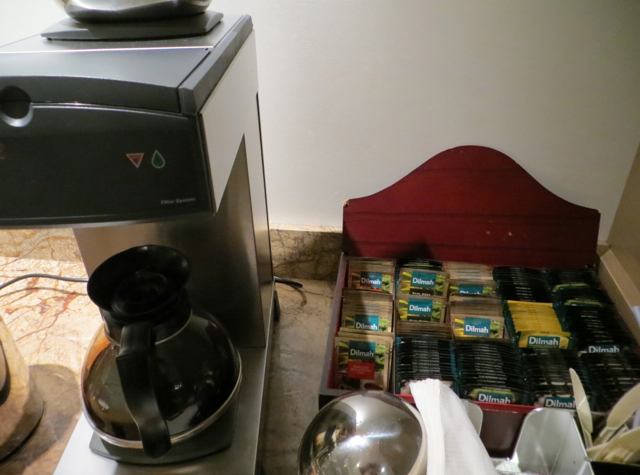 The women's bathroom was clean and less stark than some lounge bathrooms:
The Verdict: While you'll want to minimize the amount of time you have to wait in Male Airport, given its small size, the Plaza Premium Lounge is very decent small business class lounge to get a little work done in or just relax before your departing flight. As with most business class lounges, it's comfortable but not luxurious, although as an international lounge its food options (except for the fruit) are slightly better than, say, the Denpasar Premier Lounge in Bali which is a similarly sized lounge, and which we experienced before our Cathay Pacific Flight from Bali to Hong Kong.
If you've been to the Plaza Premium Lounge in Male Airport, what was your experience?
Related Posts
Park Hyatt Maldives Hadahaa Review
Park Hyatt Maldives Diving and Snorkeling
Park Hyatt Maldives Back of House Tour
Need Award Booking Help? Our fee is as low as $75 per ticket if you book your hotel through us.
If you enjoyed this, join 90,000+ readers: please follow TravelSort on Twitter or like us on Facebook to be alerted to new posts.
Become a TravelSort Client and Book Your Hotel with Virtuoso or Four Seasons Preferred VIP Amenities!