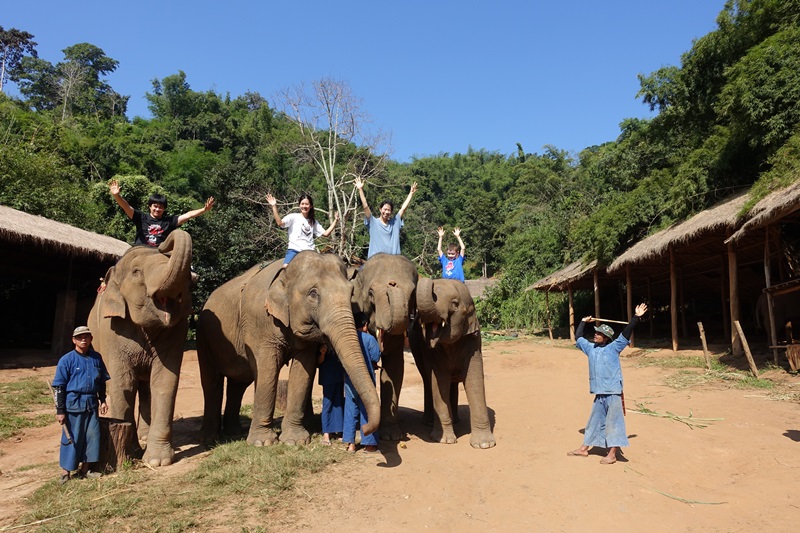 This Mahout Experience at Anantara Golden Triangle Elephant Camp is part of a trip report including Asiana First Class and luxury resorts and dining in northern Thailand and Cambodia. For the previous posts, please see:
SWISS Lounge JFK Terminal 4 Review
Review: Asiana First Class Suite NYC JFK to Seoul ICN
Review: Cornerstone Restaurant, Park Hyatt Seoul
Lounge Review: Asiana Business Class Lounge Seoul Incheon
Asiana Business Class A330 Review
Review: Novotel Bangkok Airport Hotel Suite
Review: Anantara Golden Triangle Elephant Camp and Resort
Anantara Golden Triangle Sala Mae Nam Restaurant Review and Menu
Please note: A future post will cover Anantara's Dining by Design dinner at the Baby Elephant Camp
The Anantara Golden Triangle Elephant Camp and Resort is a Virtuoso hotel, so TravelSort Clients receive these benefits when booking a qualifying rate:
Upgrade at time of booking, subject to availability (During peak holiday period Dec. 16 – Jan. 6, Upgrade at time of arrival, subject to availability applies)

$100 USD Resort or Hotel credit, to be utilized during stay (not combinable, not valid on room rate, no cash value if not redeemed in full)

Daily Buffet breakfast, for up to two in room guests (included in all-inclusive rates)

Early check-in/late check-out, subject to availability
It's no surprise that the most popular activity at the Anantara Golden Triangle Elephant Camp and Resort is the Mahout Experience, where you're taken to the Elephant Camp, learn some of the basic Thai voice commands, how to mount and dismount an elephant, trek along nature trails, and even bathe your elephant in the river.
Since my husband was recovering from an illness, it was just the munchkin, me, and a Thai couple on the morning of our Mahout Experience. Already in our room were a pair of mahout trousers for me, with directions for how to put them on and tie the belt to hold them up, as well as a smaller version with elastic waist that fit my son perfectly.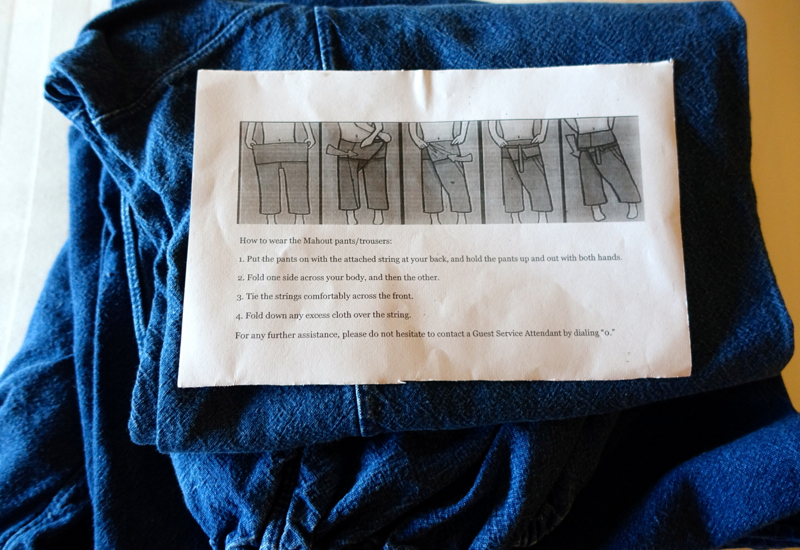 At the Elephant Camp, we got to see the youngest baby elephant, Nong Sam, less than a year old. I couldn't get a good photo of him, so I'll include one from Anantara as well, taken soon after he was born. Even though at his age he was only drinking milk from his mother, he loved practicing using his trunk to pick up plants. As our mahout explained, he was copying his mother, even though he couldn't yet eat any of the plants he picked up.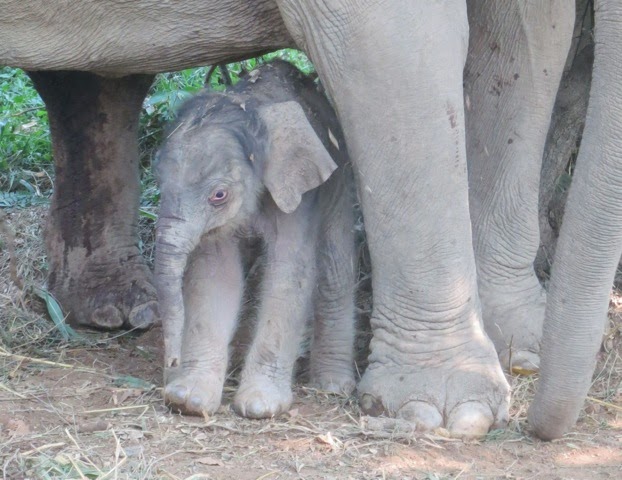 Soon we were learning how to mount and dismount our elephant. There was a rope we grasped with our left hand, while putting our right foot on the elephants knee (after saying "song soong" asking the elephant to lift its leg) and hoisting ourselves up. Naturally we all were thankful for the mahouts' help, since it wasn't the easiest thing to do first time round!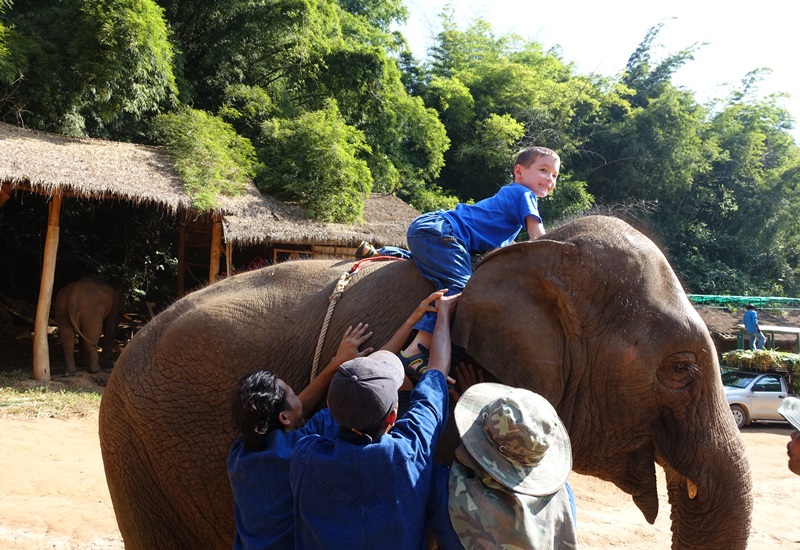 Incredibly, to me at least, the munchkin was up there by himself, with no mahout. I was initially a little worried he might fall off, but apparently the mahouts knew his abilities better than I did (or he was lucky) since he stayed put the entire time he was up there by himself.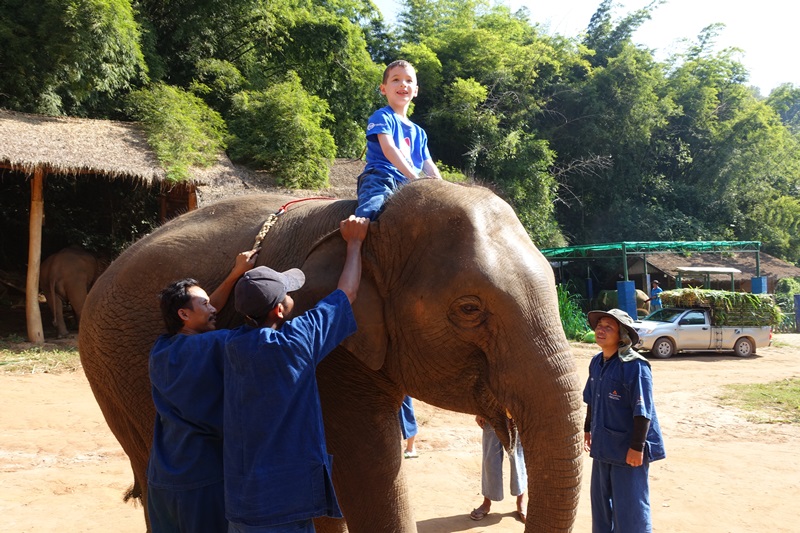 Although I don't remember all of the commands, a few of the key ones in addition to "Song soong" were:
Bai = Go
Baen = Turn (accompanied by nudging the elephant behind the opposite ear from the direction you want the elephant to turn)
Hau = Stop
Tag Long = Get down from the front of the elephant (the elephant lowers his/her head)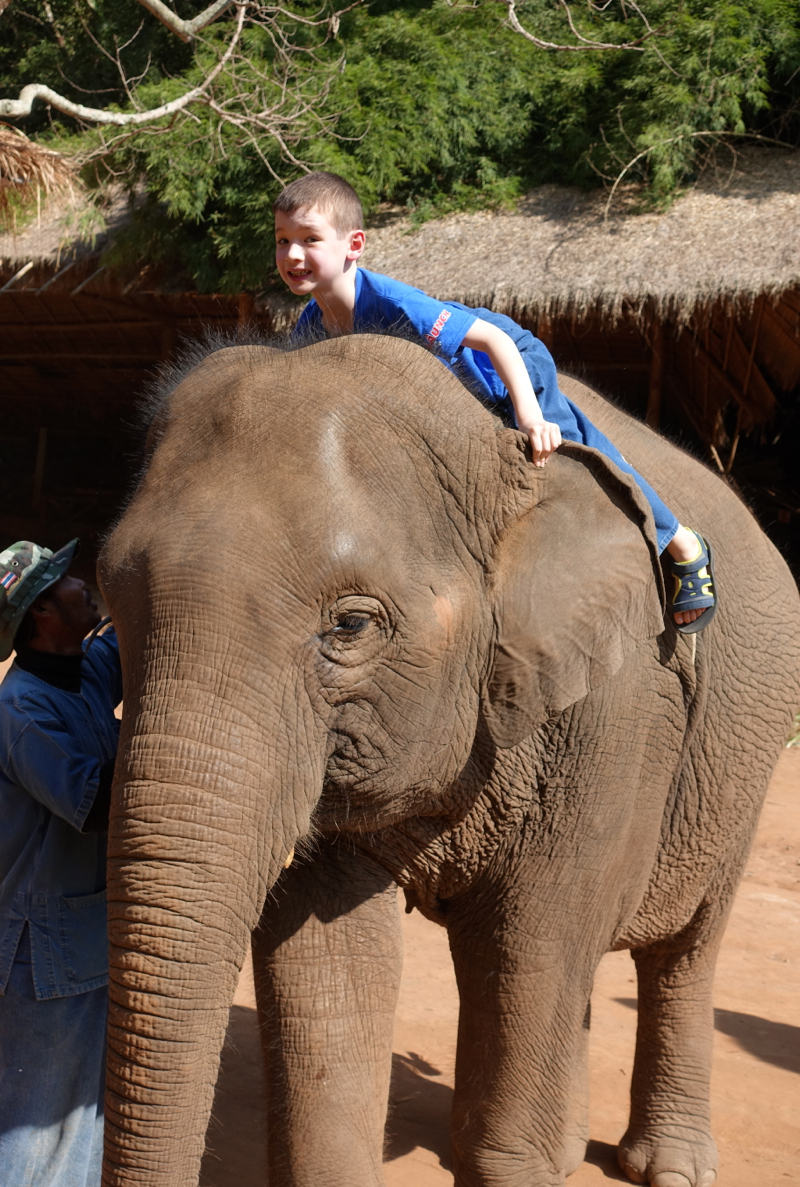 I was on an elephant named Lanna, while my son was on ThangMo (which means watermelon in Thai). You sit on the neck of the elephant, with your feet behind the ears. I was surprised by how hairy our elephants were on the top of their heads, as I'd thought only baby elephants were hairy.
We took a group photo with our elephants, before setting off for our nature walk: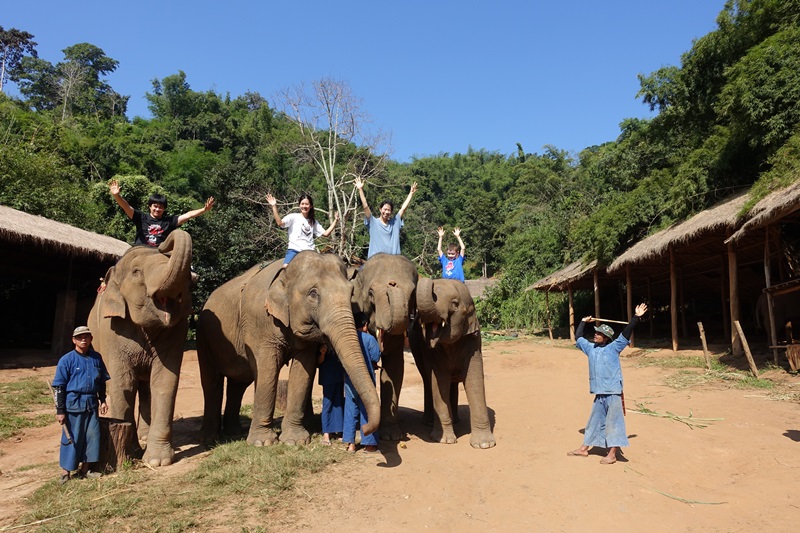 Leaving the Elephant Camp, we made a large loop around the resort, enjoying the steady rhythm and peacefulness of the forest on our walk.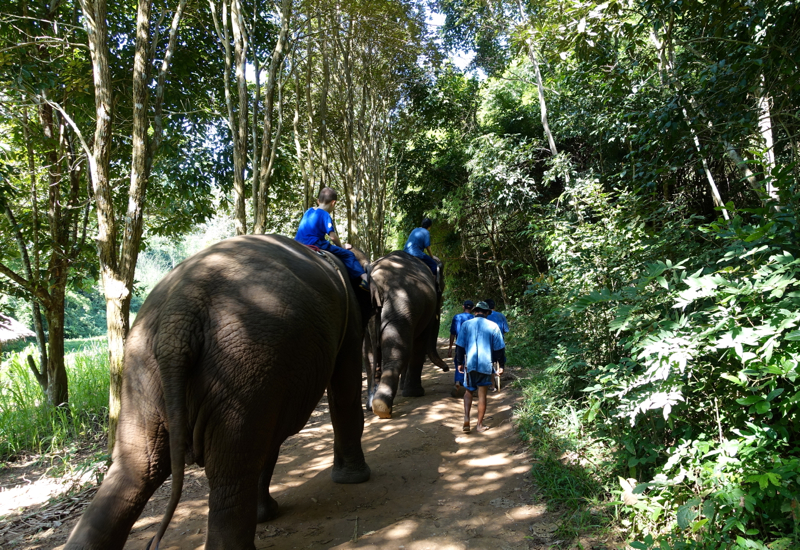 The highlight, including for the elephants, was a river bath. It was a little precarious descending down the river bank, so we were instructed to hold onto the rope behind us, and thankfully each elephant's mahout also accompanied us to ensure there were no casualties 🙂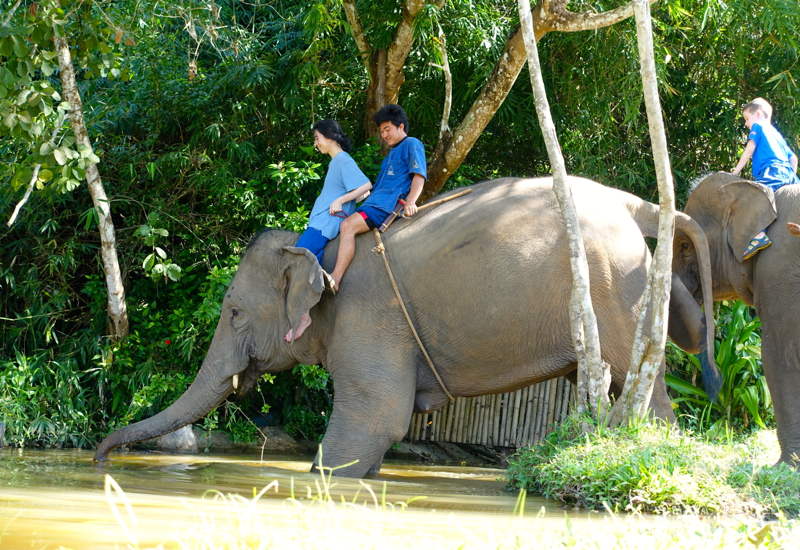 Now was when the elephants' personalities really emerged–I'm convinced I had the most mischievous elephant, as she delighted in showering me at least 8 times, while my son giggled at how drenched I was getting.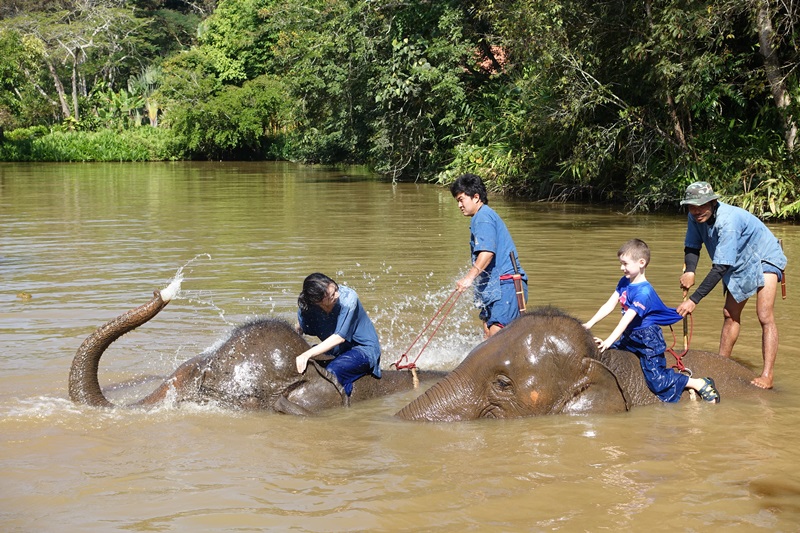 We later joked that if I had the most mischievous elephant, ThangMo was the perfect match for my son, and was the "munchkin" elephant, since she seemed to pause every chance she got for some food. Elephants apparently have to spend about 17-19 hours a day eating, so never once did we see any of the elephants decline food.
About two hours after starting our mahout experience we arrived back at the entrance of the Anantara, still damp and a bit muddy from the river but happy and exhilarated.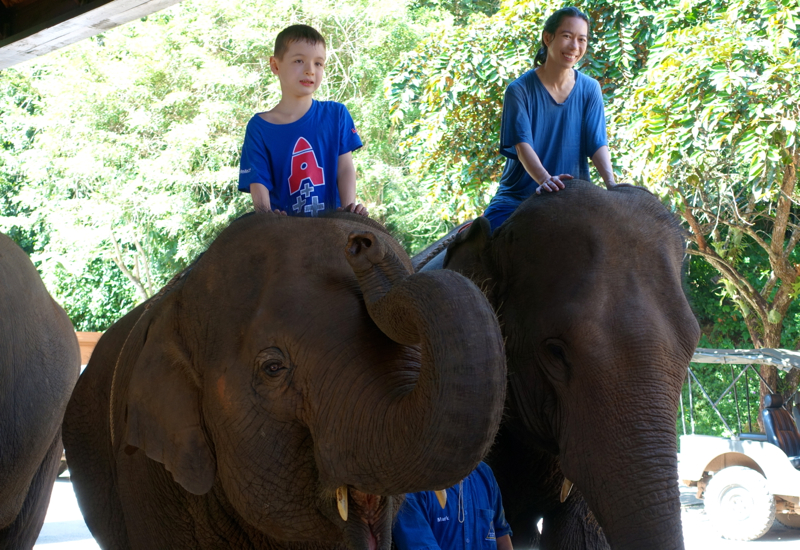 Have you tried an elephant mahout experience?