Lufthansa's new first class is something I'd been looking forward to trying. And since I was having a tough time finding Lufthansa first class availability out of NYC on my required date, I fortunately found what I needed out of Washington DC Dulles (IAD), on the A340-300, and I was able to book this Lufthansa first class award 15 days in advance.
After getting off my positioning flight, I walked over to the Lufthansa Lounge, where an attendant checked my passport and made sure I had the required visa (not for Germany, but for my final destination) before ushering me into the lounge. The front area has the buffet and a few tables, and the lounge has armchairs and power ports. Somewhat annoyingly, there didn't seem to be any power ports by the dining tables, so I shuttled between the lounge area and a dining table between ordering and waiting for my food.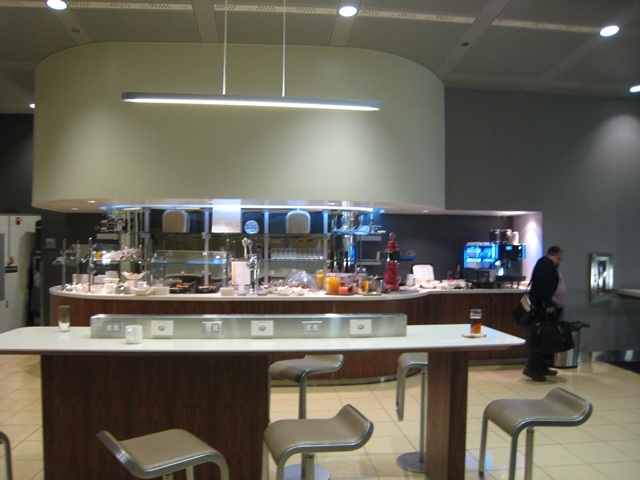 The lounge primarily caters for business class passengers, but there is a dining area just for first class where you can order a pre-flight dinner. Since I was famished, I decided to have something there, although note that they only serve at 8pm. The server brought me a menu, and when she returned I indicated my choices, after which she realized she'd brought the wrong menu. So she brought the right one, and I chose again, only to be told that neither of the two dessert choices were available because the delivery hadn't come, although there was plain cheesecake available.
The beef short ribs were not very good at all–quite dry and a bit tough. The cheesecake was so forgettable I had 2 bites. It was enough to tide me over, but I hoped on-board catering would be better.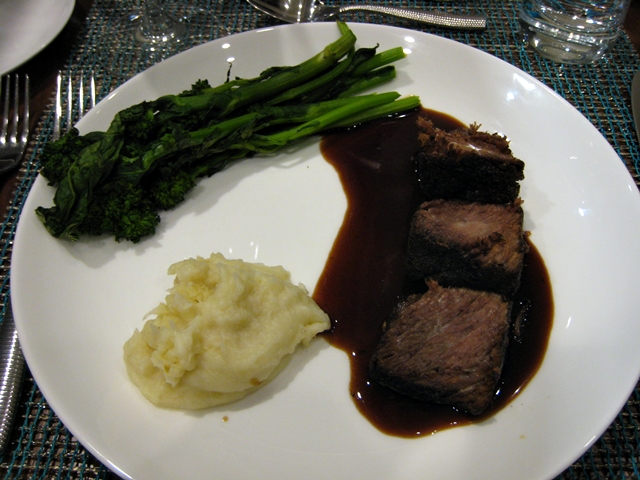 The nice thing is that you leave from the lounge straight to the jetway. I didn't even have to put my coat back on. The attendants cheerily welcome us on board, and I took my place in Seat 2K. Of the 8 seats, 6 were taken, and I seemed to be the only American. Here's a view of the cabin: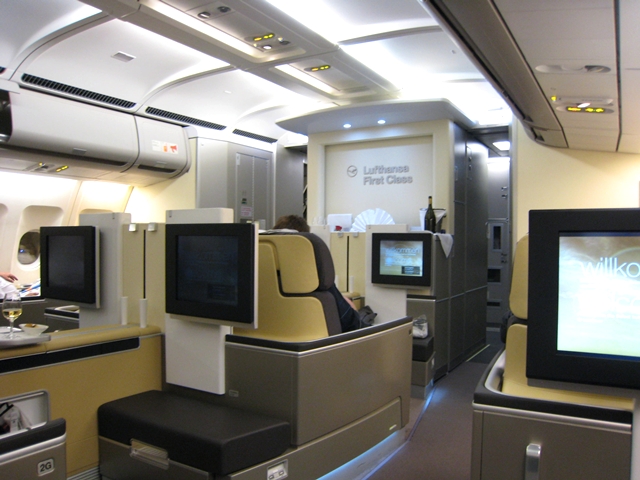 The brown and cream color scheme of the new first class reminds me of Swiss, although I've only reviewed Swiss Business Class. The seat is a seat, not a suite such as in Cathay Pacific First Class. This is good for visibility if you're traveling with a child, but unlike on Cathay, these first class seats definitely do not accommodate two people sitting side by side.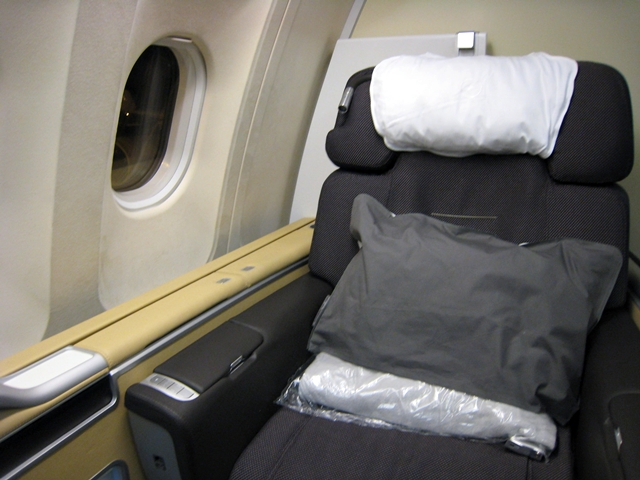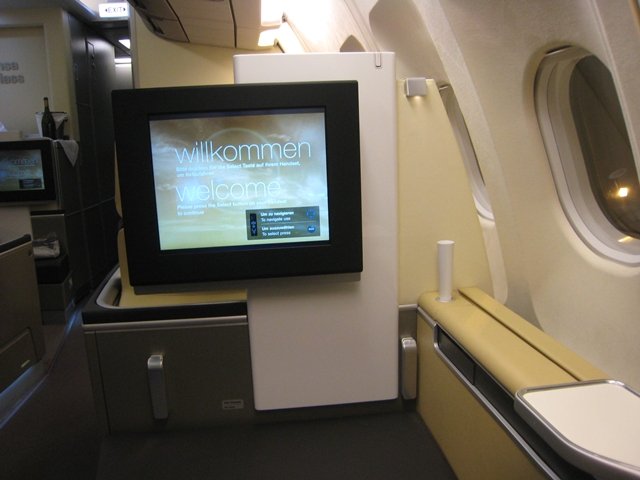 I was offered pre-flight champagne, but given the late hour and my hope to get some rest, I opted for water instead. The nuts were mixed, with just 1 macadamia, which I promptly tasted.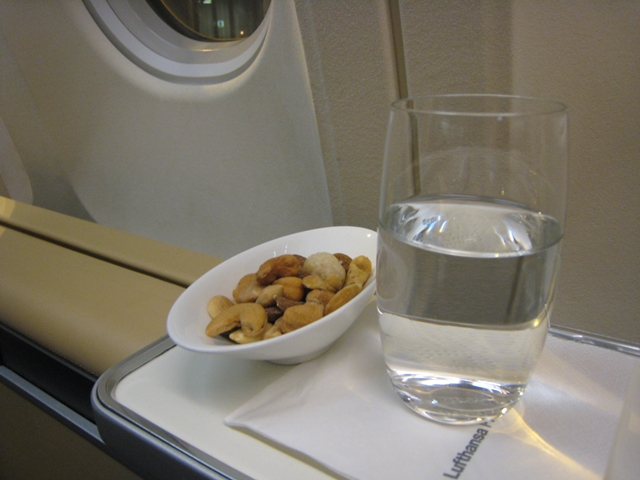 The flight attendant also brought me pajamas, slippers, and an amenity case. I stowed the pajamas and slippers in the ottoman, which has some great storage space within it: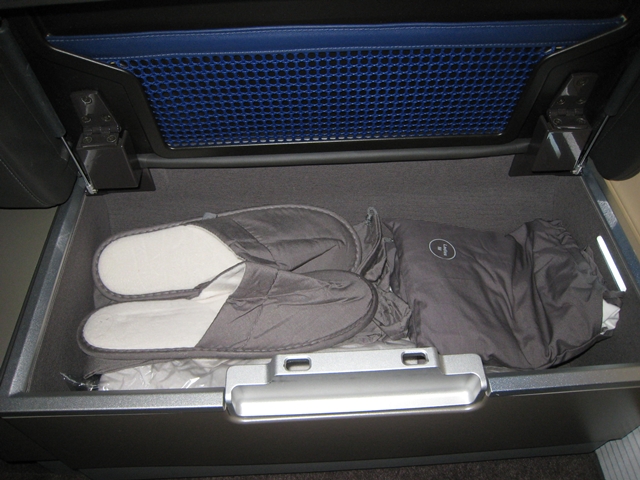 The amenity case was pretty simple compared to Cathay Pacific, containing just the essentials: toothpaste, toothbrush, earplugs, socks, comb/brush, eye mask, and "La Mer" moisturizing cream. While that covers the bases, it seemed more like a business class amenity kit to me. First class is a luxury, not a necessity, so in my view the amenity kit should also convey some luxury, not just be utilitarian.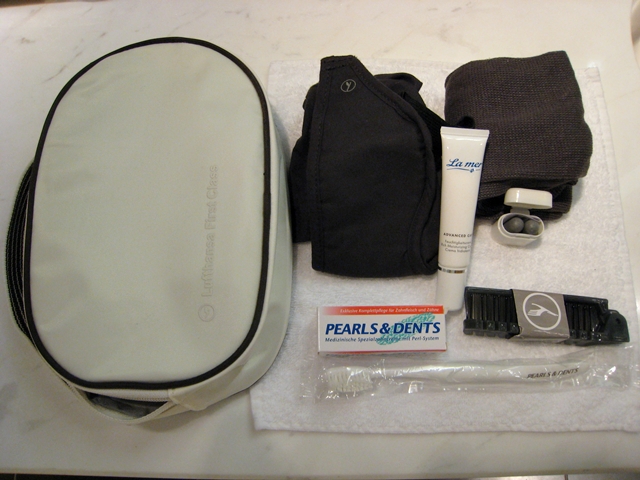 I was wondering why mouthwash wasn't included, but in the bathroom there were some vials of mouthwash, along with moist towelettes. But, apart from a Lufthansa red rose in a vase, nothing particularly luxurious, such as Aesops or Temple Spa products as on Cathay.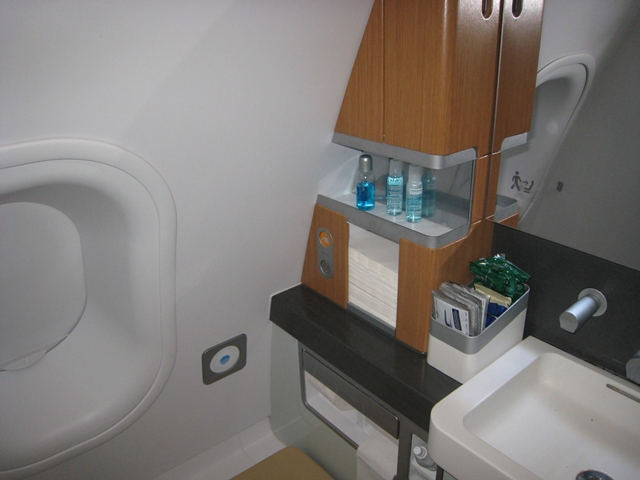 The flight took off on time (unlike the next Lufthansa flight I took) and the pilot even predicted an early landing in Munich. I was glad once we were airborne and I could adjust the seat, as I found the fully upright position slightly uncomfortable. Here are the seat controls: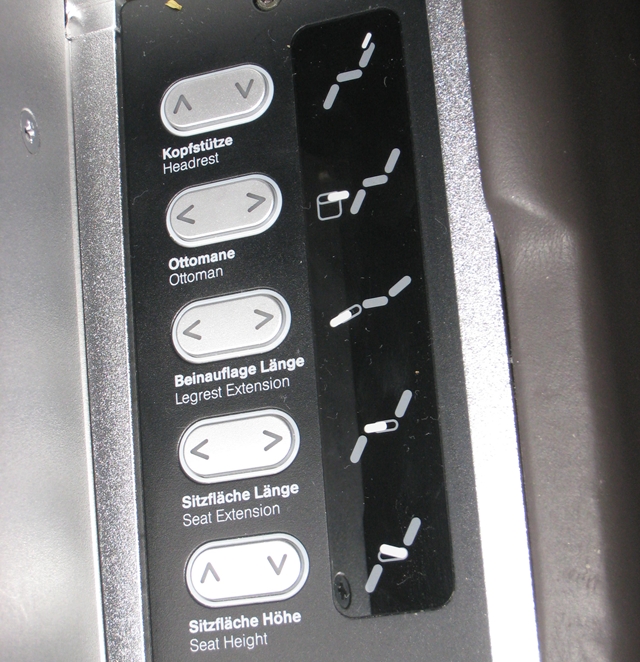 While I probably could have just gone to sleep, since I was pretty tired, I was left pretty unsatisfied by the Lufthansa Lounge dinner and wanted to at least try the dinner service. Here's the dinner menu: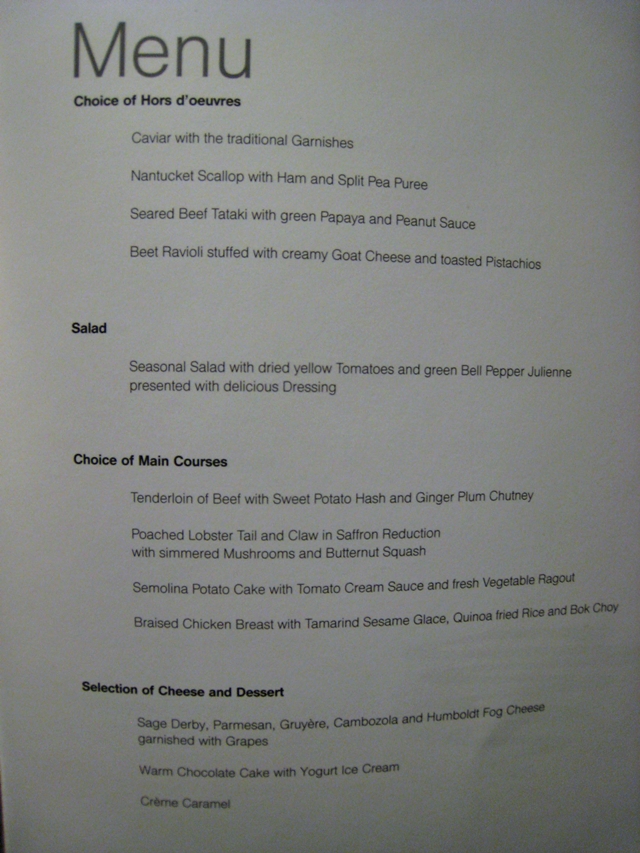 I also looked at the wine list but didn't order anything, since I wanted to be able to sleep. Here are the red wines and dessert wine: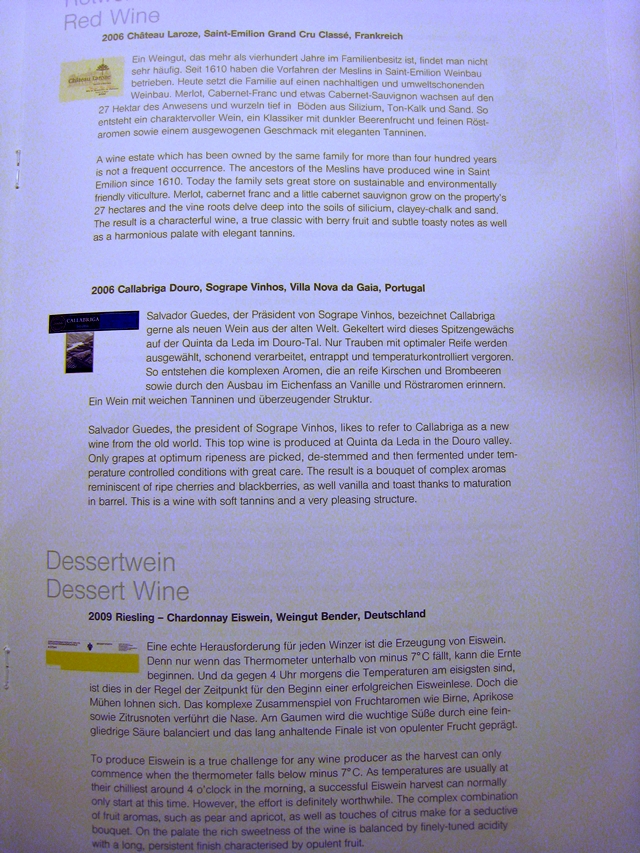 The flight attendant first brought a smoked salmon cucumber amuse bouche. The salmon itself was fine, but I left the cucumber, which I don't care for.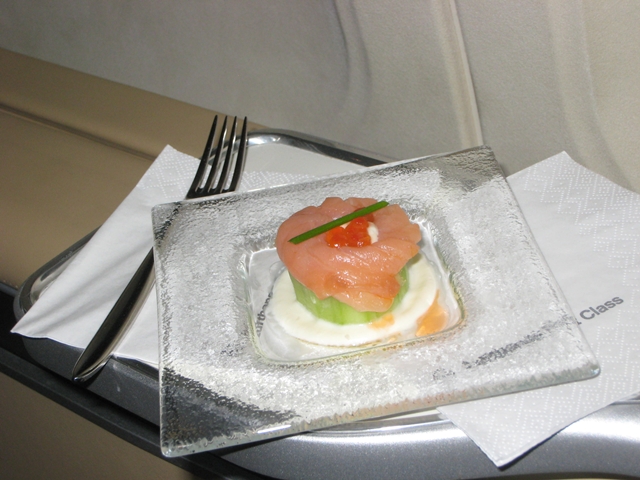 She also brought the classic Lufthansa rose and set the table for dinner service: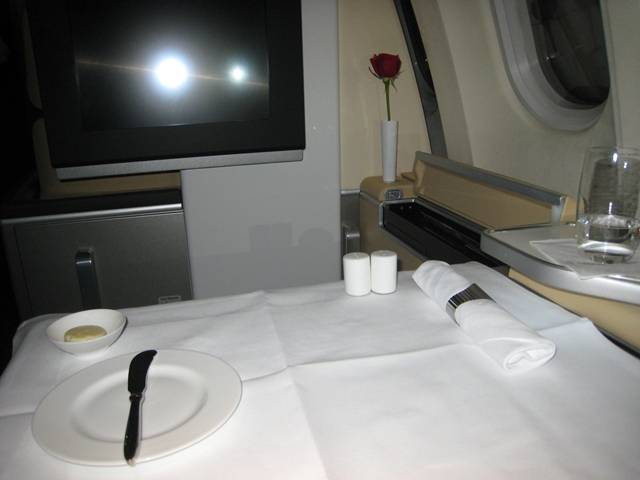 It's a nice touch to have the appetizers displayed on a cart, so you can see the choices before picking. I decided on the caviar service and the beet "ravioli" with creamy goat cheese. I won't pretend to be a caviar expert, and the caviar itself tasted about as good to me as the caviar on Cathay Pacific, and it came with finely chopped hard boiled egg, and sour cream. What I really missed though was the Balik salmon that Cathay serves with its caviar. It's the perfect complement, and none of the other smoked salmon I had, either in the amuse bouche or later in the Lufthansa First Class Lounge, came close.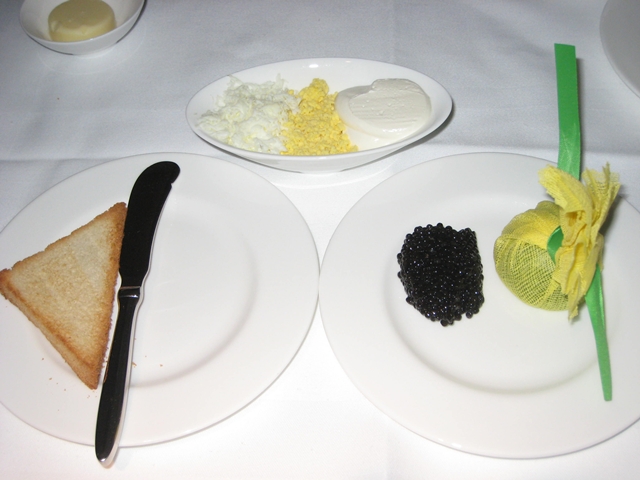 I mainly chose the beet ravioli with creamy goat cheese because it looked beautiful, but it was just as delicious as it looked, with the sweetness of the beets and luscious creaminess of the goat cheese, with some nice contrast added from the pistachio nuts and oil. If I had to quibble, it would be best to sprinkle the pistachios on just at serving, so that they would be crunchier and not softened.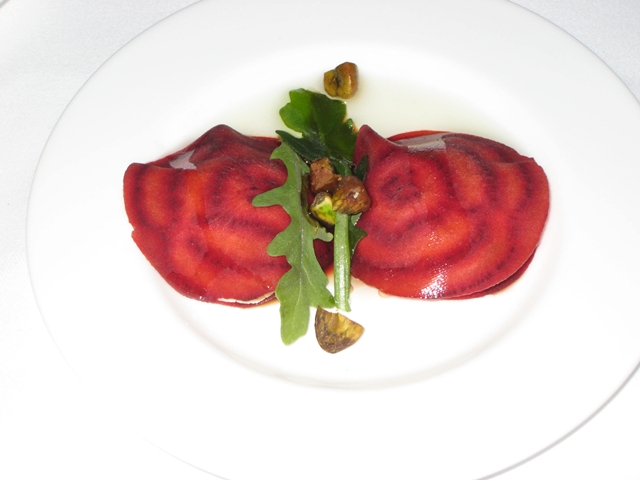 For the main I chose the poached lobster in saffron reduction. I figured it would be a good test, since even many restaurants don't get this right. Ironically, all the other components of the dish were better than the lobster, which was a bit overcooked and didn't have much flavor on its own. The saffron reduction, roasted butternut squash and shiitake mushrooms were delicious, however.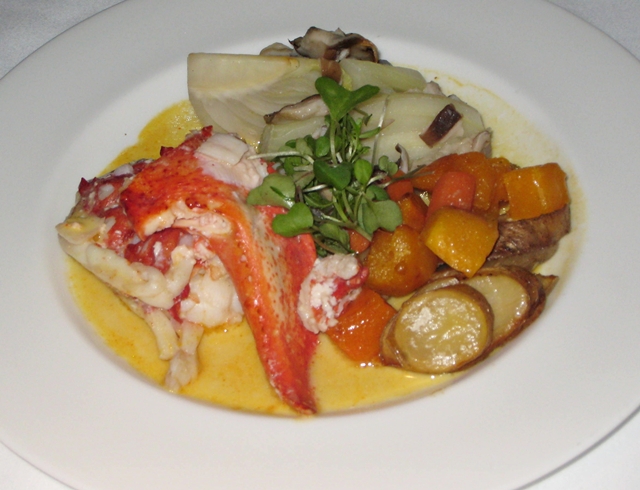 Since I'd had enough to eat and was getting tired I decided not to get cheese and dessert. I wasn't that impressed with Swiss Airlines' desserts, so I figured Lufthansa's probably wouldn't be anything to write home about either, especially since that's the kind of food I'm most picky about. I changed into the Lufthansa pajamas, which for women are grey cotton pants and a white knit shirt. The shirt is soft, but the pants seem to be just regular cotton, so not quite as comfortable as the Shanghai Tang pajamas on Cathay. When I returned to my seat, the flight attendent had made and turned down my bed, and also left a box of chocolates and a bottle of water: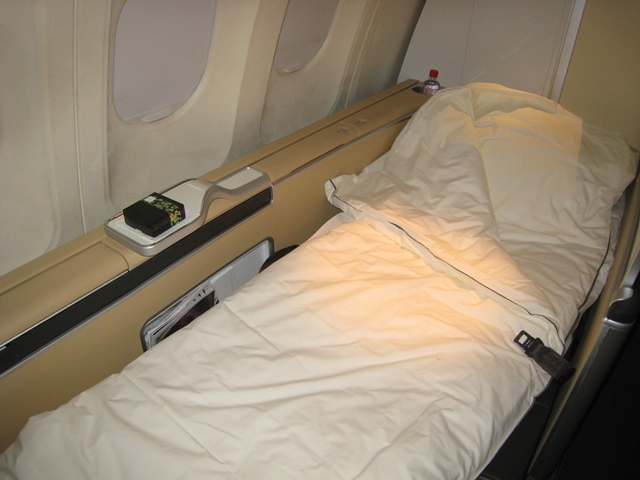 The bed itself was plenty long enough, but not quite as comfortable as I'd hoped, even with the mattress pad. It's a matter of personal taste, but I like pillowtop beds with a memory foam layer, and this bed was quite firm. Fortunately, since the part of the bed at your head is already like a pillow, I took my pillow and slid it under my knees, and that improved the comfort considerably. With that modification, I slept almost as well as I had on Cathay, for about 4 hours. I should also mention that there's a privacy screen that you can raise with a push of a button, and it does make your space more suite-like.
I saved the four chocolates for my son, so haven't tried them yet: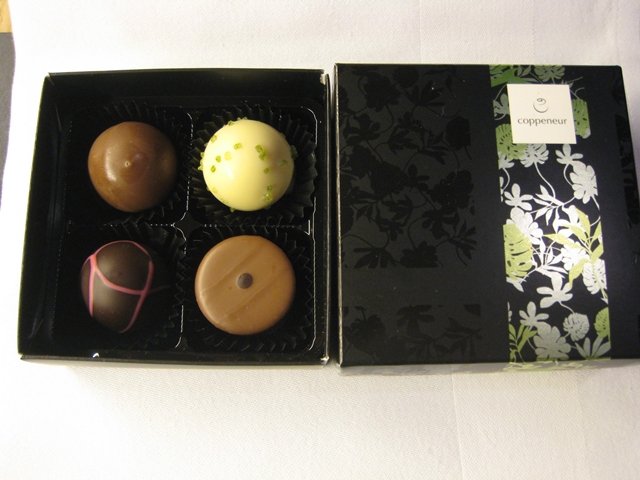 I'll add the breakfast menu and photo later, but the overall verdict was good: There's no question this is one of the most comfortable ways of getting to Europe. Service on my flight seemed friendlier than what my husband had described when he took Lufthansa's old First Class. I do still think the Lufthansa Lounge at IAD lets the brand down–I would go so far as to say, just don't serve a pre-flight "first class" dinner if it's going to be that bad. And the amenity kit should really be spruced up to be more of a luxury offering, at least for first class. Given the high fuel surcharges on British Airways, the main other competing product for first class that actually offers award availability, Lufthansa first class remains the one to beat in terms of overall value, when it comes to award bookings to Europe.
Booking Lufthansa First Class with Miles and Points
I used 67,500 United miles from a combination of pre-existing United miles and Ultimate Reward points earned from 5X spend on the Ink Bold and Freedom to book Lufthansa First Class to Europe. I already had a return ticket, but you could use a United free one way to maximize your award if you book a roundtrip on Lufthansa or other Star Alliance carrier using United miles.
Update: Don't forget the unfortunate massive United Award Chart Devaluation which will increase Lufthansa First Class awards by up to 86%, due to the new separate partner award chart and hikes in first class and business class award prices. Your best bet for securing Lufthansa first class award space in advance, and at lower award prices than the devalued United award chart, is to use Lufthansa Miles & More miles. The recent 50,000 mile signup bonus for the Lufthansa Miles & More card has expired, but follow TravelSort on Twitter or like us on Facebook to be alerted if this offer returns.
Related posts
Lufthansa First Class Award: Booked 15 Days in Advance
How to Deal with No More Lufthansa Advance First Class Availability
Lufthansa's New Business Class Rollout and Routes
Airlines and Routes with First and Business Class Award Availability for Europe
10 Best International First Class Seats for Award Travel
Need Award Booking Help? Our fee is as low as $75 per ticket if you book your hotel through us.
If you enjoyed this, join 150,000+ readers: please follow TravelSort on Twitter or like us on Facebook to be alerted to new posts.
Become a TravelSort Client and Book Your Hotel with Virtuoso or Four Seasons Preferred VIP Amenities!