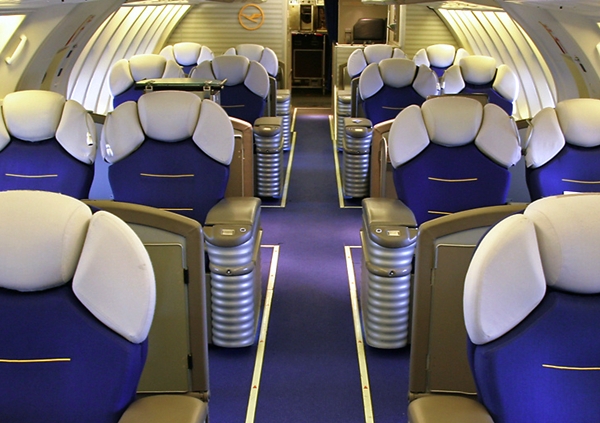 Lufthansa's First Class service is certainly luxurious. Even its "old" First Class (also see my wife's review of Lufthansa New First Class). No one would deny that. From the traditional Lufthansa single rose slipped into a special vase embedded within each seat, to the gourmet menu and immaculate service, to the Mercedes Benz escort from the plane to the first-class airport lounge, the experience is truly rarefied. In fact, it feels a little strange to dare criticize such lavish treatment. But here goes.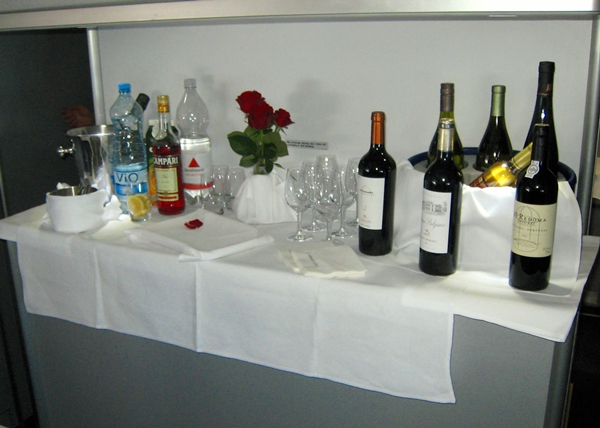 I should first mention that, yes, I used points to book the flight, and that, no, I am not senior management of a large German company. In fact, if I had been CEO of Deutsche Bank I might have had a better experience. For you see, from the first moment I stepped into the opulent first-class cabin, a mini country club consisting of two rows only (four seats in each row) of fully equipped, fully reclining sets, I became aware that I had stepped into an elaborate dance. Now if you are like me, you have tried ballroom dancing but never really gotten the hang of how to lead without occasionally stomping on your partner's toes or banging into another couple. So I began to realize that the flight attendants were expecting me to know the steps and to flawlessly lead.
On my flight from New York to Dusseldorf, it was just me and three middle-aged, bald German men, each of whom knew to wordlessly hand their dark blue suitcoats to the attendant upon boarding the plane. So when I came on board, she smiled but stood there awkwardly as I scuttled past in my hoodie. Each of the men accepted her offer for a cocktail of their choice within minutes of being seated, while she seemed genuinely upset that I only requested a bottle of water. And so on. I even began to struggle with all the features and controls of my seat until I wished that Lufthansa would commission Steve Jobs to make the interface more intuitive. But then none of my companions seemed to have any problems. They all seemed to know exactly what to expect and two of the three even knew the flight attendant by name.
While I felt like an outsider, I did enjoy the food. Now, I wouldn't say that it compares to the best restaurant food I've eaten (it probably also hurts that I live in NYC and was returning from Paris, so am a bit spoiled in the food department). But it was definitely the best airline food I've eaten.
First up was an amuse bouche, a cheese terrine; not sure if the layers were quince or another fruit, but it was good: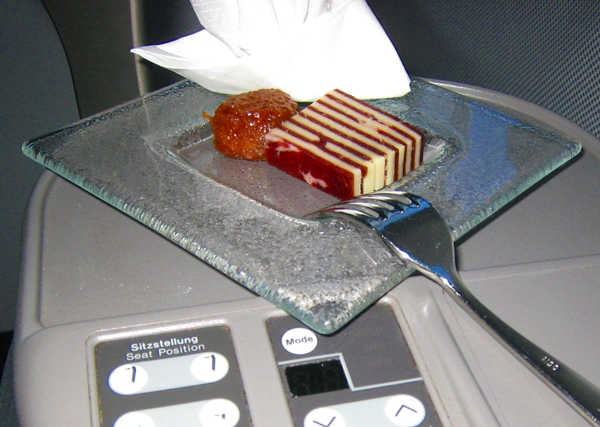 I then selected caviar with the traditional garnishes for my appetizer:
For main course, the lamb crusted in gorgonzola and herbs with au gratin vegetables was delicious: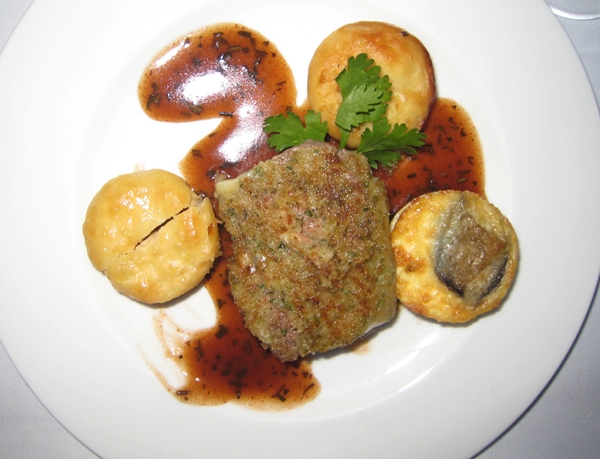 For dessert, I opted for the cheese plate–nice selection, but hard to compare to the French cheeses I'd sampled in France: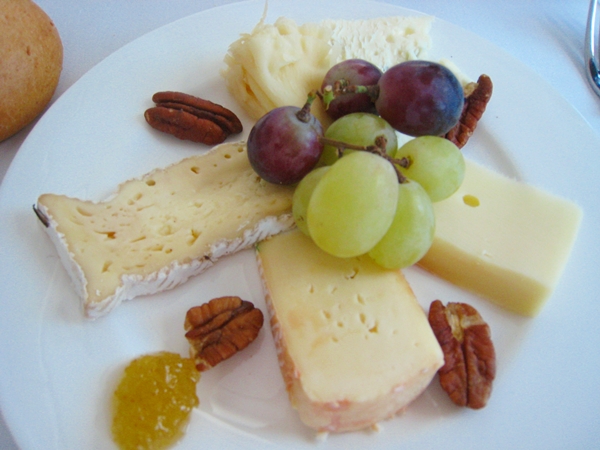 It was nice to be able to help myself to the chocolates they left out: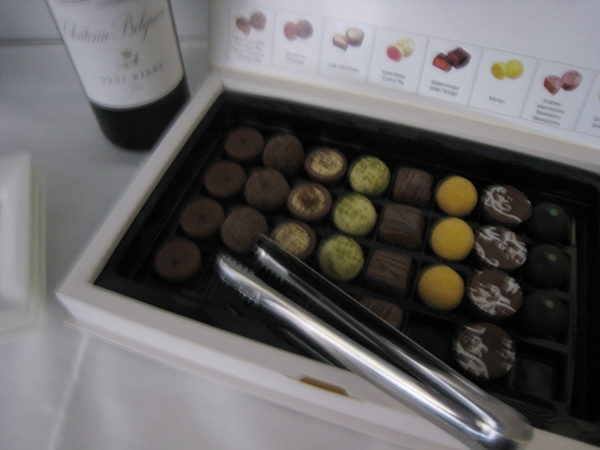 The best part was simply being able to stretch my 6'5 frame out on the fully reclined flat bed seat. For any flight over 4 hours, I need a seat that allows me to recline fully or almost fully, to feel comfortable, and the Lufthansa first class seat certainly met my needs (once I figured out all the controls).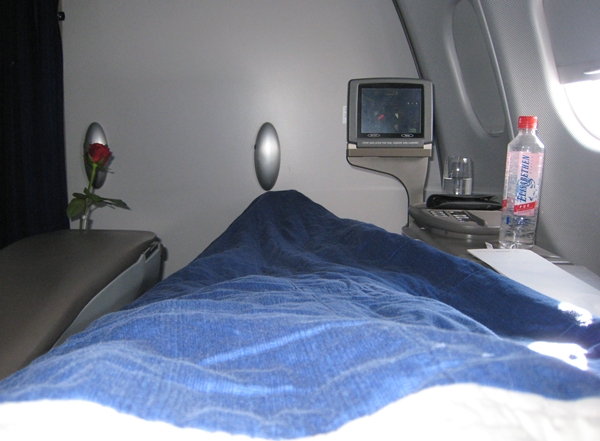 On the return, via Munich, I even felt somewhat out of the step in the First Class lounge. Of course I loved the courtesies provided: the open bar, open restaurant, and attentive service. But when I wanted to leave quickly to board my plane I was more than a little surprised to discover that I had to be "buzzed out" and at that moment no one was around. I was locked in the lounge until the attendant returned to her desk.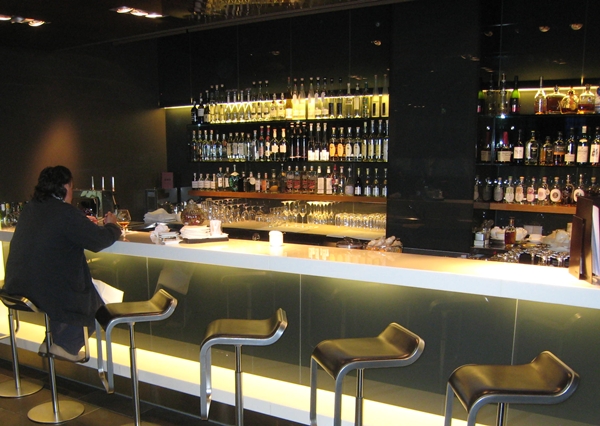 I want to stress that the purpose of this is not to complain—of course I savored every minute of my flight—but instead to relay my particular experience. I loved the little details: the box of chocolates left in the serving area, the caviar appetizer, the after-dinner cheese selection, the little vials of mouthwash in the bathroom (which was larger than usual airline bathrooms).
But I couldn't help feeling a little bit like an intruder. Never so much as when I boarded for my return flight, and was politely guided away from my pre-selected window seat in the second row, 2K to a first row seat, 1K. It seems that one of the more frequent first-class flyers, whom all the staff seemed to know, had decided to take my seat, and the flight attendant wasn't about to let me disturb her. To be fair, it didn't really matter much to me. The seats were essentially the same. It just underscored to me how much of the experience was about entitlement.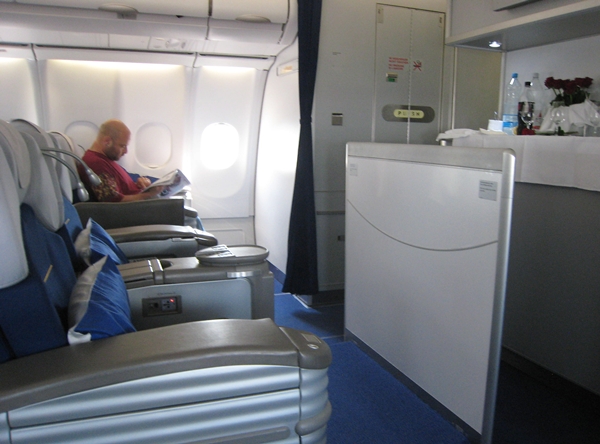 So looking back on it now, I would say in summary that, without a doubt, Lufthansa deserves its reputation as one of the best first-class flying experiences, especially if you fit into the mold of one of their high-powered German executive frequent flyers. I would also say that next time I have points to blow, I may look elsewhere.
Flying Lufthansa First Class with Miles and Points
My wife booked my Lufthansa First Class ticket using United miles earned with the Ink Bold 50,000 bonus points and the Sapphire Preferred bonus, plus points from spend on those cards, since Ultimate Rewards points transfer 1:1 to United miles. If you already have those cards, you could apply for the Ink Plus and see if you're targeted for the 65,000 United MileagePlus Explorer offer. But if you want to book Lufthansa First Class in advance, you'll need Miles & More miles. You can earn Miles & More miles with the Lufthansa Premier Miles & More MasterCard, which recently had a 50,000 bonus miles signup offer (now expired).
Related Posts
Lufthansa New First Class Review
50,000 Miles Lufthansa Premier Miles & More Card – Worth It?
Lufthansa First Class Award Space Booked 15 Days in Advance
How to Deal with No More Lufthansa Advance First Class Availability
Lufthansa's New Business Class Rollout and Routes