This Lufthansa Business Class Short Haul Review is part of a trip report including First Class and Business Class to Moscow on Lufthansa, with reviews of luxury hotels and dining in Moscow and St. Petersburg, Russia.
For the prior posts, see:
Lufthansa First Class Award Booked 15 days in Advance
Lufthansa New First Class Review
Review: Lufthansa First Class Lounge in Munich
They say the key to enjoying anything is low expectations, and that would be sound advice for Lufthansa business class on the A320 for short haul flights in Europe. Or at least on my particular flight from Munich to Moscow.
Actually, that's probably a bit too harsh: the greatest disruption was not Lufthansa's fault: it was an intoxicated passenger who the crew wisely denied boarding to, which resulted in a lengthy altercation since there were no other Lufthansa flights out that night to Moscow (our flight was supposed to depart 9:20pm). I believe they finally called in security to escort the passenger away, but of course they still had to locate the passenger's bags and unload them, so the process took about 1 hour.
Surprisingly (or not) the mostly Russian passengers were sanguine about the delay. Perhaps it's a regular occurrence? I certainly remember drinking parties aboard an Aeroflot flight back from Vietnam to Moscow, though this was some years ago.
At any rate, we were at last on our way. As you probably know, Lufthansa Business Class short haul flights have the exact same seats in Business Class as in Economy, the only difference is they block the middle seats. I found the seats pretty uncomfortable, but fortunately, after takeoff, my seatmate moved up to the bulkhead seats to stretch out (no one was seated in either bulkhead) so I was also able to convert the three seats in my row into a bed that, while narrow, was made better by the 4 extra pillows the very nice flight attendants offered me.
That was actually the very best part of the flight, and unexpected: the flight attendants on this route, both German, were really, really nice. I've been to Germany perhaps 5 times some years ago and I kind of got used to service ranging from efficient and emotionless to downright surly. I don't know if this is because of bad luck, because I don't speak German, or something else. But I must say that I genuinely enjoyed the service on the Lufthansa First Class flight, at the Munich First Class Lounge, where the server in the restaurant was very kind, and especially the friendly flight attendants on this Business Class flight. While the 3 seats weren't comfortable to sleep on, with the pillows it was a lot more comfortable to be able to lie down.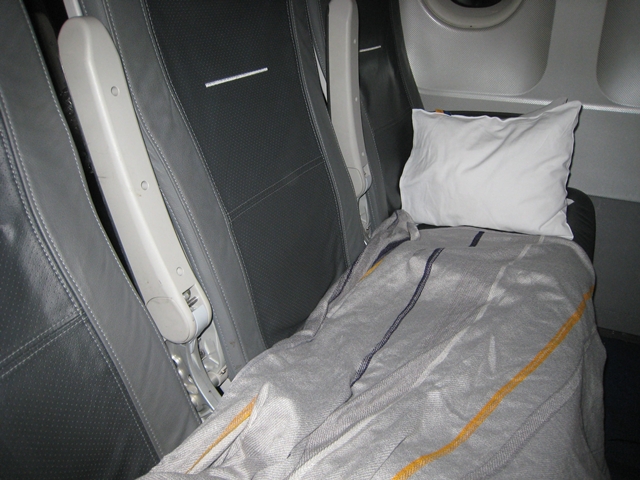 The food, though, was pretty atrocious, even for short haul business class. Yes, it was edible–barely–but in retrospect it would have been better not to eat anything. I found it pretty ironic that the menu, on the back read in part:
"Some of the most delicious dishes are found in our current in-flight menus. Discover the culinary pleasures of "essen & trinken" here on board and admire their finesse. Perhaps one of the creations will become your favorite dish?"
Mmm, not likely. Here's the menu, which reads decently:
I didn't get a main course, but I could see what it looked like for those in the row behind me by looking at the reflection in the window, and that the passenger took a few bites and left the rest.
Here's the tray with the appetizer of tuna on seaweed salad, the cheeses, and brownie dessert. The tuna didn't taste fresh (I hoped that I wouldn't get a food-borne illness after tasting it) and the supposed miso sauce just tasted like a particularly bad mayonnaise. If I hadn't read the cheeses listed, I wouldn't have been able to identify any of them by taste, and the fig mustard didn't really go well with any of them.
The only thing that was ok was the chocolate and walnut brownie, which is understandable–it would take special talent to mess up a brownie.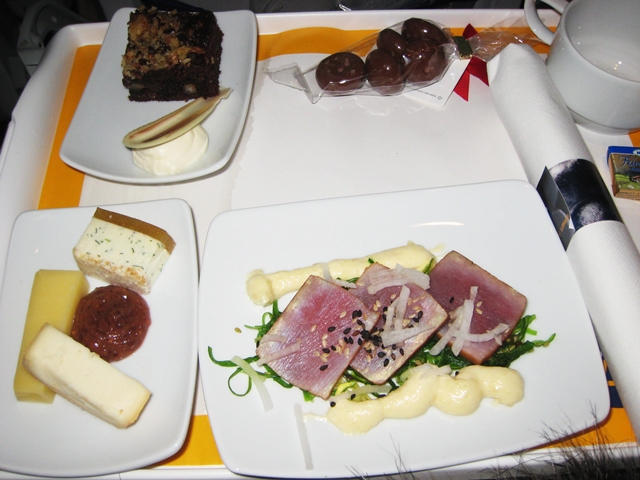 The silver lining, in addition to the great flight attendants, was that by being delayed one hour due to the drunk passenger, we got into Moscow Domodedovo just 30 minutes before the first Aeroexpress train, which leaves the airport at 4:54am and gets into Moscow Paveletskaya at 5:38am (also convenient, since the Moscow metro opens at 5am).
I highly recommend taking the Aeroexpress train–not only is it cheaper than a taxi, it's often faster due to horrendous traffic. There wouldn't have been bad traffic at that hour, but I was still in no mood to negotiate a taxi fare with the dodgy taxi drivers who wait for you as you exit airport customs. And I speak Russian. In my experience, it's much better to get a "gypsy cab" in Moscow from a regular person who isn't a normal taxi driver than from any regular taxi driver, but overall, I recommend avoiding taxis altogether given Moscow traffic and the ultra-efficient Moscow metro, which I'll describe in another post. It's one of the things I miss most about Moscow, as it absolutely puts the NYC subway and most other subway systems around the world to shame.
The Verdict: Intra-Europe flights aren't usually too long, and Munich to Moscow is just over 3 hours. I was glad that the crew denied boarding to the drunk passenger, as you never want to compromise safety or have a potentially very disruptive person on board. And the flight attendants were friendly, not just veteran professionals. The seats were very uncomfortable though–I found them a lot worse than domestic U.S. business class seats, or even Jetblue economy seats, so I was glad I was lucky enough to get a whole row to myself plus extra pillows so that I could lie down. The dismal food quality was a real surprise to me–I understood it wouldn't be first class as on my transatlantic flight or the First Class Lounge, but even so it was as if it was a different airline. If it was up to me, I'd forget trying to do anything fancy with business class or economy food on short haul flights, and instead go with utterly simple but great quality, perhaps some very fresh German breads, good cheeses, fresh fruit, and Mozart candies or well-made German kuchen. That would have been a lot more palatable.
Related Posts
Best Frequent Flyer Miles for London Award Travel
Tips for Booking Award Flights to Paris
Which Frequent Flyer Miles for Intra-Europe Flights?
Frequent Flyer Awards Low Fee Backup Options
Need Award Booking Help? Our fee is as low as $75 per ticket if you book your hotel through us.
If you enjoyed this, join 150,000+ readers: please follow TravelSort on Twitter or like us on Facebook to be alerted to new posts.
Become a TravelSort Client and Book Your Hotel with Virtuoso or Four Seasons Preferred VIP Amenities!