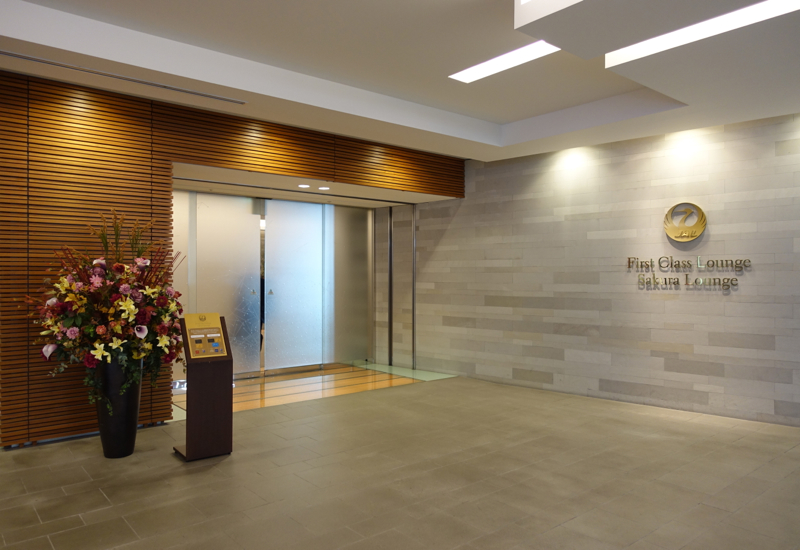 This Japan Airlines Business Class Lounge Review, Tokyo Narita Airport is part of a trip report including Qantas First Class, British Airways Business Class, Japan Airlines Business Class, and luxury hotels and dining in London, Dubai, and Hong Kong.
For the previous posts, please see:
Review: British Airways Concorde Room Lounge NYC JFK Terminal 7
Review: British Airways Business Class on the 747-400 JFK-LHR
Best Seats in British Airways New First Class 747-400
Review: British Airways Arrivals Lounge in LHR and Heathrow Express to London
Launceston Place London Restaurant Review
London Tips: British Museum with Kids
Review: Rivea at Bulgari London Hotel
Review: British Airways First Class Lounge London Heathrow Terminal 3
Qantas First Class A380 Review London to Dubai
Review: Atmosphere Lounge at the Burj Khalifa Dubai
Armani Hotel Dubai Photos and Virtuoso Client Review
Dubai Fountain by Burj Khalifa Photos and Video
Review: British Airways Galleries Lounge in Dubai (DXB)
Cathay Pacific Business Class Review A330-300
Review: Lung King Heen at Four Seasons Hong Kong
Review: The Upper House Hong Kong
Review: Cafe Gray Deluxe at The Upper House
Amanpulo Menus and Restaurant Review
Amanpulo Activities: Top 7 Things to Do
Review: Plaza Premium Lounge Hong Kong and Sleeping Room
Location, Hours and Access to JAL Sakura Business Class Lounge in Tokyo Narita Airport
Japan Airlines' Sakura Business Class Lounge is located in Tokyo Narita's Main Building, Terminal 2. It's actually not just for Business Class passengers; Premium Economy passengers who have booked in advance and even Economy passengers traveling on a Y fare or even certain Saver Flex fares are able to access the lounge. Also note that the entrance is used by JAL First Class passengers, who then proceed to the JAL First Class Lounge Reception on the left.
The Sakura Lounge's hours are from 7:30am until the last flight of the night.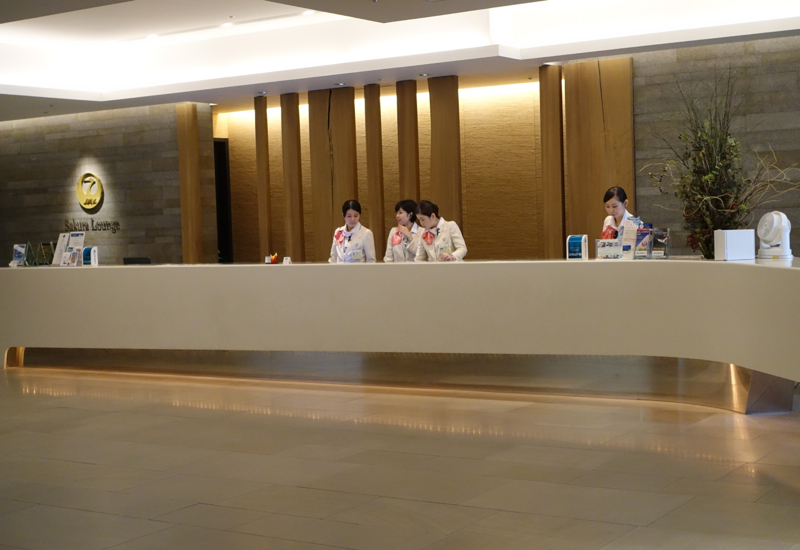 JAL Sakura Business Class Lounge Amenities
JAL's Sakura Lounge offers the usual amenities: seating, WiFi, food in the upstairs dining room, self-serve bars with plenty of alcohol and spirits, and a few more that I'll mention below.
The lounge is two floors, with the main dining room on the 2nd floor and a quieter lounge space on the 1st floor. You can see the two floors in this photo, with the staircase connecting them, although we took the elevator with our rollaboard.
The first floor, quieter lounge space also houses the spa. You're able to have a 10 minute treatment, with a choice of upper body care (neck, shoulders and upper back); foot care; or scalp care. Since all of my muscle soreness is always in my neck and shoulder area, I chose upper body care, and was given a time to return to the spa.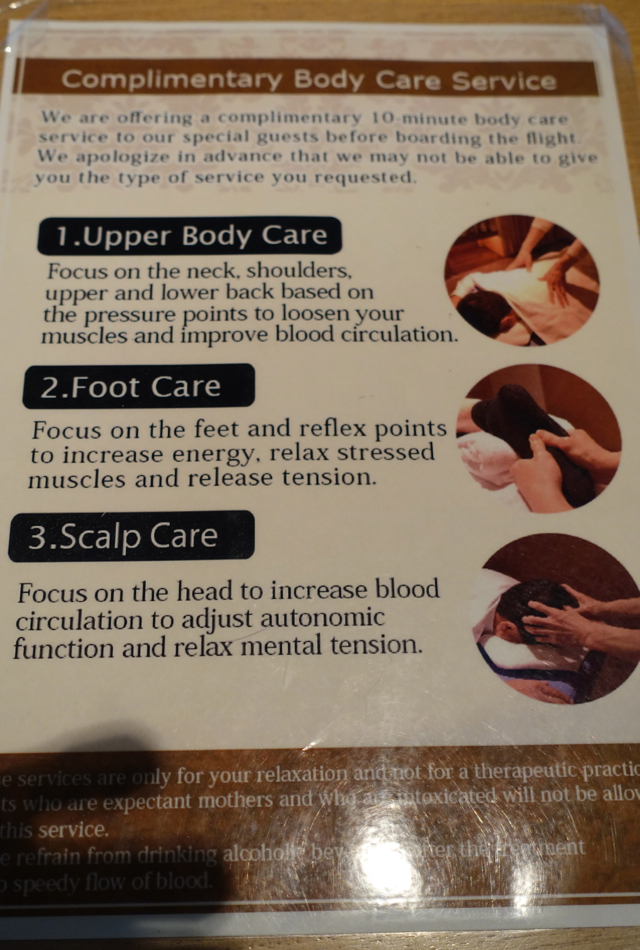 When I returned, a therapist introduced herself and led me to one of the treatment rooms. Even though it was just a 10 minute treatment, I was invited to lie down; no seated type massage chairs as are used at Elemis, in the British Airways Concorde Lounge.
My massage was more accupressure than Swedish massage (which would be hard to do anyway on a clothed person) and while it relieved some tension, it wasn't nearly as therapeutic as the brief massage I enjoyed at the Six Senses Spa in the Etihad First Class Lounge in Abu Dhabi. Still, it was better than the painful Elemis massage I had at the Concorde Lounge.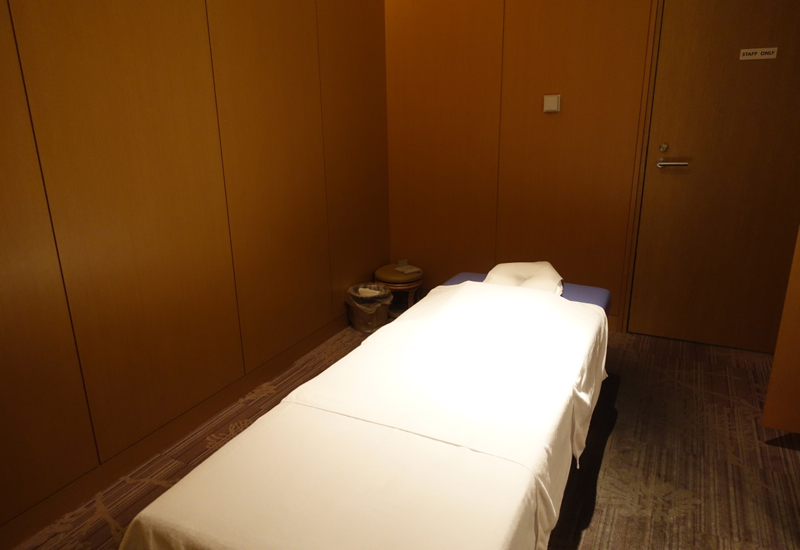 While I discovered it just before we were leaving, so the munchkin didn't have a chance to try it out, there's a children's playroom on the first floor: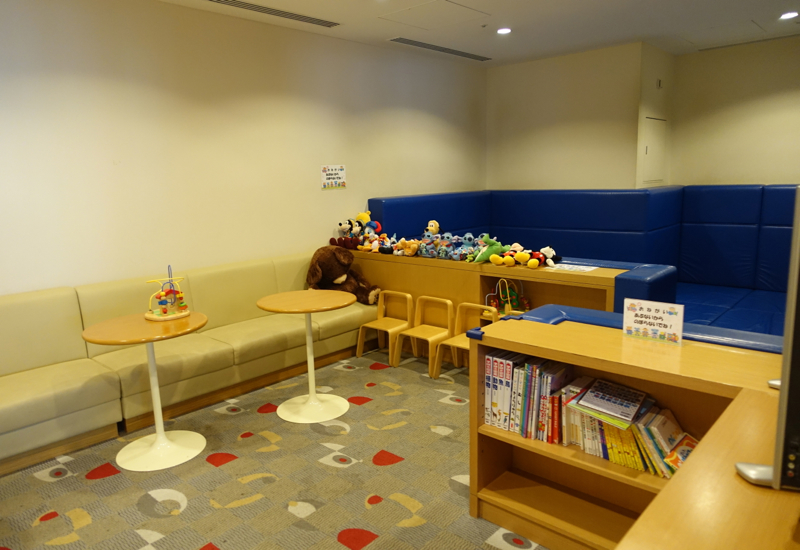 And for any smokers, there's a smoking room as well (fortunately some distance from the kids' playroom).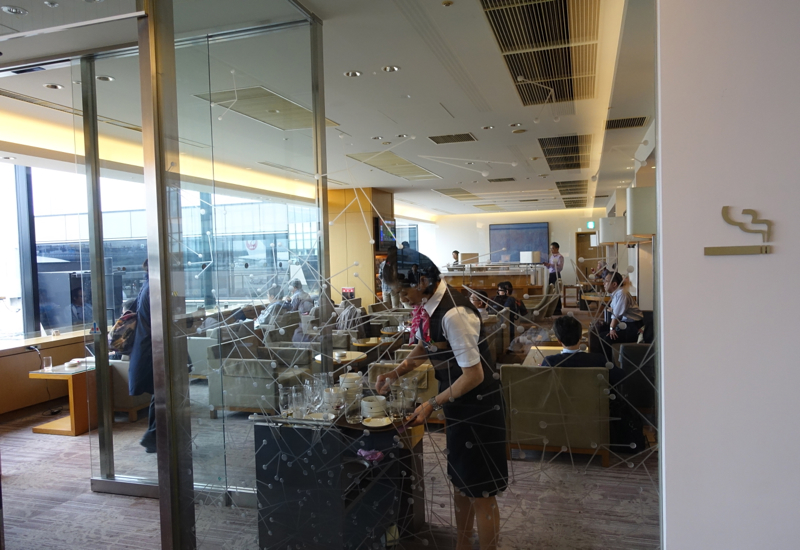 I didn't see any sleeping rooms, but there are relaxation room cubicles, with more reclined lounge chairs than you'll find in the main area of the lounge.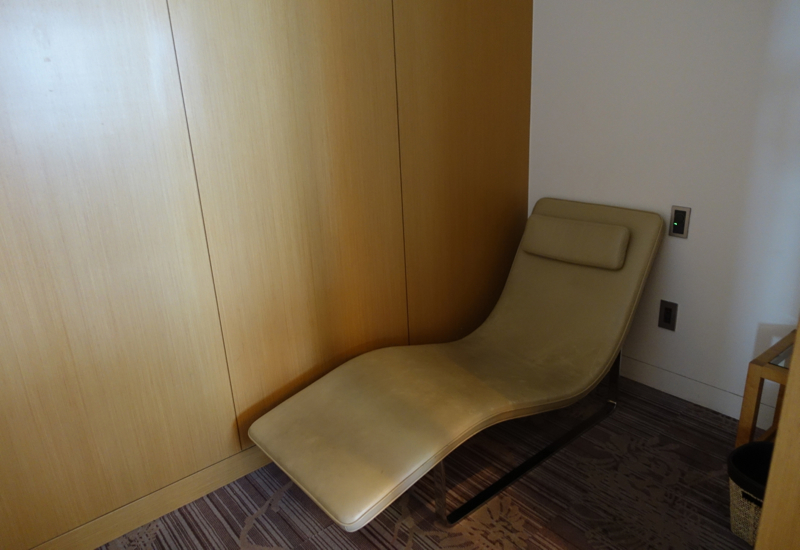 JAL Sakura Business Class Lounge Food, Drinks and Pre-Flight Dining
The main dining room on the second floor gets quite crowded, since it's the only place in the lounge with a substantial food offering; downstairs there are just drinks and cookies.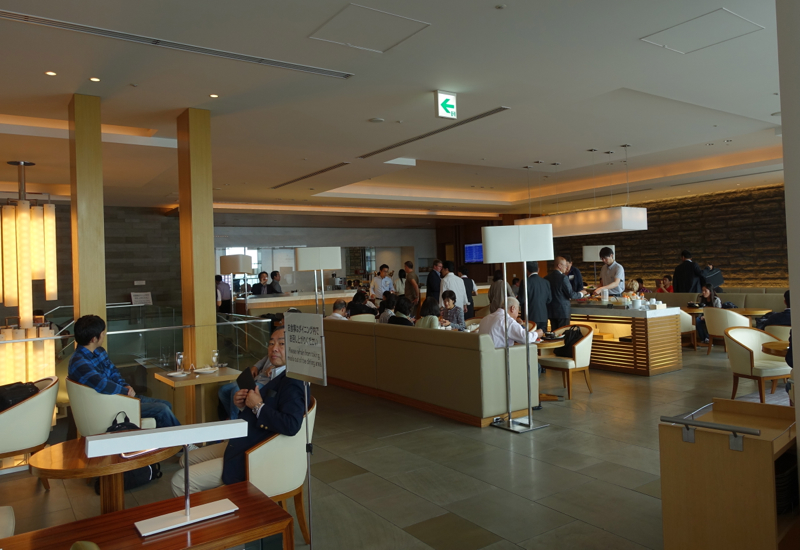 I was hoping for sushi, but since we were there for breakfast, and sushi isn't really a Japanese breakfast food, I was out of luck. Instead there were traditional Japanese pickles, salted salmon, tamago (sweet egg omelet), miso soup and pumpkin soup for Japanese style breakfast.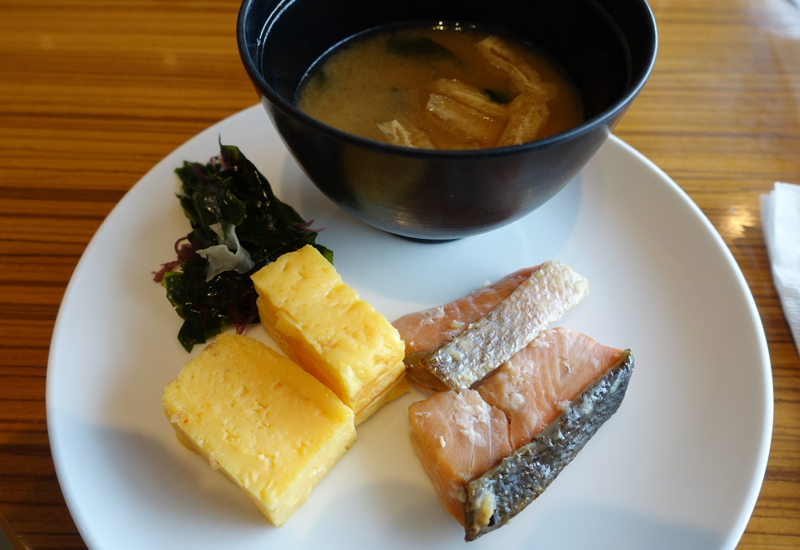 The salad bar also featured canned fruit cocktail and plain yogurt, which we mixed with the adjacent fruit compote to make some fruit yogurt.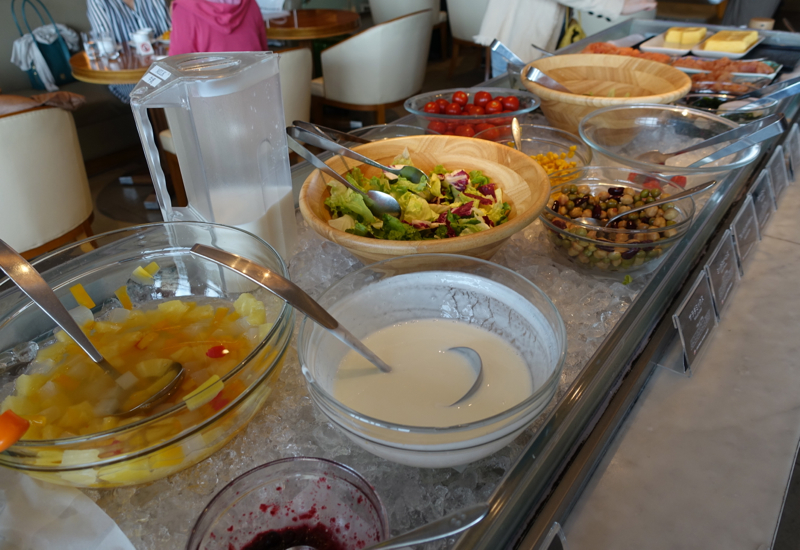 There was baguette and croissants as well, and the lounge makes much of the fact that they partner with top French baker Eric Kayser of Maison Kayser for their pumpkin bread (pain au potiron).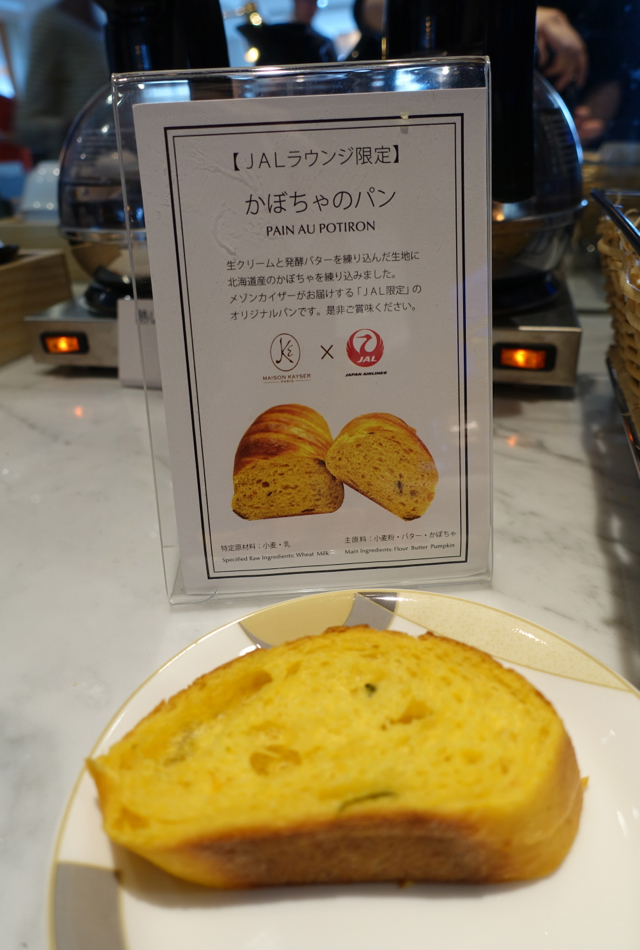 A pity, then, that the only nearby jam in sight was Kraft strawberry jam–really not the kind of jam you want to be pairing with Maison Kayser bread. Some La Trinquelinette preserves would have been much more in keeping with the quality of bread.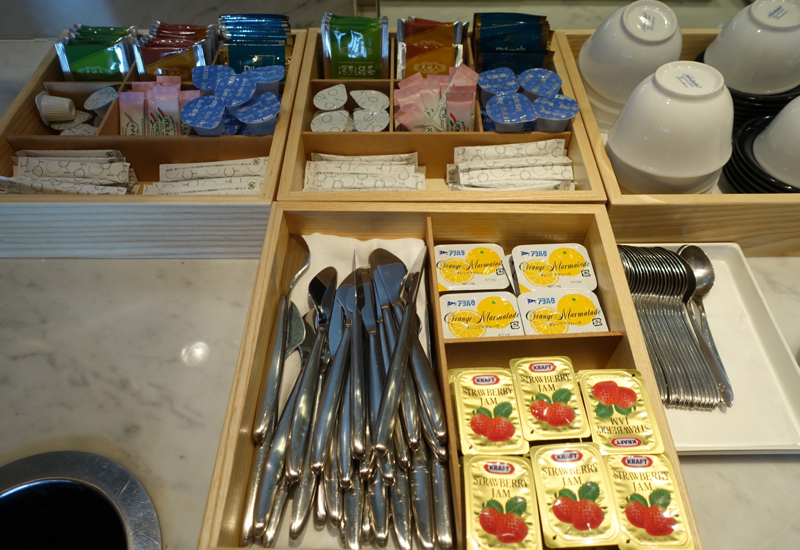 There was an espresso machine, although I wanted to be able to sleep on the flight and passed on caffeine.
And for those seeking some alcohol early, there was no shortage of liquors at the self-serve bars downstairs: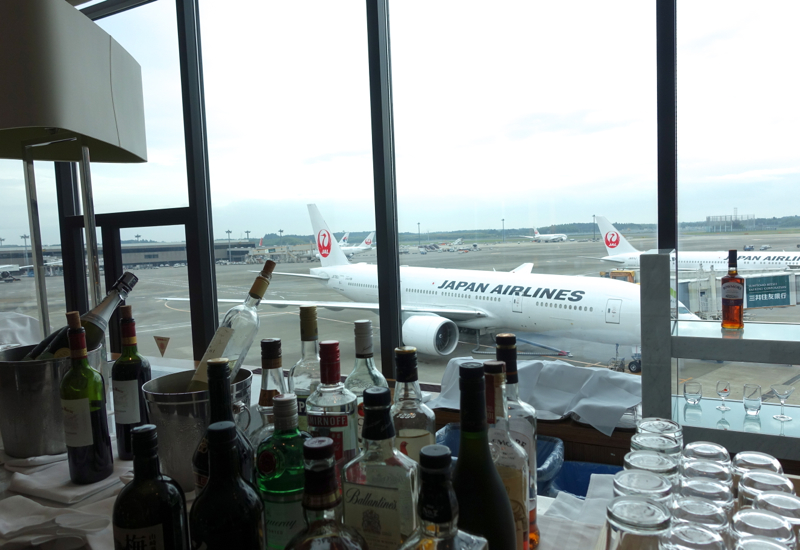 For Suntory beer lovers, there was beer on tap: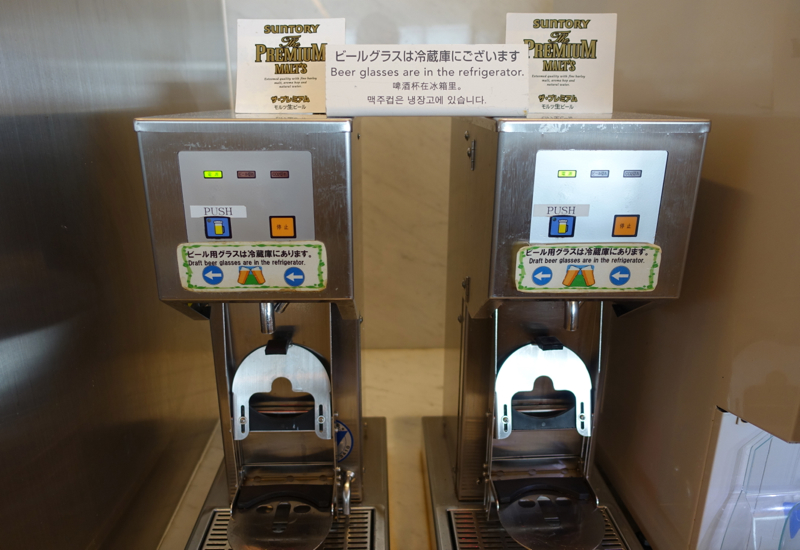 The Verdict
It's a good thing that Japan Airlines' Sakura Lounge is large, since the main dining room on the 2nd floor was quite crowded even in the early morning when we were there. Food offerings were ok, but frankly a bit disappointing quality-wise, except for the Maison Kayser pumpkin bread.
Fortunately, the first floor seating area had plenty of space, since there are sparse food offerings there (just some cookies and dry snacks, in addition to the bar drinks and coffee/tea). WiFi worked well, although I would have liked there to be more conveniently located plug outlets. The 10 minute "massage" was good in concept, although I didn't find mine very relaxing.
While I would have preferred proper sleeping rooms, the relaxation room chairs at least offered a more private space than the main seating area. And Tokyo Narita does offer day rooms with ensuite shower for a reasonable cost, which we used prior to the Sakura Lounge opening.
If you've been to Japan Airlines' Sakura Lounge, what was your experience?
Related Posts
JAL Sky Suite Business Class Review
Review: Japan Airlines JAL First Class Lounge Tokyo Narita
Review: Japan Airlines JAL 767-300ER Business Class
Needed: More Airport Day Rooms and Sleeping Rooms
Best International Business Class Seats for Sleeping
Need Award Booking Help? Our fee is as low as $75 per ticket if you book your hotel through us.
If you enjoyed this, join 200,000+ readers: please follow TravelSort on Twitter or like us on Facebook to be alerted to new posts.
Become a TravelSort Client and Book 5-Star Hotels with Virtuoso or Four Seasons Preferred Partner Amenities!