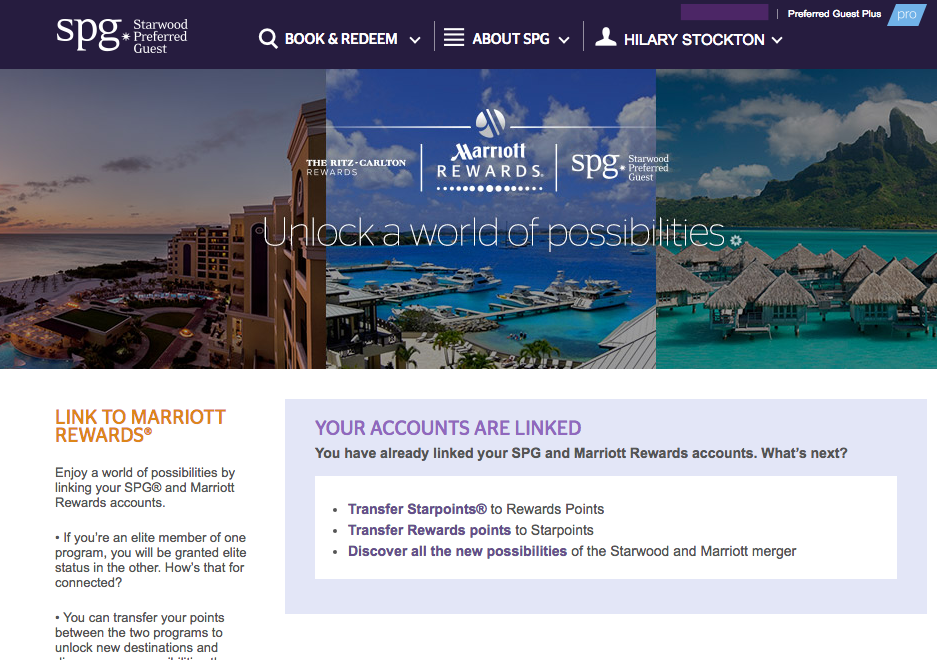 You can now link your SPG and Marriott accounts and transfer points: 1000 SPG Starpoints = 3000 Marriott Rewards points, and 1000 Marriott points = 333 Starpoints. This is a better ratio than I expected, so credit is due to Marriott at least for now.
Linking Your SPG and Marriott Rewards Accounts
For Marriott Rewards, log in and go to the Link Your Accounts page to link your Marriott Rewards account with your SPG account, after logging into your SPG account. You'll need to confirm you want to link your accounts.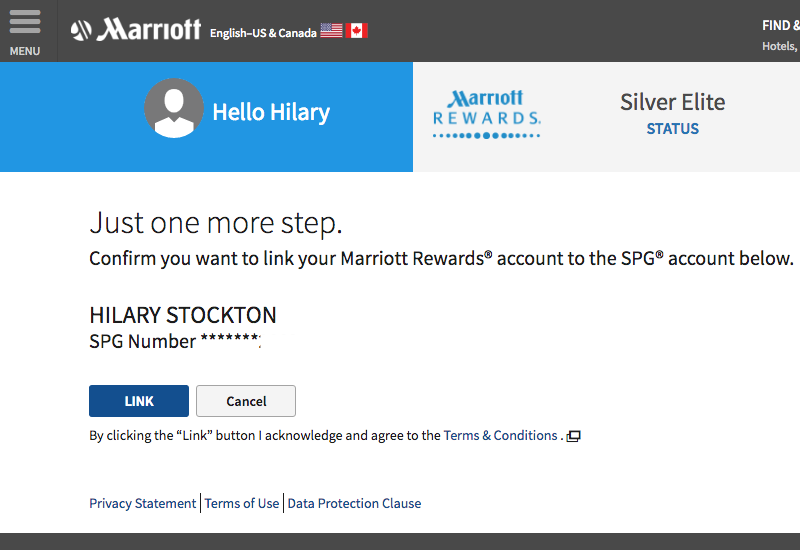 For SPG, log in and go to the Link Your Accounts page on the SPG site.
Transferring Points Between Accounts
To transfer Starpoints to Marriott Rewards, go to the More Options page and click on "Transfer Starpoints to Marriott Rewards."
To transfer Marriott Rewards points to Starpoints, after logging into your account, scroll down and click on the "Transfer Points" button.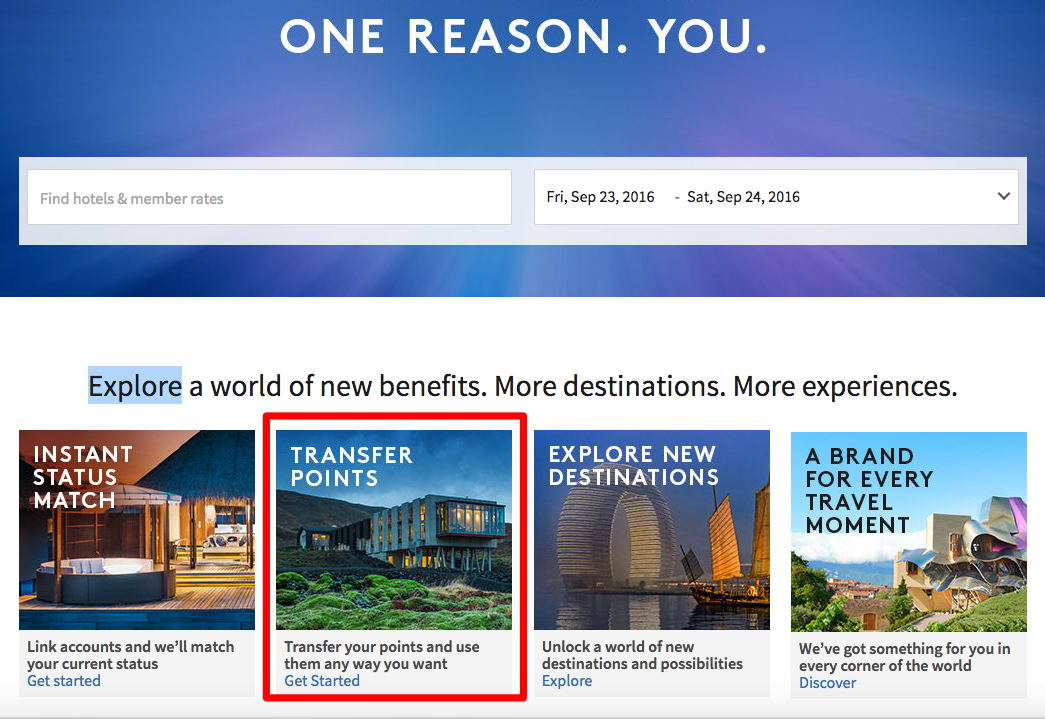 Then click on the blue "Transfer Now" button under "Add Marriott Rewards points to your SPG account."
FAQ
When Will the SPG and Marriott Rewards Programs Actually Combine?
Not before 2018.
What is the Point Transfer Ratio and Minimum Point Transfer Amounts?
Starpoints transfer to Marriott Rewards at a 1:3 ratio, so 1000 Starpoints = 3000 Marriott Rewards points. The same is true in reverse: 1000 Marriott Rewards points transfer to 333 Starpoints. You can transfer points in increments of 1000 points.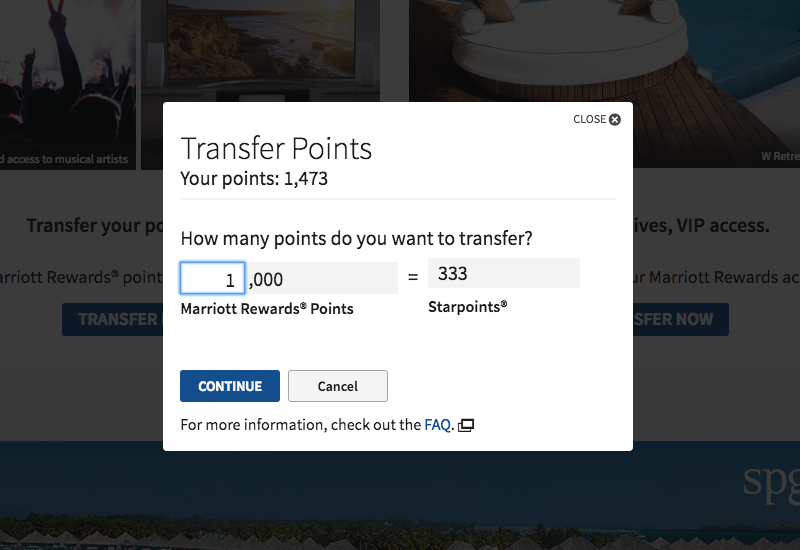 How Long Does it Take for the Transferred Points to Appear?
The transfer is instant. If it doesn't appear right away, log out of your account and log back in.
After Transferring Points, Can I Transfer Points Back If I Change My Mind?
Yes; you can transfer back and forth freely between your SPG and Marriott Rewards accounts.
Can I Transfer to My Spouse's or Partner's or Someone Else's Account?
No, you can only transfer points to your own account, after you link you SPG and Marriott Rewards accounts. But remember that you can transfer Starpoints with your spouse/partner or other person in your household; see How to Transfer Starwood Points Between Accounts.
Does Transferring Points Keep My SPG or Marriott Rewards Points from Expiring?
No; transferring points between the programs does not count as activity and won't keep points from expiring. Note that Starpoints expire if you have not had an eligible stay at an SPG hotel or have not earned, redeemed, purchased or transferred (to non-Marriott Rewards partners) Starpoints within the past 12 months.
Marriott Rewards points if you have not had any qualifying activity within the past 24 months, and qualifying activity is defined as making a paid or Marriott Rewards redemption stay at a Marriott hotel, purchasing points, earning Marriott Rewards points with a program partner, or using a Marriott Rewards credit card.
Can I Choose to Earn SPG Starpoints at Marriott Hotels and Vice Versa?
No, you'll continue to earn Starpoints at Starwood hotels and resorts, and Marriott Rewards (or Ritz Rewards) points at Marriott / Ritz properties. But you can easily transfer Starpoints to Marriott Rewards and vice versa, as noted above.
Can I Transfer Elite Night Credits?
No, since for now the SPG and Marriott Rewards programs remain separate, your elite night credits remain with the program you earned them with and cannot be transferred or combined.
How Do I Match Elite Status?
Once you link your SPG and Marrriott Rewards accounts, your highest elite status will apply across both programs. So if you're SPG Platinum and Marriott Gold, you'll automatically be given Platinum status in Marriott Rewards. It can take up to 24 hours for your status match to be reflected for upcoming hotel stays.
What About Lifetime Status?
For now, only current tier status is being matched, so lifetime status only applies for the program in which you earned it. We'll have to wait for more details on how lifetime status will be treated closer to when the programs are combined, in 2018.
Have you linked your SPG and Marriott accounts, and which way do you plan to transfer points?
Related Posts
SPG Airline Partners: Transfer Starwood Points to Miles
SPG AMEX with 2 Free Nights at Category 1-5 Hotel: Not Worth It
Top 10 Best Ways to Use SPG Points
SPG Extra 10K Bonus Offer for Starwood Business AMEX (Targeted)
Need Award Booking Help? Our fee is as low as $75 per ticket if you book your hotel through us.
If you enjoyed this, join 200,000+ readers: please follow TravelSort on Twitter or like us on Facebook to be alerted to new posts.
Become a TravelSort Client and Book Your Hotel with Virtuoso or Four Seasons Preferred Partner Benefits!